Gear Guy
What's the warmest glove to use when snowshoeing?
I getting ready for a February snowshoeing trip to the Sierra Mountains, and I want to nix my usual problems with cold hands. In the past, I've tried using a base-layer glove combined with a higher loft glove and a waterproof Gore-Tex shell. Unfortunately I still get cold hands! Needless to say, I in desperate need of your awe-inspiring, sage-like wisdom to find that warm-hand solution to all my problems. Nathan Louisville, Kentucky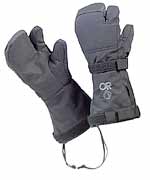 Heading out the door? Read this article on the new Outside+ app available now on iOS devices for members! Download the app.
I dunno, Nathan, it sounds to me as if you're doing the right thing—layering up and putting on a waterproof outer glove. Maybe you suffer from Raynaud's Syndrome, a condition that leads to cold hands? It's more common in women, but hardly unheard of in men.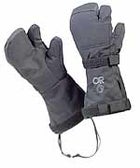 Mutant Modular Mitts

Otherwise, all you can do is keep trying to find a really warm glove. Or a mitten. Mittens are much warmer than gloves, but of course you lose some dexterity. A compromise product is Outdoor Research's Mutant Modular Mitt ($150; www.orgear.com). These are heavy-duty mittens with a Gore-Tex shell, but complete with separate forefinger openings so they can interact with the thumbs on their own. Along with the extra dexterity they afford, these are warm, warm, warm glove/mittens (mittoves? glittens?). Beyond that, there are some chemical hand-warmers that can be inserted into a glove. Grabber makes one called the Mini Hand Warmer, which goes for about $1.50 apiece and can last up to six or seven hours (www.grabberwarmers.com). You might also find some new versions of those classic hand warmers that ran off lighter fuel. That's right, you lit these things then stuck them into your gloves. (The flame was of course enclosed.) I noticed Restoration Hardware was selling these almost a year ago for about $5—not sure if they still are, but I know eBay has some of these things available. Give one a try if the Mutant Mitts don't do it for you!