Gear Guy
Which jacket will be most efficient at keeping me warm and dry this winter?
I bought the Arc'teryx Theta AR, but returned it because, for that kind of money, I hoped it would have a thin liner or just be slightly more substantial in warmth. I'm now thinking about the Arc'teryx Gma MX Hoody. I'm not traversing the Alps, but since I will be outside in the winter months when it rains (and that's usually everyday!), I want something of high quality. Any ideas? Scott Eugene, Oregon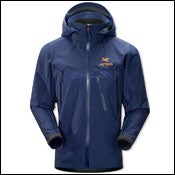 Heading out the door? Read this article on the new Outside+ app available now on iOS devices for members! Download the app.
Well, I see your point, Scott, but I sort of think you're approaching the problem from the wrong direction. When I buy a shell, I want it to be totally without any liner or anything else. It's a shell, it's supposed to keep me dry or deflect the wind. What I wear under it is what keeps me warm. And because the jacket itself offers minimal insulation, I have much more freedom to accommodate different temperatures and weather conditions. That's especially true in the relatively mild Pacific Northwest, where even in December it can be 50 degrees and raining.
Arc'teryx Theta AR Jacket

Theta AR Jacket
So I think the estimable Arc'teryx Theta AR ($450, which is a bit steep I admit; arcteryx.com) would still be an excellent choice, particularly because it now is made with Gore's new Pro Shell material, which is lighter, tougher, and more breathable than Gore-Tex XCR.
The Arc'teryx Gamma MX Hoody ($350) is a very different creature. It's a soft shell jacket, meaning it's designed to keep you pretty warm, pretty dry, and pretty comfortable in pretty near any kind of weather you come across. This is the kind of soft shell I like: one made with Polartec Powershield. It's absolutely great for hiking, climbing, even mountain-biking, in snotty weather. It's maybe a little less good for being outside all day in the rain when you might not be working at a high level. You know, yard chores, that sort of thing. So if the goal is to stay dry, then the Theta is the better choice.
Of course, if I'm just outside in the rain and snow, as I was this past weekend putting up Christmas lights on the Gear Cave, then I go for the lowest common denominator: a PVC rainsuit such as Helly Hansen's A Series jacket ($35; hellyhansen.com). I mean, TOTALLY waterproof. Breathable? Well, no. But sometimes that's a good thing.
The 2008 Winter Outside Buyer's Guide is now online. From snow sports to trail-running to camping, get reviews of more than 300 new gear must-haves.