Gear Guy
Which jacket will cover me for winter cycling?
I've been looking for a winter cycling jacket and can't seem to make up my mind on the best piece to withstand rain, sleet, snow, and city winds. I'd like it to have a hood and be warm yet light enough to move around in. My search has tossed up the Gore-Tex Stre Jacket, REI Randonee, Cannondale Facet, and a few others. When I checked with some of my friends, they told me to ask you, the Guru of Gear. Ryan Chpaign, Illinois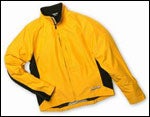 Heading out the door? Read this article on the new Outside+ app available now on iOS devices for members! Download the app.
Your friends are indeed wise, Ryan. They have sent you to the right place. Your needs are large but the answer is simple. Plus, I'm impressed. Cycling in the Midwest in winter is not for the faint of heart, nor for the poorly dressed.

Trifecta Jacket

You've already found three promising jackets. The Stream ($139, www.gore-tex.com), Randonee (also $139, www.rei.com), and Facet ($149, www.cannondale.com) are all cycling-specific waterproof-breathable jackets. They're cut moderately snugly, don't have hoods, have longish sleeves to better accommodate a cycling stance, and in the same spirit have long "drop tails," which help cover your butt.


Aside from some detailing (the Facet, for instance, has a cell phone pocket in the sleeve) and the colors, the main difference between the three is in their materials. The Randonee is made from REI's proprietary Elements fabric, a three-ply, polyurethane-coated material that offers good waterproofness and decent breathability. The Stream, not surprisingly, uses "classic" Gore-Tex (not the newer XCR) for a reliably waterproof and breathable piece. And the Facet uses Epic by Nextec, a material with silicon-impregnated fibers that claims great water-resistance (not "proofness") and excellent breathability. Of the three, I believe the Stream would give you the best overall weather protection. It'll likely breathe slightly better than the Randonee, while keeping you a bit drier than the Facet on long, wet rides.
That said, the Facet has the best detailing, and I'm willing to buy an argument that complete waterproofness is not essential on a bicycle and that high breathability matters more. That's my own philosophy—on wet rides I typically opt for a water-resistant but very breathable piece and mix that with good wicking insulation. Alas, my preferred pieces are made of Activent, a now-bygone Gore product (a basically identical material is marketed as Windstopper under the Concurve label, a Gore retailing subsidiary).
There are other choices, depending on your price sensitivity. I happen to think the best cycling jacket out there at the moment is Pearl Izumi's Trifecta ($220, www.pearlizumi.com), which is made with eVent, a material that's chemically similar to Gore-Tex but different in the way it is made, resulting in what the eVent folks bill as superior breathability. I have a predecessor of the Trifecta and happen to agree—it's a fabulous piece. Another excellent choice is Performance's Century II Jacket ($200, www.performancebike.com), which is now made with Gore XCR for better breathability and lower weight than the older Century. I think both these pieces would offer a little better performance than the three you mention, although all would work well.
Get the goods on all the essential road-cycling gear in Outside's
2004 Buyer's Guide
.