Women in the Outdoor Industry: Burton's Donna Carpenter
What's it like to be a woman in the male-dominated outdoor industry? Donna Carpenter, Burton's president and co-founder, is doing something to prove that diversity in the workplace equals success.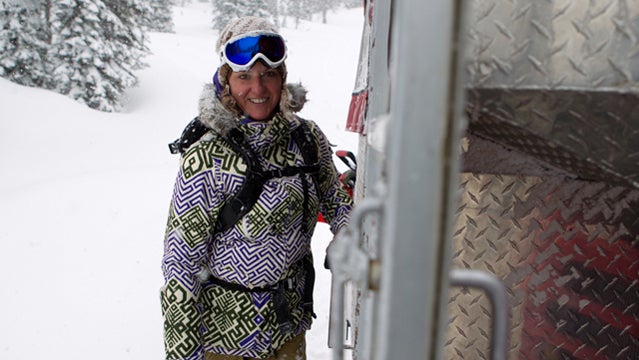 Heading out the door? Read this article on the new Outside+ app available now on iOS devices for members! Download the app.
Strong women are inspiring, but even more inspiring are strong woman in male-dominated industries. Donna Carpenter, president and co-founder of Burton Snowboards (with her husband Jake Burton Carpenter), is one. Since Burton was founded 30 years ago, Donna's been a Viking, crusading to bring more females into the snowboard lifestyle, and more specifically, into Burton headquarters. Recently, she launched the lifestyle media site BurtonGirls.com, and come out with a limited-edition snowboard featuring two women who revolutionized a male-dominated industry: female rappers Salt-n-Pepa.

Donna Carpenter at Baldface.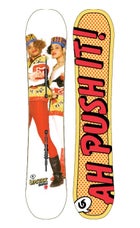 The Salt-n-Pepa snowboard.
After reading Outside contributor Shelby Stanger's piece on what Donna is doing for women in the snowboard industry, I had to find out more. Her strategies for keeping women on staff—like a daycare benefit and a policy that allows moms to bring their children under 18 months on business trips—seem to not only make the lady-kind happy, but bring an overall sense of balance to the workplace. Burton understands that having ideas and solutions coming from a diverse staff can lead to more efficient innovation and, ultimately, success. I caught up with Donna at the SnowSports Industries America (SIA) trade show in Denver in late January.
Tell me more about your decision to actively pursue females in the workplace at Burton.
I think it was one of the great revelations I had about a decade ago—we were never going to be able to grow the women's market if we didn't have women in strategic decision-making positions. Then I started to realize, it's not just about the women's market, it's about having diversity at every level. Companies that are diverse are better run and managed. You need that influx of different ideas and perspectives.
So what did you do to encourage women to work at Burton?
The first things we looked at were maternity and post-maternity. But what I hear from women across the board is that they crave mentors. When you have an industry that's male-dominated, it's easier for men to form those informal mentoring relationships that help them figure out what their next steps are in their careers. Women told me that was lacking for them. So we started a mentoring program at Burton that's been incredibly successful. After the first two years, 52 percent of the staff that participated have either been promoted or switched jobs in a way that they wanted to. Today we have a culture of mentoring that came out of the women's leadership initiatives. We also have better paternity leave because of our maternity leave policies. We have a childcare facility that more men take advantage of. What we've learned over the years is that when you make a company a better place to work for women, you're just making it a better place to work, period.
You mentioned you mostly got male resumes because they were coming from other snowboard, surf, and ski companies, which were mostly male. How did you proactively recruit women?
This was a big one. We would have an opening at a director level and 95 percent of the resumes we got were from males. So we made sure that there was always a female final candidate. It didn't mean you had to hit a quota and hire a female, but it forced you to go out and look and find talent. If you aren't drawing talented women, you're missing half the pool. We also created the Buddy Program so that when a woman is a candidate for a job, she is partnered with someone who works here on an informational level—not an interview level—so she can ask questions like, "What's it like to work here as a woman?" When a woman gets hired, we partner her with someone in our Learn to Ride program so she can get on the hill. That's our golf; some decisions are made on the chairlift.
So what's your end goal?
The job is done when we get 51 percent of sales, 51 percent of snowboard participation, and 51 percent of senior management to be female. Then I'm tapping out.