4 Steps to Creating the Perfect Outdoor Workplace
More companies are mimicking nature scenes in their offices. But why do that when you can just set up your desk outside?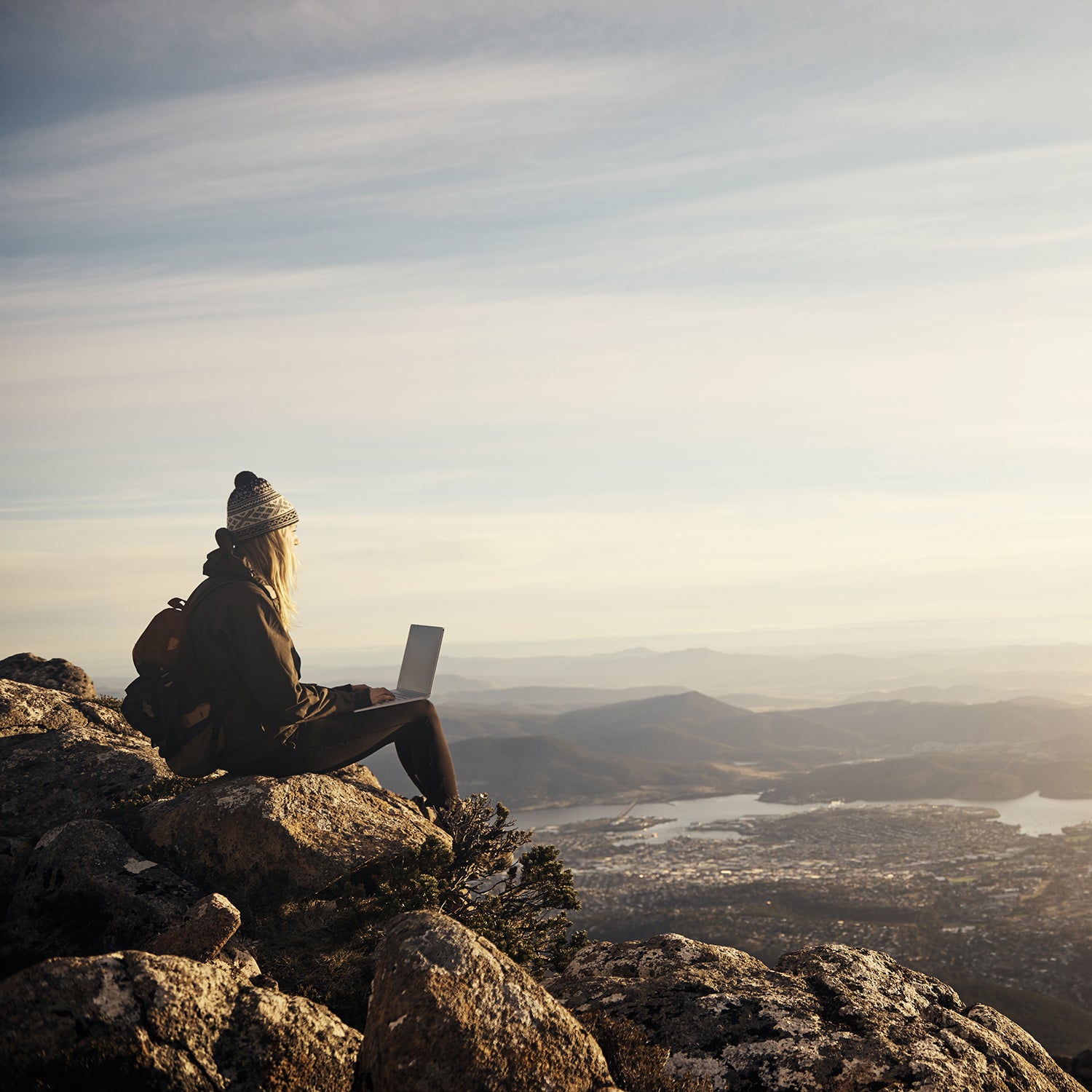 Heading out the door? Read this article on the new Outside+ app available now on iOS devices for members! Download the app.
The latest trend in office design is to get as far away from the cubical as possible. Human beings, after all, labored for tens of thousands of years outdoors until relatively recently, so cultivating a natural work environment makes sense. Right?
That's the concept guiding cutting-edge companies like Google, which has recently embraced "biophilic design"—that is, creating indoor spaces that feel like the great outdoors. Living trees and natural light are just the tip of the iceberg. Amazon's new downtown Seattle headquarters, for example, will include an enormous rainforest inside a geo-dome. Employees can host meetings there or take impromptu walks during the workday. "The whole idea was to get people to think more creatively, maybe come up with a new idea they wouldn't have if they were just in their office," the designer of Amazon's indoor forest told the New York Times.
But why pretend to work outside when the real outdoors beckons right through the windows? Spending time in nature, according to Harvard physician Eva Selhub's book Your Brain on Nature, is associated with positive emotions and increased mental and physical energy. Whether you spend time backpacking through Yellowstone or jogging in Central Park, the aim is the same: to improve yourself.
For those with a little workplace flexibility, taking your work outdoors is imminently doable. There are pitfalls—the Wi-Fi's not too strong along the Snake River, and finding a power outlet in the Badlands is tough—but with a little planning, you too can return to nature during your nine-to-five.
Here are four tips to get you going.
Weatherproof Your Existing Tech
For those tethered to laptops and routers during business hours, the tools of the trade are distinctly designed for indoor use. Standard computer screens are rendered virtually unusable on sunny days, a summer shower can wreck even the hardiest electronics, and sand has a way of screwing up keyboards.
Preventing screen glare can be as simple as bringing along a beach umbrella, and a number of companies have stepped in with fancier solutions. Cheap antiglare screens that stick right onto your laptop make the display slightly more visible, and a whole host of venders offer visors and hoods to block the sun completely and protect your computer from the elements. If $30 for a shade feels like extortion, here's a handy Ikea hack that turns a $5 storage box into a perfectly serviceable laptop sunshade.
If rain is your primary concern, a simple Ziploc bag will waterproof your phone or tablet while letting you tap away.
Find the Right Gear
Kristen Pope, a freelance writer and editor based in Jackson, Wyoming, tries to spend a few hours a day working outside during the warmer months—even if it's just on her porch. But while most of her work is computer-based, "I wouldn't want to risk my main laptop outside," she says. So, a few years ago, Pope bought a small, inexpensive travel laptop on sale. "I always use it when I'm working outdoors or on the road," she says. Depending on your needs, even a decade-old laptop should be capable of word processing and email.
If you're committed to taking your work outside like Pope and budget is no obstacle, PC World suggests investing in one of the few indoor/outdoor laptops out there, like Panasonic's Toughbook. It's weather resistant and comes with a screen that's easier to see in the sun.
If you need Wi-Fi while you work—and you're within cellphone range—newer smartphones can tether wireless Internet to nearby computers, or you can purchase dedicated mobile hotspots to create a network in the wild. (Some, like Verizon's JetPack, also charge your phone.)
Boost Your Creativity
The great outdoors is a sad place for busywork. "My favorite work to do outside is work that requires creativity or deep thinking. I almost never respond to emails or do web-based research outside," Pope says. "I find outdoor time to be a great time to disconnect and focus on writing." Selhub and other experts say that nature is a great way to boost your creativity—so maybe don't waste it on expense reports.
Mark Sisson, the Southern California–based fitness guru, is a firm believer in getting work done outside, however possible. He recommends holding business meetings in local parks or scheduling walking meetings with colleagues to get the juices flowing.
Take Baby Steps
Working outside can mean different things to different people. For Montana-based novelist and occasional Outside contributor Walter Kirn, working outdoors meant setting his laptop up on an abandoned wooden spool in a field in the state's Crazy Mountains.
This summer, in downtown Silver Spring, Maryland, just outside Washington, D.C., a local college and a development organization, Peterson Companies, built a pop-up "outdoor working space," complete with Wi-Fi, outlets, and desks. Peterson Companies' regional manager said the space was designed to appeal to "techies, telecommuters, executives, entrepreneurs, and artists" and was consistently packed.
The point is that nature is all around us. Even if you live in a 250-square-foot, fifth-floor walk-up, there are easy ways to set up shop on your balcony or fire escape. It may not be a national forest, but it's enough to get you started.
Lead Photo: pixdeluxe/iStock