8 Gear Essentials That Will Save Your Life
The outdoors can be deadly if you're unprepared. But these gear items will help you make it home alive—even if everything else goes wrong.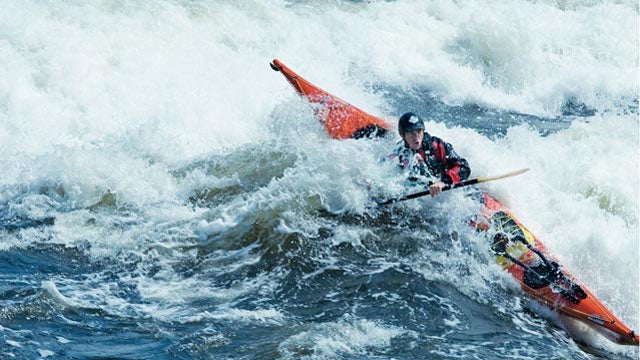 Lise-Anne Beyries(Photo)
Heading out the door? Read this article on the new Outside+ app available now on iOS devices for members! Download the app.
It takes an expert to talk about survival gear, so we spoke with NOLS Wilderness EMT instructor Gareth Tate, who was convalescing after shearing his talus bone in half (he misread the first 15-foot drop of the Class V gorge of the San Joaquin's Devil's Postpile). Tate was evaced out for emergency surgery and was elevating his leg while we spoke.
In the backcountry, something as simple as a tarp can save your life. With Tate's help, we decided to pare down the list to the absolute essentials, including the gear that helped Tate make it home alive.
---
Paracord
"Paracord can be used to make pretty much any rigid thing around you into a splint," says Tate. Why it matters: A splint can be the difference between remaining non-mobile and hiking out under your own power. While paracord on its own is inexpensive and everywhere, if you want to get fancy we like the Bear Grylls Paracord Fixed Knife ($19). This burly steel knife has its downsides—it's heavy—but we love how organically this tool pulls double duty, something to think about with every item you pack into the backcountry.
---
Emergency Messenger
Tate has successfully affected multiple rescues, including his own a few weeks ago using the SPOT tracking system ($150) which has an SOS button. The device alerts local rescue services that you are in danger—and provides them with your GPS coordinates. "Regardless of what [other emergency gear] you have with you, if you get EMS on their way, it changes the whole game," says Tate. But don't let the safety net go to your head. "They do have limitations so skills training is still important," he says.
---
Multi-Purpose Knife
Tate maintains that a serrated knife is extremely important—and a small set of pliers is less important but still quite useful. While it doesn't include the pliers, Tate uses the Swiss Army Camper ($25) because it's light and stands up to abuse in the field. It's crucial to use your knife outside of emergency situations to see what features work best for you, but ideally, keep it simple. "Multitools get way too big really fast. Be realistic with what you need and get smallest tool with those requirements," says Tate.
---
Packable Tarp
Your ability to cover yourself from the elements can absolutely make the difference between life and death. Not only is a tarp the first step to an emergency shelter, but it can be used to wrap other people suffering from hypothermia. Tate carries a lightweight silicone impregnated tarp and maintains that you need an eight-foot by four-foot model at the minimum, like the Shangri-La 2 Tarp ($300). 
But on a backcountry ski trip, he takes along an extra insulating layer. A tarp alone will not cut it if you're stuck out in the snow overnight. "Consider all of the possible temperature extremes in the environment you are going and have at least minimum thermal protection for those extremes," says Tate.
---
Paper Maps and Compass
"A common mistake is that people will think about the beginning and end of a trip in the backcountry," Tate says. The mistake: forgetting about what may go wrong in the middle of the trip—and failing to think about a plan B. And the best tool for plotting your way out of the woods remains the trusty combo of compass and paper map. While Tate does not have a specific suggestion for a compass he suggests shopping around for any compass with a base with an arrow and a straight edge. "I'd go simple—less features are better," says Tate.
---
Light Source
"Without some sort of light source, it is impossible to move or travel or manage yourself after dark," Tate says. This seriously limits your ability to escape under your own power. Any headlamp can save you in a pinch, but we have been using, and love, the 27 gram Petzl e+LITE ($30) because it packs down to the size of a grape but still has plenty of lumen chops to help you see into the night. Tate suggests packing a small light like the e+LITE into your first aid kit and saving it for emergencies so you have less opportunity to break it in the field.
---
Water Filter
"In a life-threatening situation filtration is meh," says Tate. Most of your water contamination issues won't strike until you are safe—or dead. If you do plan on making it out, we suggest the Vapur Microfilter ($80) to hedge against explosive diarrhea. Unlike other models, this filter doesn't allow you to drink after it hits the 500-gallon limit, preventing user-error. The ultralight bottle also rolls down around the filter to a little larger than a Sharpie.
---
Emergency Carbs
It's not starvation that should get you worried. "You can survive a long time without food, but it is tough to keep a clear head when you are hungry," Tate says. When each decision you make can carry life or death consequences, keeping a clear head is critical. Tate likes to carry Clif Bar Shot Blocks ($36) into the backcountry because they are lightweight enough to pack anywhere and are an easy consistency to get down even when you are terrified and far from hungry.
Lead Photo: Lise-Anne Beyries