8 Rugged All-Terrain Vehicles for Mud Season
Off-roading gets high-tech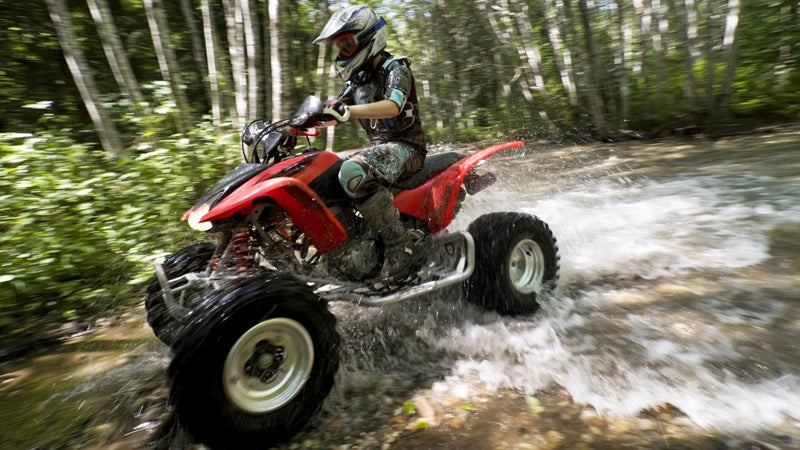 Getty Images(Photo)
Heading out the door? Read this article on the new Outside+ app available now on iOS devices for members! Download the app.
Mudding is as much about getting in touch with nature (literally) as it is about exploring the backcountry. And whether you hate 'em or love 'em, the vehicles can be a lot of fun—both to drive and to drool over. Take the following eight off-road machines, all of which offer techie features that go beyond massive rubber tires, rock-defying suspension, and the standard roll cage.
---
Polaris Sportsman Ace ($7,499)
Kudos to Polaris for inventing something brand new. The Ace is a hybrid of a 4×4 UTV and a traditional ATV. The Ace, which is 48-inches wide, is trail-ready and offers a very confident ride—you sit inside a cab and use a steering wheel instead of the traditional handlebars. But the ProStar 32-horsepower engine is the true tech advancement here. At just 60 pounds, it's lightweight and sips standard Octane 87 fuel to help keep costs lower. One tank will take you about 125 miles on a trail.
---
2014 Can-Am Maverick 1000R X mr Side-by-Side ($21,499)
The sweet ride of this UTV is its best feature. There's a new Torsional Trailing A-arms (TTA) rear suspension that lets you glide over tough terrain—even if you hit a large rock, it's possible to steer through it and keep moving. Plus, the power steering adjusts to your speed, giving you more technical steering when you're going slower. Like many Can-Am products, the Maverick 1000R X mr comes with two keys—including one for new riders that limits the speed to 44 mph—that sync to your specific UTV for security. A new speedometer and tachometer gauge now has an easy-to-read 3-D look.
---
2014 Kawasaki KX250F ($7,599)
It might be time to upgrade your mountain bike. The 2014 Kawasaki KX250F motocross bike, borrowing technology from the Nissan GT-R and even a Mercedes-Benz SLS AMG, provides a new Launch Control Mode that essentially gives you awesome acceleration—the dirtbike springs forward without as much tire slip. The adjustable suspension helps with mudding because it's less likely to bottom out in the deep stuff. The 249cc engine provides plenty of pop for the track, and the entire machine weighs only 233 pounds.
---
John Deere Gator XUV 825i ($11,999)
For the true workhorse of the bunch, check out the John Deere Gator XUV 825i. This rugged crossover utility vehicle has a powerful 812cc liquid-cooled engine for chugging through dirt. A continuously variable clutch system pushes power to all four tires if you get stuck. The XUV 825i also comes with a new Warn Industries winch in either 3,500- or 4,500-pound towing capacities. That means your mudding excursion won't end poorly for those in less powerful machines because you can pull them out of the thick stuff—or hook the XUV 825i up to a nearby tree and get yourself out.
---
Honda Pioneer 700-4 ($11,699)
For a four-passenger UTV, nothing beats the new Honda Pioneer 700-4. One of the best features is a convertible rear passenger compartment. Just flip a switch and fold the seats down for extra storage space. For mudding, the new Pioneer has 10.3-inches of ground clearance and the front dual-wishbone suspension moves almost eight inches as you ride (the rear suspension moves about nine inches). There's a powerful 675cc liquid-cooled engine to keep your own motor running faster.
---
2014 Yamaha YFZ450R Sport ATV ($8,599)
For more serious mudslinging—say, on a professional track or up a mountain pass—this race-ready ATV uses a new slipper clutch system that reduces driver fatigue by 25 percent by changing gears faster. When downshifting to plow through a muddy ravine, the Yamaha YFZ450R also uses less engine braking than most of its ATV competitors. Oh, and the 449cc fuel-injected engine packs quite a punch for quick acceleration. You'll want to hold on tight.
---
2014 Jeep Wrangler Rubicon ($30,895)
In the two-door 2014 Jeep Wrangler Rubicon, be prepared to get muddy. A short cab means you rock and dip a bit more. This Jeep comes with self-cleaning tires (the tire blocks have more space to repel mud), a high ground clearance (the car can ford crossings up to 30 inches deep), and a handy, included tow-hook will let you pull out folks in less well-equipped vehicles.
---
2015 GMC Sierra 2500 HD Denali ($50,540)
Mudding takes on many forms, and in an ATV or a dirt bike, you'll end up with the stuff plastered all over your helmet. If you're looking for a more high-end approach, consider the 2014 GMC Sierra 2500 HD. You'll stay clean and dry on even the roughest trails. The truck has almost 10-inches of ground clearance to take the worry out of river crossings, while the front and rear torsion suspension bar minimize jostling. But here's the kicker: the 2015 GMC Sierra 2500 HD Denali is one of the only heavy-duty trucks with an automatic locking rear differential. That means, in heavy mud, the truck senses the slip and locks all four tires in unison. 
Lead Photo: Getty Images
Trending on Outside Online