The Only "Gear" You Need to Stay Active While Pregnant
From hair ties to hydration bladders, women share their top pregnancy hacks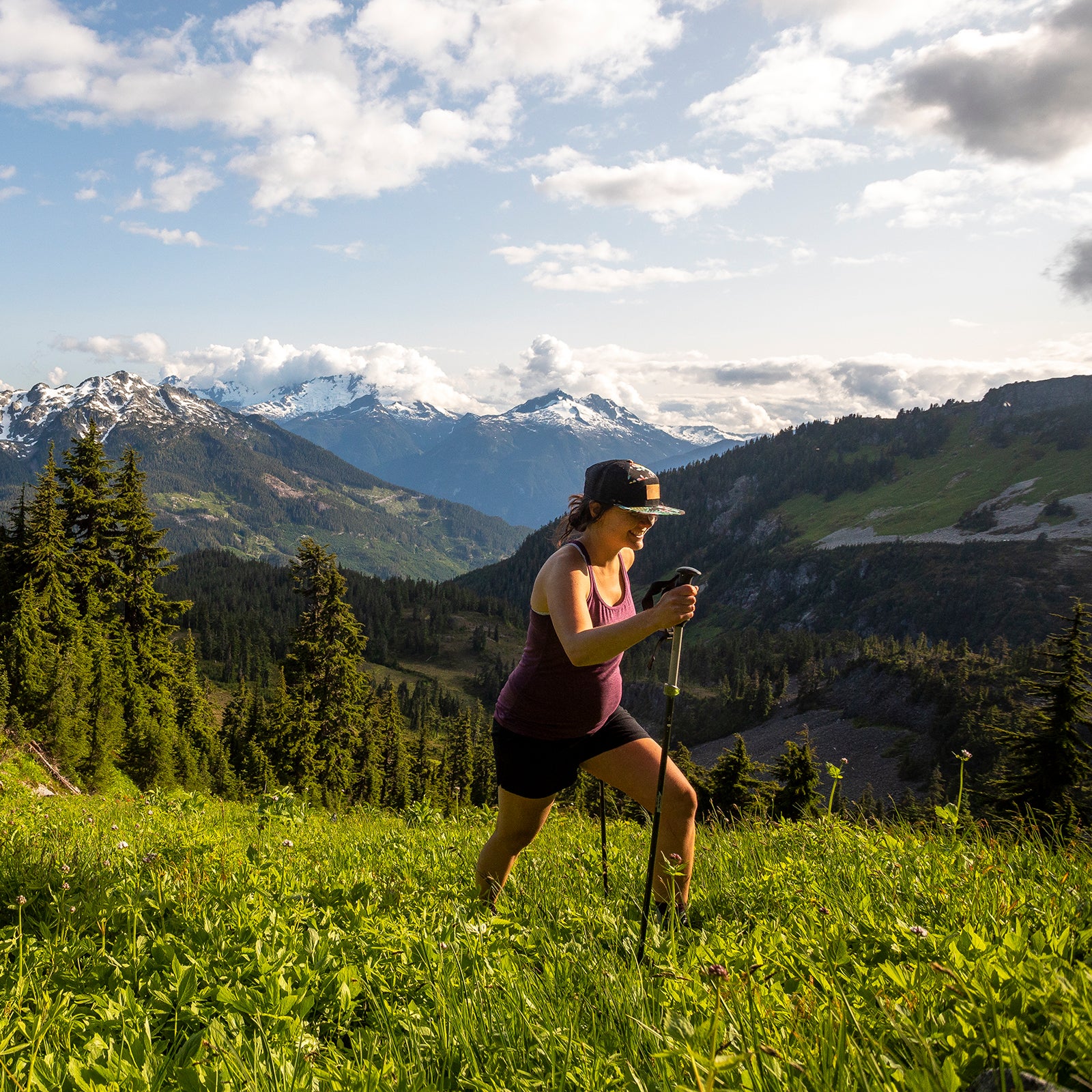 Heading out the door? Read this article on the new Outside+ app available now on iOS devices for members! Download the app.
When an Outside editor asked me to round up the best gear to help women do outdoor sports while pregnant, my first response was: Nope. And not because I'm opposed to pregnant women getting after it. I mountain biked into my second trimester, nordic skied into my third, rode my road bike to prenatal yoga, and "hiked" (i.e., waddled along trails with my dog) up until the day I gave birth.  
The real reason I balked is that I don't believe pregnant people who want to play or exercise outside necessarily need technical maternity gear. I did nearly as much as a person with 40 extra pounds smooshed against my lungs and bladder could safely do, and I got by fine with Target maternity leggings and winter layers borrowed from my husband. Other mothers I talked to—from professional athletes to friends—felt similarly. Being pregnant already means navigating an enormous hormonal life change while fending off the $66 billion baby industrial complex, which tries at every turn to fill our lives with unnecessary stuff. It's hard not to wonder whether calls for technical maternity pants just to walk briskly through a forest are part of the same rampant consumerism.
While it's true that some women continue sports like kayaking or skiing that do require technical gear into their third trimester, many others phase out these sports as their belly becomes unwieldy. And even those who keep going are often reluctant to buy stuff they'll only use for a few months. They repurpose existing gear, make do, or use pregnancy as an excuse to buy items they'll keep using for years. With this in mind, I asked a handful of women for their top hacks to stay active while pregnant.
Annie Behrend
Ultrarunner in Medford, Oregon
Before her daughter, Lucy, was born in August, Annie Behrend regularly ran 50- and 100-mile races. She continued to pull off 50-mile weeks through her first trimester, then dropped to 40 in her second, 30 in her third, and, in the final month, just plain hiking. As soon as her belly began growing, she wore the Gabrialla belly belt ($19.95) on runs and while working out. "It undoubtedly helped reduce the jostle of the hilly miles, but I especially noticed how much it supported my lower back while I was strength training," she says.
The other gear Behrend found indispensable was a Salomon S/Lab running vest ($170). Being pregnant or breastfeeding means you need extra water to stay hydrated, so it's essential to carry plenty of fluids while exercising. Plus, Behrend says, the vest offers plenty of room to stash the snacks that ward off nausea and puking.
Alison Criscitiello
Glaciologist and Former Climbing Ranger in Edmonton, Alberta, Canada
Glaciologist Alison Criscitiello's career requires her to ice climb, winter camp, traverse glaciers, and drill ice cores at high altitudes. So when she was pregnant last year with her daughter, Winter, she had little choice but to keep going.
In the first trimester, Criscitiello extended the waistband of her ski pants with the old hair-tie trick, along with a belly band to cover her exposed skin. But as she got bigger, she searched for other ways to stay warm without losing range of motion. "I noticed friends wearing their husbands' outer layers," Criscitiello says. "Being married to a woman, this wasn't an option for me. And I didn't want to invest in new clothes I'd only use during pregnancy."
When the temperature was above freezing, she wore active maternity leggings ($35) from Target. When it was below, she borrowed a male friend's puffy coat and base layers and hard-shell pants from a larger female friend. Mostly this "pregnancy uniform" worked fine, but Criscitiello admits that ski pants big enough to fit your belly often wind up being too long and wide overall—an important consideration when a crampon could snag on loose clothing and send you tumbling. Her solution was gaiters, like these OR Crocodile Gaiters ($85), or simply a ring of tape put loosely over her pants at midcalf.
Sarah Tescher
Mountain Bike Coach and Former Professional Mountain Biker in Durango, Colorado
"I knew I had my whole life to ride mountain bikes but just nine months to be pregnant," says Sarah Tescher, a former pro mountain biker and mother of two teenagers. For both of her pregnancies, Tescher mountain biked only in the first trimester, then stuck to riding her road bike, flipping the handlebars upside down so she could be more upright.
Today, pregnant women who want to keep biking have more options. "If I was pregnant today, I'd put On-One Mary Handlebars ($27) on a hardtail mountain or gravel bike and stick to nonbumpy back roads with very little traffic," Tescher says. For pregnant women still riding singletrack, she recommends a bike with good suspension to minimize bumps—or, if you want to get technical, increasing your front and rear suspension to around 150 millimeters.
Esther Hackleman
Runner in Corpus Christi, Texas
As soon as distance runner Esther Hackleman learned she was pregnant, she started getting "well-intentioned but fearmongering advice" to take it easy. So she hired a remote prenatal fitness coach, who, along with her OBGYN, assured her it was safe to run in the Texas heat as long as she stayed hydrated and listened to her body. "She was so supportive and encouraging," Hackleman says of her coach. "Her program focuses on strong bodies that aren't broken [by] pregnancy but are different and need to be treated with reverence."
The prenatal coach helped Hackleman develop workouts to strengthen her hips and lower back for delivery and even helped her feel confident enough to run a half marathon on the first day of her third trimester. During the race, Hackleman used Squirrel's Nut Butter ($13.95) to keep her thighs from chafing; Copper Fit Pro Series Knee Sleeves ($14.90) to help her knees support the extra weight she was carrying; and a Rabbit Sun's Out, Tummies Out ($45) breathable crop top to keep her cool (and show other racers that running with a bump is totally acceptable).
Sarah Tingey
Co-Owner of Alpacka Raft in Mancos, Colorado
When Sarah Tingey, co-owner of the packrafting manufacturer Alpacka Raft, was eight weeks pregnant, she went on a 12-day paddling trip in the Arctic National Wildlife Refuge. She also mountain biked into her second trimester and went elk hunting in the Colorado backcountry this fall, a feat that required a six-mile off-trail scramble over boulders with a full pack, while she was five months pregnant. "I was like, is this going to be the worst decision ever?" she says, laughing. "But the pace I was able to move at was perfect, because when you're hunting, you don't want to crash around. And I slept great. It was the final night of the season, and elk were bugling everywhere."
Through all these activities, Tingey has sworn by Solomon Speedcross trail running shoes. Their aggressive tread helps her newly off-kilter body stay balanced in rugged terrain, and their laceless design means they accommodate swollen or changing feet. Tingey also snagged a Lola Down-Filled Maternity Jacket on sale (regularly $185) to get her through winter snowshoeing and fatbiking season in southwest Colorado. It zips into a vest and has space to snuggle a baby in its downy warmth for postnatal hikes.
Kellie Torio
Climber in Montrose, California
Kellie Torio loves climbing, snowboarding, and mountain biking in California's Eastern Sierra. When she was pregnant with her daughter Riley, though, the only sport she felt comfortable continuing was climbing. The others felt risky, but "my body was telling me that it was OK for me to climb as long as I stuck to familiar routes and avoided ones that were harder than 5.8," she says.
Climbing while pregnant meant investing in a full-body harness, like Petzl's 8003 Full-Body Harness ($129.95), because it allowed Torio to avoid putting pressure on her growing belly. "It wasn't the most comfortable harness to hang around in for too long, because there's no padding on the straps, but I couldn't feel it while I was climbing, and the 20 seconds of discomfort while being lowered felt like a small price to pay to climb," she says.
Lead Photo: Ben Girardi/Cavan