Apple Improved the AirPods, and We Love Them
New tweaks mean they're easier to use at work and on the trail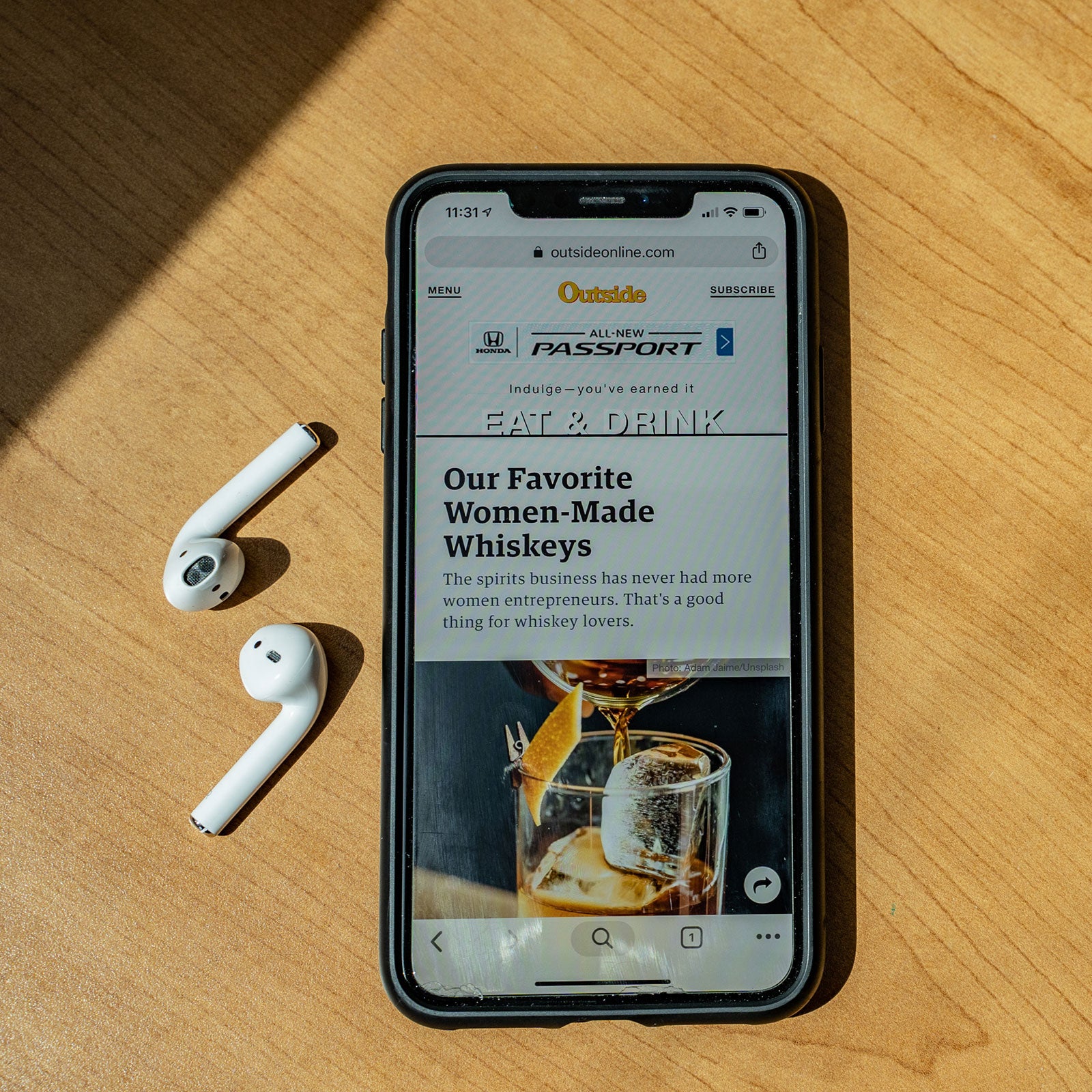 Heading out the door? Read this article on the new Outside+ app available now on iOS devices for members! Download the app.
The original Apple AirPods are pretty damn good. They're comfy, have great sound quality, and stay in most people's ears. But they're lacking in a couple key areas like long battery life and tap functionality.
Not anymore. The new AirPods offer everything from extended talk time to tap control to Siri, making them an even more coveted piece of everyday carry.  
My favorite features are the longer battery life (thanks in part to the power efficiency of the new Apple H1 headphone chip) and ability to quick charge when needed. Apple says you'll get up to an hour more of talk time, which is nice when you're on your third conference call of the day and don't have to worry about your AirPods crapping out midsentence. Also neat: fifteen minutes of charge time in the case gets you three more hours of music. 
I bike to work every day and used to hate switching songs on my original AirPods via Siri because she couldn't hear me over the wind. With the new version, I can double-tap my right AirPod to skip to the next song and double-tap my left AirPod to skip back. No more suffering through bad music.
Utilizing some algorithm magic, Apple also found a way to cut down wind noise when you're riding and talking or just walking somewhere on a windy day. Can I speed down the bike path and have a wind-free conversation? Absolutely not. But I can pedal at a decent pace and not annoy the person I'm talking to, which is a win in my book.
Just like your iPhone, you can now say, "Hey, Siri," and the digital assistant pops right up. Siri is not perfect by any means, but it's convenient to be on my bike and ask Siri about everything from the weather to my schedule without having to take my hands off the bars.
If you have the new Apple Watch Series 4, the AirPod integration is superconvenient. You can control the headphone volume via the watch dial, answer a call and send it to the AirPods, and dictate and verify a text. If you have the Series 4 watch with cellular, you can make calls via your AirPods but without your phone. I dig this perk on the weekends when I want to ride 70 miles and need the option to call a bail-out ride but don't want to carry my phone.
Other new additions include the ability to wirelessly charge the AirPods and faster connectivity to your phone, which can make a difference when you're trying to answer a call and insert your headphones at the same time.
I've been watching people put the new AirPods to good use in all kinds of ways, including Jared Zissu, the founder of Flylords, an online fly-fishing publication. Zissu is constantly on the road and has his AirPods in constantly. Things like the new battery life and reduced noise have allowed him to do more business, but they've also helped him chill out when the time comes. He usually fishes without the AirPods, but sometimes, in rivers where a fish might bite only once every three hours, a good playlist and his AirPods come in handy.
"The sounds of nature are usually best, but sometimes a playlist and my AirPods can really help me get into the zone," he says.
Lead Photo: Courtesy Apple