Move Over Voile, There's a New Strap in Town 
New webbing straps made by a company called Austere offer a tight-cinching alternative when you need to tie things down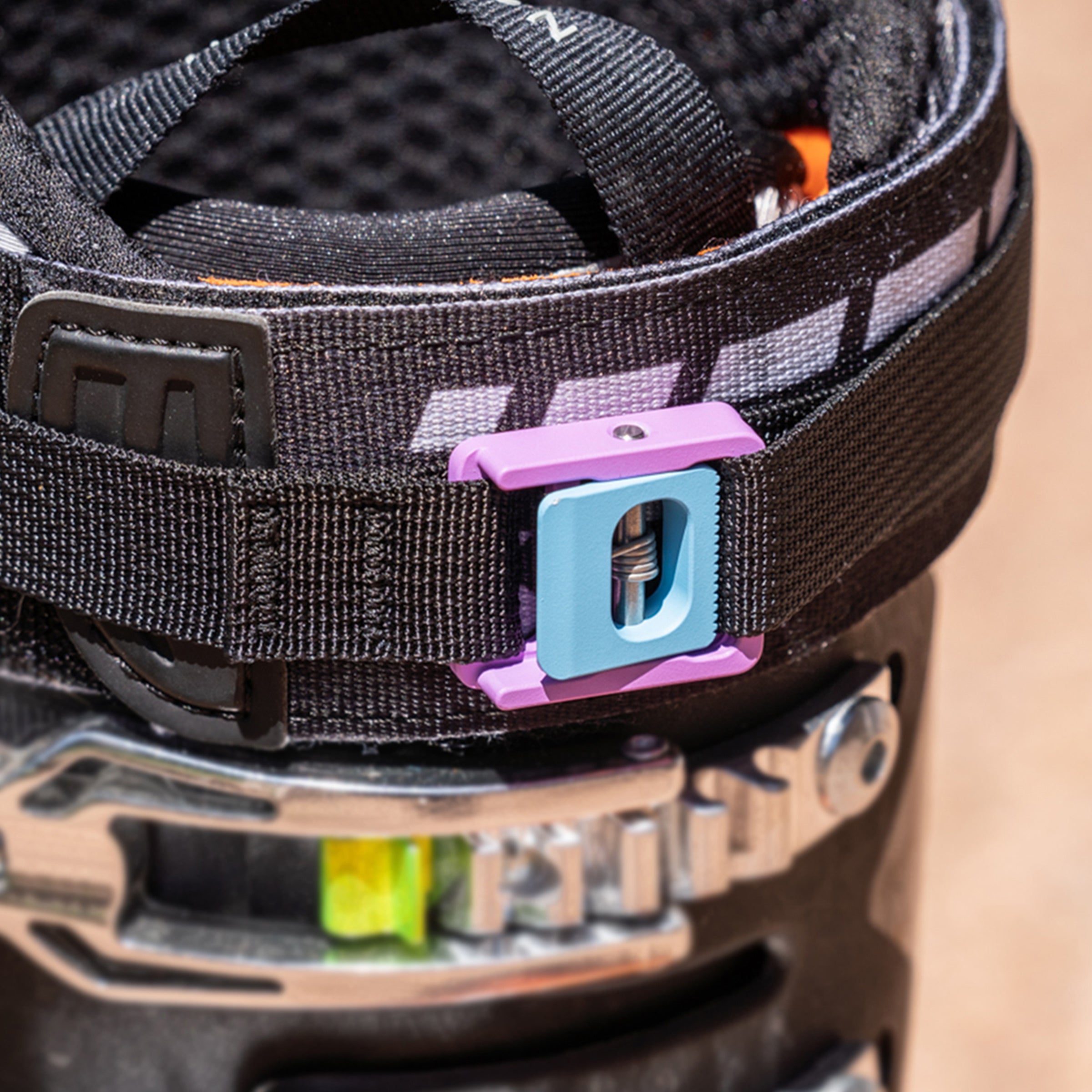 Jakob Schiller
Heading out the door? Read this article on the new Outside+ app available now on iOS devices for members! Download the app.
After years of designing and building outdoor soft goods, including backpacks, bikepacks, and whitewater rafting gear, Uriel Eisen found that he was always impressed with the quality of the textiles available, but he was constantly underwhelmed by the straps and buckles. And that was a problem, because if the closures failed on the bags, they were pretty much useless.
Eisen decided to fix that. "It was obvious that companies were trying to make the cheapest straps and buckles," he says. "So I figured, why not try to make the best straps and buckles."
What he landed on is a new strap and buckle product that's already gaining steam in the bikepacking world and will undoubtedly barnstorm its way into the skiing and overlanding worlds as well. Eisen's straps are made under the company name Austere and everything is manufactured, for now, in a barn in Kingston, Washington.
Mechanically, the Austere straps are similar to the beloved NRS straps in that nylon webbing feeds through a spring-loaded buckle. But the Austere straps use a thinner and shorter webbing, and a higher-quality buckle with pieces cut from solid blocks of aluminum. The shorter length (for now they're offered at 1.5, three, and four feet) makes them similar to the Voile strap, although the Austere straps differ in that they are more flexible and don't stretch.
Eisen says bikepackers use the Austere straps to reinforce seat bags that might wobble with cheaper straps, or to tie down other items like rattly water bottles. Bikepackers have used Voile straps for similar purposes, but they appreciate that the Austere straps' non-elastic webbing leaves almost no room for anything to budge once the strap is fully ratcheted down.
Bikepackers are also fans of the straps' light weight. Eisen weighed a 32-inch Voile strap and found it was nearly triple the heft of his 36-inch strap with three-quarter-inch webbing. To be clear, we're talking about grams and ounces here, but those who care will be impressed.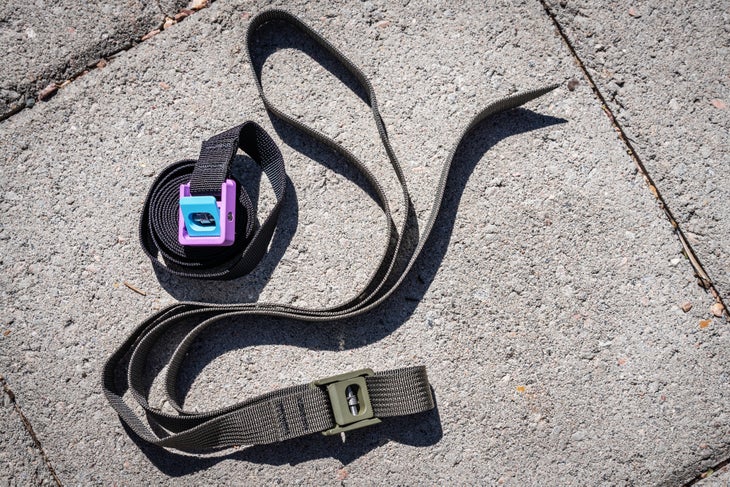 Load wise, Eisen made clear that the straps are not safety certified, and absolutely not to be used for any activity where a failure could cause injury, like supporting a climber. But he does use high-quality mil-spec nylon webbing that his company tested to a breaking strength of well over 500 pounds, more than enough for nearly any tie-down use you can think of.
While most skiers and bikers will choose the three-quarter-inch-wide straps for the weight savings, Austere also makes straps with one-inch webbing and plans to offer longer lengths in both widths soon. People in the overlanding world are already using the shorter straps to tie down small things in the bed or cab of their rigs. My guess is that they'll quickly buy into the longer straps as well to anchor larger and heavier items.
I've had a couple of straps for several weeks and spent a lot of time thinking about how I might use them. They'll be in my bikepacking bags during a trip in September, but I'm also excited to carry them in my backcountry ski bag—along with a couple of Voile straps. Each has its place: If one of my skins stops working, I'll pull out the Voile strap because the rubber end will stick up and stay out of the way, while the Austere webbing could get caught under my ski. If a boot buckle decides to break, however, I'll be glad to have an Austere strap because the webbing and buckle design will allow me to ratchet the boot down more effectively.
Eisen says he still uses Voile straps himself, and he's not trying to compete directly with the popular brand. His goal is broader. He wants to elevate the buckle and strap market, and find ways that his product can be used as widely as possible.
Several small bikepacking companies, such as Class 4 Designs, already source Eisen's buckles and integrate them into their bags to increase functionality. His dream is to get picked up by soft good manufacturers across various industries and have those companies highlight Austere as one more offering on their premium products. Austere already makes a variety of fun colors, and it's easy to see backpack companies buying in sometime soon.
"It's crazy to think that a $300 backpack usually has the same buckles as a backpack that you might buy for $30 at Target," he says. "I feel like there's a hard cap on soft goods right now when it comes to available buckles, so that leaves me a lot of room to rethink buckles and how they can be used."
Lead Photo: Jakob Schiller
Trending on Outside Online