Benchmade's New Kitchen Knife Does It All
Our Gear Guy is getting rid of the rest of his culinary blades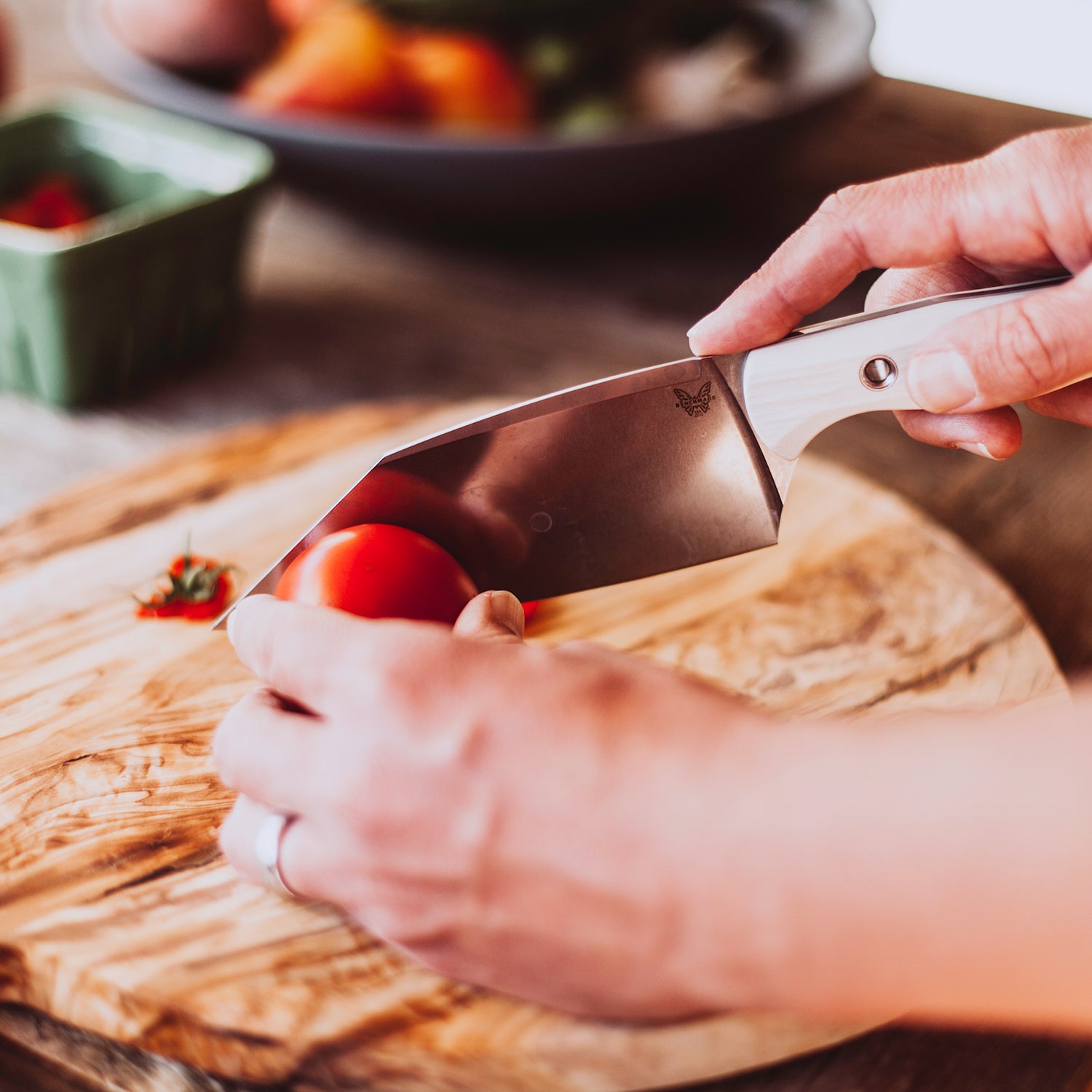 Heading out the door? Read this article on the new Outside+ app available now on iOS devices for members! Download the app.
Having one tool that excels at a wide variety of tasks—a quiver killer as we like to say at Outside—is a truly beautiful thing. Needing fewer items to do the activities you love is both satisfying and practical. But more often than not, the attempt to make something capable of doing many things makes it mediocre at all of them. Every once in a while, though, I test something that does everything I ask of it so well that it eliminates my need for adjacent items. After extensively testing Benchmade's customizable Station Knife (from $270), part of its new culinary line, I'm planning to clear out the knife drawer in my kitchen.
Over the past seven years, I have tested hundreds of knives for Outside—in both the everyday carry (EDC) and kitchen categories—including many of Benchmade's blades, which are some of the most esteemed in the tactical and EDC worlds. While I have always expected a pocket knife to do absolutely everything in my day to day life, I assumed you needed a series of specialized blades in the kitchen. I even advocated buying a special cleaver just for carving your Thanksgiving bird. But this belief changed with the Station, which I have found to be capable of any kitchen task after dozens of testing hours cutting tens of pounds of produce and poultry.
My tests ranged from dicing hundreds of spicy peppers for pickling to thin-slicing ripe tomatoes to breaking down five whole chickens. The Station dominated all of the tasks for three main reasons: an innovative blade shape, a ridiculously comfortable handle, and a remarkable sharpness that held incredibly well over two months of hard use.
The blade looks like the lovechild of a chef's knife and a paring knife. The bottom two-thirds of the six-inch blade has a similar profile to that of a traditional chef's knife. But the two inches at the top feature a dramatic angle from the spine to the tip, which makes for a delicate point. The result is a knife that was hearty enough to cut out a chicken's backbone for spatchcocking but could still core the top of a ripe tomato.
After I saw how well it worked in my kitchen, I wanted a more nuanced explanation of why the Station knife is so versatile. So I called Kyle Mendenhall, the executive chef for the Big Red F restaurant group in Denver and a member of the panel that helped test and develop Benchmade's culinary line. "A chef's knife is designed to do 90 percent of all culinary tasks," Mendenhall says. "You are covered for those with this handle and rear of the blade, and the other 10 percent is covered with the very fine tip that allows you to get into nooks and crannies."
A knife that utilitarian needs an edge to match, and I was not disappointed. The Station is keenly sharp and holds that edge well thanks to an alloy that Benchmade developed for its EDC and tactical lines. Most culinary knives are made from either high-carbon steel or low-carbon stainless steel. While extremely hard and able to produce a fine edge, high-carbon steel knives need to be sharpened frequently because they don't handle abrasion well. Low-carbon stainless steel is very corrosion-resistant, but is not as hard, so the edge can be deformed over time.
Benchmade started with low-carbon stainless and added carbon, chrome, and other alloys to create carbides (extremely hard compounds) in the blades. These deliver better edge retention while maintaining corrosion resistance. The result: I used my Station Knife to slice centimeter thick tomato slices this morning after two months of abuse and haven't sharpened it once. Even more impressively, Mendenhall says he only needed to run his Station knife over a steel once in the past six months—he normally sharpens his culinary blades before every use.
On the blade's spine, a bevel was a nice touch that minimized thumb-rub during extended cutting sessions. Beyond the blade, the large handle of the model I tested featured G-10 plastic laminate (Benchmade offers Richlite and carbon fiber handles, too), which had just enough texture for cutting when my hands were slippery with chicken grease but still felt smooth during hour-long chopping sessions.
You can just tell this knife is well made. But if there were any doubts, I recently went to Benchmade's factory in Oregon City, Oregon, to see where they're crafted. Each Station knife had at least 17 people work on it as it was built over the course of 36.5 hours. That attention to quality comes through in every detail of the finished product.
Needless to say, the Station made me rethink my culinary knife collection. I have an emotional connection to each of them. One reminds me of the thousands of cucumbers I chopped during the summer I learned how to pickle. Another reminds me of how proud my dad was when I expertly carved a turkey while hosting Thanksgiving. But after using Benchmade's newest blade, I realize that I can complete those tasks and many more with just one knife. It will be tough, but I plan on donating most of them.
Lead Photo: Courtesy Benchmade