The 4 Best Meditation Apps to Build a Steady Practice
Who says smartphones take you out of the moment? Used smartly, they can open your mind and make you more present than ever.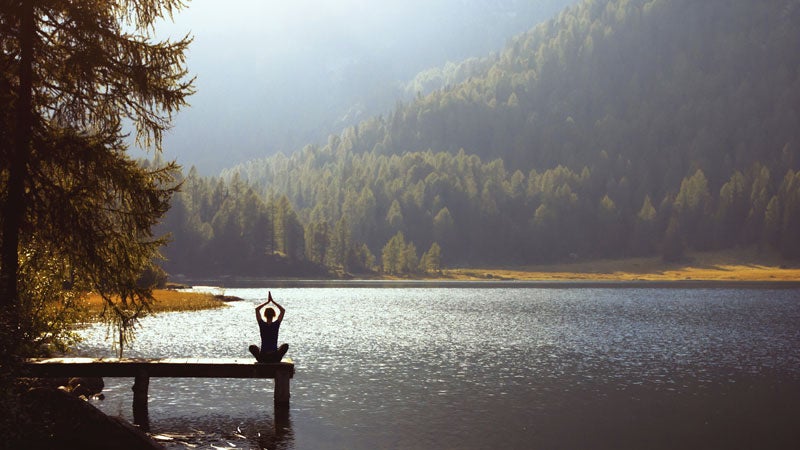 Getty Images/iStockphoto/anyaber(Photo)
Heading out the door? Read this article on the new Outside+ app available now on iOS devices for members! Download the app.
Meditation. It's not a New Age thing anymore, or a Buddhist thing, or even a David Lynch thing. It's gone mainstream and secular, and now, like everything else in your life, it's available as an app.
The catch term these days is mindfulness. This is in fact a slightly different pursuit than meditation. As Ira Israel points out, it's sort of the opposite, since traditional meditation is a mind-emptying practice. But studies abound documenting the positive effects of meditation and mindfulness, from the obvious—stress reduction, help with anxiety and depression—to the not-so-apparent, like stronger immune systems, lower risk of heart disease, better relationships, and overall increased happiness.
Smartphone technology—too often the greatest enemy of enjoying the present moment—can help you get there. There are apps that aid with relaxation, breathing exercises, and "mindfulness-based stress reduction." You can find screen after screen of effective methods to help people feel better and work more productively, whether in New York cubicles or NFL training rooms. What you'll find below is the best of what's available now on iTunes and Google Play.
What Qualifies as the Best Meditation App?
We focused on apps that have a human feel, with voices offering instruction and guided meditation. The following apps feature real people whose experience is apparent and who have a good bedside manner. We steered clear of the cloying, the motivational-speaker-esque, and those unmotivating sleep-inducing instructors who sound like they've enjoyed a little too much weed and can't pronounce their consonants.
But a lot depends on your own personality, the vibe you go in for, and the techniques that work for you. So take some time to play around with various apps; the ones here all cost less than a digital streaming service. (Note: most of these require additional purchases once you've run through the included content—from single fees per meditation to $10 or more for an annual subscription.)
And don't forget one key fact: You do have time. I need to remind myself of this whenever I get too caught up in the rush. Every minute invested in resting those neural pathways will pay itself back—you'll need less sleep, and you'll be sharper and more efficient.
Best Meditation App for Your Mindfulness Goals
Best All Around: Buddhify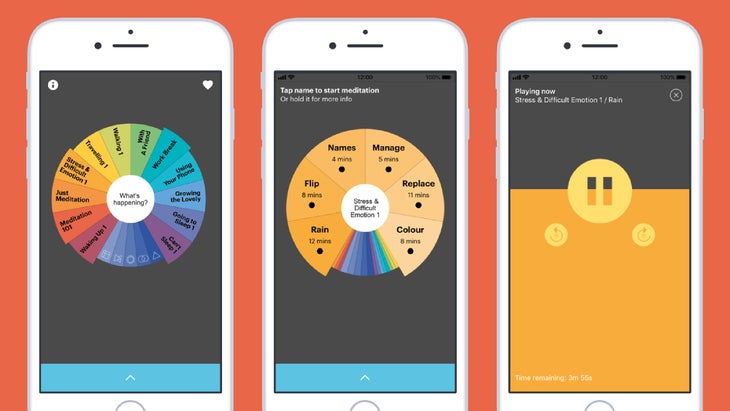 Buddhify calls itself "modern mindfulness wherever you are." It's designed for those who've always been curious about meditation but haven't known where to start. A brilliant, colorful design and wide array of situation-focused meditations make this app engaging and useful for experienced meditators as well. What sets it apart is the rainbow-hued spinning dial that asks what you're doing now. Trying to sleep? Sitting in a park? Exercising? There are 16 such categories, and a small handful of guided meditations to choose from within each. It offers a variety of enjoyable instructors, plus a solo option, a stats page to track your progress, and the option of social sharing for those who want to feel they're part of the community. Who knew meditation was this much fun?
---
Best for Beginners: Calm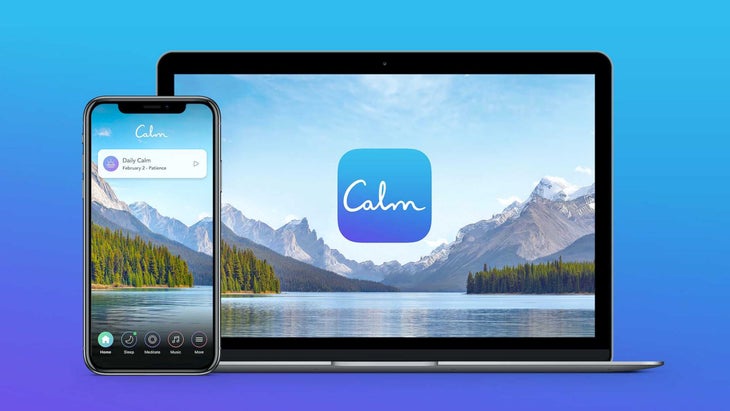 This intuitively designed and supremely accessible app puts learning front and center, and includes helpful Masterclass information where mindfulness experts explains some of the science behind meditation. Included are several no-nonsense guided meditations that focus on a single concept, like relieving stress. Best of all is the check in screen that asks you to pinpoint your current mood and emotions, then recommends different meditations or mindful activities based on your answers. Additionally, a progress page tracks the time you spend meditating, and the app also includes other meditative tools, like bedtime stories read by celebrities, mindful movement exercises, and a white noise simulator.
---
Best If You Already Meditate: The Mindfulness App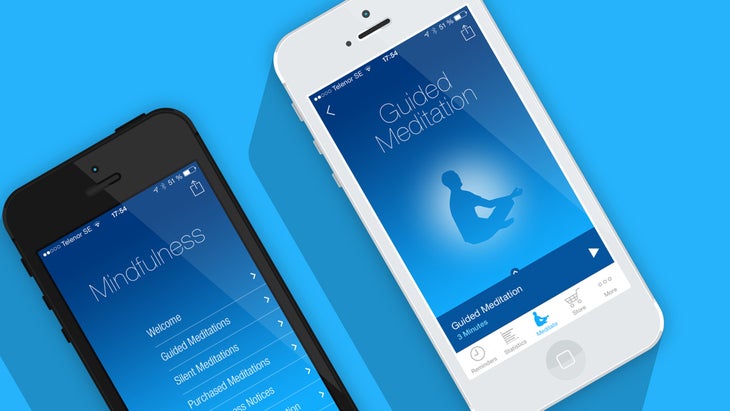 This simple, clean app combines a lot of the best features from all the others on this list: a handful of guided three- to thirty-minute meditations led by instructor Catherine Polan Orzech, who teaches Mindfulness-Based Stress Reduction; the option of self-guided silent meditations in the same increments, or in whatever length you specify; optional daily reminders to put down the mouse and get your butt on the cushion; and additional 99-cent meditations from leading teachers. A smart feature is the timer showing no numbers but only a circle of dots that slowly move around to 360 degrees, so the math part of your brain doesn't have a chance to obsess.
---
Best Host: Headspace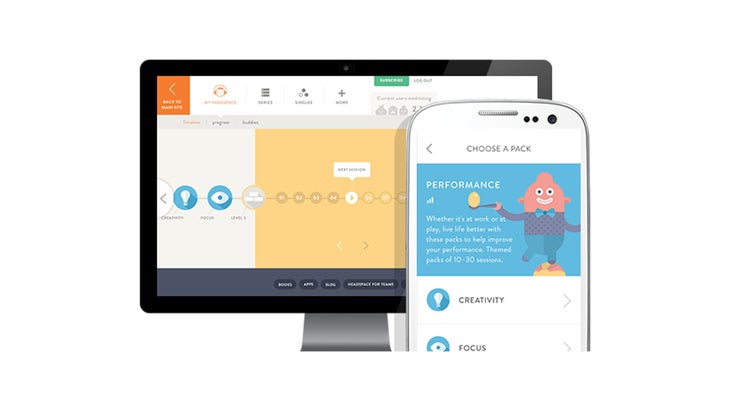 Andy Puddicombe: first off, best name among wellness practitioners. (I'm talkin' to you, Deepak.) Puddicombe is a minor celeb in Britain, where he consults for the government and appears on BBC. A former Tibetan monk, he now preaches the merits of taking ten minutes every day for mindfulness. This Take 10 program is the centerpiece of the Headspace app. Puddicombe's guided meditations are intelligent and thought-provoking and offer what the best teachers can—instilling enthusiasm while speaking to you at your own level. The design has a few odd, clunky moments, but it makes up for it with excellent graphics.
---
Best Free Meditation Apps and Tools
These apps offer specific features for those who don't need a guide but do want tools to facilitate their practice.
Breathwork
For breath training (a great skill to develop not only for relaxation but also for yoga and increased VO2 max), try Breathe2Relax, which gives you visual and aural cues to inhale and exhale.
Relaxation
Relaxing sounds can provide a great backdrop, particularly at the office or if you live in a noisy city. Apps like Deep Relax, White Noise, and, well, Relaxing Sounds offer sounds like waves on a beach or songbirds that put you in the mind of a rainforest, and you can also use them as an alarm clock if you'd rather wake up to a thunderstorm than to Apple's default "Opening" tone (the one that sounds like that song in American Beauty).
Duration
Finally, there are meditation timers that serve one simple purpose. My favorite is Insight Timer, an elegant design that allows you to set a specific duration and drift off, without overthinking it. (Bonus: it also tracks your progress, helps you build a routine, and includes several free guided meditations added daily.)
Lead Photo: Getty Images/iStockphoto/anyaber
Trending on Outside Online