Indefinitely Wild
The Perfect Rifle for Hunting in the Mountains
The Christensen Arms Ridgeline is high-tech, lightweight, and, paired with a Maven RS.1 scope, reasonably affordable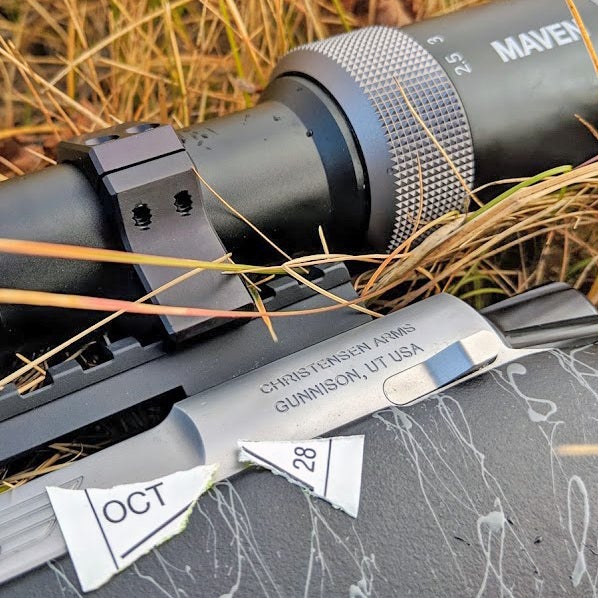 Heading out the door? Read this article on the new Outside+ app available now on iOS devices for members! Download the app.
Last summer I moved to Montana. Along with things like adopting a third dog and permanently affixing merino wool to my skin, that meant I needed to upgrade my hunting rifle. Not only are the animals bigger up here, but the mountains are, too. And I think I found a gun that's not only incredibly light, but also extremely durable, and as accurate as anything else out there.
Let me tell you why I think this Christensen Arms Ridgeline is the perfect rifle for the backcountry.
The Rifle
The Ridgeline is Christensen Arms' no-frills hunting rifle. Just here that means you get a carbon-fiber barrel attached to a machined-from-billet stainless steel action, which is connected to a carbon composite stock with Invar pillars. There's also an adjustable trigger, a radial muzzle brake, and a Limbsaver recoil pad. Any one of those features would typically be afixed to a rifle with a much higher price tag. Together, they represent extraordinary value.
I went for one chambered in .300 Winchester Magnum, which is a heavy-hitting, flat-shooting caliber capable of ethically harvesting any animal in North America. That's especially important here in Montana, where sneaking around in the mountains, possibly with a bunch of meat on your back, means you might run into a grizzly bear. With the long action and 26-inch barrel required for a magnum caliber, the rifle weighs just 6.8 pounds thanks to all that carbon fiber.
Christensen has a background in manufacturing composites for the aerospace and medical industries. The precise tolerances and consistent quality required by those worlds translates well to firearms. The company developed the first carbon-fiber rifle barrel in the mid 1990s, and with the Ridgeline, has brought that technology down to a price level that's competitive with mid-quality rifles made from more traditional materials. But even at $1,995, I haven't found anything on the Ridgeline that's not nicer than any other gun I've ever fired. And it's thousands of dollars cheaper than other rifles with similar specs.
The Ridgeline's most distinctive feature is obviously its carbon-fiber barrel. That material actually wraps around a very thin stainless steel inner barrel, adding strength and shedding heat. So you get a very burly barrel for the weight of a very light one. Inside that barrel, the rifling is inspected to a tolerance of .0001 inches, contributing in a big way to this rifle's accuracy.
Also shedding weight and adding a distinctive look in the process is the spiral-fluted bolt, which is matched by a fluted shroud and bolt knob. The bolt is fitted with an AR-15-style extractor, which for magnum calibers includes two ejectors for extremely reliable operation.
The Scope
Obviously I needed to put a really good scope on such a nice rifle. But my budget doesn't run to Swarovski, Zeiss, or Leica glass, so I turned to Maven, a new company out of Wyoming that manufacturers in Japan and sells direct-to-consumer. Fortunately, its flagship scope isn't just an ideal pairing for the Ridgeline, it also costs just $1,200—about half what you'd expect to spend for a similar product from a legacy brand.
The RS.1 has a zoom range that goes from 15x all the way down to just 2.5x. At full magnification, that means it's able to take full advantage of the .300 Win Mag's incredible long range performance for target shooting. Its rare to see such a powerful scope that's also capable of zooming out so far, which means this setup is also perfect for close-in shots and in tight cover. With its wide field of view, the 2.5x setting is ideal for stalking animals in the woods, when a quick shot might be necessary. It'll also be good for bear defense, for the same reason. The other nice thing about the RS.1 is that its reticle (the crosshairs) is etched onto its first focal plane, which mean its points of impact remain the same, no matter the magnification level.
The 1.5-pound RS.1 has a large 44mm objective lens, and a 30mm main tube, which add up to an amazing ability to capture light—crucial for hunting at dusk and dawn or in dense woods. It also has an incredibly generous 100 MOA (or minute of angle) of available adjustment for elevation, and 70 for windage, both set in 1/4 MOA clicks. I think I used around 7 MOA of elevation when I zeroed-in. I haven't yet shot the rifle past 600 yards, but there's more than enough adjustment there to take shots out to three times that, without swapping in a new base. (A minute of angle corresponds to one inch at 100 yards.)
Despite its mid-level price, there's nothing about the RS.1 that doesn't feel top-notch. The glass is incredibly clear, the anodizing on the body is flawless, the adjustments click around with total precision, and the magnification knob is perfectly damped. Mounting it to the Ridgeline for the first time, I was struck by how easy it was to achieve perfect eye relief. I've kept the scope in the same position in which it was first mounted ever since.
There are two reticles available: an intricately hashmarked long range design in minutes of angle and a simplified hunting reticle that will help compensate for bullet drop without filling up the entire field of view. I opted for the long range option so I can go target shooting with friends, but in the field, would prefer the simpler option.
Shooting It
Before I ordered the rifle, a retired Marine Raider buddy texted me that his Ridgeline (also a .300 Win Mag) "shoots like an AR-15, thanks to that muzzle brake." And he's not wrong. Chambered in this extremely powerful caliber, the Ridgeline makes a very loud noise, but produces very little felt recoil.
That was the first surprise when I initially took the rifle to the range to sight it in. The second was that with it, I was shooting sub-one-inch from the very first shots. Modern production technology has made such performance fairly standard, but it still feels reassuring to sit down behind a new rifle, and work on enlarging a single hole in a piece of paper, rather than just poke a bunch of random ones.
The third surprise was that the Ridgeline maintained that accuracy throughout an 80-round session, with occasional quick pauses to swab the barrel, but without long breaks to allow it to cool. Aside from the occasional flyer caused by my own ineptitude, almost every group I shot managed to fall within one inch. Christensen employs two technologies that help minimize heat-related expansion and its impact on accuracy: the carbon-wrapped barrel and the Invar pillars. Carbon doesn't retain heat in the same way steel does, so this barrel seems to cool faster than a traditional one. Invar is an aerospace alloy that has virtually no heat deformation, so the barrel's relationship to the stock remains consistent regardless of temperature.
Neither the Ridgeline's extreme accuracy, nor its ability to shrug off heat generated by long shot strings are terribly applicable in the field. The smallest animal I'll ever use this rifle on is a deer and even on a very small one of those, I have about an eight-inch circle to work with; within that any shot will result in an ethical kill. And, while hunting, you're hopefully only taking a single shot. But it's nice to know the rifle isn't the limiting factor and it's also probably practical that a very cold morning at elevation won't alter the rifle's accuracy.
Combine those features with the durability of the rifle's construction and its lack of recoil and you just have a very confidence-inspiring package. The Ridgeline is going to hit what you point it at even if the weather's bad, and even if it's been bouncing around on your shoulder for days during the hike in, and even if you drop it. And it does all that in one extremely light package.
Confidence was what I felt hunting with it in the Absaroka Mountains last fall. With the move, Montana's early deadline for its big game drawing, and its insistence on ruling me out of state until I'd lived here 180 days, I ended up with leftover doe tags. I took a whitetail on archery, then brought the Ridgeline along when I went looking for mule deer. This caliber is overkill for a doe, but a well-placed standing shot from 100 yards ensured that I didn't lose any meat. Hopefully I'll be able to say the same about a bull elk this September.
Likes
The brake and pad add up to about the same recoil as my braked 5.56…just here from a 200-grain .300 Win Mag.
From the carbon barrel to the billet action, to the fluted bolt, this is one very handsome rifle.
Light enough to carry for days on end.
Impervious to weather.
More accurate than I am.
Trigger adjusts down to 2.5 pounds and breaks crisply.
Easy, intuitive, and positive safety mechanism.
Dislikes
The brake makes shooting this thing at a range positively anti-social. But I'm afraid taking it off might mean I'm practicing different than I'm hunting.
I've never gotten along with hinged floor plate magazines, and this one only holds three rounds in magnum calibers.
I should have gone for the simpler scope reticle.
Should You Buy One?
I'm pretty sure this is the first gun review you'll ever read on Outside. It's certainly the first one I've ever written. Why now and why here? I thought this rifle-scope package was special enough that it merited the coverage, and its attributes make it uniquely applicable to the kind of adventure hunting we find exciting. It's light, it's durable, it shoots straight, and it won't even bruise your shoulder. It's expensive enough that it probably won't be your first hunting rifle, but it's also nice enough that it just might be your last.