Indefinitely Wild
Columbia River Knife and Tool LCK + Is a Great Everyday Knife—and It Only Costs $44
It carries well, quickly flips open, and gets the job done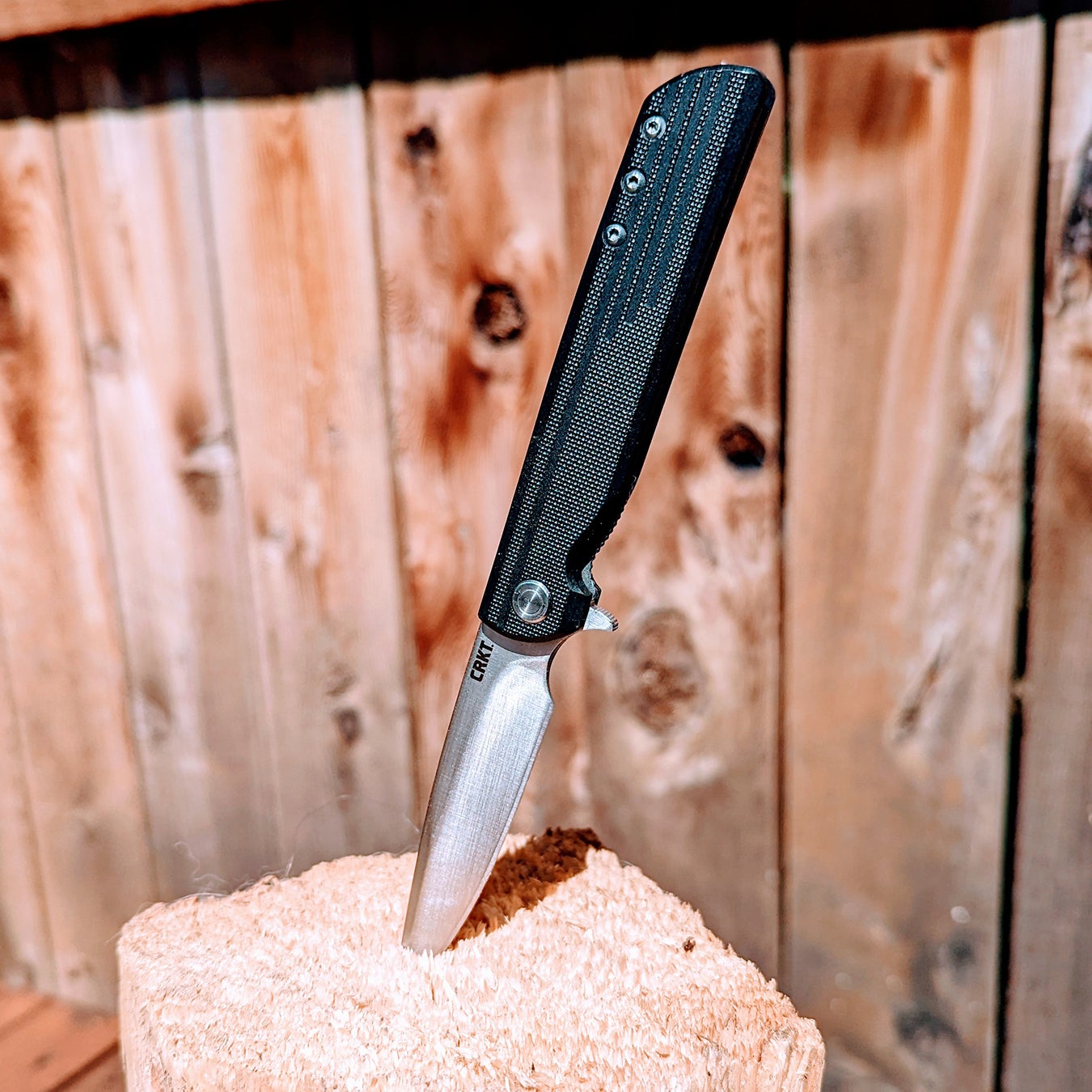 Wes Siler
Heading out the door? Read this article on the new Outside+ app available now on iOS devices for members! Download the app.
I'm carrying a $44 Columbia River Knife and Tool LCK + in my pocket right now. That's only around one-tenth the price of the knife I normally carry, but it still gets the job done.
When it comes to pocket knives, I'm guilty of having expensive taste. The blade I had been carrying for the last couple of years was a DPx Aculus Flipper, which retails for $450. 
I justify that price partly because my friends and I like to give each other knives as gifts. That Aculus came from my buddy Robert Young Pelton, who also happened to design it. I gave a similar one to my friend Griff a few years back. Spending that money on other people feels better than spending it on myself.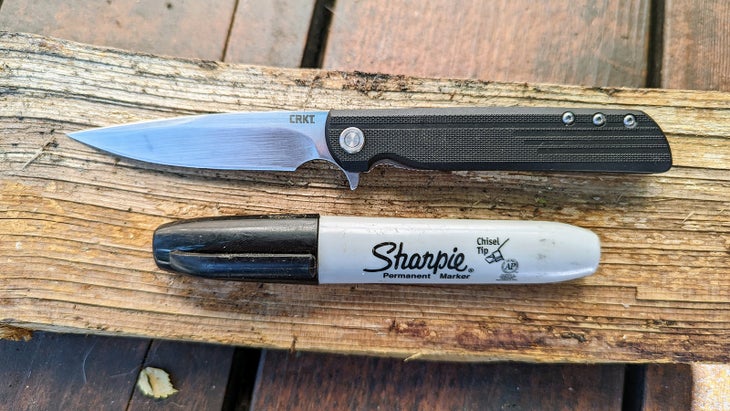 And because my friends like to give each other knives, I've got plenty to choose from right now, even though I lost the Aculus in a COVID-induced brain fog. But rather than grabbing something else fancy out of the drawer in my nightstand, I've instead been reaching for this $44 CRKT. It's one of those products that's just right, even though it's relatively cheap.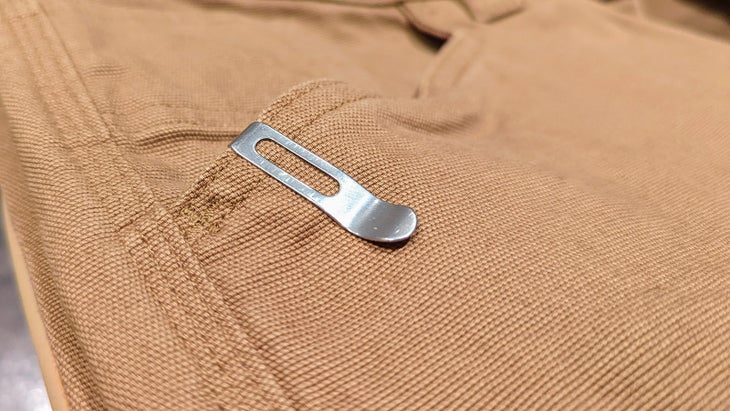 There are a couple of things I want any pocket knife to do. The LCK + excels at all of them. Since pocket knives spend most of the day riding inside my front right pocket, I need them to carry well. This knife does that thanks to a deep carry pocket clip that positions the entire body of the knife below the level of of the pocket's brim. It's incredibly slim dimensions are approximate to a large Sharpie, which makes it barely noticeable. Because I'm right handed, I like a knife with the blade tip-up, facing rearwards in that front right pocket. That way when I grab it, it's ready to open, without any shuffling.
And thanks to that fancy Aculus, I've also become a fan of flippers. A flipping mechanism places a small lever at the base of the blade. When closed, the lever protrudes from the back of the knife and provides the leverage necessary to quickly flick the blade open. Once open, that lever serves as a solid finger guard, preventing your hand from sliding forward onto the sharp edge. 
The LCK + backs up that lever with a spring-loaded assisted opening mechanism. Flick the lever, and after it travels a few millimeters, a spring hidden inside the handle takes over and forces the blade open. I've never been a huge fan of assisted openers because they usually require a little play to be left in the pivot—so friction doesn't interfere—but the ball bearing inside this CRKT feels rock solid.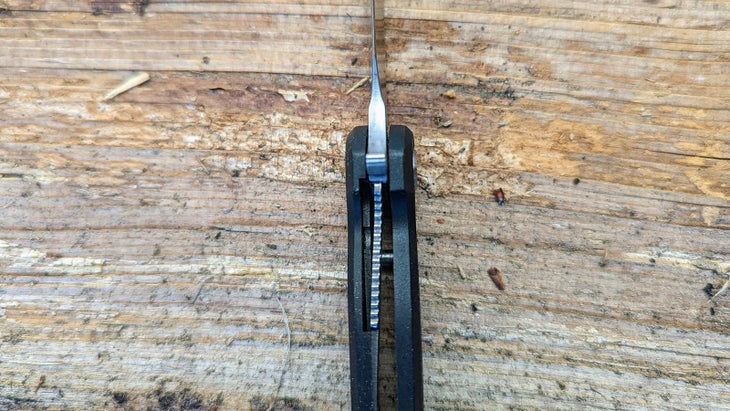 By forcing the blade open, that action also deploys the liner lock. The strongest way to safely lock a folding knife's blade open is with a frame lock. That design sees a portion of the monolithic frame twisted so that it will move inwards when the blade pivots out of the handle, preventing the knife from closing on the user's hand. But making a big chunk of metal move is expensive, as evidenced on the Aculus. A cheaper way to achieve a similar effect is to make the handle from one material—in the case of the CRKT, glass-filled nylon—then reinforce that with a thin steel liner, complete with one torsion section. And that's what's done here. The indicator of the quality execution of a frame or liner lock is cut in how far that locking bar moves across the blade. And the LCK + achieves perfection, with a locking bar that reliably connects with the blade precisely in the middle, every time. 
In addition to how helpful it is to have a knife on hand for opening packages, helping with food prep and consumption, and various tasks as I work on my trucks, house, and yard, a lot of the satisfaction I derive from knives comes simply from how they look. And while the LCK +'s handle is a total non-event, the satin-finished blade is seriously eye pleasing. Slim and hollow-ground, it feels more like a French steak knife than it does a brute force implement. Sure, it's made from 8Cr13MoV steel, which is an elaborate acronym for cheap, but that's another big reason for that $44 price tag.
Lead Photo: Wes Siler
Trending on Outside Online