The Crowdfunding Collection
Three Kickstarter-esque projects that caught our eye this week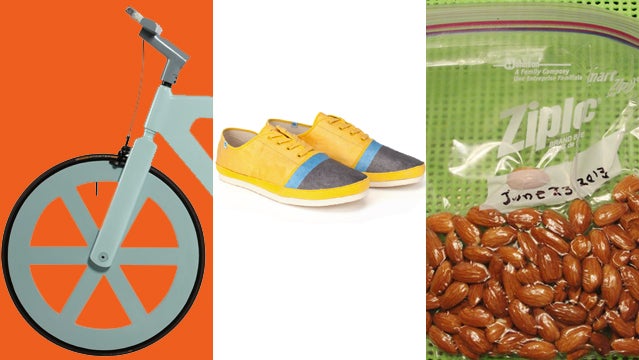 Heading out the door? Read this article on the new Outside+ app available now on iOS devices for members! Download the app.
Backyard gear developers can be hit or miss, but these three crowdfunded projects stood out as practical, affordable, and totally cool. Pick the ones you like and make your gear come true.
Cardboard Technologies Cardboard Bicycle
Unbelievable Testing Laboratory Tyvek Paper Shoes
Thrifty-Vac
Crowdfund Collection: Cardboard Technologies Cardboard Bicycle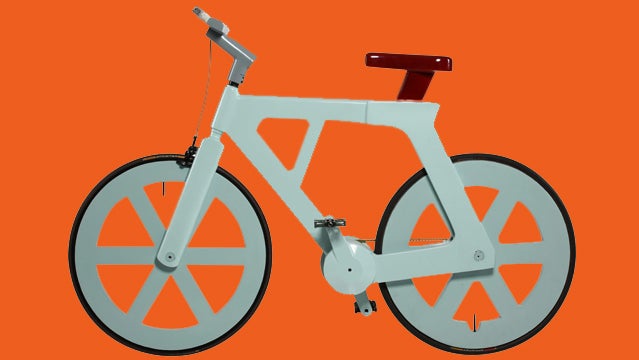 Most bicycles are made from aluminum, steel, titanium and carbon—precious metals that require mining extraction, and high energy input to manufacture. Sure—riding bikes is green because you're not burning fossil fuels, but most of us cyclists forget about the resources that go into making a bike.
On Tuesday, Cardboard Technologies launched an Indiegogo crowdfunding campaign to build the lowest impact bike ever. Made of trash—recycled cardboard, plastic bottles and used car tires—the Cardboard Bike claims to be durable, fire- and water-resistant, and to able to support more than 400 lbs. News on the bike has been out for a while—Popular Science pinned it with a New Inventor Award, and NPR gave it a radio spot. The campaign is designed to help bring the prototype to full production
"Imagine a world where we can literally take garbage off the streets and turn it into something useful," writes inventor Izhar Gafni about the Cardboard Bike. "[It's] a bicycle that can not only be used for urban transport, but that can help kids in under-developed countries get to school, and help their parents get to work." Available when the campaign reaches its $2 million goal, $250.
Crowdfunding Collection: Unbelievable Testing Laboratory Tyvek Paper Shoes
Three Kickstarter-esque projects that caught our eye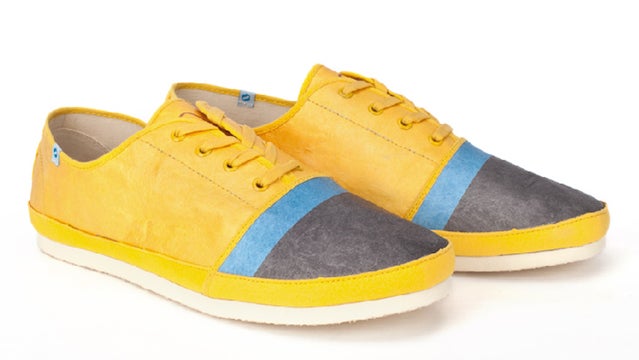 Taking lightweight sneakers to a new extreme, Unbelievable Testing Laboratories (UTL) is making 5.3-ounce shoes (men's size 11) from Tyvek. Tyvek, which is made by Dupont, looks and feels kinda like paper, but it's actually flashspun high-density polyethylene fibers. Ever shipped stuff in a Fedex envelope or peeled back the siding of your 1960s-era house to see a layer of white? That's the stuff. It's waterproof, highly breathable, durable, and strong—which UTL believes makes it a prime candidate for footwear. It's also machine washable and dryable.
But it's not all Tyvek. The paperlike upper is attached to a foamy sole that the company says is twice as durable and even lighter than previous versions. And the shoe has a moisture-absorbing, breathable anti-stink POLIYOU  footbed. According to UTL, the final package looks like a sneaker and feels like wearing a high quality cross-trainer, albeit a very light one.
After 20 rounds of prototyping, UTL says it's ready for production. Its Kickstarter campaign hopes to make 2013 pairs of its Limited Edition shoe. Available August 2013, $68.
Crowdfunding Collection: Thrifty-Vac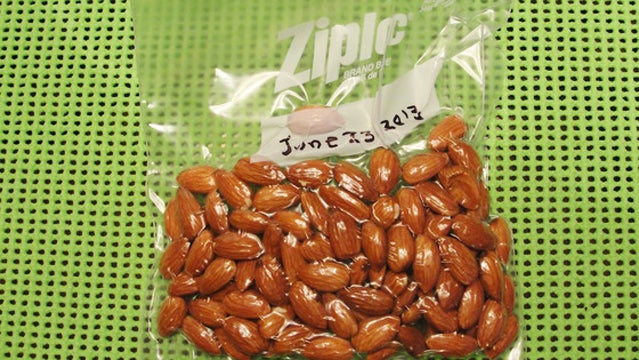 Backpackers and river trippers often rely on vacuum-packed food—it keeps longer and vacuum packing reduces a package's volume, which means more space in your pack or drybag. Existing home vacuum-packing options for food use airtight containers or single-use plastic bags that can cost up to fifty cents each. They're system-specific, and hard to find. What's more—the vacuuming apparatus can cost $100 or more.
ThriftyVac's hardwear is cheap by comparison—around $25, and it works with all existing resealable plastic bags.
Most vacuum systems pump the air out of bags. This one uses atmospheric pressure to press air out of bags. You insert your food bag inside a larger, outer re-sealable plastic bag. Then you draw a vacuum using a hand pump, on the outer bag, which collapses onto the food bag inside it. The only other component you need is a small check valve to prevent air from reentering the outer bag during the vacuum packing process. No adapters, heat, or foreign substances required. Eliminating the check valves embedded in current-day vacuum bags as well as the special materials and extra manufacturing reduces the retail price of the vacuum bag from an average of $0.37 to about $0.08. Thriftyvac's Kickstarter campaign will help the inventor produce molds for the system, which should be available soon. The campaign has reached its funding goal, and it's still going strong. $25.