Custom Cool
Boost performance and play in perfect comfort by investing in innovative made-to-order gear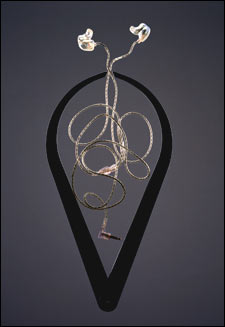 Heading out the door? Read this article on the new Outside+ app available now on iOS devices for members! Download the app.
At the pinnacle of sport, elite athletes often do battle in equipment built to their individual physiques and needs. From Lance's one-of-a-kind Giro time-trial helmet down to the massive sneakers worn by Shaq, customized gear can be an essential component of enduring athletic success. Cyclists, who flex their knees about 100 times a minute, provide a classic example. If a bike's fit is even a millimeter off, little pains can be forged, over thousands of miles, into debilitating misalignments. But fit is only one half of the made-to-order game. The graphics on pro Shaun White's snowboard represent the appeal of unbridled creativity and personal expression. Whether you're after a one-off design for your new shoes or a pair of jeans, technological advances have made mass customization easier than ever. "Even big manufacturers like Nike are offering products that allow for personalized expression," says 31-year-old New York designer Josh Rubin, whose Web site, www.coolhunting.com, has become a style arbiter for fashionistas and urban hipsters. To see how the process works in terms of fit and performance, we grabbed a tape measure and ordered up a custom road bike, audiophile earbuds (above), and a marathon-ready set of shoe insoles, among other items, and put them to the test. On the style front, we unleashed our imaginations and designed our very own pair of boots. After we were done, the sweet stuff on these pages made us feel, well, pretty special. —by John Bradley
Ultimate Ears UE-5c Earbuds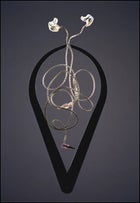 Ultimate Ears UE-5c Earbuds
$550; www.ultimateears.com
WHAT YOU GET: These pricey earbuds from Irvine, California, are the consumer version of pro models used by the likes of U2 to let them hear their music on an arena's stage. With unmatched noise cancellation and a tiny low- and high-frequency speaker in each ear, you'll enjoy the full spectrum of a recording, from the bottom of the bass to the top of the soprano.
THE PROCESS: After a quick, painless visit to an audiologist (not included in the price), silicone casts of your auditory canals and outer ears are shipped off to make molds for buds that will fit you perfectly. Turnaround is about a week.
THE PAYOFF: With these comfortable little numbers screwed in and plugged into an iPod, I hear full-frequency music remarkably close to what the composers, musicians, and sound engineers intended. It's like having my head stuck in an amp—they're that revolutionary. At home? Plug into a stereo with a turntable and spin mint vinyl. Skiing or running? Cue up a killer MP3 playlist and enjoy, knowing you've got the best setup out there. —by Jeremy Spencer
Timberland Premium Boot
Timberland Premium Boot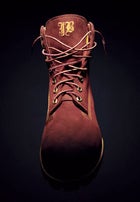 Timberland Premium Boot
$175; www.timberland.com
WHAT YOU GET: Rugged, waterproof, and straightforward in its design, the lug-soled, leather-topped Premium is one of Timberland's best-selling boots, used by everyone from construction workers to rap stars to casual hikers. At the Stratham, New Hampshire, company's online studio, you can create personalized stompers, choosing from almost 135 million combinations of colors and stitching styles. There's not quite as much choice with sizing: The boots come in standard lengths and widths.
THE PROCESS: Go to www.timberlandbootstudio.com and make your selections from 12 different style options, including colors for leather uppers (from black to cornflower blue), rubber soles (did you know they came in white?), and stitching. The site shows you what the boots look like as you try out various combinations.
THE PAYOFF: Even if I'd decided on pink boots with blue collars, gold laces, and white outsoles, the Premiums would still perform and wear as well as the original. While the ones I picked (above) are not comfortable enough to take on an overnight backpacking trip, I'd be hard-pressed to find another boot that makes the transition from street to streamside so seamlessly.
Custom Jackets
Nunatak Kobuk Mountain Jacket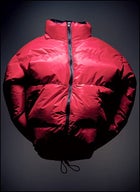 Nunatak Kobuk Mountain Jacket
$399; www.nunatakusa.com
WHAT YOU GET: Stuffed with ultralight 800-plus-fill goose down, the Kobuk looks and feels like the warmest and lightest puffy jacket around. No wonder: The Twisp, Washington, company's mission is to create a superlight, no-frills insulator with hardly any features to weigh it down.
THE PROCESS: Order on their Web site or by phone. Because of the jacket's simple design, style choices come down to pockets on the front or inside and a hood. From there, pick from Nextec Epic or Pertex Endurance nylon, both with water-resistant properties, or go for even lighter nylon, which will slice the fabric's total weight in half. Then e-mail your arm and chest measurements for a perfect fit.
THE PAYOFF: Unlike most puffies this size, the Kobuk feels sleek. And without unnecessary material and down, there's no cold draft sneaking up through the waistline, filling up the air pocket around my torso; it feels like being encased in a bubble of warm air. —by Grant Davis
Beyond Vayu Jacket
Base, $159; as tested, $249; www.beyondfleece.com
WHAT YOU GET: Beyond, a clothier in Eugene, Oregon, uses lightweight wind- and water-resistant Schoeller soft-shell fabrics to create custom-tailored jackets cut to nine different measurements—including height, neck, arm, and chest—and built to fit like a second skin.
THE PROCESS: At the Web site you can choose from an assortment of 13 customizable jackets. For each garment, select colors and features like multiple pockets, pit zips, hood styles, and thumb loops; with each choice, the customization interface updates how the finished product will look.
THE PAYOFF: I'm five-eleven and on the slim side, so I generally end up with jackets that are snug but too short in the sleeves. With the Vayu, I can extend my arms without the cuffs shooting up to my elbows, and there's no bunching of excess fabric when I bend over or twist. Even with the optional hood and extra pockets (on the arm and chest), the Vayu's sleek lines make for a slick outer jacket or a low-profile midlayer that slides effortlessly under a storm shell. —by John Bradley
Custom Cylcing Gear
Seven Cycles Elium SG Road Bike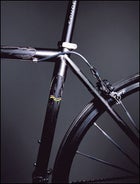 Seven Cycles Elium SG Road Bike
Frame only, $3,595; as tested, $7,500; www.sevencycles.com
WHAT YOU GET: This frame is a superlight marriage of buttery-smooth titanium and stiff carbon-fiber tubes tailored and built to your precise height and weight. Watertown, Massachusetts–based Seven can tune the ride characteristics as well, manipulating tubes and angles—stiffer for high-octane racing or more supple for long hauls down country lanes.
THE PROCESS: Seven's 12-page workbook asks for 11 body measurements, covering everything from inseam to shoulder width. It also asks for a detailed record of your current riding position and any associated ills, descriptions of your cycling style, and the kind of terrain you roll through. Seven ships you the frame, and you have your local bike shop build the bike up, using the parts of your choice. This 16-pounder came with Tour de France–tested Shimano Dura-Ace components and Mavic Ksyrium wheels.
THE PAYOFF: The Elium may be the most comfortable high-performance bike on the planet. Everything—the handlebar drops, the brake hoods, even the reach to the water-bottle cages—feels like an extension of my body; there's never a sense of strain or overextension. I've put almost 4,000 miles on this bike, and my finicky lower back has barely noticed a single one.
Rocket7 Road Cycling Shoes
$439; www.rocket7.com
WHAT YOU GET: Rocket7's ultrastiff carbon-fiber-soled cycling shoe engages every contour of your foot for maximum transfer of power to pedal, plus socklike comfort. The Puyallup, Washington–based company makes the shoes to order, so it can eliminate extraneous carbon fiber and leather to deliver—at just over 12 ounces per pair—one of the lightest shoes on the market.
THE PROCESS: If a local dealer is unavailable to take your measurements, Rocket7 will send you a comprehensive kit that includes foam molds, for replicating the exact shape of your soles, and measuring tapes and rulers, for recording foot volume, length, and width. With your dogs dangling in the air, have a friend press the dry-foam molds against your feet, avoiding the variations in foot length and width that come from standing. After that, trace your feet both while seated and standing; this allows Rocket7 to find the happy medium of fit among all three measurements.
THE PAYOFF: The Rocket7 is much more comfortable than most bike-racing shoes, especially if, like me, you have wide feet. The small pains that I've long accepted as part of cycling have simply vanished.
Custom Footbeds & Sleeping Bags
Sole Custom Footbeds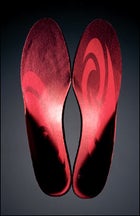 Sole Custom Footbeds
$40; www.yoursole.com
WHAT YOU GET: Replace the insoles in running shoes or hiking, ski, or snowboard boots with Sole's Regular inserts for high-performance support. The deep heel cup and stiff arch are married to a shock-absorbing platform that molds to your foot.
THE PROCESS: Simply bake your Sole footbeds for two minutes in a 200-degree oven. While they're still warm and malleable, insert them into your shoes, lace up, and stand, feet shoulder width apart, for two minutes or until the high-density foam cools and molds to your foot. (If you wear a half size, round up and trim the inserts down to fit.)
THE PAYOFF: I've always been bothered by high arches, weak ankles, and bad knees. Using the Calgary, Alberta, company's inserts, I trained for and ran a marathon without any foot, ankle, or knee pain. Want more proof these things work? Consider that Nike's ACG Adventure Racing Team uses them—instead of a Swoosh option—in their shoes. —by Grant Davis
Peter Hutchinson Designs High-Tech Sleeping Bag
Base, $269; as tested, $373; www.phdesigns.co.uk
WHAT YOU GET: Down-bag maker PHD, based in Stalybridge, England, will stitch a sleeper to match your idea of the perfect bag for your body and your wilderness sleeping plans.
THE PROCESS: When you visit the Web site, PHD's interface—which tracks cost, weight, and temperature rating at each step—will lead you through a detailed selection of fabric types (from ultralight gossamer nylons to a heavy-duty Gore-Tex layer with taped seams), insulation weights (700- or 800-fill down feathers), sizes, and zipper location.
THE PAYOFF: I chose a 32-degree three-season bag weighing one pound ten ounces and stuffed with 800-fill down, adding a full zip with a draft tube and a sturdy Drishell nylon shell, which gives me a ten-degree range on either side of freezing, plus a longer-lasting bag. My High-Tech's narrow cut provides me with just enough room to move around inside without extra fabric and stuffing. The result is a peaceful night's sleep that involves less tossing and turning—and zipping and unzipping—to get comfortable. — by John Bradley