The Danger Zone
Questionable use of wearable cams is causing a surge in accidents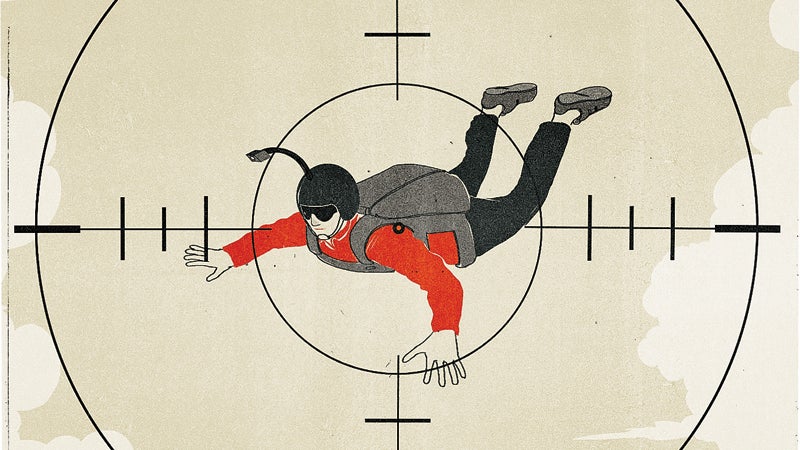 Illustration by SHOUT
Heading out the door? Read this article on the new Outside+ app available now on iOS devices for members! Download the app.
A motocross rider drills a three-foot pole extension into his helmet, affixes a GoPro camera to it, then wrenches his neck when the jury-rigged device whacks a tree. An Australian BASE jumper leaps from a ledge in Moab, Utah, does a flip, and releases his parachute bridle, and the line wraps around his chest cam. He falls to his death.
The fact that both of these accidents happened while people were filming their adventure exploits isn't surprising. Wearable cameras have made it easier than ever to chase YouTube stardom—and to thwack yourself in the process. What's disturbing is that, increasingly, the placement of the cams themselves is contributing to the carnage.
Fueled by our desire to capture more interesting non-POV footage, a cottage industry of aftermarket-accessory companies such as Get Hypoxic, GoPole, and Sumomoto has sprung up to allow users to affix cameras to themselves in various positions. Sumomoto's aluminum GoPro arm mount requires you to drill holes in your helmet to attach the foot-long beam. This sort of customization can severely damage the helmet. It also changes the wearer's center of gravity and throws off his or her balance, which can lead to nasty outcomes. As Edward Becker, executive director of the Snell Memorial Foundation, a helmet advocacy group, puts it, "When that beam comes in contact with the ground or trees, it's going to exert some wicked forces around your neck."
The camera becomes, to some degree, a weapon. When a line comes out from a parachute, it's a snag point.
Some of these manufacturers offer no warnings about using their products. Others, like Get Hypoxic, go to extremes to detail the risks. The company's website states that one of its products, the Death Bar Extension, earned its name because of how risky the mount can be, especially when used in aerial sports. "I called it that hoping people would second-guess themselves," says owner Mark Kirschenbaum. "It's a really stupid product. But there are some applications where it serves a purpose."
GoPro, far and away the dominant maker of action cams, has wisely distanced itself from these products. "We're very conscious about the mounts we sell," says GoPro's Rick Loughery. "A pole coming out of a helmet—we don't sell anything like that because of the potential for accidents."
There's little indication that wearable cameras cause safety problems for most bikers and skiers. But the story changes a bit when you're jumping out of the sky. Over the past three years, the skydiving website Dropzone.com has documented at least 22 accidents, two of them fatal, attributable to the interference of a wearable camera with an essential piece of safety equipment.
"The camera becomes, to some degree, a weapon," says one of the Dropzone site's moderators, Douglas Spotted Eagle. "When a line comes out from a parachute, it's a snag point." Which is why the United States Parachute Association recommends that a skydiver complete a minimum of 200 jumps before even considering strapping on an action cam.
Back on earth, it probably won't be long before ski resorts consider regulations. "As with any new technology, the cameras can create distractions that lead to reckless skiing," says Dave Byrd, of the National Ski Areas Association. "Helmet cams are less of a problem, but we've seen chest-mounted cameras get caught up on chairlift safety bars." In the meantime, the rule of thumb remains the same: use common sense.