Sponsor Content: Olympus
The Easy Way to Take Better Photos Outside
As with baking or cocktails, pictures are almost always better when you follow a proven recipe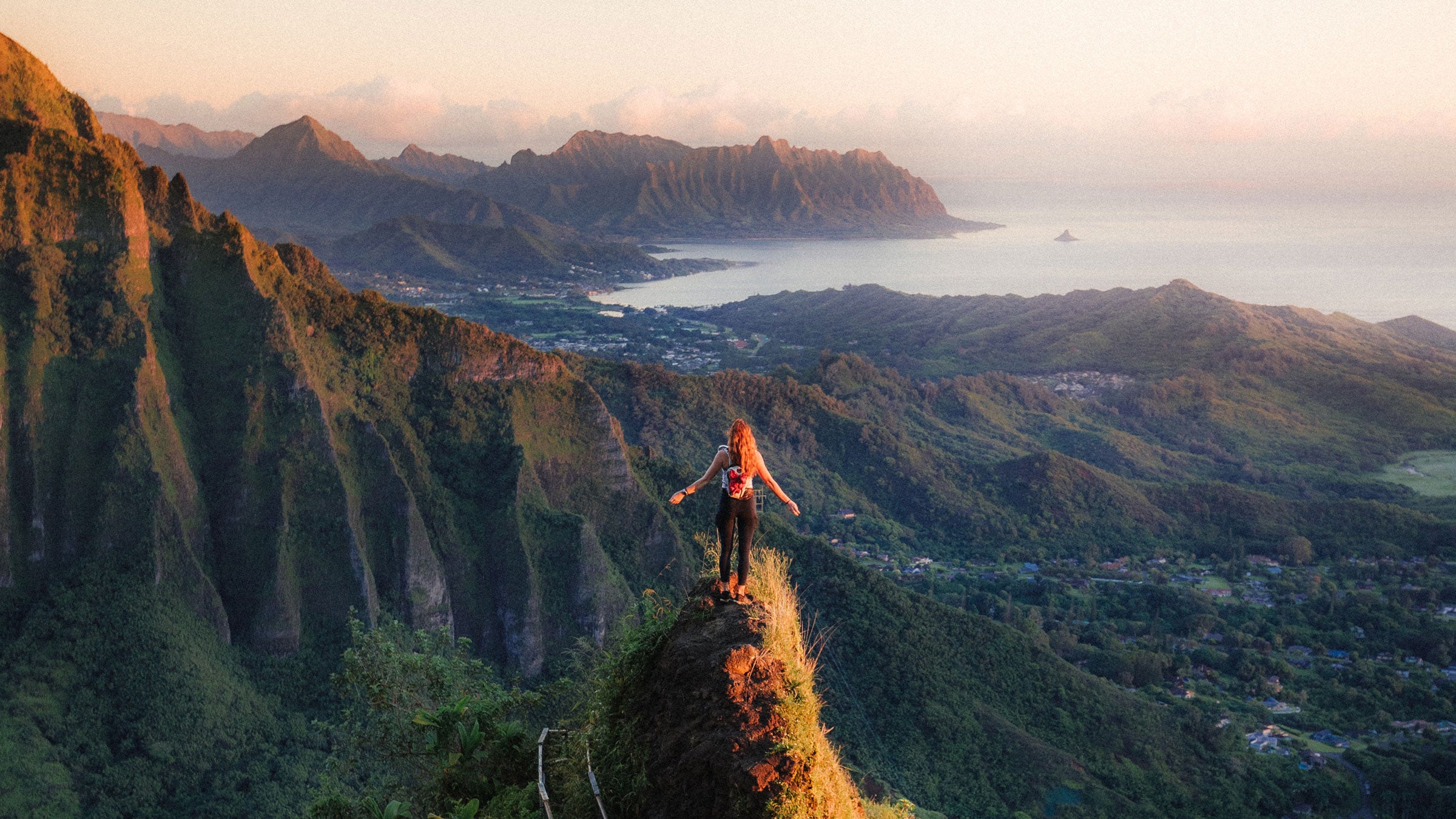 You've heard the saying a million times: A picture's worth a thousand words. But when you adventure in crazy beautiful landscapes, it can feel like the photos you come away with read more like a fifth grader's haiku than moving poetry. So what's the trick to taking photos that do justice to wild places? To find out, we asked Justin Kauffman, a sought-after photographer and Olympus Explorer who's perennially recognized for his ability to capture stunning adventure moments as well the grandeur of rugged, remote places all across the globe. Here's his winning recipe.
Always Pay Attention to the Light
The best adventure and landscape photos are shot in beautiful light, usually the times near sunrise and sunset, when the light is most direct and hued. So Kauffman is obsessive about tracking the sun and weather. To stay on top of everything, he uses a couple of different apps. PhotoPills tells him exactly when the sun will rise or set in his location, wherever he is in the world. Google Earth has a feature that allows him to see where shadows from nearby mountains will fall depending on the time of day. And Dark Sky allows him to track the weather almost down to the minute.
Once he's in the right spot at the right time, Kauffman then uses whatever tools he needs to capture the moment. He shoots with the mirrorless Olympus OM-D system because of its pro features and compact size. And because he loves to zoom in tight on an area that's well lit, Kauffman often reaches for his Olympus M.Zuiko 40–150mm F2.8 PRO lens, a compact long-zoom with an 80-300mm equivalent focal range. With that much range, he can shoot across a valley, up to the top of a mountain, or across a large lake.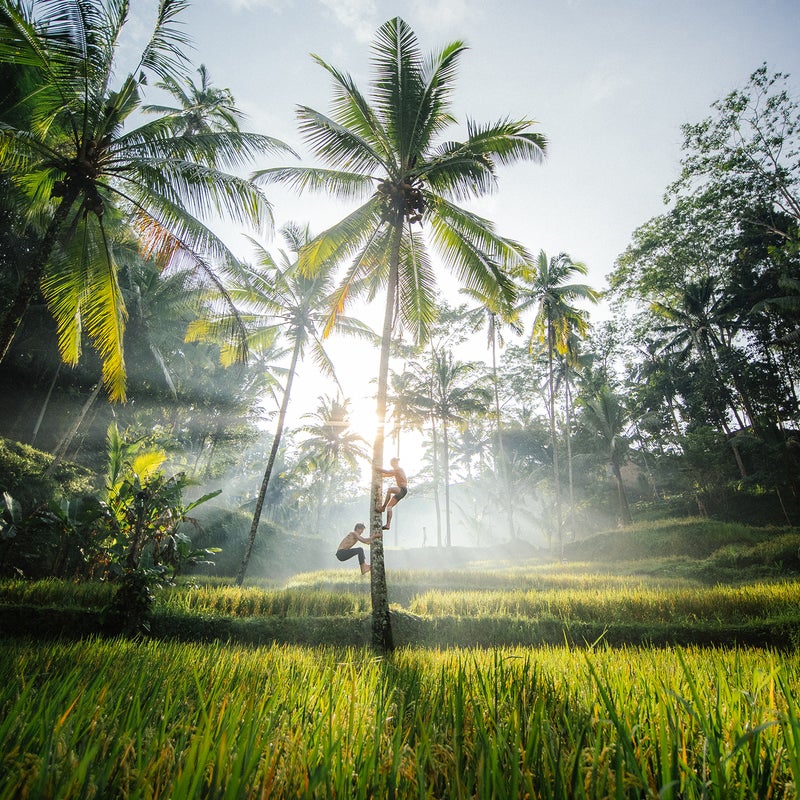 Include a Subject
A landscape photo is always better with a person in it, Kauffman says. And while it takes extra work to find a friend who will make the trek to whatever spot he wants to photograph, the juice is worth the squeeze. With someone in the frame, he says, viewers get a much better sense for scale and vastness. Mountains, waterfalls, and vistas take on their true size. And, with a human in the frame, "it makes viewers feel like it could be them out there exploring. It makes the photo more relatable," Kauffman says.
 
To get a person and a vista in the frame, the right lens choice is key. Kauffman uses the Olympus M.Zuiko 12-40mm F2.8 PRO lens (24-80mm in 35mm equivalent), because it's wide enough to capture sweeping landscapes but also focuses well at close distances, ensuring his subject is always sharp. That and the lens is also weathersealed, so he doesn't have to worry about using it in the snow or rain.
Spend the Time to Find a Unique Location
Kauffman is not interested in photographing easy-to-access and well-documented locales. Instead he trolls Google Earth looking for harder-to-find spots throughout Montana and across the world. Once Kauffman finds a spot to photograph, he hikes, climbs, scrambles, or does whatever it takes to access the spot he wants to capture. One of his favorite places to shoot is at high-alpine lakes, which, in the right conditions, allow him to capture not only the vista but also the reflection of the vista in the water.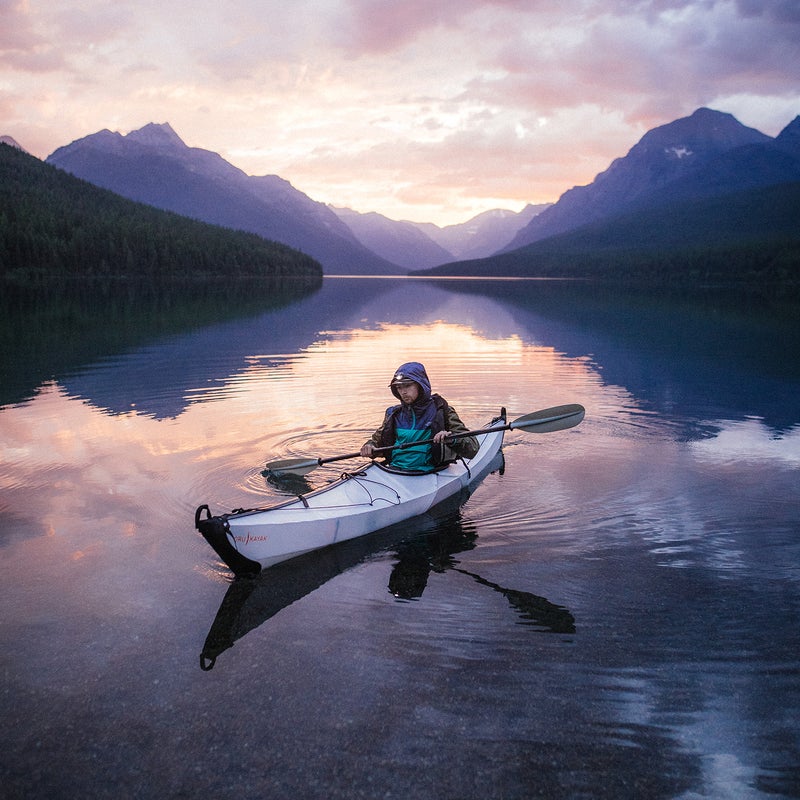 Carry the Right Gear
When he's in the mountains chasing photos, Kauffman always carries special gear. He packs a headlamp in case he gets stuck out past dark, a down jacket in case he gets hurt or stranded, extra food, and a rain jacket in case it starts pouring. He's also picky about his photo gear.
He's a big fan of the mirrorless Olympus OM-D E-M1X camera because it's great for adventure photos. With a time machine-like feature called Pro Capture, he can half-press the shutter button to begin continuously buffering images. Once he sees the perfect moment, he fully presses the shutter to capture that moment, plus up to 34 previous images all at once. All those captured frames help ensure he never misses peak action while photographing someone skiing, diving, or riding their bike. Kauffman also loves the E-M1X because it's fully IPX1 weathersealed and withstands all sorts of rugged environments, even low temperatures down to 14 degrees Fahrenheit. "Just last week I was in Montana and the camera was covered in melting snowflakes, but it just kept clicking," he says.
---
Whether you're a professional photographer or an admirer of photography, Olympus has a camera system that's designed for you. Olympus' compact lightweight gear, powerful image stabilization, and superior weathersealing helps you get your shot while enjoying your photography more. Learn more at getolympus.com/advantage.
Trending on Outside Online