First Look: Garmin Fenix 7X Solar Watch
The company's newest flagship timepiece promises astounding battery life as well as efficient solar charging, and it comes with a flashlight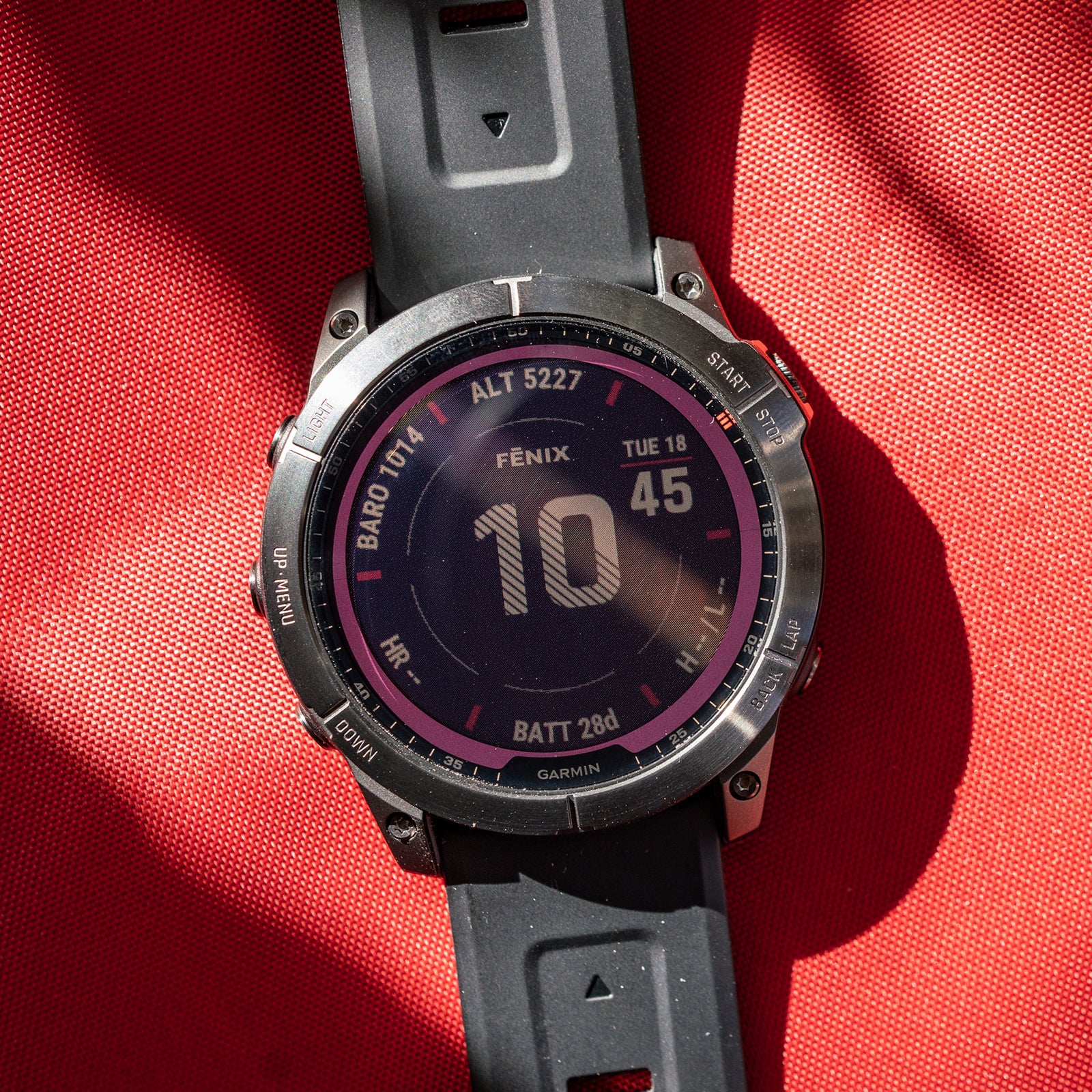 Jakob Schiller
Heading out the door? Read this article on the new Outside+ app available now on iOS devices for members! Download the app.
As a gear tester, I constantly get to check out a ton of inventive products. The one that's gotten the most use over the past year, hands down, is my Garmin Fenix 6 Pro Solar watch.
This piece tracks my entire life—sleep, steps, miles run, feet climbed on the skin track—stores all my favorite songs for on-the-go listening, delivers all my important phone notifications, and features such a good battery life that I never worry it'll run out of juice when I need it. It's also tough as nails. I think the Apple Watch is a great product, but for those of us who play hard outside, the Garmin kicks its ass.
Needless to say, I was excited to hear the brand was launching the next iteration, and I got ahold of an early sample of the largest form-factor version in the 7 lineup, the 7X Solar ($900). I've only had it for three days but wanted to write a first-look review because the watch is already noticeably better than my beloved 6.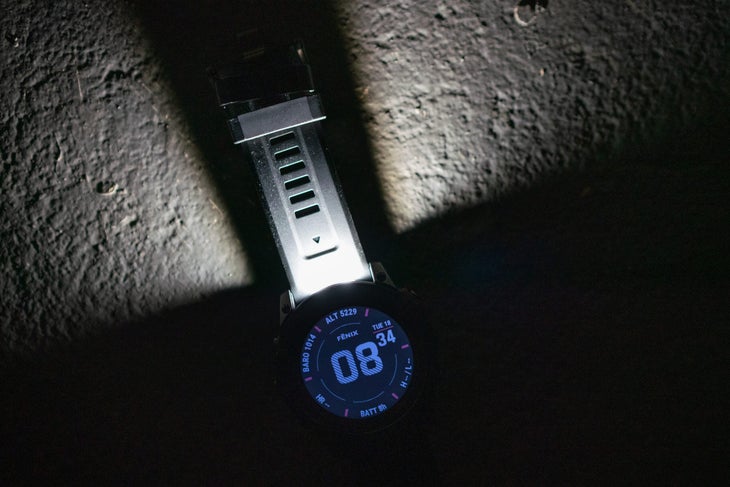 Take the 7X Solar's "run" light mode, for example: you can configure the watch to enable a flashing white-and-red light as your arm swings back and forth, essentially giving you a blinking light that will help others see you at night. I always bring a headlamp on long ski tours, hunts, and hikes, but if my headlamp begins to dim, which it has in the past, the light's ten lumens are enough light to get me down a trail. According to Garmin, the flashlight can maintain full power for about three hours or up to 6.5 hours at one step down from full power. My Apple Watch Series 7 also has a light-up screen that acts as a de facto flashlight, but the Garmin is easily twice if not three times as bright.
When it comes to everyday use, I've already relied on the white light to help me find a piece of gear buried in a dark corner of the garage and my house key when I came home late at night, and I've used it while walking to the bathroom at midnight instead of turning on a hall light. It's like having a mini headlamp on me at all times.
Like the 6 Pro Solar, the 7X Solar easily and reliably connects to GPS, so I can use it to navigate a map, track my distance, or use the TracBack, a feature that creates a digital breadcrumb trail that I can follow back if I get turned around or lost (something that's happened more than once). What's new is that the 7X Solar now allows me to use GPS and maps for an even longer time, thanks to a more efficient GPS chip, a significantly better battery life, and a bigger solar panel underneath the watch face.
Garmin says if you're wearing the watch and it's gathering a steady dose of sunlight (around three hours per day outside), it will give you up to 122 hours of GPS. If you're not using GPS and are out in the sun a couple hours each day, you can go around five weeks without a charge.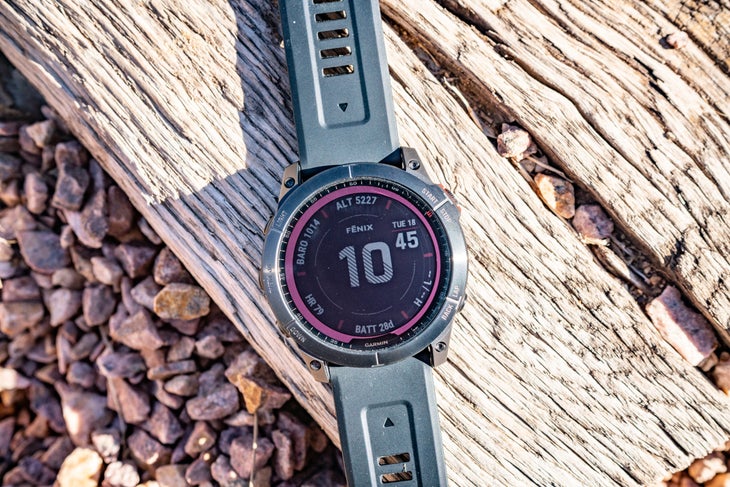 I can't think of an occasion where I'd need 122 hours of GPS use, but it's very reassuring to know that if I was on a three-day ski tour or backpacking trip, I could use GPS as much as I wanted to track distance and routes and still have enough juice left to get me back to the car if something went wrong. Since charging the 7X Solar three days ago, I've used the GPS for an hour-long run and a 90-minute skin up the local ski area, and I've played with the flashlight constantly. It currently says I still have 28 days of everyday use and up to five hours of flashlight juice at full brightness.
It sounds gimmicky, but another feature I'm excited to use on the 7X Solar is the new built-in flashlight. (It doesn't come on the standard 7.) To create that feature, Garmin included three LEDs—two white and one red—that sit at 12:00 between the bezel and watch strap. Two quick taps of the upper left button turns on the flashlight, and you can then control the intensity or switch from white to red light. The flashlight is just ten lumens and doesn't equal the output of a headlamp, but I've already found it very handy.
I haven't fully dug through all the other new features yet, but they include:
A new touchscreen that works in conjunction with the standard buttons and allows you to scroll through and customize menus more quickly and efficiently.
A host of new training updates, including one that allows runners and cyclists to monitor their stamina throughout a race or workout in an effort to prevent a full-on bonk.
A significantly bigger, 51-millimeter case diameter on the 7X version that people will either love or hate. The 7 and 7s come with smaller cases.
The 7X Solar also comes with the usual features of past versions of the Fenix, like sport modes (running, biking, swimming, and more), heart rate and stamina tracking, performance metrics, and sleep monitoring.
Stay tuned for a more in-depth review later this spring.

Lead Photo: Jakob Schiller
Trending on Outside Online