Go-Go Gadgets
On road or trail, the best navigators do more than just keep you on track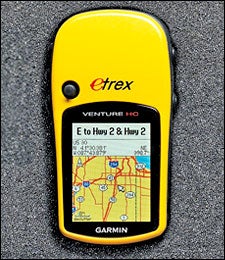 Heading out the door? Read this article on the new Outside+ app available now on iOS devices for members! Download the app.
Small and Simple
Garmin eTrex Venture HC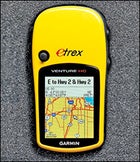 The Garmin eTrex Venture HC is perfect for the budget-minded, the gadget-averse, or anyone looking for a light, packable device. (It weighs six ounces and is roughly the size of a deck of cards.) The sensitive receiver can quickly pinpoint your location and automatically corrects satellite variations for much more accurate elevation readings. Pre-loaded maps are beginner-friendly, if somewhat basic. $182; garmin.com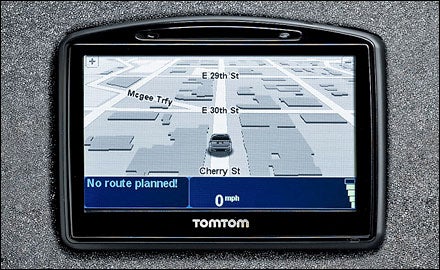 Most Punctual

Impress your in-laws with precisely timed arrivals—the TomTom Go 930 estimates the duration of your trip based on how long it took other TomTom users to complete the route, rather than relying on road-speed ratings. If the GPS signal becomes weak, fancy internal motion sensors keep track of where you are. The system can also control your iPod and beam tunes to your radio (with a $30 adapter). Bonus: If you don't like the tone of the included voices, you can record your own. $500; tomtom.com
Magellan Triton 2000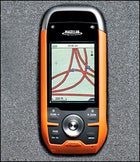 Tool Kit

Meet the Swiss Army knife of the GPS world. The eight-ounce Magellan Triton 2000 packs in a flashlight, two-megapixel camera, geo-tagging voice recorder (think trail diary), and extra-large touchscreen for easy menu navigation. Plus the optional 1:24,000-ratio topos from National Geographic ($30–$100) are as detailed as any. Recent updates addressed most of the initial bugs in the Triton software, though we still had problems uploading larger map sections. $500; magellangps.com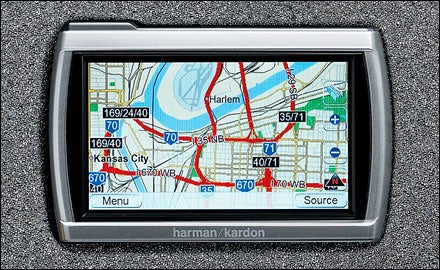 Multimedia Mapper

One of the most compact wide-screen models available, the Harman Kardon Guide + Play GPS-510 is both urban navigator and media player. The beautiful four-inch touchscreen is great for watching movies, and the maps are road-trip friendly, automatically zooming in or out based on how far you still have to go. Menu scrolling can be a bit sluggish, but the buttons are large and the interface is simple to navigate. $400; guideandplay.com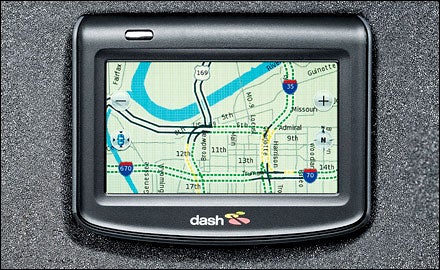 Traffic Dodger

Designed with urban car commuters in mind, the Dash Express receives real-time traffic updates—like data from other Dash users, fleet vehicles, and highway road sensors—allowing you to nimbly avoid snarls and accidents. Plus, unlike devices that are limited to preinstalled points of interest, the cell-networked and Wi-Fi-enabled Dash Express can search Yahoo! Local on the fly. Beware: If you get lost easily, the turn-by-turn instructions are not as good as those of competing devices. $400, plus $13/month; dash.net
DeLorme Earthmate GPS PN-20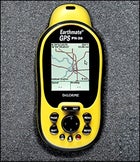 Master Orienteer

The DeLorme Earthmate GPS PN-20 combines USGS data with the company's own frequently updated trail and street networks, meaning it displays routes that aren't yet on official maps. You can also load it with high-resolution satellite or aerial photos, street grids, scanned USGS topos, and NOAA nautical charts, making the waterproof, five-ounce PN-20 the most powerful backcountry GPS we've tested. Map geeks: If you live by contour lines, this is your unit. $400; delorme.com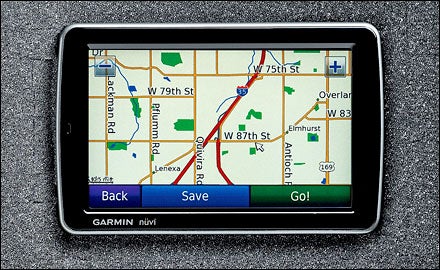 Big Daddy

While the Garmin Nüvi 5000's XXL display will seem oversize in a Mini, drivers of bigger rigs (or those with bad eyesight) will love its bright, five-inch screen. A video input allows you to connect a rearview camera (not included) for added safety, and the software offers terrain accents and easy route customization: You can draw a square on the map to tell the device what areas to avoid, such as clogged downtowns or construction zones. The only bummer? You pay for that big display. $860; garmin.com
Phone Your Way Home
Don't want to carry around another gadget? Don't worry—you can turn almost any cell phone into a fully functioning GPS with one of these easy downloads.
Trimble Outdoors AllSport GPS // Best for: Athletes
AllSport is a great training tool and a decent navigator. It accurately tracked our distance, elevation, and running, hiking, and biking speeds on road maps or satellite images. One gripe: Maps take a long time to download. Make sure you have a compatible, GPS-enabled phone before buying. $6/month; allsportgps.com
Allen Sports Navigator // Best for: Road Warriors
Easy-to-use search software calls up 2-D and 3-D maps with pinpoint-accurate voice directions. The only hardware, a Nano-size GPS receiver, connects to your phone via Bluetooth, conserving batteries, and delivers better satellite reception than most GPS phones. The small receiver disappears in your pocket, but that also means it's easy to leave at home. $350; allensportsusa.com