GoPro Goes After Budget-Minded Customers (Again)
The new Hero is a good little camera for the price, and it's intended for those who are interested in buying a GoPro but aren't ready to drop $300 or more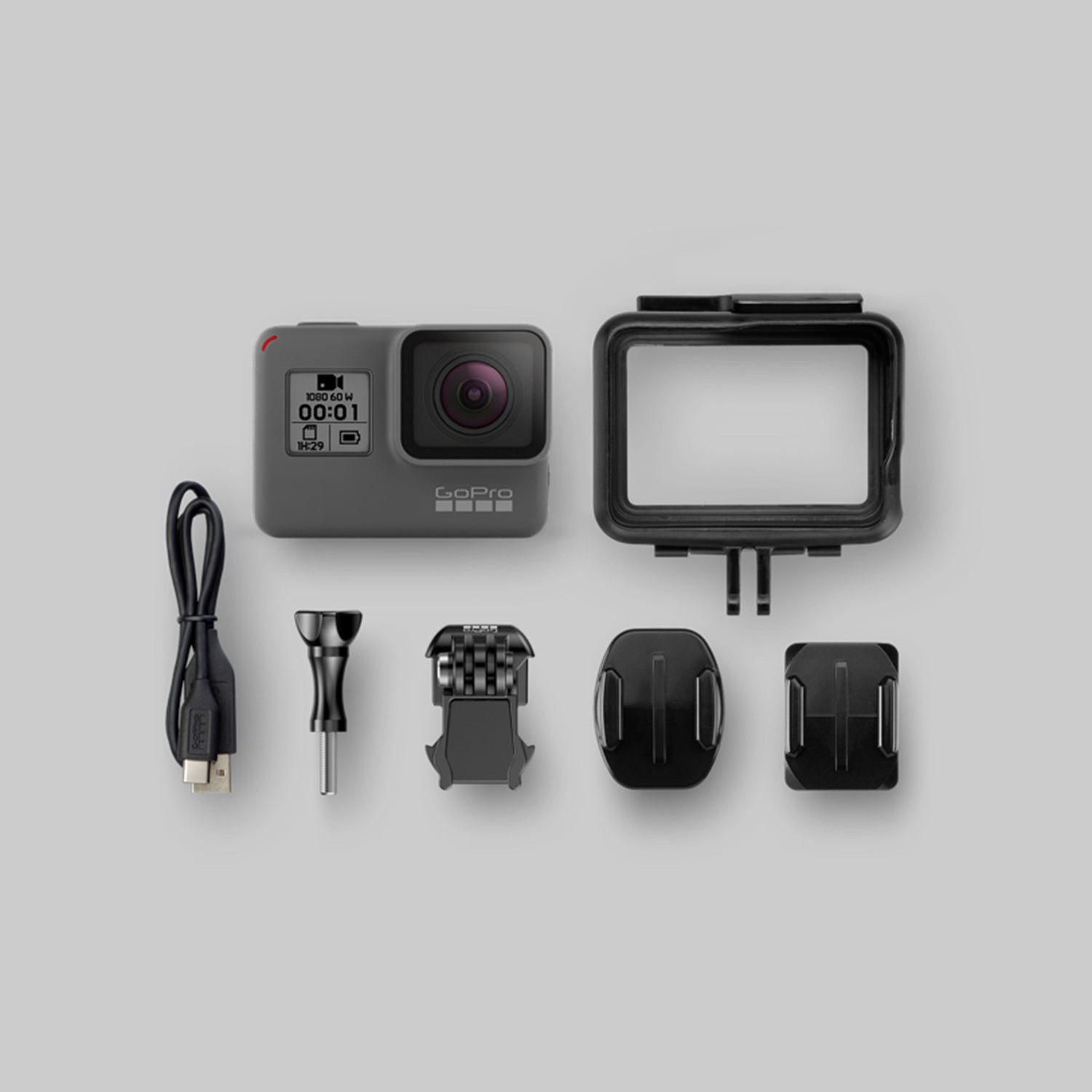 Courtesy GoPro(Photo)
Heading out the door? Read this article on the new Outside+ app available now on iOS devices for members! Download the app.
On Thursday, GoPro launched a new entry-level action camera called simply the Hero. It comes in sweet and low at just $200, and it's seems to be aimed at people who think they maybe might want a GoPro, but aren't ready to commit to a pricier model. 
The Hero has the same body as the Hero5 and Hero6, meaning it's fairly compact, waterproof down to 33 feet without any additional housing, and it has a touchscreen on the back, which is extremely convenient for framing shots, changing settings, and reviewing footage. It has electronic image stabilization to help you get a smoother shot (though it crops about 10 percent of the image, so you lose some quality), it has voice controls, as well as WiFi and Bluetooth capability for transferring footage to your phone. That's pretty much the extent of what it has in common with its older siblings.
What's different? Most significantly, the maximum resolution and framerate for the Hero is 1080p at 60 frames per second. That's a significant drop from the Hero5, which can do 4K at 30 and 1080p120, and the Hero6, which screams at 4K60 and 1080p240. That said, even though I use the Hero 6, 1080p60 is still my most-used setting: the shots look good and it doesn't eat up the battery or SD card storage too quickly. The Hero also lacks GPS, advanced features like exposure control and Protune, the faster 5GHz Wi-Fi protocol (Hero6 only), and it only shoots 10MP stills, as opposed to 12MP on the others.
This release marks another turning point in the GoPro product landscape. A few years ago, GoPro went hard after the entry-level market with several inexpensive variations. At one point, the brand was selling seven different models simultaneously, but it cut the stragglers a couple of years ago to focus on the flagships. We now have the $200 Hero, the $400 Hero6 (released fall 2017), and the $300 Hero5 (released fall 2016), as well as the 360-degree VR camera, the Fusion ($700, also released fall 2017).
It's possible that a wave of cheaper action cameras from overseas (think Yi and Monoprice) has forced GoPro's hand. Some people may want the GoPro brand name, but not the brand-name price tag. It's also possible that GoPro had a bunch of extra bodies and older image sensors lying around and, rather than sell them for next to nothing, they turned them into a product. 
I haven't yet used the Hero, so I can't comment on its quality, but on paper it seems like a pretty decent camera for the price. But the thing is, when you can get a really quite-good Yi 4K action camera—which shoots 4Kp30 and 1080p120 but isn't waterproof—for $170 on Amazon, or even this CamPark ACT74, which shoots those higher settings and comes with a waterproof case and costs a measly $53, you've got to wonder if GoPro has gone low enough here.
On another, sadder note, the diminutive GoPro Hero Session no longer appears on GoPro's website. The official word from the company is, "Our research and feedback indicate that consumers really like having a touch display, so we wanted to give people that familiar feeling at an entry level price and HERO satisfies that. HERO5 Session will continue to be sold at retailers through the first half of 2018 but is no longer available on GoPro.com." RIP, lil guy.
Brent Rose is a freelance writer, actor, and filmmaker, currently traveling the U.S. living in a high-tech van, looking for stories to tell. Follow his adventures on Instagram, Twitter, Facebook, and at ConnectedStates.com
Lead Photo: Courtesy GoPro
Trending on Outside Online