The GoPro Hero 11 Black Is the Brand's Most User-Friendly Camera Yet
Smart upgrades remove most of the frustrations with previous generations of the ubiquitous action camera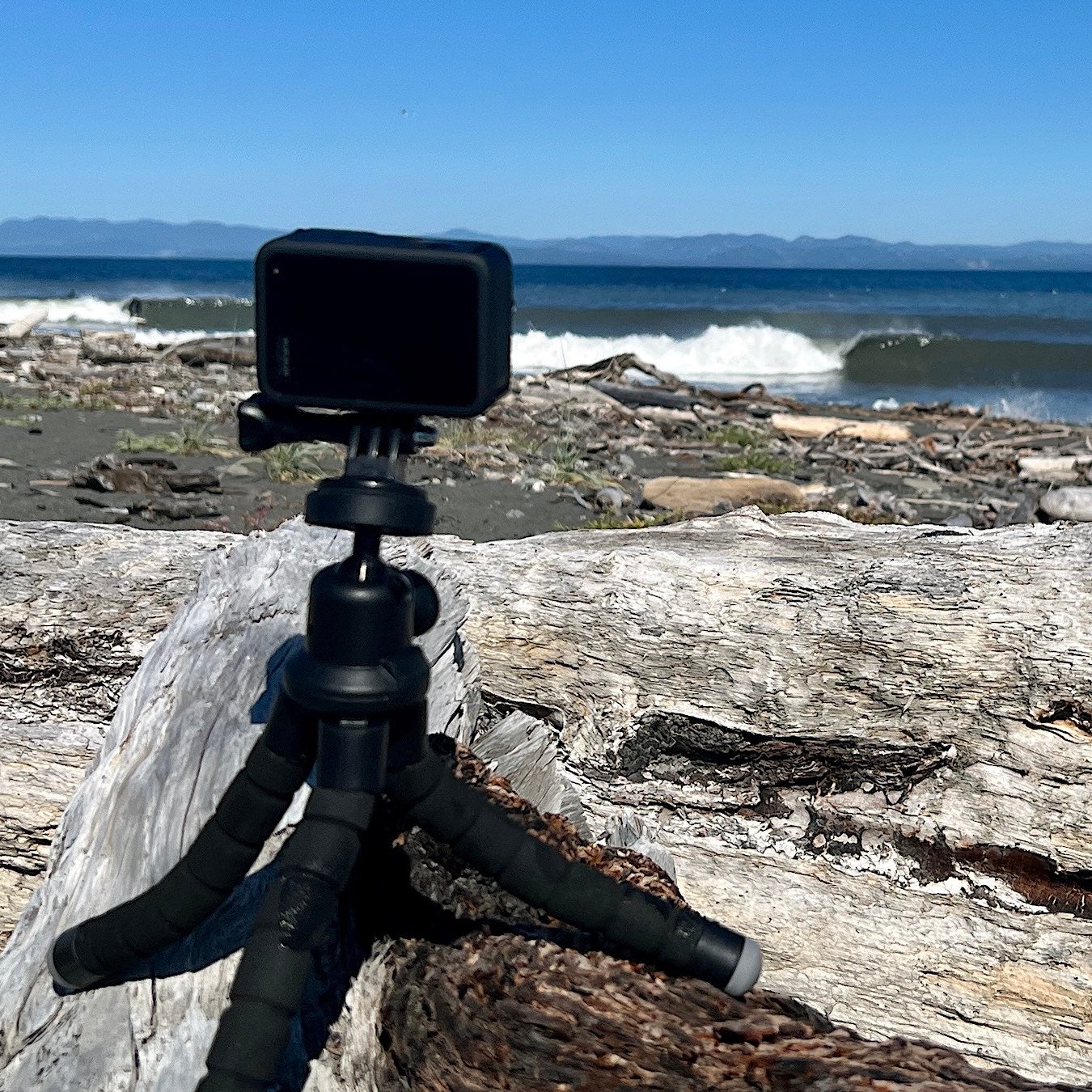 Heading out the door? Read this article on the new Outside+ app available now on iOS devices for members! Download the app.
I've owned half a dozen GoPros in my day, ranging from the Hero 2 to the Hero 10 Black. Despite packing them along for plenty of backpacking trips and snowboard sessions, I rarely get good  clips to prove it. The experience usually goes like this: see something film-worthy, pull GoPro out, realize the battery is dead. Or the SD card is full. Or the settings are off. By the time I get it sorted, the moment passed.
Yes, you can chalk that up to operator error, but as an entry-level filmer I've always hoped that GoPro would eventually produce a Hero to save me from myself. With last week's release of the Hero 11 Black ($550)—featuring extended runtime battery, auto-upload capabilities, and two user interface options—GoPro might have actually done just that. The Hero 11 Black introduces a few capabilities that drastically improve my chances of getting the shot, and other features that ensure the shot will be superior to anything my intermediate skill-level typically affords. Let's talk about why.
---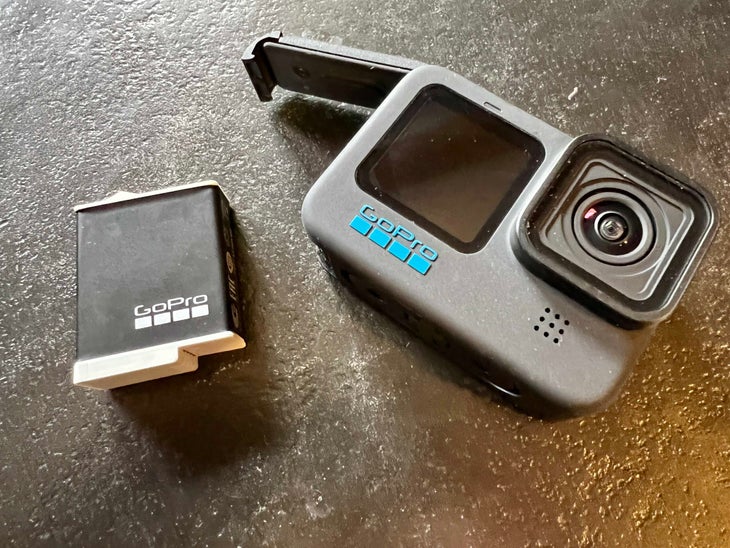 Bigger, Better Battery
GoPro's extended runtime battery, Enduro, which was an accessory for the Hero 10 Black, now comes stock. GoPro claims the Enduro lasts up to 38 percent longer than their traditional battery, and after a few filming sessions that appears true. In its highest resolution video (5.3K), the new GoPro can shoot for up to 80 minutes on a charge, and at 1080P it'll run more than two hours. And it juices up quickly: I was able to charge it from one to 100 percent in under an hour. It also automatically shuts off after five  minutes when not in use, which keeps me from killing the battery accidentally.
More importantly for snow sport enthusiasts, the Enduro is GoPro's first battery that holds a charge in freezing temperatures. Gone are the days of wrapping my camera in a hand warmer for the slopes.
---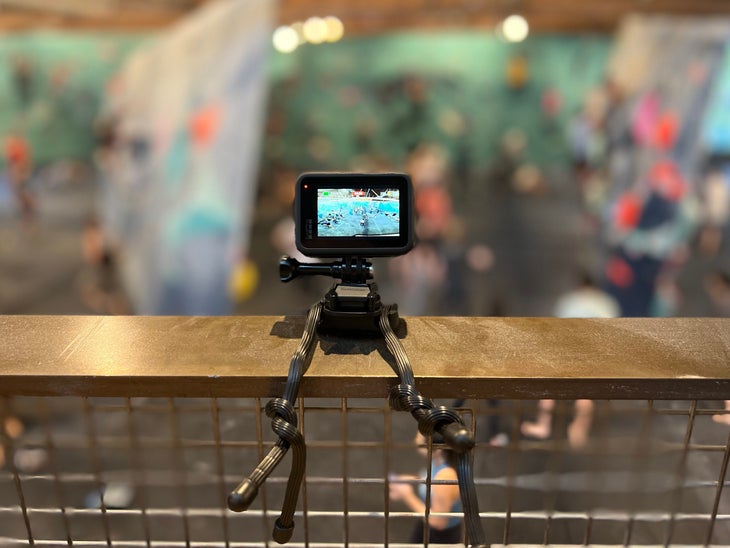 Automatic Uploads and Highlights
Automatic uploads to the cloud are a new feature of GoPro's subscription service ($50 annually). Once connected to wifi, the 11 automatically transfers new content to GoPro's cloud storage platform, negating the need to download it onto a phone or computer. Now I can keep the SD card clear without taking up space on my phone.
Along with auto-uploads, the new subscription offers an auto-highlight feature that uses AI to pull the best footage from a shoot, pieces together an edit, and sends it to the user's phone automatically. GoPro's leaning heavily into this feature Hero 11 Black marketing, and for good reason. It puts together a surprisingly good reel—with music—that you can then tweak to your liking. It makes going from the shoot to Instagram almost brainless.
If you're considering buying a Hero 11 Black, the subscription is probably worth it right now. Buying the Hero 11 Black packaged with a year subscription is $400 (the regular price is $550, and the subscription is $50 a year). The package comes with unlimited cloud auto uploads, use of the editing app, discounts on GoPro.com, and most importantly, no-questions-asked camera replacement (for a fee between $69 and $99).
User Friendly Shooting Modes
The 11 supports two user interfaces—Easy and Pro. The former automates settings to present a clean, unfussy menu  where you simply choose a medium (timelapse, video or photo), press record, and capture. Pro Mode opens up the hood and lets the user manually control every setting. Despite that usability, Pro Mode is surprisingly intuitive. I'm decidedly not pro, but it didn't take long for me to abandon Easy Mode altogether for better control.
Improved Field of View
GoPro introduced a new 1/1.9 sensor with the Hero 11 Black, which opens up an 8:7 field of view option. Pair that with the 11's capacity for shooting 5.3K video at 30 frames per second, and that translates to 40 percent more resolution compared to GoPro's previous 5.3K resolution, which maxed out on a 16:9 digital lens. In other words, you can now shoot a wide, almost-square frame at high resolution, then crop into any ratio after the fact. It's a convenient asset for content creators posting to multiple mediums, as they'll no longer need to shoot different fields of view for varying use-cases, be it TikTok or Youtube.
This raises another point—with how great the video quality is, shooting photos on a GoPro could be obsolete. It's far easier to shoot video and pull a still frame after the fact—even GoPro suggests using this method now.
Millions More Pixels
If you do insist on shooting photos with the Hero 11 Black, it'll produce 27 megapixel photos, up from 23MP on the Hero 10 Black. Again, paired with the new 8:7 sensor, that equates to millions more pixels to work with. The 11 also introduces four new photo burst modes, in addition to six the Hero had already.
Ten-bit color comes built-in to the Hero 11 Black, as opposed to eight-bit on the last rendition, which seems a trivial difference. But considering the Hero 10 was capable of seeing around 16 million shades of color, and the Hero 11 sees upwards of a billion, it's a substantial upgrade. For advanced editors, more shades means more to work with in color grading. For everyone else, it means less apparent "stripiness" to the image, solving an issue that plagued GoPro in the past.
---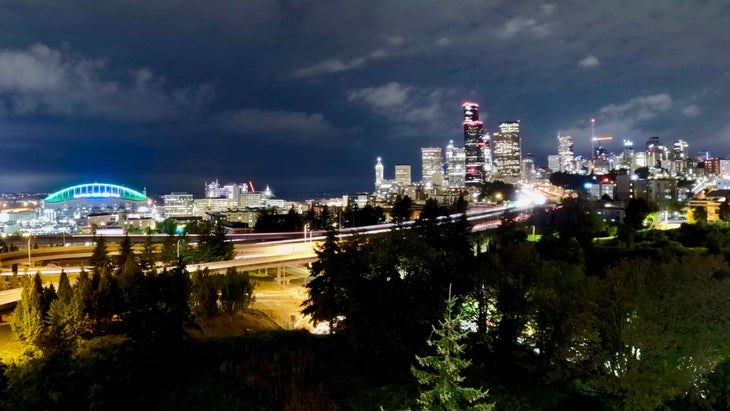 Light Trail Modes
The most novel and visually impactful features in the Hero 11 Black are, in my opinion, the night modes embedded within the camera's Timelapse function. There are three of them—Star Trails, Light Painting, and Vehicle Light Trails—and each is appropriately oriented toward capturing those subjects with a trailing effect, automating a photography technique that is difficult to get right with a traditional camera. This video effect yields a timelapse of the light trails forming, which makes for some pretty radical footage, but as with any Hero 11 Black recordings, you can also pull high-resolution still frame.
These coveted night effects will, in and of themselves, undoubtedly attract hordes of TikTok influencers and other entry-level shooters to the Hero 11 Black, if solely to be able to capture these pro-looking night shots.
---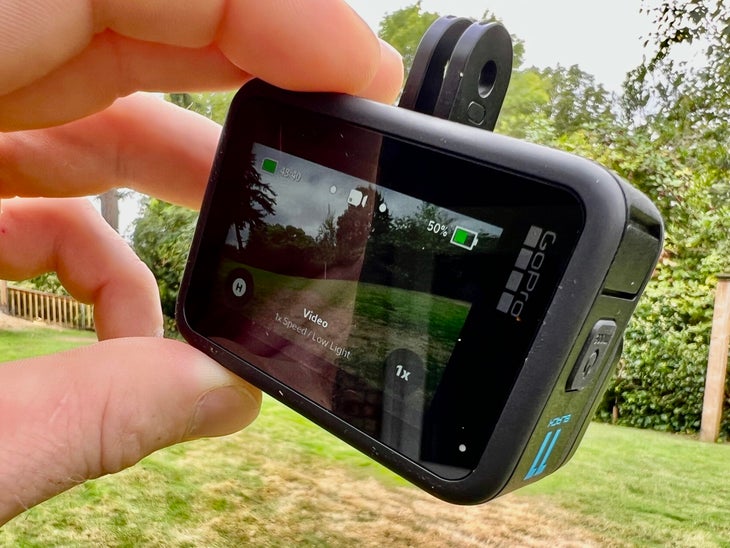 Horizon Lock and Image Stabilization
360-degree horizon lock was an available feature with the Hero 10, but only with the addition of Max Lens Mod accessory, which was an additional $100 and added bulk to the system. Now, Max Lens Mod is built into the camera lens. The result is enhanced stabilization and the option of 360-degree horizon lock, which essentially allows you to turn the camera completely upside down, while  the horizon stays perfectly level and upright. Hypersmooth 5.0, the latest iteration GoPro's stabilization layer, is negligibly better than the last version in my opinion, because Hypersmooth 4.0 was already pretty dialed. It adds gimbal-like smoothness to footage without the need for any extra accessories, so you can literally be bounding down a rocky trail while filming, and the footage comes out perfectly stable.
The Best POV Yet
GoPro's new Hyperview, is the brand's  widest field of view ever and an asset to any athlete with a penchant for POV shots. It  essentially takes the new 8:7 view and stretches it into a 16:9 frame, resulting in a broader periphery and more immersive, close-feeling footage when paired with, say, a chest or helmet mount. Coupled with all the other enhancements of the new Hero, Hyperview only increases my odds of capturing something epic, and making it look even cooler. Now all I have to do is remember to hit record.
---

Coming Soon: Hero 11 Black Mini
On October 25 GoPro is also releasing the Hero 11 Black Mini, a more compact, simplified version with all the same functionality packed into a one-touch capture system. We'll be testing that out soon, and we'll let you know what we think.
Lead Photo: Michael Misselwitz