GoPro's Karma Drone Is Officially Dead
The once dominant action sports company is beginning 2018 with some major changes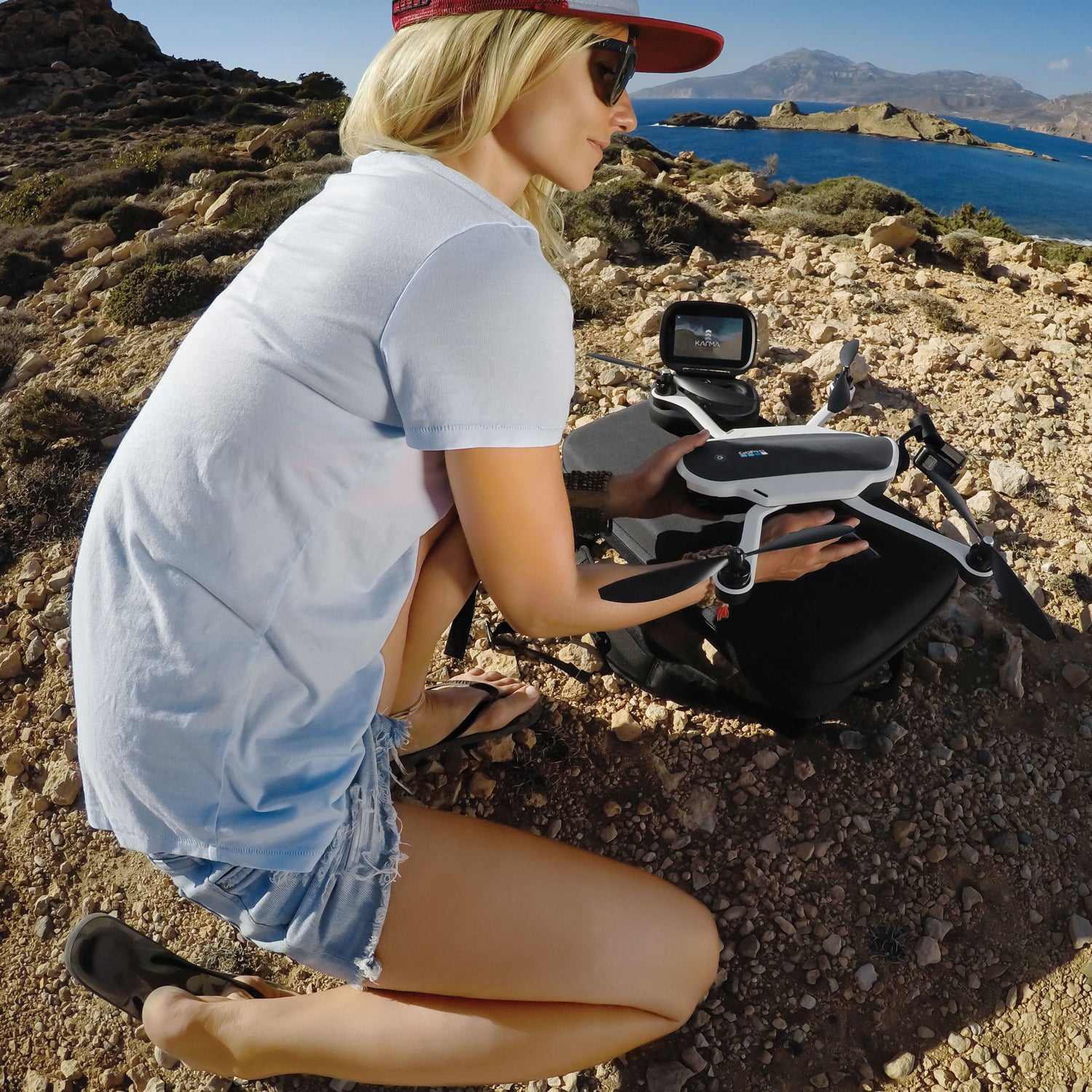 Heading out the door? Read this article on the new Outside+ app available now on iOS devices for members! Download the app.
Flying is tough. This is a fact GoPro has learned the hard way. On Monday morning, the California company announced that after it sells off its remaining inventory of Karma drones, its first and only UAV, it will exit the aerial market. The writing was on the wall last week as GoPro laid off a few hundred employees, most of whom were in its aerial division.
When the Karma drone was first announced in late 2015, it entered a competitive world. Led by behemoth DJI—which is to drones what, well, GoPro is to POV action cams—the consumer drone market was already extremely crowded. But I was still initially excited about the Karma, as it was one of the first foldable drones, making it more portable than anything in DJI's lineup. Unfortunately, just days after its release, DJI announced the Mavic Pro, which was far smaller, lighter, more compact, faster, had visual sensors, and a far longer battery life.
Still, there were some things about the Karma I really liked. It used a Hero5 as its camera, making the machine incredibly versatile and giving it stellar image quality. You could also pop off the camera and use it solo. The integrated three-axis gimbal was also removable, allowing it to work as a handle-held device. Essentially, you got two industry-leading pieces of technology for the price of one. 
Unfortunately, the Karma, as a drone, proved to be too big and too heavy to compete with the svelte DJI Mavic. To make matters worse, just two weeks after it launched, the Karma suffered a full recall as several drones spontaneously fell out of the sky. The problem, it turned out, was a simple loose battery latch.
When Karma relaunched a few months later, the damage was done. According to a recent statement from GoPro, "Karma reached the #2 market position in its price band in 2017…"—which might well be true, but there was a lot of space between number one and two. Neither GoPro nor DJI has ever released actual numbers on market share, though. 
The Karma will remain on sale until they're sold out, and GoPro has pledged to continue support for the drone, although it's unclear for how long. The drone itself is now going for the discounted price of $600. If you want it bundled with the new Hero6 Black camera, it's $1,000.
As GoPro leaves behind drones, the company said it will go back to focusing on its cameras. After slow sales leading up to the holidays, the company reduced the price on its Hero6 Black and last year's Hero5 Black to $400 and $300, respectively. That move reportedly increased sales figures by the end of the year. GoPro also reported more demand for its first 360-degree camera, the Fusion, than it had expected. 
Despite this, profits aren't as high as the company and its investors had hoped for. According to the statement GoPro released on Monday, it plans to post $340 million in Q4 revenue from last year, which would be down 37 percent from Q4 of 2016. To compensate for this, GoPro said it is targeting an $80 million reduction in operating expenses. Last week the company laid off over 250 employees—more than 20 percent of the company's workforce. At the same time, founder and CEO Nick Woodman announced that his annual salary for 2018 will be $1. 
But the real eyebrow-raising news came out this morning when it was revealed that GoPro is publicly considering a partnership, or potentially a sale, with a larger company. Woodman has since claimed that the company is not actively seeking a buyer, but he told Bloomberg that "if there were an opportunity for GoPro to partner up with a larger organization that could help us scale the company, that's certainly something that we would consider. But it's not something that we're actively engaged in at the moment."
Obviously, the company has to take care of its employees and investors, and perhaps merging with a larger company is the best way to do that. Still, I liked GoPro as an independent company. It's been fun watching them go from tiny start-up to a brand that created the action camera market. 
Brent Rose is a freelance writer, actor, and filmmaker, currently traveling the U.S. living in a high-tech van, looking for stories to tell. Follow his adventures on Instagram, Twitter, Facebook, and at ConnectedStates.com
Lead Photo: Courtesy GoPro