Hot Off the Press: How 3-D Printing is Revolutionizing Outdoor Gear
R&D at outdoor companies is being revolutionized by 3-D printing. The result: Better gear that gets to you faster.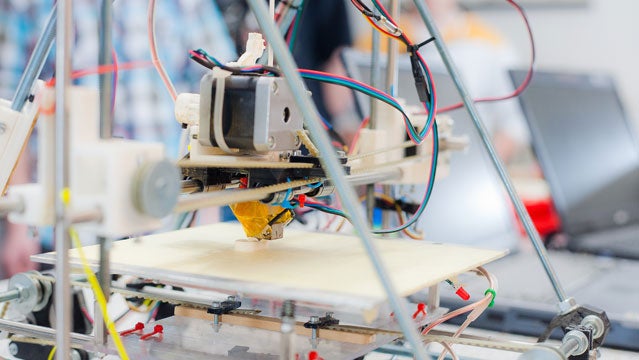 Glyn Smith via Shutterstock
Heading out the door? Read this article on the new Outside+ app available now on iOS devices for members! Download the app.
In 2010, designers at Trek decided to create a new road bike for pro cycling's spring classics. A key feature they envisioned was a suspension system that would allow the seat tube to flex independently of the frame, so riders wouldn't bounce around on cobblestone streets. At their Waterloo, Wisconsin, headquarters, the development team drafted a three-dimensional model on a computer, then used an Objet500 Connex printer to print—yes, print—a working prototype.
Notes were taken, tweaks were made. Over the next few months, additional prototypes were printed and tested, until a successful design was cast in carbon. A process that would have taken a year using traditional manufacturing methods instead took a few months. The result, the popular Domane 6 series bike, debuted last spring and was the first to include Trek's innovative IsoSpeed suspension system.
While it sounds like a sci-fi nerd's still-­distant dream, 3-D printing technology has been around for a decade. Only in the past few years, however, has it begun to revolutionize product ­design and manufacturing. Name an industry—aerospace, automobiles, medicine—and chances are it's ­being used to some degree, from creating cheaper, faster molds to fabricating custom parts. Gear brands in particular have piled on. In addition to its test suspension, Trek prints handlebars and saddles. Snowboarding behemoth Burton prints helmets, goggles, and bindings. CamelBak prints water bottles. And New Balance prints running cleats and even entire shoes.
"The advances we've made in binding design in just the past five years are certainly from the fact that we were able to use 3-D printing," says Scott Barbieri, a VP at Burton.
In many respects, 3-D printing works just like 2-D printing. Guided by a digital blueprint, a 3-D printer deposits layer upon layer of raw material on a flat surface, the same way your ink-jet deposits pigment on ­paper. The difference: the machines squirt out plastics or metals in powder or liquid form. ­Extremely thin layers are ­melted together with lasers or bond as they cool, and the result is a seamless, solid object.
Printers are still mostly ­limited to materials like plastic resin and stainless steel, which don't offer the quality and performance of, say, carbon fiber. And they can't come anywhere close to competing with mass-­ production systems that allow companies like Burton to churn out a snowboard binding every two hours. But boutique brands and some geeked-out consumers are already fabricating custom gear via third-party printers. A handful of independent designers have used this formula for accessories like smartphone mounts and ankle braces, and one amateur rider in Germany even printed his own bike-light clamp after a store-bought one didn't mount properly on his bike.
"We're not far off from ­people being able to print their own gloves or golf balls," says Bruce Bradshaw, director of marketing for Stratasys, a 3-D-printing company in Eden Prairie, Minnesota. Burton's Barbieri takes an even more optimistic view: "If you can design it on a computer, you can have it in your hand."