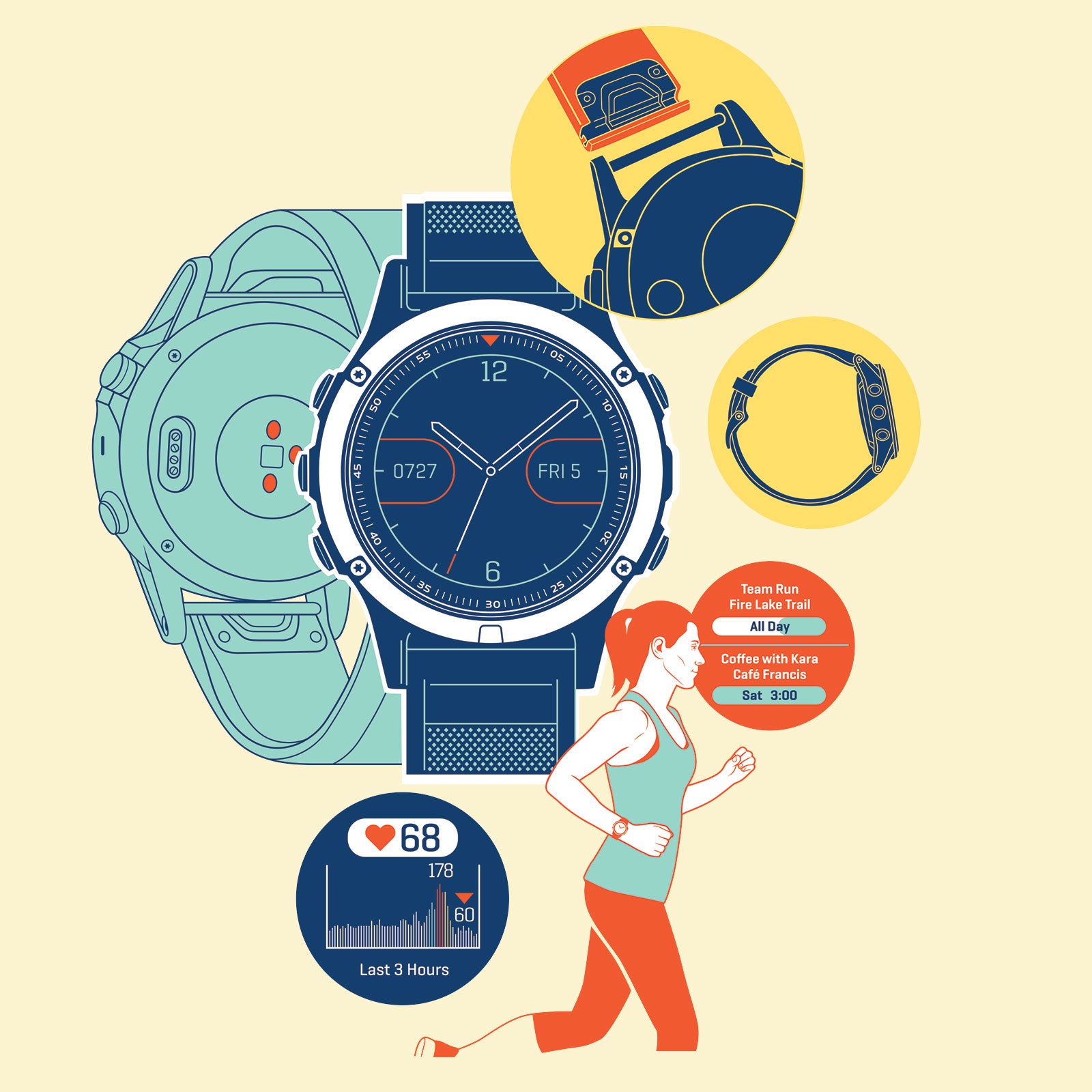 Heading out the door? Read this article on the new Outside+ app available now on iOS devices for members! Download the app.
Body
Designs that are slim are not only stylish, they're practical, too—less likely to catch on your sleeve or some other object. Ideally, you want a watch that's fully waterproof, so you can jump in a river or pool without hesitation. This feature is becoming standard, but you can still expect it to add as much as $50 to the cost. A machined-metal body is stronger and will last longer than plastic, which in turn is lighter and often more comfortable to wear during peak activity.
Screen
For scratch resistance, sapphire-crystal displays can't be beat: they're far less susceptible to chips and cracks than standard glass. They come at a price, however, adding as much as $100 to the cost of a watch. While pixel density is important (the Apple Watch Series 4's screen has 326 pixels per inch, while the Samsung Gear Sport's has 424), it's more critical that the display be big and bright, so it's easy to read even when you're bouncing around on a run. Brightness is measured in nits, and the more the better. Some watches, including Garmin's, have reflective screens that take advantage of ambient light. They aren't as detailed, but they're very readable.
Battery
You want as much battery life as you can get. That said, some watches are smarter than others about how they manage power. A full-on smartwatch, like Apple's and Samsung's, typically gets only a day's worth of battery life, though such devices tend to run more background operations. A watch should last weeks between charges if you're using it only for basic stuff like step counting. Check how many hours it's rated for in tracking mode. Most tap out after ten hours of GPS tracking, though some include less accurate modes that extend that to 24.
Wireless Connectivity
These days, Bluetooth is mandatory. It's what enables the stats a watch tracks to get to the wearer's phone and into the cloud. Every legitimate fitness watch has it, so if the one you're considering doesn't, move along. Some watches now have slots for SIM cards, which give your watch 4G connectivity—meaning your data stays synced, and you can send and receive texts and even download music, all without needing to have your phone nearby. That SIM-card slot can add up to $100 to the price tag, though, and that doesn't include the monthly fee you'll be paying for a data plan (typically $10 to $20).
Heart-Rate Monitoring
Wrist-based heart-rate monitors were once so inaccurate that they were little more than a novelty feature. That isn't the case anymore. Not only are optical heart-rate monitors (which shine light through your skin to calculate blood flow) fairly standard on fitness watches, but they've gotten a lot better. They still don't have the accuracy of a chest strap, which reads the electrical impulses in your skin, but they're getting closer with each generation. While most watches still use optical monitoring, some high-end models double up with optical and electrical.
Location Tracking
Simply put, you need GPS to accurately track your activities over distances, especially for running, hiking, and biking. Some cheaper watches are designed to pair with your phone and piggy­back on its GPS rather than include antennas of their own. Don't go this route. It forces you to carry your phone with you and typically isn't as accurate. A watch with GPS is much more straightforward: it doesn't require pairing and won't drain your phone's battery. High-end watches utilize both GPS and Glonass and are therefore more accurate, because that doubles the number of satellites they can use to pull positioning data.
Near-Field Communication
NFC chips haven't become stan­dard yet in fitness ­watches, but you do see them in full-featured models from Apple and Garmin, as well as devices that use Google's Wear OS. These chips allow you to make mobile payments directly from your watch, without requiring you to have your phone with you. It's great for an emergency bottle of water or a snack at a convenience store, or even a taxi back home if you pull a hamstring or break a derailleur. Think of it as a bonus feature rather than a must-have.
Price
Cost is obviously a major factor in all consumer electronics, and with fitness watches there's a wide range. Much of what you pay depends on what you want to track. You can get a decent running watch with GPS for under $200. At the other side of the price spectrum, a cutting-edge device that's waterproof, has a sapphire-crystal display, and tracks every activity under the sun might run you north of $700. Whether it's worth the cost depends on how important fitness data is to you and how precise you need that data to be.