How to Choose the Right Water Bottle for You
It's not as simple as you may think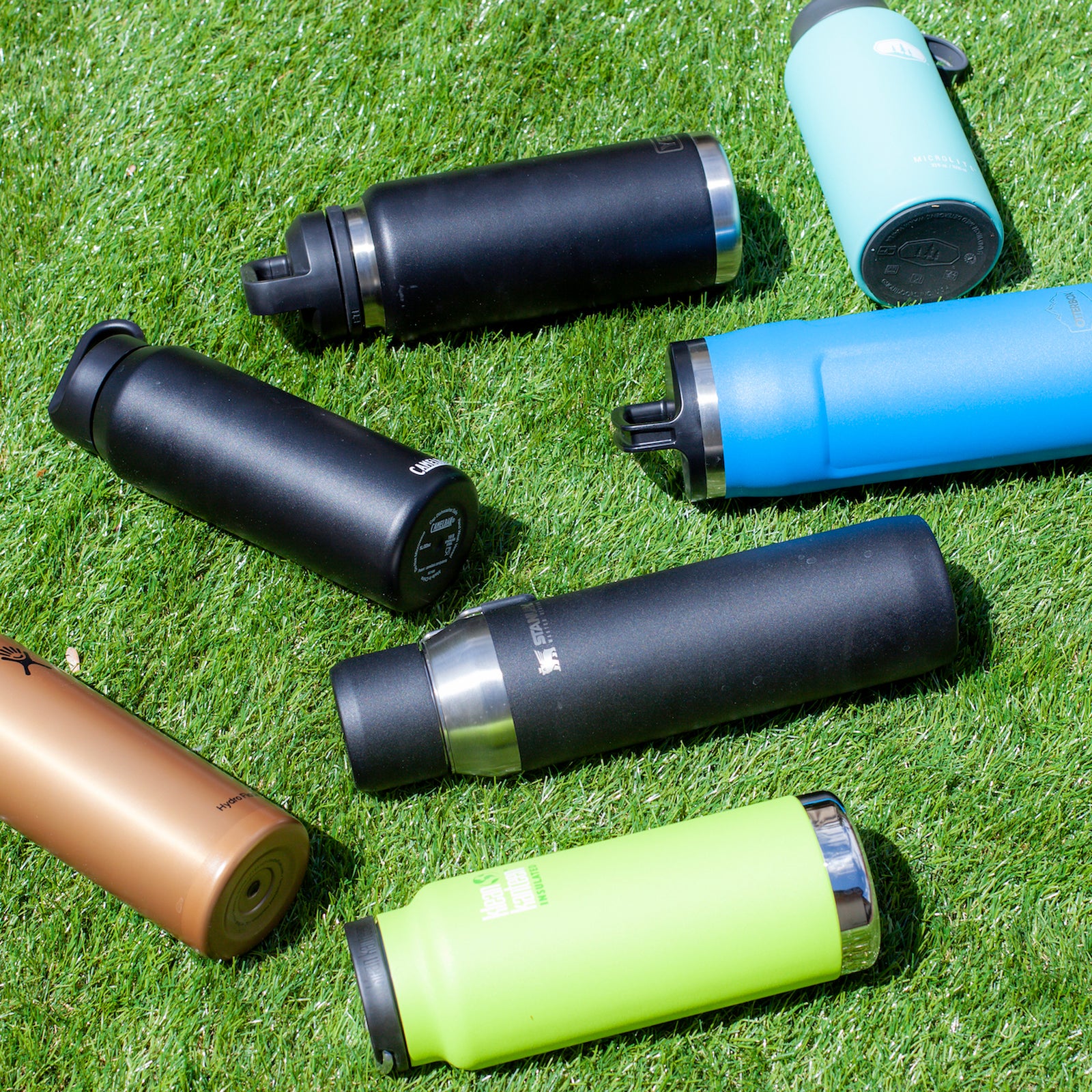 Heading out the door? Read this article on the new Outside+ app available now on iOS devices for members! Download the app.
While buying the correct water bottle might not be as exciting as searching for the new backcountry skiing setup you've been lusting after, the choice is still an extremely important one. In some ways, it might be one of the most important purchases you make, because it could be the piece of gear you use most frequently over the course of its lifetime. Little issues like a squeaky lid, heavy materials, or poor lip-to-lid interaction can potentially drive you crazy over tens of thousands of sips. But the journey is worth it: there's something magical about finding the right one.
I've tested hundreds of drinking vessels over the course of seven years as Outside's Gear Guy. I've measured their thermoregulation capabilities in every way I could imagine, consumed hundreds of gallons of liquids from them (including everything from ramen to whiskey), and even shot some with a shotgun. Here are my tips for finding the right water bottle for you.
Be Realistic About the End Use
While it's wonderful to imagine drinking from your favorite water bottle on the top of Mount Rainier someday, you'll be much better served if you purchase one that will bring you the best drinking experience today. While I could happily geek out on the latest technologies, I don't think you need to obsess over things like weight-to-insulating ratios unless you're planning on transporting it deep into the backcountry. If your water bottle will rarely leave your house, state-of-the-art tech that halves the weight and doubles the price doesn't really offer much utility.
Consider a Quiver
I'm a firm believer in getting gear that pulls double or triple duty, because it's the best way to lighten up your kit, keep your closets and cabinets uncluttered, and save you money. But for water bottles, I recommend different kinds for different uses. It's fantastic that my insulated 32-ounce insulated bottle can keep my coffee warm for hours, but I don't need that big a receptacle for my morning joe. Here's what's in my personal rotation: a large 32-to-36-ounce insulated bottle for drinking around the house and stroller running; a smaller 10-to-12-ounce coffee-specific vessel; something really light and uninsulated (like BPA-free plastic) for backpacking, cycling, and ski touring; a handheld for short runs; and a 1.5-liter pack and bladder for long runs.
Think About Size
My rule of thumb is to size up if you rarely carry your bottle into the backcountry, and go as small as you can when you're lugging it around for longer than an hour. There is endless research around how much water you should drink during activities, but it all comes down to the fact that everyone has different needs depending on workout intensity, environment, terrain, sport, etc. Personally, I can exercise hard with about a half-liter of water or sports drink per hour. I use a 0.7-liter Ultimate Direction Clutch ($40) handheld for runs less than three hours and the Osprey Duro 1.5 ($90) with a 1.5-liter reservoir for anything longer. I throw a 32-ounce Wide-Mouth Nalgene ($12) into my pack for ski touring and more strenuous day hiking. I use a 36-ounce Yeti Rambler with Chug Cap ($50) as my daily driver that sits on my desk, goes to the playground with my three-year-old daughter, and accompanies us on our stroller runs.
Debate Its Weight
I suggest not getting too hung up by the weight of your water bottle. If you need something exceptionally light for an objective, just reuse a Gatorade or Smartwater container, as many thru-hikers do. Otherwise, go with the suggestions above.
Insulated Versus Uninsulated
Insulated water bottles are significantly heavier but deliver the magic of ice-cold liquids when the weather is hot and vice versa. I think both insulated and uninsulated vessels have their places for different activities and objectives, but if you have the budget for just one bottle, go insulated. I find I drink much more water when that water is cold.
How Durable Should Yours Be?
Even after dozens of hours testing the durability of water bottles over the years, I am still amazed at the strength of stainless-steel containers. Plastic ones can and do break, although they're generally tough. But most stainless-steel bottles will last you a lifetime, barring a catastrophic fall.
If anything fails, it will likely be the lid. I've had the caps of otherwise bomber products completely shatter after one waist-high drop. Take a close look at what the lid is made from, and look online for specific reviews of the lids. Also, the more features a lid has, the more likely it is to fail. Simple, sturdy caps will last the longest. That said, many brands offer replacements.
Where Will You Take It?
Think of all the places you might bring this vessel. Is the size conducive with how you'll carry it there? If your bottle will be going on road trips, make sure it fits in the cup holder of your vehicle. Measure to see if it will fit in the sleeve of your daypack. The more seamlessly your water bottle fits into your system, the more places you'll bring it. And, as mentioned before, think about weight if you'll be carrying it for long distances.
Does It Cling to Tastes?
If you're getting a metal bottle, make sure to get one lined with food-grade stainless steel. If not, one cup of coffee or a strong gin and tonic can linger for life. That said, you still have to clean it thoroughly if you use it for anything besides water.
Style Matters
The right bottle is an accessory that will go more places with you than any jeans you own—it's OK to care about how it looks. Do you think you'll look cooler carrying a Yeti? Cool! Embrace that, and don't stress about whether it will keep your water the coldest. Likewise, a boldly colored Hydro Flask can add a little flair to every day.
Lead Photo: Sarah Jackson