DIY
How to Collect Your Own Firewood
Keep warm this winter by harvesting fuel yourself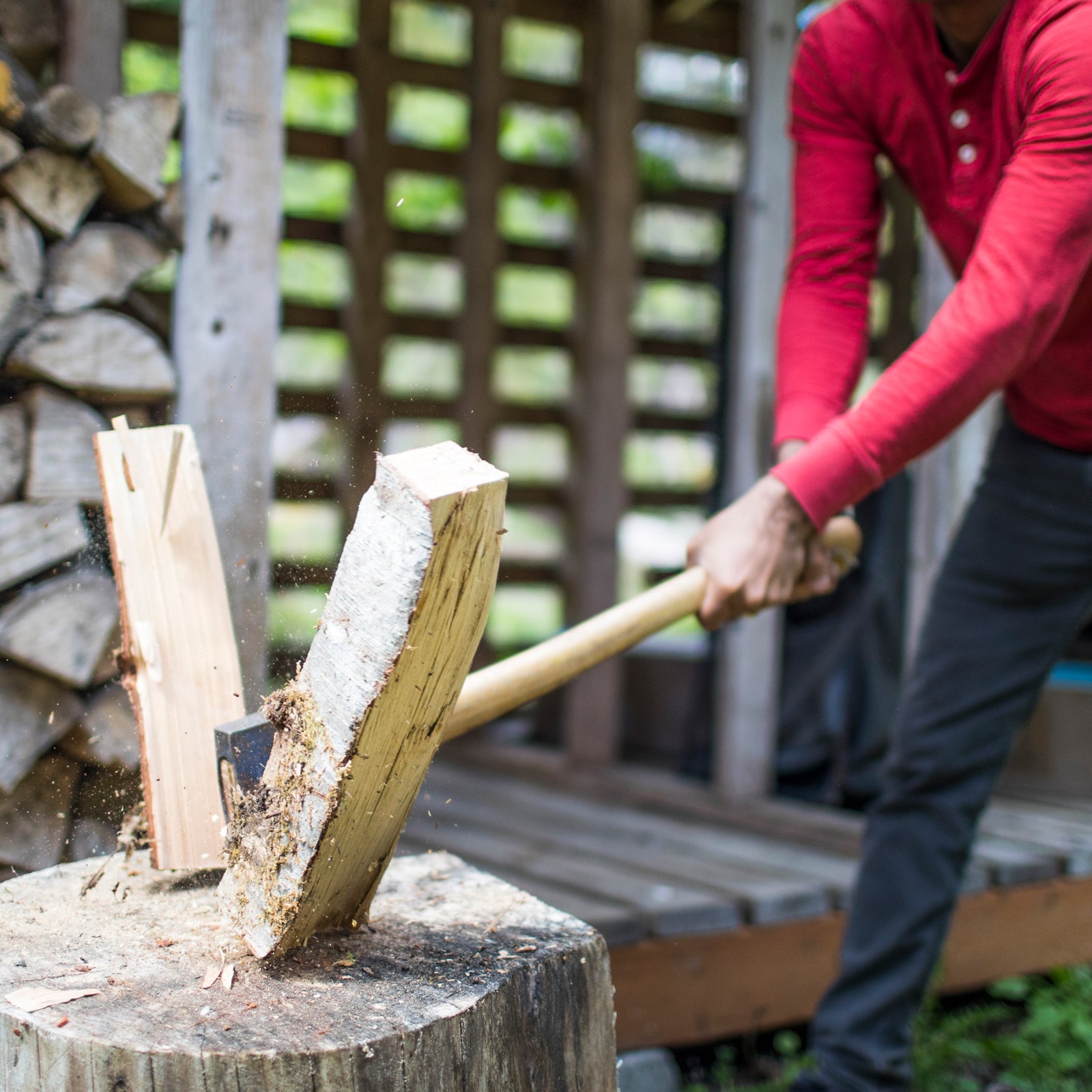 Heading out the door? Read this article on the new Outside+ app available now on iOS devices for members! Download the app.
Collecting firewood is hard work. It takes time, significant physical labor, and a certain amount of homework to do it properly and safely. But the satisfaction you feel from the heat emanating off a fire built from the wood you harvested is immeasurable. There's hardly anything better on a bitter winter day.
Brad Withrow-Robinson, an Oregon State University forestry and natural-resources extension agent in western Oregon, agrees. He calls the addiction to collecting your own firewood "the wood sickness."
"There's a certain amount of therapy in cutting and burning your own wood," he says.
I grew up harvesting firewood on my parents' property in southern Oregon, and I now collect it seasonally on public lands in New Mexico. I got Withrow-Robinson on the phone to break down what you need to know to get started.
Where to Get Wood
There are two places where you can gather firewood, says Withrow-Robinson: public lands and private lands. Wood from private land is hard to come by, but it does happen. Sometimes timber companies want to get rid of big piles, or maybe a rancher has an area that needs to be cleared. Craigslist is a good resource to check for these possibilities.
Unless you find one of these leads, your best bet is to call or visit your local U.S. Forest Service office. Most regional locations will issue permits for gathering wood by the cord (four feet by four feet by eight feet), including information on when to harvest, where, and what type of timber you can gather. In the West, chances are there will be fire restrictions in place much of the year, which may limit cutting to certain times or dates, so ask about those as well. Be sure to follow any local rules and regulations, including whether you can drive off-road to access timber stands.
Types of Wood
Entire books have been written on the different types of wood and how they burn. And folks in each region of the country will have varying opinions about which wood is superior for heating your home.
The heating power of any particular kind of wood comes down to weight, Withrow-Robinson says. "Dense wood means more weight per log," he says, and therefore more heat.
In New Mexico, where I live, juniper and piñon pine are prime burners, while lighter ponderosa pine goes fast and doesn't give off as much heat. Ask for recommendations at your Forest Service office or local saw shop.
Tools You'll Need
"Chainsaws are really powerful and dangerous tools," says Withrow-Robinson. "Get a good chainsaw, learn how to use it, and wear appropriate safety gear." University extension services, such as the one that employs Withrow-Robinson, may offer online resources or courses in your area.
Your chainsaw can be used to fell trees and cut wood into rounds once it's down. If you're new to running a chainsaw, we'd recommend starting with some "dead and down" trees, or wood that has already fallen over and might have dried out a little bit. Working with downed trees is more straightforward than dropping live ones, but both can be extremely dangerous if not done properly. Make sure to read up on how to do it safely, and avoid binding, what happens when your saw gets caught in the tension of your cut. Always keep an eye on the tip of your saw, as catching this on an object like a branch is a common cause of kickbacks—or when the saw suddenly lunges upward—and the accidents that result.
Brands like Husqvarna and Stihl are both common and reliable, which is why wildland firefighters depend on them. The Husqvarna 450 Rancher ($399) or the Stihl MS 251 C-BE ($370), both gas chainsaws, are more than capable for processing firewood. In addition, both brands offer guides on how to run your saw safely.
Lithium-ion battery-powered saws, like this 14-inch, 40-volt cordless one from Ryobi ($199), have grown more popular and efficient over the past few years and might be up to the task of cutting fewer rounds or smaller diameters of wood. Such saws are generally lighter, less messy (there's no fuel to spill, even though you still need bar oil), and can prove to be more powerful than you think. If the wood you plan to harvest tends to be slimmer, this could be a good option. The main concern is battery life: you'll want at least two batteries, so you can swap one out and keep cutting while the other one charges off a remote power source.
Always carry an extra chain with you in the field. They can dull quickly and need sharpening or swapping as the day goes on. Consult your user's manual, but they're usually easy enough to change out with a scrench, like this one from Stihl ($16). You should also carry an extra bar nut or two, in case you lose or strip one.
To maintain your saw properly, don't forget bar oil. This is what keeps your chain running smoothly along the bar that extends from the motor. Some saws go through it more quickly than others, so frequently check the level as you work.
Gas-powered saws run on a mixture of oil and gas, which you can buy premixed or mix yourself in a gas can. If you're mixing it yourself, measure carefully, as too much or too little oil will prevent the saw from running cleanly.
It's also a good idea to carry some unpowered tools as backup. A felling ax can help get you out of pinch if your saw fails or gets caught, while some wedges can help you drop a tree safely.
No matter what kind of saw you're running, be sure to use proper safety gear, says Withrow-Robinson. Wear earplugs or muffs to protect your hearing, safety glasses to shield your eyes, and a hard hat if you're dropping trees. You should also consider wearing chaps, like the Husqvarna 587160704 Technical ($71), which can help protect your legs should your saw kick back. A pair of hardy gloves, like the widely available Wells Lamont Leather ($15), are essential for your hands.
Processing and Storing Your Wood
Once you've cut your wood into rounds at a length that will fit in your fireplace or stove (around 16 inches, usually), it's time to split it. A quality splitting ax, like the Hults Bruk Sarek ($164), is the best tool for processing your freshly gathered wood, but a splitting maul, like the Fiskars IsoCore 36-Inch ($60), will help you get through the most stubborn and knotty pieces. (A maul has a wider head and is heavier for breaking down tough rounds.) If you're processing a large quantity of wood, a hydraulic splitter makes the job a whole lot easier (you can usually rent one locally). Aim for three-to-six-inch-wide pieces for efficient burning.
Store your wood off the ground, loosely stacked and covered. A tarp will do the trick if you don't have a roof to put it under, but don't cover it too tightly—the wood should receive some airflow but not be exposed to precipitation. This will help it dry out and season appropriately. Your wood should ideally have a moisture content of 20 percent or lower when you burn it. "Burning dry wood is more efficient and cleaner," says Withrow-Robinson.
Lead Photo: Christopher Kimmel/Cavan