Gear Guy
How to Properly De-Ice Your Car
In short, it all comes down to bringing the right tools and planning ahead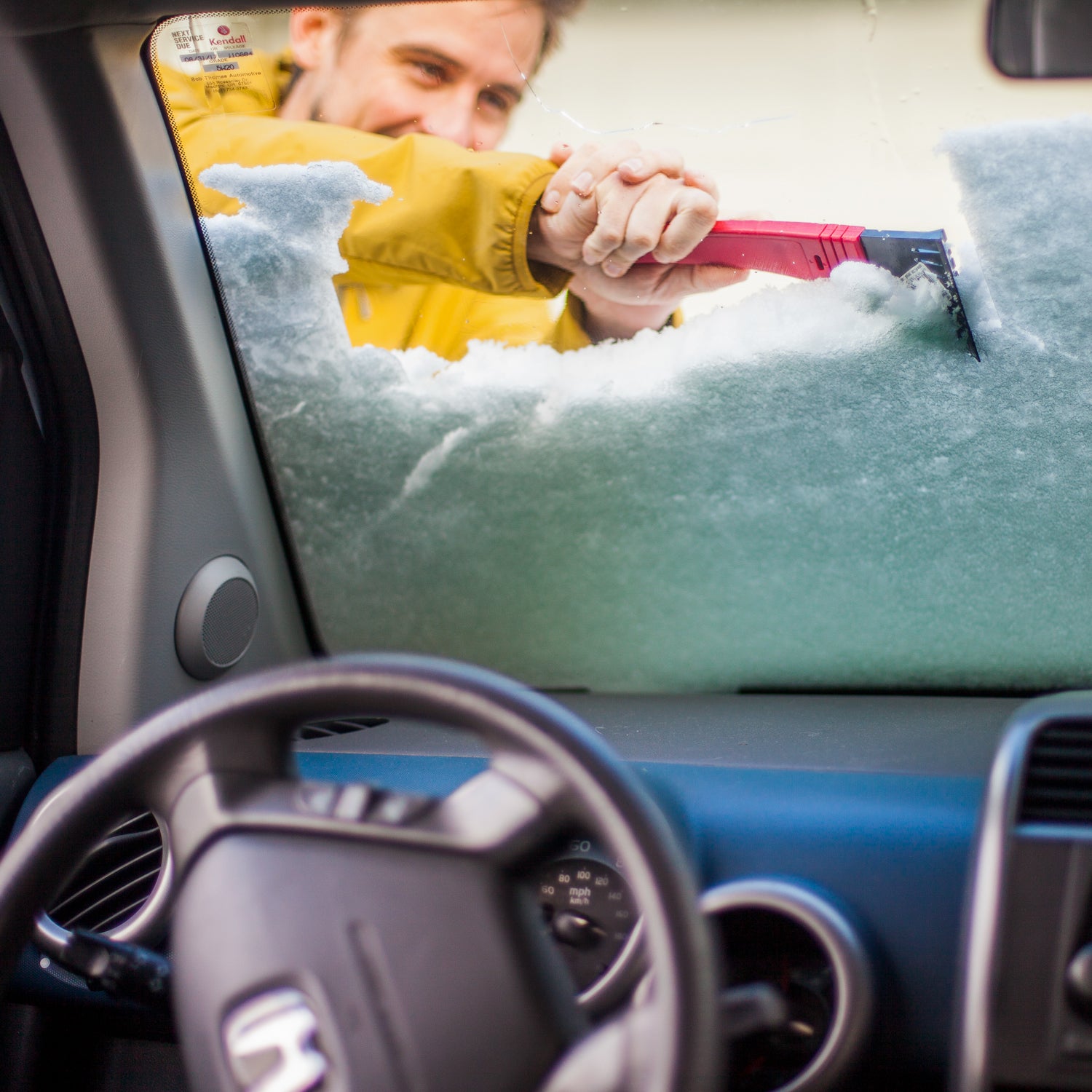 Heading out the door? Read this article on the new Outside+ app available now on iOS devices for members! Download the app.
If you're like me, gear takes up enough of your garage that you have to park outside. In winter, that means scraping the ice and snow off the windshield and sitting, shivering, while you blast cold air, waiting for the car to warm up and the windows to defog. But winters at my home in Ashland, Oregon, are tame compared to what they get in Whitehorse, Yukon. That's where Outside contributor Eva Holland lives, and it's like going to battle many mornings in winter for her just to get out of the house—she's been scraping ice off her Subaru Forester since August. "Sometimes I work up a sweat," Holland says. And Blair Braverman, an avid dogsled racer and writer of Outside's Tough Love column, doesn't have it much easier at her home in Wisconsin. Here are their tips to get your car de-iced and defogged so you can be on time to work (or nab first chair) this winter.
Pop Up Those Windshield Wipers
"I always forget to do it, but some people, if they know if it is going to snow or be really cold overnight, they will leave the windshield wipers up off the glass," Holland says. "Sometimes the rubber freezes to the glass, and it is really difficult to get it off without ripping your windshield wiper blade."
Cover the Windshield
"Put a tarp on your windshield, and take it off when you are ready to go," Braverman says. She always brings one along if she's expecting snow or freezing rain and covers the windshield with it the night before. This can prevent accumulation in the first place, saving you a lot of trouble come morning. Any tarp will do, like the Outdoor Products All-Purpose Tarp ($5).
Crank the Heat, Then Scrape
"I will go out and the first thing I do is start the car, put the heat on full blast, and let that do its work while I'm scraping the windshield," Holland says. "I usually start with the side windows to kind of give the defrost some time to work on the main and rear windshields. Then I scrape the rear windshield, and then the front windshield last, because it's usually the toughest."
Roll Heavy
Holland describes her go-to scraper as a pretty standard hardware-store model, with a brush on one end and a scraper on the other so she doesn't have to switch tools between brushing off snow and scraping ice. "Sometimes the frost gets hard enough that you are scraping it with the scraper and nothing happens," Holland says. And go for length—Holland used to have a Grand Cherokee and a 4Runner, so she needed the extra length to reach the middle of the windshield. "Mine is metal, because sometimes the plastic ones just break in half, and it has a foamy grip so your hands aren't touching the cold metal," she says. Something burly like the Hopkins Snowbroom ($31) gets the job done.
Always Be Packin'
"I keep a scraper in the car all year round so I'm never caught off-guard," Holland says. Case in point: Last August, she was camping in the far north and woke up to frost on her windshield. She was thankful her scraper was in its usual spot on the floor in the back seat. It's good advice, because even if you're in a temperate spot, weird weather patterns can roll through.
Carry a Spare
"I have a backup scraper, without a brush—just a little handheld scraper—in my winter emergency kit as well," Holland says. It's a safety net in case her main scraper breaks in half, which it has before. It also creates the bonus of sharing the load if you're carpooling. "If you have someone else with you and the ice is really bad, you can both work on the car," Holland says. While the metal handle is key for a main scraper, something like the inexpensive plastic Hopkins Subzero Crusher Scraper ($9) suffices for an emergency backup.
Lead Photo: Sarah Jackson