How should I carry my DSLR camera while hiking to Machu Picchu?
I'm going on a four-day hike to Machu Picchu in May. I plan on taking my Canon Rebel XS digital SLR camera with me as well as a zoom lens. I'll be wearing a multi-day backpack for the hike. What would you recommend I use to carry the DSLR so that it is protected and still readily available for photos? I was considering a belt pack but was unsure how that would affect the backpack's belt straps. Rachel Newark, NJ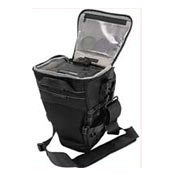 Heading out the door? Read this article on the new Outside+ app available now on iOS devices for members! Download the app.
Yeah, a belt pack likely wouldn't be ideal. It's going to conflict with your backpack's waist belt.

The Topload Zoom AW
What I would suggest starting with is something like Lowepro's Topload Zoom AW ($70), which is sort of a holster bag. It's big enough to hold your Canon, a zoom lens, and most any accessories you're apt to need. Works well as a shoulder-held camera bag. But it also attaches to Lowepro's Topload Zoom Chest Harness ($10). That lets you carry the camera bag at chest height. You don the harness and camera bag first, then the backpack. It works pretty well, although it can get kind of warm in hot weather.
Another option is to get a bag such as M-Rock's Yellowstone 511 ($50), which is big enough for a DSLR and a short zoom. It has an attachment loop that you can thread your waist belt through—no harness needed. Then just use a regular light shoulder strap as a "safety," so the camera doesn't drop when you unclip your belt.
I'd try to find a store that has several different systems, take your camera and backpack in, and try some on. You want the camera to be handy, of course, but not completely in your way.
Have a great trip!