Indefinitely Wild
What You Need to Know Before You Buy a Flashlight
Flashlights have flooded the market. Here's how to choose the best one for you.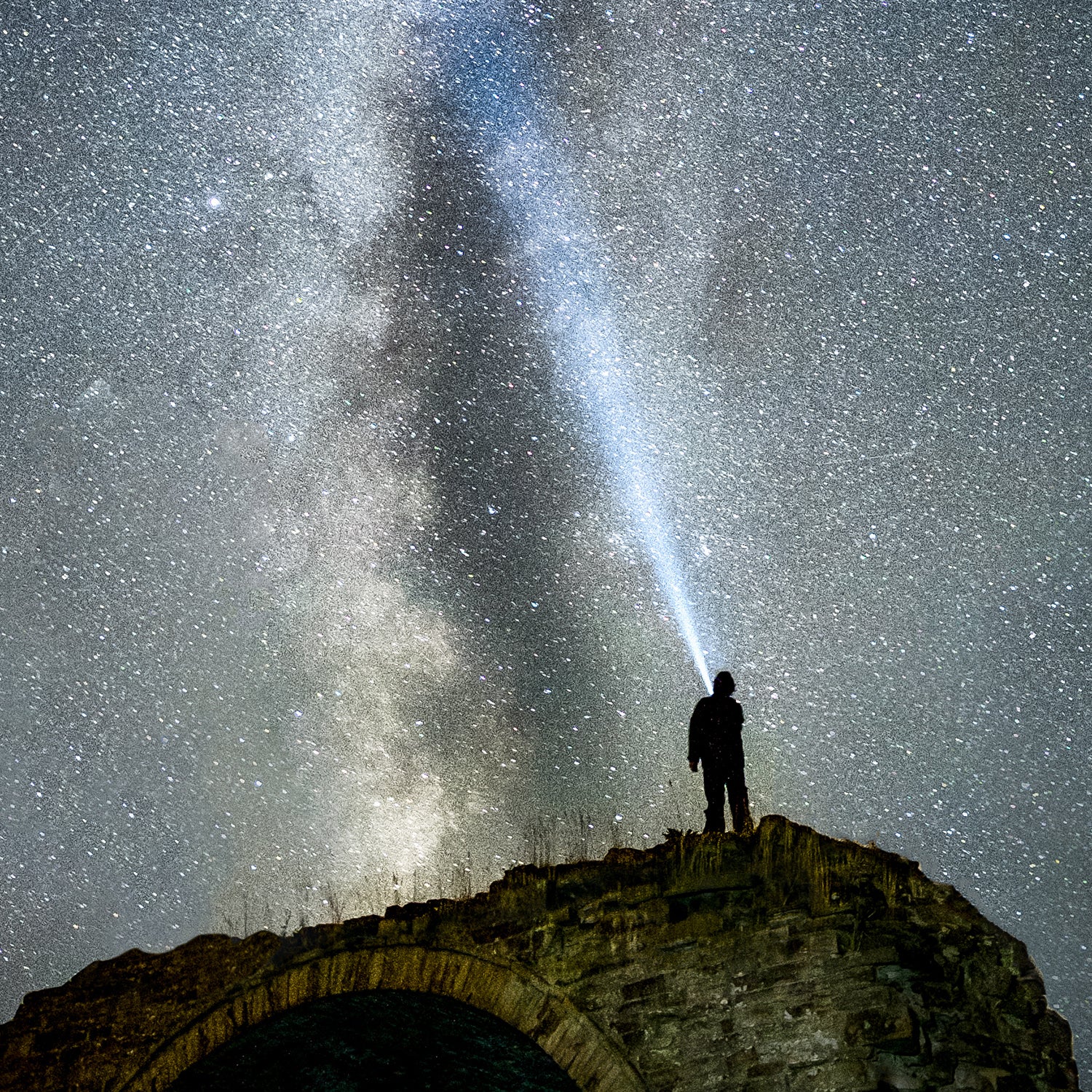 Heading out the door? Read this article on the new Outside+ app available now on iOS devices for members! Download the app.
Why buy a dedicated flashlight instead of just using the one built into your smartphone? As you've probably noticed, running your phone's light quickly runs down the battery while providing a very limited amount of illumination. Worse, holding your phone securely while shining its light may feel awkward, particularly in the dark while you're trying to work on something. And you really don't want to rely on a light source that breaks easily and stops working when dropped.
Bright light has become a commodity product. You can buy a cheap flashlight online, or even in a gas station, that makes as many lumens as more expensive options. So the differences that may help determine if a light is right for you depend on other factors.
How Are You Going to Carry It or Store It? 
Like a good knife, a flashlight's job is to be there when you need it. So the most important thing a flashlight can do is to fit into your pocket, nightstand, or glove box.
A very small key-chain flashlight can be carried with you everywhere, every day. But getting it deployed may involve fumbling through your pocket, around whatever else is riding in there, then using both hands to switch it on. A very slim light with a good pocket clip will still easily fit in your pocket but will be much simpler to access. That said, you'll need to remember to move it between garments, which increases the risk of losing it.
Larger lights are harder to misplace than smaller ones, but they're also harder to carry. This becomes an advantage at home or in a vehicle when reaching for a large light in the dark—but it's probably not the one you want to bring backpacking.
The size and form of a light are also going to impact the ways in which you control a flashlight, as well as the amount of run time you'll be able to get out of its batteries.
How Are You Going to Power It? 
With modern LED technology, the emitters, reflectors, and lenses or optics have shrunk so much that now it's often the shape and size of the batteries that determine the shape and size of a flashlight.
Lights can be powered by either standard batteries, like the typical AAs, AAAs, and C or D cells we've all used for decades, or they can rely on less common, high-discharge rechargeable batteries, like 18650's or 26650's.
The advantages of running a common, old-school battery like a AA are low cost and wide availability. You probably already have some AAs in a drawer, and if not, you can buy more at virtually any retail location. But common batteries have limited output, and even lights that require only a single AAA battery aren't necessarily small enough to fit on your key chain.
High-discharge rechargeables are capable of powering much more powerful lights and can pack that performance into smaller forms. However, they're often expensive and hard to find outside of specialty online retailers. Being able to recharge them may sound like an advantage, but it'll require keeping track of cables and maybe even charging docks.
I find a good middle ground between commonly available batteries and high-performance ones to be CR123 cells. These were widely adopted for digital cameras and other devices, meaning they're stocked in places like gas stations and grocery stores, but still pack higher outputs and longer run times. They're shorter and fatter than a AA, which results in lights that may be just small enough to fit on your key chain if only one is required but still be large enough to fill your hand if your light needs two or three. Some CR123 flashlights, like those in the Foursevens Mini range, may also be capable of running the high-discharge rechargeable version of the CR123, known as the RCR123, resulting in higher light outputs. Do not attempt to run those unless the flashlight manufacturer specifically states they're compatible, though; RCR123s can destroy unsuitable flashlights.
If you do want a flashlight that relies solely on rechargeable batteries, look for one that builds a charger into the light itself, requiring only a cable to be plugged into it for charging. Skipping charging docks gives you one less thing to carry or lose.
If you run flashlights powered by common batteries, it's worth buying lithium ones. Not only do those boast a ten-year shelf life and better stand up to cold temperatures, but they may also offer improved performance if a light is designed to take advantage of their increased power outputs.
How Are You Going to Operate It? 
Flashlights come with either push-button or twist-cap interfaces. Buttons are easier and faster to operate and can be manipulated with a single hand. Twist caps are less likely to be activated accidentally while riding in a pocket or a pack and can be built into smaller packages, but they typically require two hands to operate.
Buttons are packed into a flashlight's side or its tail. Side buttons are easier to use with an underhand grip, as you may hold a light while casually walking along a trail. Tail-cap buttons require an overhand grip, which you use if you're holding a light over your shoulder. Tail-cap buttons can either be exposed, preventing a light from standing on its tail, or shrouded, allowing that tail to stand.
These days, both buttons and twist caps tend to operate multiple light modes, which you access by quickly cycling between on and off or presses and holds. Because it's easy for a light maker to offer multiple modes of operation, and because more modes make for more marketing, most flashlights now come with more available settings than is practical.
Whether it's a very dim light output designed to help retain your night vision, or the maximum output available, determine which mode or modes you're going to use most often, and make sure they're easily accessible on any light you buy. The last thing you want to do is spend time trying to cycle through clicks and twists and various strobe patterns just to turn a light on during an emergency. This can be achieved either by a simple interface that matches your preferences or through a user-programmable function that allows you to customize a light's function to your needs.
Much more so than their commonly inflated performance claims, it's these factors that are going to help you find a flashlight that truly meets your needs.