How to Put on Tire Chains
And everything you need to know before driving over that snowy pass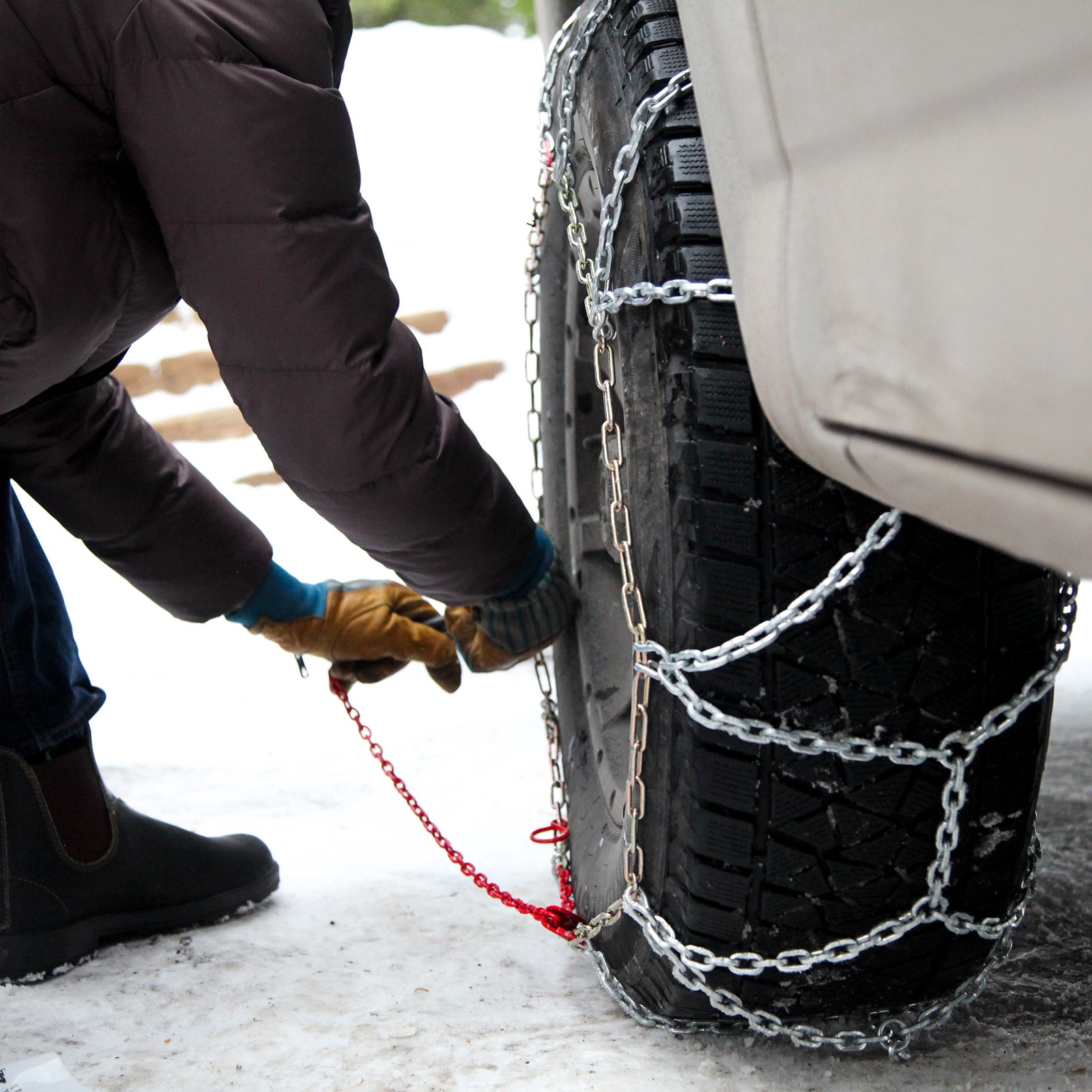 Heading out the door? Read this article on the new Outside+ app available now on iOS devices for members! Download the app.
You're heading up to the mountains for the weekend and a storm hits. A sign flashes across the roadway: chains required ahead. Uh-oh. Chain control isn't something you can bypass or ignore. If your car can't make it over the snowy, icy roads safely, you're not going anywhere.
Most chain-control checkpoints require you to have either a four-wheel-drive vehicle with adequate snow tires or chains properly installed. If you have 4WD but no snow tires, prepare to chain up. Some states require by law that you carry tire chains in your car if you're driving in snow country—whether you have 4WD or not. Other states that don't regularly have wintry conditions prohibit the use of chains because they can damage roads if used when they're not needed. So check your state's chain law before you head into snowy or icy conditions. We called up Steve Nelson, public information officer for the California Department of Transportation, for advice on what you need to know before chaining up. 
Pick Up Tire Chains (the Right Ones)
If you're renting a car, the rental company may provide them; otherwise, buy chains before you head into the mountains. You can't purchase chains at a checkpoint—although you can often pay to get them installed there. Most tire shops and some well-equipped gas stations sell chains. Check your tire size in the manual (or on the tires themselves if they're aftermarket) to make sure you get the right fit. You'll likely only need to install chains (sold in pairs) on two of your tires: the back two if you've got rear-wheel drive and the front two if you've got front-wheel drive. Refer to your manufacturer's recommendations for all-wheel drive. It's best to consult a professional when purchasing to make sure you get the right size and chain pattern for your vehicle.
Carry Emergency Supplies
"Carry blankets, gloves, warm layers, extra food, and water" if you're headed into snow country, says Nelson. "You'll also want a full tank of gas and fully charged phones. There can be times when we have to shut down the interstate, and you're stuck out there. So come prepared for anything." Make sure you've got a sturdy pair of gloves in your trunk for installing chains. Leather hardware-store staples, like Kinco's 1927KW gloves ($18), get the job done, or if it's really wet out, you might opt for a waterproof, insulated glove, like Showa's Atlas 460 ($13).
Practice Before You Go
In limited places, chain installation at checkpoints is available for about $30 (removal will cost about $20). But in most cases, you'll need to be able to install them yourself. "We always tell people to do a dry run, putting on your chains before you actually go out," says Nelson. "Practice in your driveway. You don't want to be out there in nasty weather and wind doing this for the first time in your life." Each set of chains comes with instructions, and there are plenty of YouTube videos to help you along. Or stop into your local tire shop for a demo.
Chain Up
Find a safe place to pull over on the side of the road. "The biggest thing is to pull all the way off the shoulder into the designated areas we've provided for installing chains," says Nelson. Straighten your wheels, lock your parking brake, untangle your chains, and lay them flat on the ground. The plastic instruction sheet that comes with your chains can be good to kneel on while you work. Place the chains over the top of the tire, making sure they're centered. Clasp the attachment system—be it a hook or clamp—on the outside of the tire, facing you. Tighten and lock, following the specific instructions for your chains. Depending on what type you have, you may need to roll the car forward a foot or so to secure them entirely. Once they're on, drive a car's length, then stop and check to make sure they're snug and locked properly.
Take It Slow
Chains aren't meant for fast driving. "In chain control, the speed limit is usually 25 miles per hour," says Nelson. "Slow down and drive for the conditions." Pull off the road if you hear any clanging or loud metal sounds—that's a clear indicator that something needs your attention.
Remove the Chains
When signs indicate that chain control has been lifted or roads are dry, it's time to remove your chains. Leaving your chains on when there's no snow or ice on the road can damage the road, and in some states, it's against the law. "We always have chain-on and chain-off stations that will be signed and marked," says Nelson. Once again, "pull over and look for the designated wide shoulders and safe locations." When you get where you're going, be sure to hang your chains in a warm, dry place so they don't rust. 
Lead Photo: Megan Michelson