Indefinitely Wild
Get a Better Grip on Your Pocketknife with Fabric Micarta
Long a staple of quality fixed-blade knives, the grippiest handle material is now adding traction to folding knives, too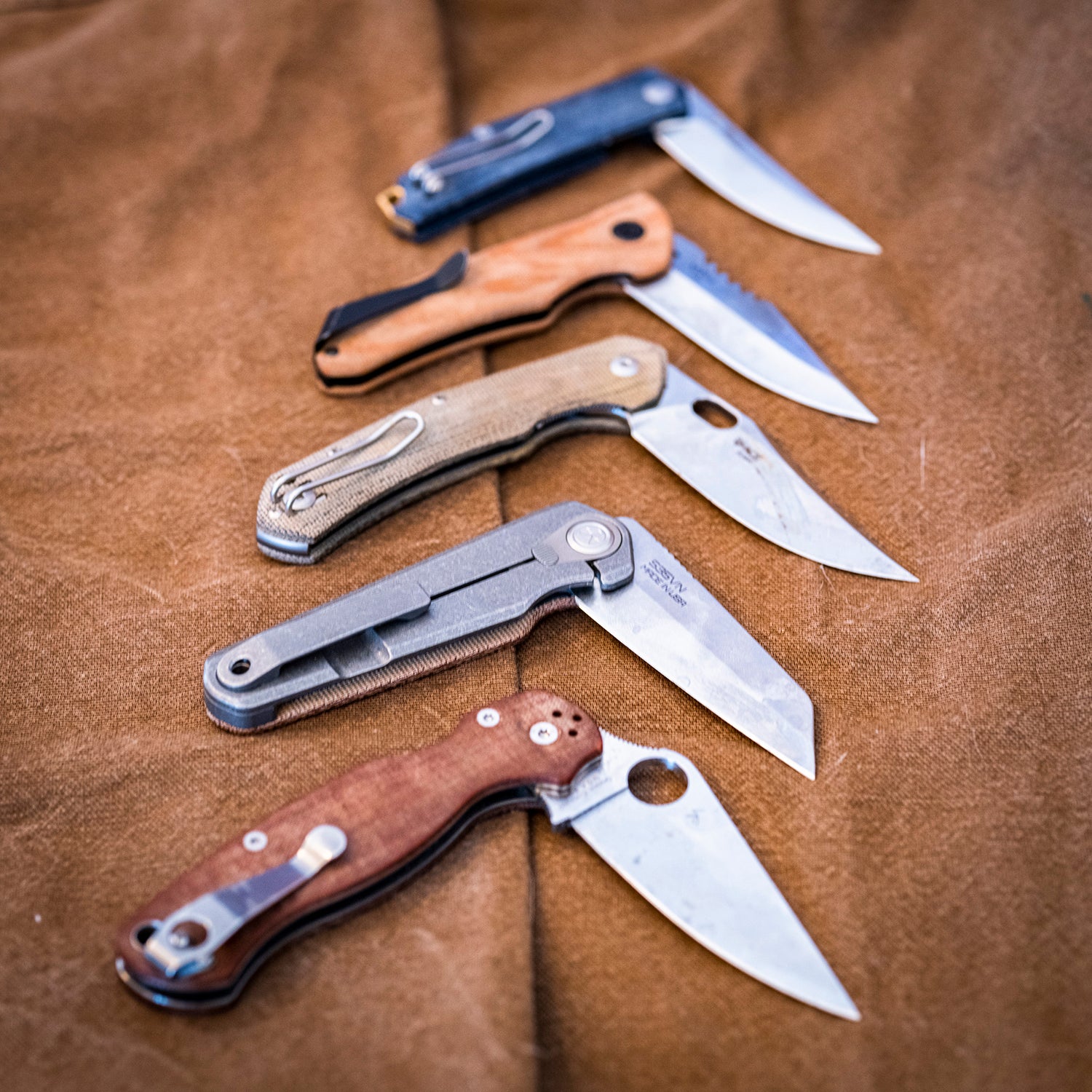 Stuart Palley
Heading out the door? Read this article on the new Outside+ app available now on iOS devices for members! Download the app.
Produced by setting layers of soft fabric inside a near-indestructible resin under high pressure, fabric Micarta produces a strong, lightweight material that feels soft and tractive to your skin, and actually gets grippier when wet. Those merits make it an ideal material for knife handles, and it's been used on some of the best fixed blade outdoor knives for decades. Now, it's available on folding pocketknives, too.
What's Micarta?
Micarta is a brand name for a layered fabric resin composite made by Norplex Micarta, an industrial materials producer. The company holds the trademark for the material invented by George Westinghouse in 1912.
By melding sheets of paper or woven cotton with Bakelite (a phenolic resin you'll be familiar with from billiard balls and countless similar products), then allowing them to dry under pressure, Westinghouse created a material that's light and withstands extreme temperatures, and does not get brittle over time. Westinghouse envisioned using Micarta as an industrial insulator, and its primary application remains providing electrical insulation inside power generating and distribution equipment. Its lightweight, long-lasting, insulative properties also make it ideal for a variety of aerospace applications, like framing windows and passenger compartments on commercial airliners.
Free Gear Upcycling
Material choice used for Micarta's substrate allows it to be tailored for distinct use cases. Sheets of paper yield a smooth texture in some cases indistinguishable from plastic. Thick weaves of canvas or linen are capable of producing a rough, textured surface in which the very tips of the fibers are exposed. Those materials work best as knife handles, adding grip to the otherwise smooth surface.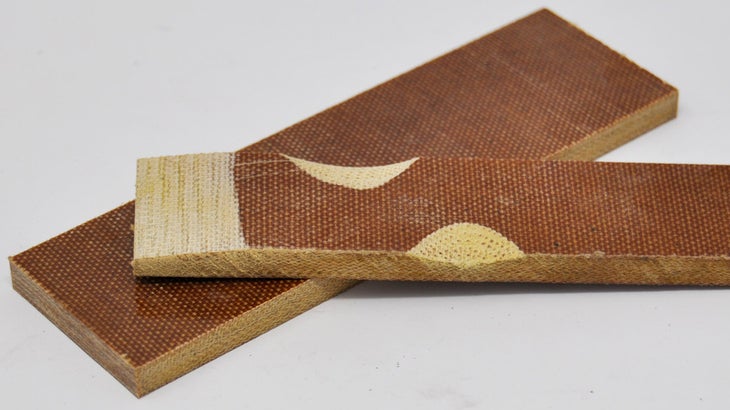 Some early applications of Micarta employed asbestos fibers to boost the material's insulation and strength even further, but today, Micarta (produced with substrates other than asbestos), is used to make safe, durable countertops for kitchens and operating rooms.
Like Kleenex or Jeep, Micarta is also used as a generic term to describe a category of products not necessarily produced by Norplex Micarta. It's even relatively easy to make your own Micarta-like material at home, using anything from old jeans to T-shirts. You just impregnate layers of those materials with a resin you mix yourself using hardware store ingredients, clamp them together, then grind them into your chosen shape once they're dry.
Examples of folding knives made using Micarta showcase some of the many variables of the material—and how well it works as a handle.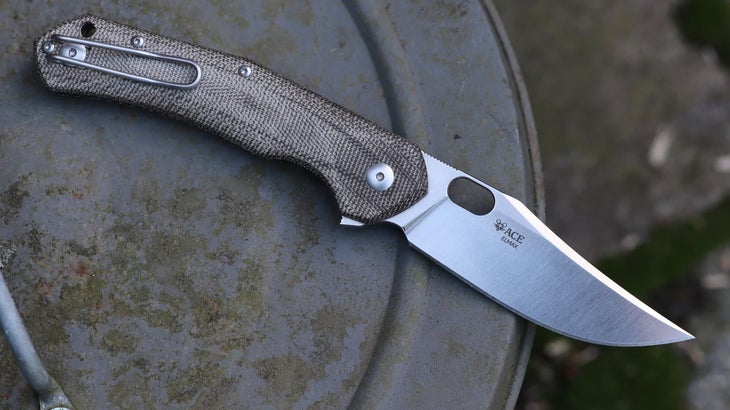 GiantMouse ACE Jutland ($195)
Micarta at Its Best
"The canvas cotton fibers will raise when they get wet, and this adds grip in a situation where other materials would get slippery," says Jesper Voxnaes, one of two Danish designers behind GiantMouse.
The Jutland's handles are made from an open-weave canvas, resulting in a grid-like texture on the radiused surface. The rounded shape combines with that texture to make the knife very comfortable and secure in your hand.
Molding a Micarta handle slab that's rounded on top, then grinding it to precisely match the curves of the Jutland's steel frame is a complex, time consuming process that combines with the satin-finished Elmax blade steel to justify the knife's price.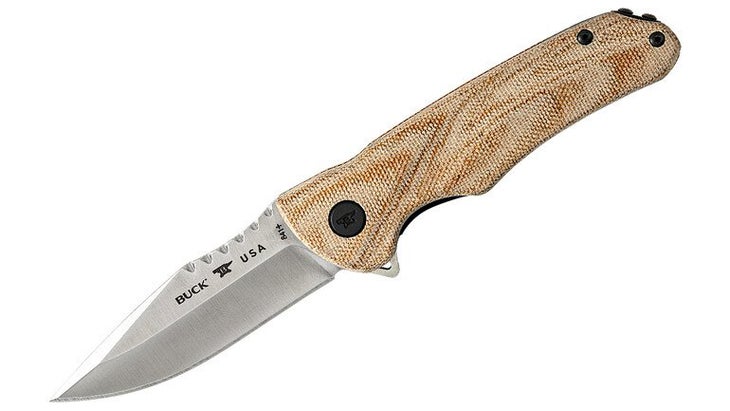 Buck Knives 841 Sprint Pro ($160)
Best Three-Dimensional
Rather the molding the Micarta into a rounded shape from the beginning, as GiantMouse does, Buck has instead ground its slabs into shape, then sanded them smooth. So, while the 841's handle is rounded, and even features deep grooves ground into its sides, some of the canvas' texture is lost. Still, the 841 is an impressive effort from a brand more often associated with budget knives. The blade is made from CPM S30V, which offers long-lasting edge retention, and features prominent jimping on top, to further amplify traction. Ball bearings deliver the smoothest, quickest blade action of any knife here.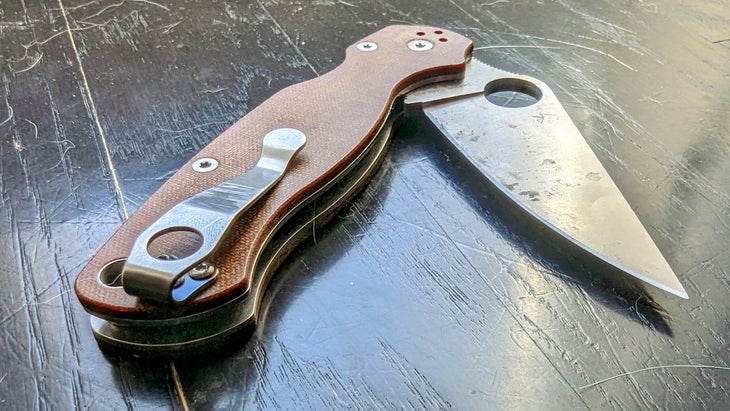 Spyderco Paramilitary 2 Cru-Wear Micarta ($290)
My Go-To Knife
It's in this knife that we can see some of limitations Micarta has as a knife handle. Like all the other knives here, the Paramilitary 2 mounts its handle scales to a steel frame. But Spyderco has left the edges of that frame exposed, rather than molding the Micarta around them.
Most folding knives are constructed by connecting two strips of steel with pillars at either end. The blade then pivots on one of those pillars into and out of the gap created by them. This creates a long, unsupported area in the middle of the knife. While Micarta slabs are immensely strong in their ability to resist crushing or cutting, relatively thin pieces of the material like those used to create a knife handle would crack if bent. So the material is used to create grips, not knife frames.
Spyderco has taken that approach to its logically minimalist end on this knife, grinding thin slabs of Micarta to precisely match the two-dimensional outline of the Paramilitary 2's frame. This delivers the traction and hand feel the material excels out, with minimal additional bulk. And you can see how weak those slabs are in the portion of Micarta that cover the PM2's compression lock. As that metal tab bends inwards to lock the blade against one of the frame pillars, you can flex the Micarta inwards. I haven't observed any cracking in my time carrying and using this knife, but it is a worry in the long term. The upside to this approach is that the PM2's slim, flat shape delivers a relatively large knife complete with the strongest frame and lock of any blade you see here, in a package that rides in your pocket as well as something much smaller.
Because this is the knife I carry most of the time, it's also a good example of the way in which fabric Micarta will, over time, soak up oils and other liquids to develop a unique patina. Simply spraying the material down with glass cleaner will return it to like-new condition.
I've replaced Spyderco's typically awful pocket clip with a deep carry option from Lynch Northwest.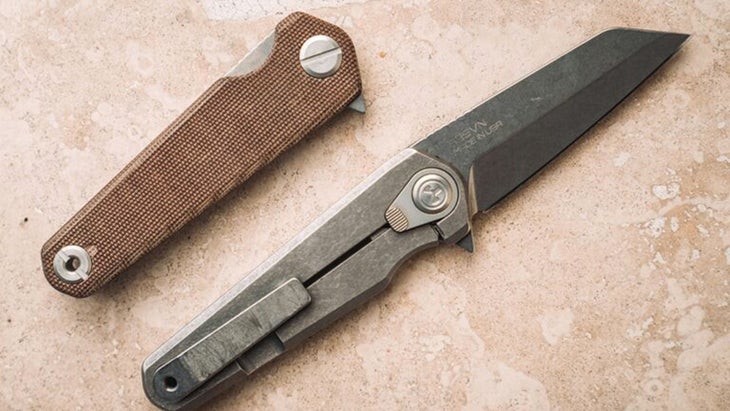 Magpul Rigger
The Oddball
Popular firearm accessories maker Magpul produced the Rigger in extremely limited numbers a few years ago. It features a Wharncliffe blade shape made from CPM S35VN steel, along with a titanium frame. One half of that frame is hidden inside a slab of canvas Micarta.
That one-sided slab of Micarta is interesting because it's smooth on the surface, only textured around its chamfered edge. This makes it easy to slide in or out of your pocket, but with Micarta's potential for excellent grip only realized around the perimeter, it limits traction. It's a good thing then that the knife includes a prominent finger guard, to prevent your hand from sliding down onto the blade.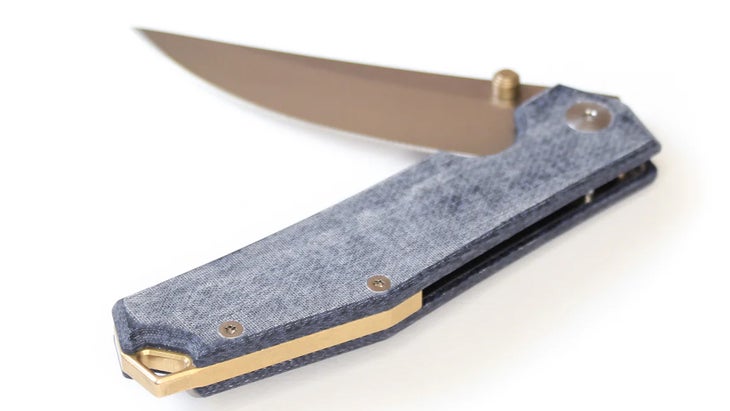 GiantMouse ACE Clyde ($175)
The Classiest
The Clyde is unique in its use of denim as the substrate for the Micarta, resulting in a dark blue color. Since the denim is of a finer weave than the canvases used to create the other knives you see here, it gives the knife a smoother, paper-like finish.
Still, the tips of those fibers are exposed, lending traction to the otherwise smooth surface. And, like the Jutland, those fibers help increase grip when the knife gets wet.
Opening up to a total length just under seven inches, the Clyde is only about two-thirds the size of the other knives here. It works best in smaller hands or for lighter tasks.
Lead Photo: Stuart Palley
Trending on Outside Online