The Newest Tool in Avy Control: Bomb-Carrying Drones
That high-pitched whine you're about to hear at your favorite ski hill? It's the sound of UAVs dropping avy charges.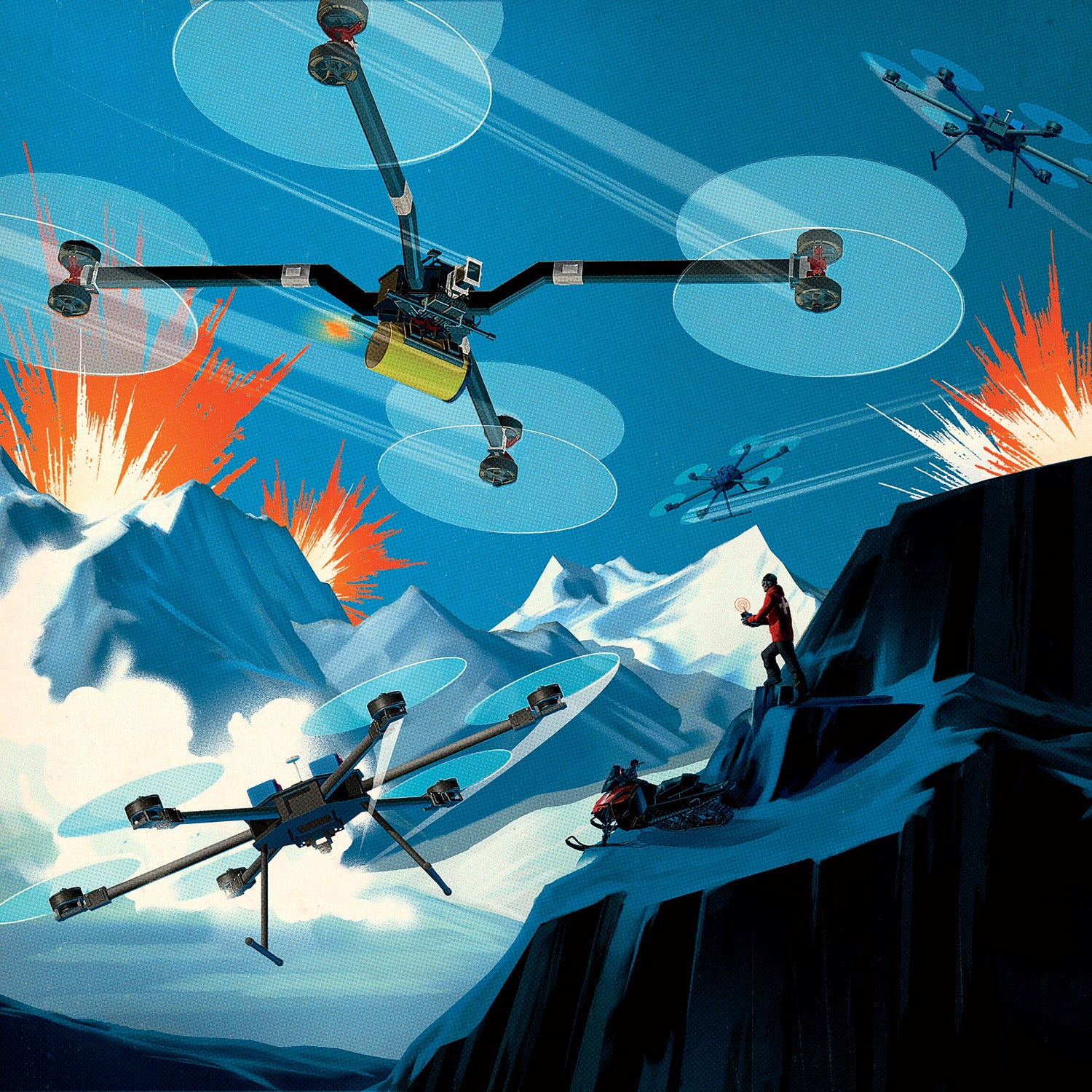 Heading out the door? Read this article on the new Outside+ app available now on iOS devices for members! Download the app.
In 2010, Jackson Hole ski patroller Mark "Big Wally" Wolling was using hand charges to set off controlled avalanches when the slope above him broke free. He was carried over a cliff, buried, and died three days later. 
Though it's rare for the job to be fatal—since 2009, one ski patroller has died each year in the United States—it's not uncommon for avalanche-control personnel to be in some precarious situations. Paul Baugher, head of the ski patrol at Crystal Mountain in Washington, has been buried three times. "We do mitigation work with explosives, which have inherent danger, and we do it in bad weather," says Baugher. "If you can reduce someone's exposure to dangerous snow conditions, that's huge." 
In December 2013, ski buddies Brent Holbrook, Warren Linde, Gray Byers, and Robert Blank launched Mountain Drones, based in Telluride, Colorado, to do just that. How? Take the bombs out of the patrollers' hands, strap them to an octocopter, and let the unmanned craft do the job instead. 
After their friend was killed in an avalanche in the East Vail Chutes, the group wondered if there was anything they could have done to help. Their answer? Just maybe.
Mountain Drones was one of five early stage startups selected by the Telluride Venture Accelerator to spend February through July 2015 receiving mentorship and seed funding, which was enough for the team to create their initial drone prototypes. 
"We've got the biggest, baddest drone there is."
The company performed some test flights last season and will expand to other Colorado resorts—using dummy explosives—this winter. Patrollers say it could be a vital tool. "We've talked with half a dozen ski patrols that are very interested," says Holbrook. The only other hurdle is FAA approval, which could take a while—the agency can't even figure out how to regulate drones without explosives strapped to them.
"We've demonstrated our basic prototypes to Telluride Ski Patrol," says Holbrook. "Our testing went just as planned. The technology is ready, and we're capable of performing avalanche mitigation using drones. It's just a matter of waiting for the regulations to catch up."
Current FAA regulations for unmanned aircraft systems (UAS) prohibit things like flying over crowds, and the devices are not permitted to drop anything while in flight (read: no dynamite).
Drones equipped with explosives are controversial even in military applications, and there are obvious security concerns when you talk about flying them around ski resorts. Holbrook estimates it will take at least one or two years before the FAA's unmanned aircraft regulations permit Mountain Drones to fly its drone with actual dynamite. (The team has already used mock dynamite at Telluride.) 
While the explosives are fake for now, the drone is ready to go. The Mountain Drones team's latest prototype, the 35-pound Prospect, uses components from ten different drone manufacturers. "We have the best propellers from one, the best motors from another, and the best frame from a third," says Holbrook. "We've got the biggest, baddest drone there is." 
The Prospect has eight 30-inch-long propellers and a seven-foot wingspan. It flies for 45 minutes on one battery and can carry half its weight in dynamite, enough to clear five avalanche paths in one flight.
Here's how it would work: Instead of spending hours bootpacking to a ridgeline to drop a hand charge, ski patrollers would select a preprogrammed route for the drone to fly and manually drop the charges to clear the slope from a safe distance. Onboard sensors will calculate the snow-water equivalent—a measure of the snowpack's water content—and depth, allowing patrollers to identify persistent weak layers and breaking points and helping them determine where to make drops. 
Typical drones perform badly in inclement weather and at high altitude. Mountain Drones fixes that issue with built-in LED lights for visibility in whiteout conditions and a proprietary climate-controlled, waterproof housing for the electronics. "If anything can fly up there, we can," says Holbrook. 
Mountain Drones is also working on sensors for other high-altitude pursuits, like GIS mapping and environmental monitoring. The team is visiting mountains in other countries, hoping to demonstrate the capability of their technology in order to prove their abilities to authorities in the United States.
For now, their dreams of dynamite-strapped drones putting ski patrollers out of harm's way is on hold until federal regulations allow them to fly. And even though it's technically illegal, that doesn't mean it's not a good idea.
"Twenty years from now, we might be saying, 'Remember when they used to let us go out into avalanche paths?'" says Baugher.