Running Gear to Get You in Shape for Spring
From a treadmill that forces users into a classic mid-foot stride to a device that tells you when to ditch your shoes, this is the gear you need to prepare for next season.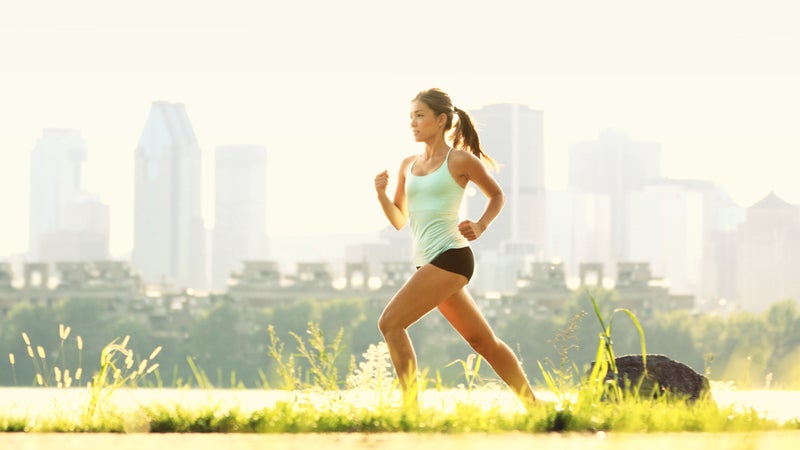 Heading out the door? Read this article on the new Outside+ app available now on iOS devices for members! Download the app.
If winter's thaw isn't here yet, it's certainly right around the bend. So what better way to anticipate the arrival of spring than with running's latest, most intriguing gear? We scoured the aisles of The Running Event—the annual Texas trade show dedicated to unveiling the sport's newest stuff—and compiled our wish list. We think these picks will match your wants and needs as you run into the warmer months. 
---
Mio Alpha ($199)
Mio's Alpha sticks to its job description: strapless, continuous monitoring of your heart rate. That's right, there's no chest strap. No more sensor moistening, transmitter-battery failure, feeling like you're wearing a giant rubber band around your chest, just when you need oxygen the most. Mounted on the Alpha's underside, two green LEDs—in concert with a tiny electro-optical cell—interpret the changes in your blood flow. Fasten the retro-futuristic-style device snugly, press one of its two buttons, and you're in business.
The Alpha is simple and works almost seamlessly. In terms of delivering constant and accurate heart rate, the device barely—forgive me—missed a beat, which is something that can't be said of its strapless competition. A target heart-rate zone is easily set, an outward-facing LED blinks green when you're in that zone, and you can pair the watch to fitness apps on your smartphone or other devices via connectivity technology like Bluetooth.
Some will argue that the Alpha is, in fact, a little too single-minded. Where are the prosaic features like date-indicator, countdown timer, daily alarm, and light? Why isn't the Mio highly water-resistant? Apparently, there's more than one price to pay for going strapless. 
---
Mino ($15)
How can you tell when your running shoes are shot?
The Mino's makers claim to have an answer. Stick this thin (2.5-millimeter) insert, which contains, among other things, a tiny sensor and a half-dozen LEDs, under the heel of one of your running shoe's insoles. Then monitor your Mino the same way you'd watch for warning lights on your car's dashboard. (Your shoes are still "run-worthy" until the last LED is illuminated.)
This gizmo, which was developed by a medical-device engineer, measures both the intensity and amounts of compression you generate (the Mino can tell the difference between walking and running). When the battery-powered sensor calculates that you've accumulated about 400 miles of compression—a common metric, in terms of a running shoe's life span—your footwear is supposedly kaput.
Because the insert slightly lifts its host heel—and weighs approximately 57 grams, which can increase a shoe's weight by as much as 20 percent—the manufacturer gives you a dummy insert for the Mino-less shoe. 
---
Barefooters Classic ($100)
Barefooters' après-run shoe, the Classic, is designed to relieve—as well as strengthen—your put-upon feet after intense exercise has them begging for some downtime. Once I grew accustomed to the Classic's unusual feel, I found myself drawn after every run to its therapeutic embrace.  
Its secret is in the footbed. The highly contoured insole—made from a nearly indestructible (and machine-washable) blend of cork, silicone, and microfiber—creates pressure points that deliver something like a massage to your foot as you walk or stand. The company says its shoe also improves circulation.
This rubbery-feeling, cushionless shoe is shaped and built to function like minimalist running gear, so you'll want to tread lightly. Yes, the Italian-made Classic does bear some resemblance to those ubiquitous Crocs. But after a stride or two, you won't mistake it for any other footwear.
---
New Balance Fresh Foam 980 ($110)
Ignore their misleading name, lace up these shoes, take them out for a spin—and I'll bet the New Balance 980s will leave you (particularly if you're a lightweight like me) satisfied. This new, uncluttered trainer has few adornments: no plasticky motion-control devices, no heavy overlays, no zigzaggy treads reminiscent of Bay Area fault lines. Its one-piece foam midsole is sophisticated, courtesy of some careful shaping and contouring that might well accommodate runners with clunkier gaits, while the shoe weighs in at a respectable under-nine ounces. 
But a word about the potential confusion surrounding this shoe's moniker. New Balance is promoting the concept that the 980 offers the cushiness of a pillow-top mattress. To my mind, however, foam that's "fresh" doesn't necessarily connote foam that's soft. The low-slung 980 actually has a sporty, firm ride, and I'd argue that the shoe's grooveless, blown-rubber outsole in fact contributes to its relative stiffness. If you're a smooth strider, pay no attention to the talk—just let the 980 walk its walk.
---
TrueForm Runner ($5,500)
Ah, the irony of it all—a pricey machine that can lure a nature-loving minimalist indoors. Between its curious shape and novel power source, the TrueForm Runner treadmill makes exercisers use a classic midfoot stride. You simply can't run heel-to-toe on it.  
The treadmill's curve forces runners to land with their feet directly beneath them. Take a long stride that locks the knee on your leading leg, and you're quickly headed backward. Lean too far forward, and you feel similarly unsteady.
What powers it (you) is also initially counterintuitive. Motorized treadmills, TrueForm's designers argue, strong-arm exercisers into a stride that has them braking as a speeding belt relentlessly propels them forward. The TrueForm moves at the pace you dictate, and you'll get nowhere fast unless you push the tread backward with your glutes and hamstrings—muscles that minimalist runners love to engage.
While the TrueForm is easily twice the price of other home units, the motorless design means significantly less maintenance. And, as treadmills go, this one's very quiet. Open the windows for your run and you just might hear the birds chirping.
---
Tifosi Readers ($50)
Ever glance at your running watch only to see a fuzzy picture? Maybe it's your vision, not your timepiece. Put on a pair of Tifosi Readers—a clever new hybrid that's part wraparound sport-sunglasses, part bifocals. Small areas of magnification (rated at either +1.5 or +2.0) are placed low on their special lenses, which can be snapped into any of four Tifosi frame options.
Tifosi—a Georgia-based company with an Italian name—has always delivered solid, value-oriented sports eyewear. The glasses do feel a bit spare, even to the point of seeming fragile. And they don't fit (me, anyway) quite as well as premium sport shades. But once I was running, my Veloce testers felt fine and stayed sufficiently secure. When I wanted to view my heart-rate monitor in low evening light, I only needed to peer downward, through the souped-up spot on the lenses, to receive the necessary boost to my eyesight.  
These readers come at a far kinder price than what you have to shell out for true prescription sport shades. Spring for a pair of identically designed, swappable clear lenses, and an entire optics package is still yours for less than $75.
---
Dr. Cool Wrap ($25–$35)
Toss out the old Ace bandage and that crunchy bag of frozen peas (you know—the one you use again and again to comfort a sore spot). Thanks to Dr. Cool Wrap, the days of jury-rigged icing solutions are over.
The Dr. Cool ($25–$35) has Ace-like DNA: an elastic strap—available in three sizes and multiple colors—wraps around a wrist, knee, a shoulder (the list goes on) and secures with hook-and-loop material. The difference is in the Dr. Cool's guts—hollow-core fibers that retain water. Soak the bandage and freeze it, then wrap it around your aching body part and enjoy about a half-hour of cold, compressed treatment. Even when the bandage I tried lost its arctic edge, it still provided welcome support to an injured left wrist.  
For better or for worse, a Dr. Cool is like good beer—you prefer it ice-cold, and you want more than one. Best to invest in two or more, so that when you're injured there's always a frosty one available.
---
The North Face Stormy Trail Jacket ($165)
Think of TNF's Stormy Trail as a nylon pump rather than a traditional running shell. This jacket is designed to push out hot air.
The first step in enjoying the Stormy Trail's superior ventilation is surprising. You cinch the mesh-powder, skirtlike lining tight. (In the Stormy Trail, this skirt is what handles the heat your body produces.) The jacket wants to push the air up and out—through generous vents built into its front, midback, and shoulder areas.
This design works. On a wintry and oddly humid day, I still felt comfortable in the Stormy Trail after an hour-long run, with the shell fully zipped. TNF's proprietary waterproof-breathable fabric also deserves credit, and the well-designed jacket endeared itself by providing good fit, a zippered key pocket, and a hood.
Stormy T's biggest drawback? You can't slip into this iteration of the jacket until it reaches stores this summer.
---
Asics GT 2000 2 and Gel Electro33 ($230)
You'll open your wallet wide to subscribe to Asics's mix-up-your-run philosophy. Just so you know, we're believers. Many running coaches have long been in step with the company's current religion: buy and consistently use two different pairs of running shoes. The longtime system posits that shoes with different silhouettes—as well as stability and cushioning properties—force you to tweak your running stride. This, in turn, makes your muscles fire and function in different ways.
Once you're sold on the concept, Asics is happy to suggest appropriate pairings for your unique needs. I'm a mild overpronator, and I ended up with the relatively stout, traditional Asics GT 2000 2 ($120) and the intriguing and speedier Gel Electro33 ($110). The GT 2000 2 was like armor for my feet, giving me license to go long, and to consistently thump down on my heels with the happy knowledge my body was being protected. Because it's both lighter (8.5 versus 11 ounces) and more streamlined, the Electro33 offered me the chance to speed up my shorter runs, as well as play around with a midfoot stride.
Another plus to buying two pairs at once? You won't shop footwear again for a while.
---
110 Percent Overdrive Sox + Ice Kit ($100) and Transformer Shorts 2.0 ($110)
A pair of compression socks alone, according to 110 Percent, is totally yesterday. The same goes for compression shorts and tights. What a runner really needs is compression wear that can do double duty, stabilizing muscles and promoting blood flow during exercise, then relieving stressed muscles via a post-workout ice treatment.
Start with the Overdrive Sox + Ice Kit. Included are calf-length compression socks that are easy to put on and remove (the tops are quite stretchy). At the end of your run, slip the kit's stirrup-style compression sleeves over the socks. The springy sleeves, functioning as giant pockets, will hold the kit's reusable ice packs against any portion of your lower legs that need some icy attention.
The Transformer Shorts 2.0 work in a similar fashion, thanks to built-in pockets over the hamstrings, quads, and glutes. Because they've got a lot of fabric, we liked them best as compression-and-cold recovery shorts, with ice packs discreetly stuffed everywhere.
Maybe compression technology hasn't been absolutely proven to boost athletic performance, and not everyone seeks post-workout ice treatments to feel better. No matter. The hippest running duds are snug and—in more ways than one—cool.
Trending on Outside Online