The Secret Geniuses Behind Your Favorite Gear
Indie design shops are working quietly in the background on many of the best products out there (think of Patagonia's Black Hole duffle). But the gear companies don't want you to know that.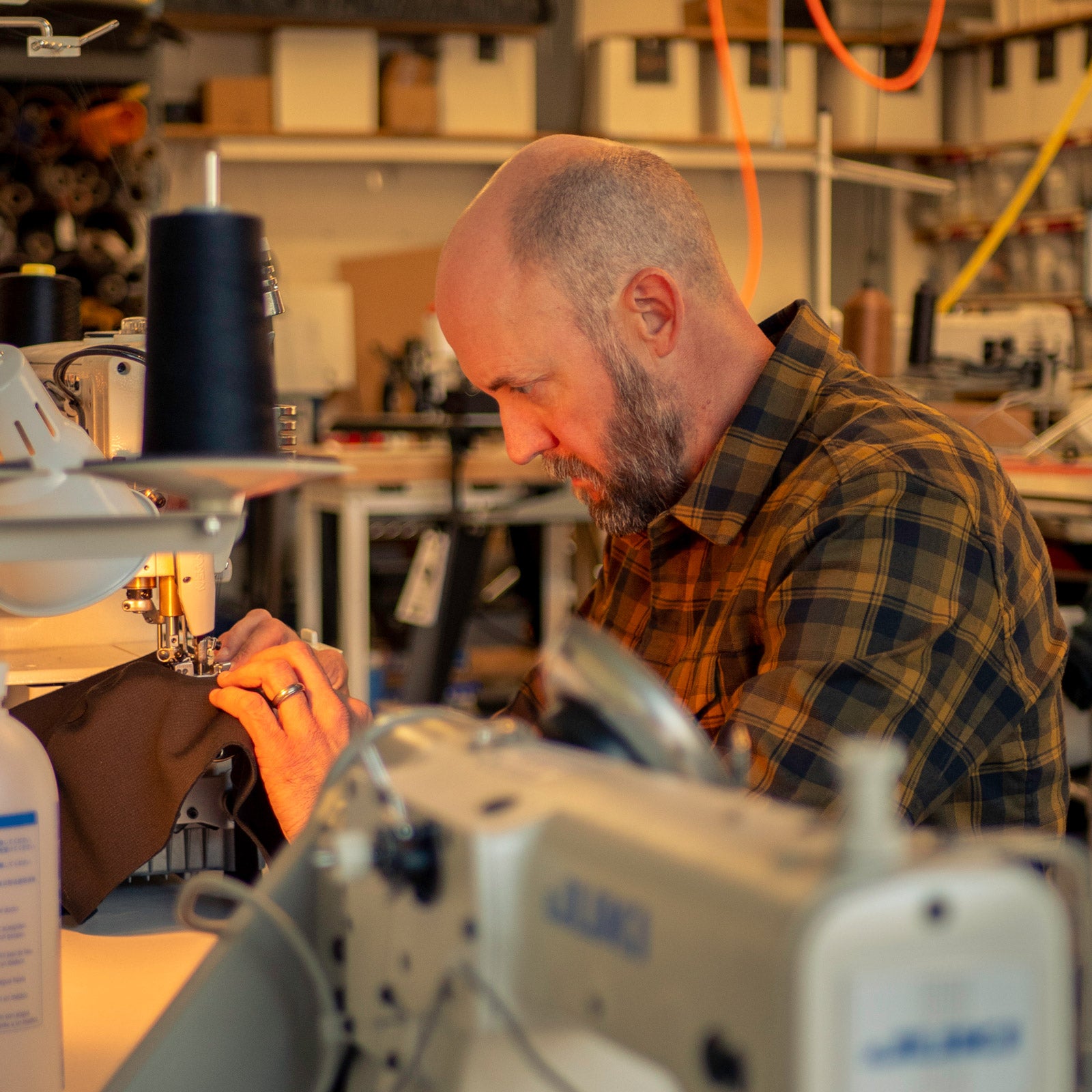 Adam Ambuske(Photo)
Heading out the door? Read this article on the new Outside+ app available now on iOS devices for members! Download the app.
Let's just say Patagonia's current Black Hole 45-liter duffel is your favorite piece of luggage. It packs up into its own pocket, for one thing. It's also lightweight but burly, waterproof but not a plastic bag. It can be carried as a duffel when you're toting it to the car and as a backpack when you're walking to festival camping. When you fly, it's your carry-on. Something about this inanimate object spoke to you in the gear shop. And ever since, it's proven itself indispensable. 
In every way, the Black Hole duffel screams Patagonia, what with its long-lasting design and sustainable messaging. But here's the thing—it's not purely a Patagonia product. Back in 2014, the environmentally conscious folks at Yvon Chouinard's brand were struggling with something they didn't like about an earlier iteration of the pack: wasteful packaging. If you were to buy the duffel at a Patagonia store back then, it would have come in a large plastic bag, which was anathema to the green ethos of the brand. So since Patagonia likes to focus its internal efforts on designing sustainable and rugged gear, not packaging, it asked a handful of independent design firms to pitch some ideas. Patagonia didn't want any plastic packaging; that was about it for the directions.
A Seattle-area design shop called Ideology took an ambitious approach to the rather narrow assignment. As it sees it, packaging is part of the product, and the product is ultimately an experience. What if, the team asked Patagonia, the new Black Hole rolled up into its own pocket, and that pouch became the packaging? No plastic wrap, no recycled cardboard. Hell, no hangtags. Zero waste. Patagonia loved the idea—so much, in fact, that it asked Ideology to partner on a complete redesign of the duffel.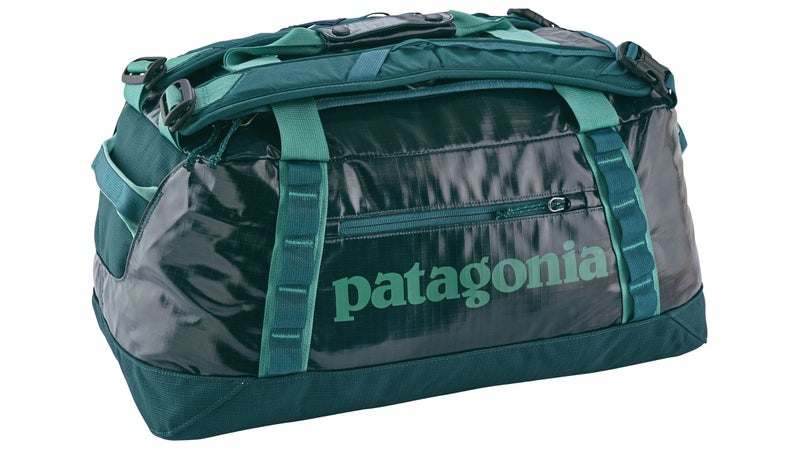 Together they blew up the old Black Hole, sourced new fabrics, and reconfigured the straps. Every move made the Black Hole better. It's still a stupid-simple gear hauler, but Patagonia looked to Ideology thinking it'd get a nifty cardboard sleeve, and instead the collaboration kicked in and the company ended up with an entirely new duffel. This, and not designing products from the ground up in a vacuum, is how larger projects often come about for independent design shops, which primarily function as problems-solvers, making existing gear better.
The Black Hole was a crushing success, and today items that stuff into their own pockets is a theme with Patagonia. And yet almost nobody has heard of Ideology—or the scores of independent product-design shops like it worldwide that help create the gear you love. Nobody keeps track of exactly how much design work is contributed to by indie shops, but Ideology's head of strategy Aaron Ambuske would guess that number is around 10 to 15 percent of truly new products.
---
Indie product design is inherently a dark field. That's in part because most big outdoor companies have in-house product-design staffs, too. And it behooves the brand to have you, Mr. and Ms. Gear Lover, believe that every bit of innovation is birthed there. This makes it difficult for the indie shops to market what they do. The shops that I talked with only put about 10 percent of their projects on their websites. Because of that, new business typically comes from existing relationships and word of mouth. This makes sense. Beyond the sensitivities of the nondisclosure agreements indie firms sign when they take on work, shouting from the rooftops that they are the true creators of a successful product isn't going to please the company whose logo is stamped on the thing. It's also insincere. "If any independent product designers tell you that they built the whole project, I'd say they were lying," says Zac West, creative lead at Ideology. "From inception to the factory, it's a collaboration."
Maybe, like Yeti Coolers, you've released a great series of rotomolded plastic models and you need to tap experts in the fabric world for a new soft-tote line. Or perhaps it's time to update the suspension on your mountain-bike company's long-travel 29er. Maybe you're a shark-tank inventor with Kickstarter cash but no clue how to take the doohickey to fruition. That's where independent product-design shops come in. Matt Powell, a senior industry adviser with the NPD Group, sees more cross-pollination and a willingness to tap indie design shops in the outdoor world, where many brands already share technology and products elements like, for example, a Polartec waterproof-breathable membrane or a Vibram sole. "In the outdoor industry, as opposed to the athletic industry, the brands tend to share technologies, and that makes them more likely to outsource to a shop," he says. "Part of it has to do with scale. There are so many small brands in the outdoor space, and it's easier for them to outsource some R&D. It gives them access to new ideas without huge capital investments." 
To be clear, not every outdoor manufacturer hires out. Many lean on their internal teams. That can be the perfect system for a ski company, which has deep institutional knowledge, owns the factory, and knows every material supplier in the business on a first-name basis. The need for external help often comes into play when brands want to expand into new product lines or break from tradition or when they recognize their weaknesses. The same company that makes Rossignol and Dynastar skis also makes Lange boots. It knows exactly how to mold a boot that fits and performs well, but it admittedly seeks out help for aesthetics. The nonretail boots that elite skiers race on are kind of ugly and blocky. Consumer boots need a sculpted look.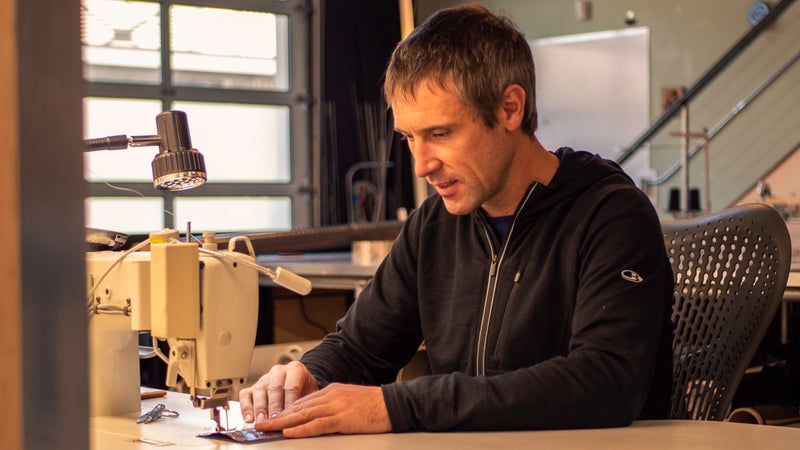 "On the ski side of the business, outside of graphics, we do everything in-house," says Lange's global brand director, Thor Verdunk. "But for boots, we tap into smaller firms. A little design group in Paris makes the lines line up. They come to us and say, 'Hey, here's a new concept.'" Verdunk explains that  Rossignol has never received a finished product from a design firm, but a collaboration produced the gridded look of the Rossignol Alltrack LT boot. "Not only did it look cool, but the design let us shave weight and fine-tune the stiffness," he says. "It's a coworking process."
---
Unlike vertically aligned manufacturers, shops like Ideology employ people with diverse backgrounds. Maybe the founders came from the fabric world, but then as they ramped up, they hired 3-D modeling experts, a carbon-fiber savant, and a seasoned prototyper. The biggest design shops in the global outdoor space spend most of their time and resources working on far more mainstream projects. Target Design, a German firm that's worked on Dynafit and Marker ski bindings, also added elements to the Porsche Boxster and a BMW ergonomic study. Claudio Franco design, in Italy, works on Atomic ski boots, Pinarello bikes, and incredibly ornate and delicate artistic light fixtures. Which is to say: they've got range. And by tapping into that range, a narrowly focused camp-stove or tent or headlamp manufacturer is connecting to materials and techniques beyond their workaday ken.
Consider the example of MSR, which turned to Ideology as it ramped up a redesign of its line of snow tools—avalanche shovels, anchors, snow saws, and the like. One product, a simple snow anchor known as a fluke (because it's the size and shape of a small flounder), lent itself to a blend of materials. It's just an aluminum frame with trampoline decking made from urethane-coated nylon. MSR knew aluminum. Ideology knew urethane-coated nylon. Now, thanks to the collaboration, it's the lightest fluke on the market.
Sometimes, says Ambuske, a brand wants the design shop to stay surgically targeted on a goal and only check in once it has something to show. Other times a collaboration involves frequent Skype calls and constant back-and-forth. Regardless of the nature of the relationship between an outdoor company and a design firm, inspiration for new ideas can come from unexpected sources. Take the recent experience of Utah's Rocketship, an indie design shop at the top of its game that was tasked with figuring out how to house a two-burner alcohol-burning stove (by whom, they can't say). The finished product could potentially avert hundreds of C02-poisoning deaths a year in developing nations, but for it to succeed, it had to function differently than your mom and dad's old box stove. Easy-to-replace parts and a fuel tank with a gauge were musts. Rocketship began by stripping away everything but the two individual burners. Then it found its insight sitting in the shop, in the form of one of those DeWalt jobsite boom boxes that are protected by metal exoskeletons. The Rocketship designers thought, What if we encased the burners, pipes, windscreen, and fuel tank in a similar skeleton? The product—the name and brand are still embargoed—will launch in the next year. The story makes sense once you learn a bit more about Rocketship. "All the product designers here are Eagle Scouts," says director Michael Horito. "And we all work as Scout leaders. We can't help but look at gear with a critical eye."
---
Ultimately, it's that type of passion that drives product innovation. David Earle spent most of his career as an in-house product designer in the bike industry at brands like Bontrager, Santa Cruz, Specialized, and Trek. When he left to start his own shop, the Sotto Group, he made a list of everything that worked well with mountain-bike suspension designs—and then set out to beat them. He didn't wait for a client to commission the work; he just dove in. The result was the original Switch suspension design that he later developed in collaboration with Yeti Cycles. It's not hyperbolic to say that the Switch (and later, Yeti's in-house, updated Switch Infinity) is one of the highest-performance suspension designs on the market. "Sometimes brands will come to me and say they want something different," says Earle. "You can always make something different. It's harder to make something better."
Of course, nobody gives the independent product designers props publicly. And that's exactly how they want it.
Lead Photo: Adam Ambuske