A Kitchen Knife Designed for the Outdoors
A collaboration between Sitka Gear and the James Brand combines the finesse of a chef's knife with durability in camp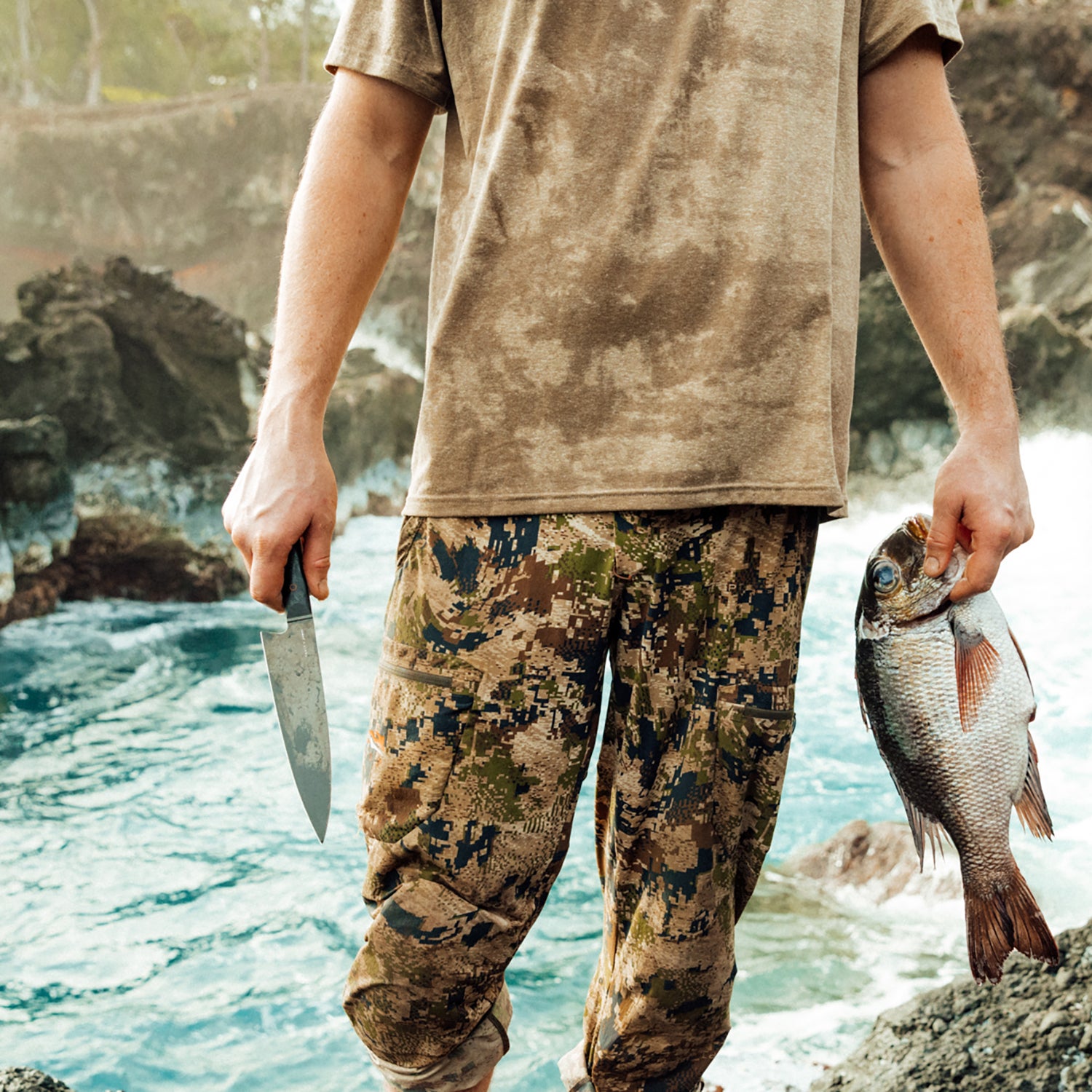 Sitka
Heading out the door? Read this article on the new Outside+ app available now on iOS devices for members! Download the app.
Chef's knives excel at performing fine work on food. To achieve that, they feature thin, deep, long blades that are easy to sharpen, plus thin handles that provide good ergonomics when you're working from standing height on a counter top.
With cost as a limiting factor, those kitchen knives then compromise edge retention, outright strength, and often rust prevention, too. Since hard use isn't typically a design factor, blade tangs are thin and short, and retained inside a handle with the use of pins.
In contrast, outdoor blades take the opposite approach. Good ones prioritize strength, with thick blades and full tang handles. Durability is provided by steels designed both to resist damage while being pounded through logs, and to hold their edges for a long time, even through such abuse. But, bring one into the kitchen, and those fat blades will make a mess of anything you ask them to slice.
That disparity is what high-tech hunting brand Sitka and design-forward knife maker The James Brand are attempting to address with the limited-release Anzick ($499).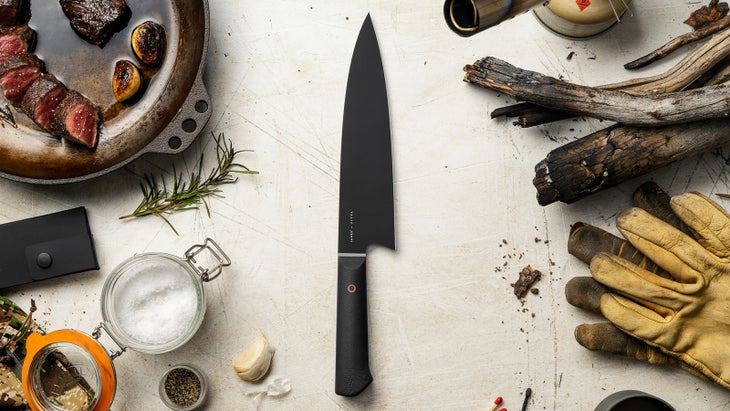 Constructed using CPM Magnacut, a new super steel rapidly becoming popular in the outdoors world, the Anzick is able to combine rust prevention, edge retention, and solid durability with ease of sharpening. That eight-inch blade is thin and broad like a chef's knife, but fills the entire handle like one designed for splitting logs. A swept section at the rear extends the blade length rearwards, while allowing room for a forward grip, so you can slice larger pieces of food with more control. The handle slabs, which are bonded to the tang without any rivets or pins, are made from G10, a high-pressure laminate that's impervious to most contaminants or environmental conditions. That material is textured on its front chamfer, adding grip. The blade is coated in a food-safe, hydrophobic diamond like coating (DLC) finish.
All that makes the Anzick a pleasure to use, easy to clean, and should guarantee a long life span. Those attributes are further boosted with the addition of a folding hypalon sheath secured by button flaps. Closed, it retains the knife safely. Open, it's easily cleaned. And it'll be impervious to cuts from the blade.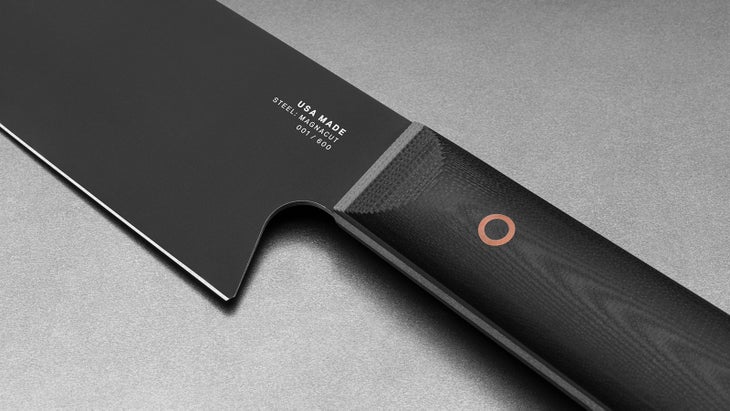 Last night, the Anzick was waiting on my front stoop when I returned home from a two-week hunting trip in the Alaskan backcountry. It'd been that long since my wife and I were able to enjoy a home-cooked meal together, so we whipped up a quick penne a la vodka with ingredients we had laying around. The knife diced the onion as well as anything I've used, and even made easy work of a block of pancetta, which many knives struggle to cut cleanly due to all the fat. Unlike other hunting-kitchen collaborations like the very meat-focussed Steve Rinella x Benchmade Meatcrafter, the Anzick proved versatile enough to replace any other large knife in my kitchen.
This morning, after sitting out all night covered in dried food, the blade simply rinsed clean, with zero staining.
I've got more experience with CPM Magnacut on outdoor blades like my all-time favorite Montana Knife Company Speedgoat. That particular blade just survived 12 days of saltwater spray, and skinned a 10-foot brown bear without any signs of rust or dulling.
With its eight-inch blade, the Anzick is way too long to skin out a bear. And with that thin profile, you'd probably break it in half if you tried to chop down a tree with it. But, it won't rust, it's easy to clean, and it's just the right combination of size and durability to spend decades helping you prepare good food over a campfire.
Whether or not the steep price allows the Anzick's place in your camp kitchen box is probably irrelevant at this point. The two companies only plan to produce a limited run of 600 units. But, this thing represents an encouraging effort by Sitka to expand its design expertise outside of hunting, and will hopefully inspire more hard-use kitchen knives that can genuinely hold their own outdoors.
Lead Photo: Sitka
Trending on Outside Online