I've Had a Sauna Tent in My Backyard for 3 Months and I'm Obsessed
Snowtrekker's new release is the perfect portable, wood-burning dry or wet sauna. Fire it up to unwind after a long winter run or cozy up before bed.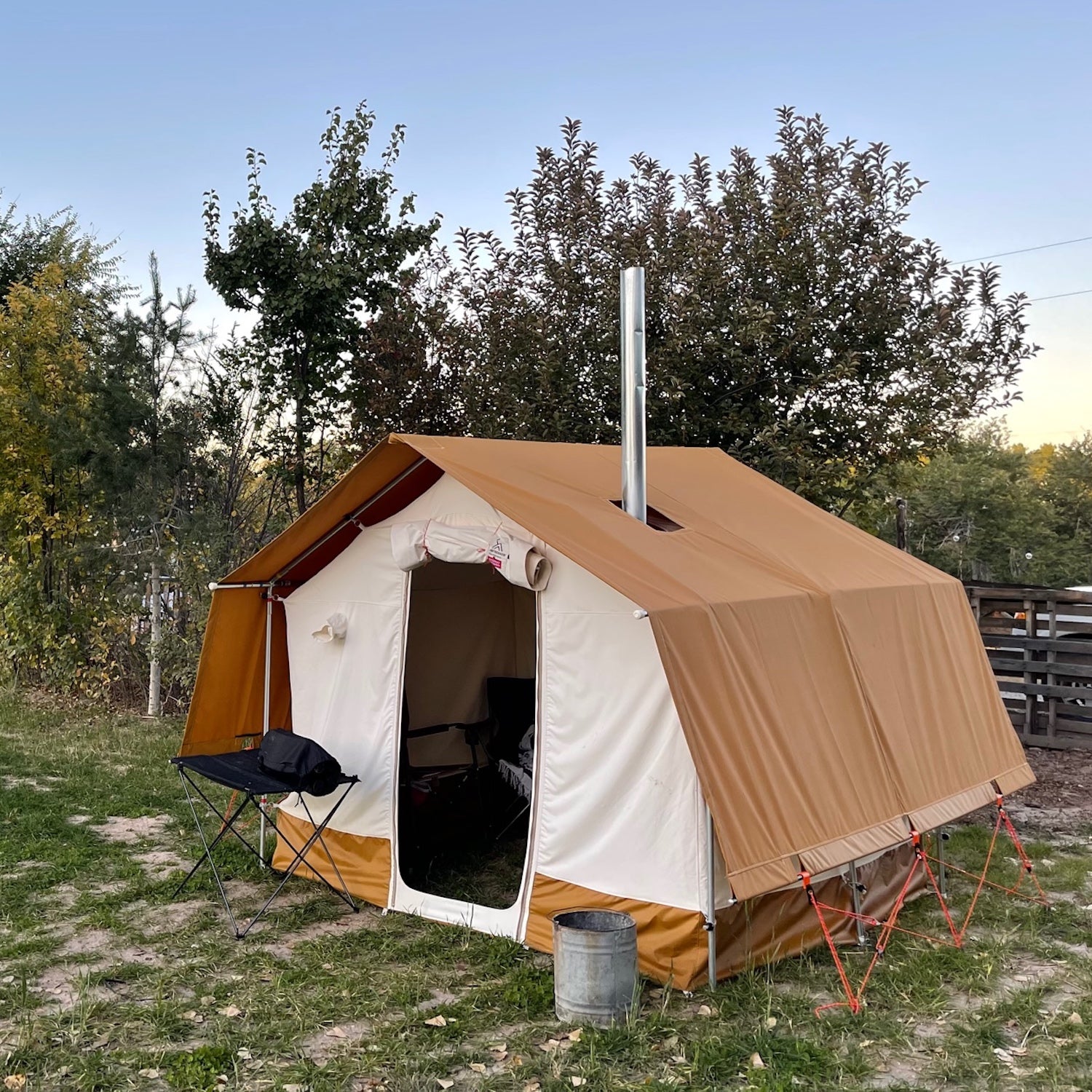 Heading out the door? Read this article on the new Outside+ app available now on iOS devices for members! Download the app.
Many people in my home state of Minnesota spend weekends at their cabins "up North." It's not a practice reserved just for the wealthy either, as these basic structures are usually passed down through generations so that middle class families often own a rustic second home, too. Many of these properties feature homemade saunas, for cutting the chill year round.
In elementary school, my best friend's family shared one that we'd visit multiple times each year. We'd drive up in humid summer months and spend evenings in the property's rickety, old sauna before taking a dip in the lake, just a few feet down a grassy hill, dodging mosquitoes all the way. We'd splash into the cool, murky water, climb out, and stop to stare at the stars from the dock before heading back to the sauna to do it all over again. We slogged up north in frigid months, too, bathing in the sauna long after the main cabin's water had been shut off for the winter to prevent bursting pipes.
So for me, saunas are a nostalgic representation of some of my happiest childhood memories. When I found out that Snowtrekker Tents, a small canvas tent company based in western Wisconsin, was releasing a portable sauna tent last fall, I had to try it.
Outside columnist Wes Siler raves about the perks of winter camping in one of Snowtrekker's stove-heated canvas tents, which has a lot in common with the design of the Sauna Tent. They're both heated by small wood-burning stoves that are light enough to easily throw into the back of your truck (depending on the stove size you opt for, they weigh between 17 and 25 pounds). And the camping and sauna tents are made from woven seven-ounce cotton treated with the water-repellent Sunforger to ward off mildew and rain. The key is that, unlike your nylon backpacking or car camping tent, the fabric still breathes well and won't melt with a roaring stove three inches away from its wall.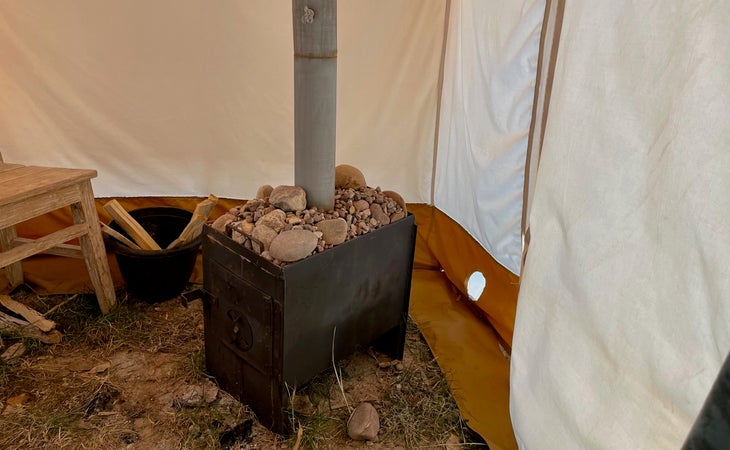 When the shipment first arrived at my front door, a heap of stakes, poles, and unions, assembly seemed intimidating. But after glancing at the included instructions, we realized everything was color-coded, and it came together in about 20 minutes, fully ready to fire up. It's easy to use, too: build a fire in the stove, adjust the front and back stove vents for airflow, zip up the canvas, and you're ready to go. I added a bunch of rocks to the top of the stove, which I pour water onto when I want a wet sauna. If things get too hot too fast, you can always open one of the built-in vents or crack the door.
Three months later, it's still sitting in my backyard where my husband and I use it a few times a week.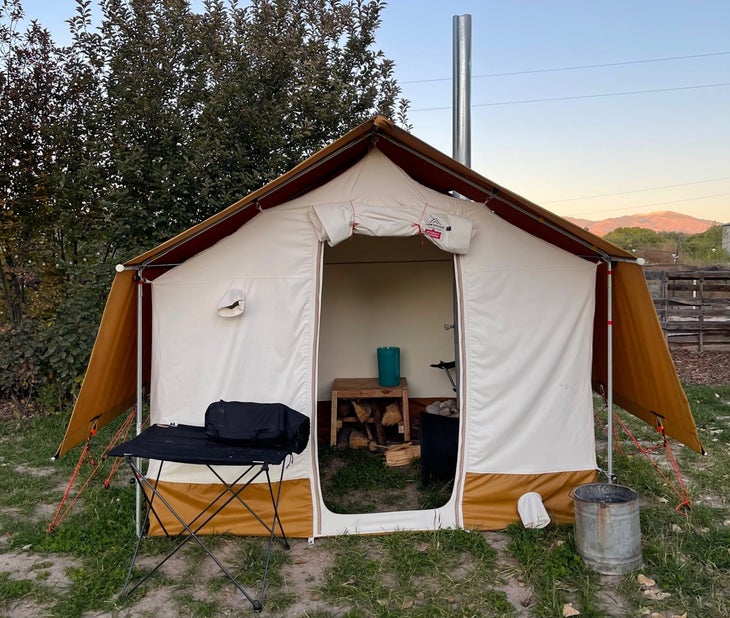 "When we moved to northern Wisconsin in the early nineties, we were introduced to sauna and fell in love with it," says Jonah Lottig, operations manager at the family owned and operated business. "As a tent manufacturer, it felt natural to develop a quality portable sauna that was not limited to a single setting and still provided a true sauna experience."
Here's the catch: Snowtrekker's Sauna Tent isn't cheap. The canvas retails at $4,200. Plus, it's $300 for the frame (or DIY following included instructions for closer to $100) and $560 for the stove. But it's a lot easier than building your own, and its retro style looks so good, you won't mind having it set up permanently in your backyard. The canvas is incredibly high quality and traps heat nicely. It's also portable; my husband and I plan to take it on a camping trip this winter. The tent itself is too small to camp in while the fire's roaring, so we'll need to bring another one to sleep in. But I can't think of a cozier way to warm up before crawling into your sleeping bag.
Nights in northern New Mexico, where I live now, have been consistently in the twenties, sometimes dipping into the teens. Last night, eager to warm up after a particularly chilly day, my husband and I lit up the Snowtrekker stove. We opened both the front and back vents to rev up the fire, and within 15 minutes, our little canvas bubble was piping hot. I grabbed the pitcher of water we now keep in the sauna tent, and slowly poured it over the rocks on top of the stove. They sizzled and a mist of steam rose up. As the pine bench we sat on drank in the humidity, the smell of wet wood filled the tent, bringing me back to the sauna of my childhood. The only thing missing? A lake in our backyard to take a cold plunge in after.
Lead Photo: Abigail Wise