The Training Tool of the Future
Virtual reality is just for gamers. But augmented reality—a new wearable technology—could revolutionize how we train for sports, making athletes faster, better, and more precise.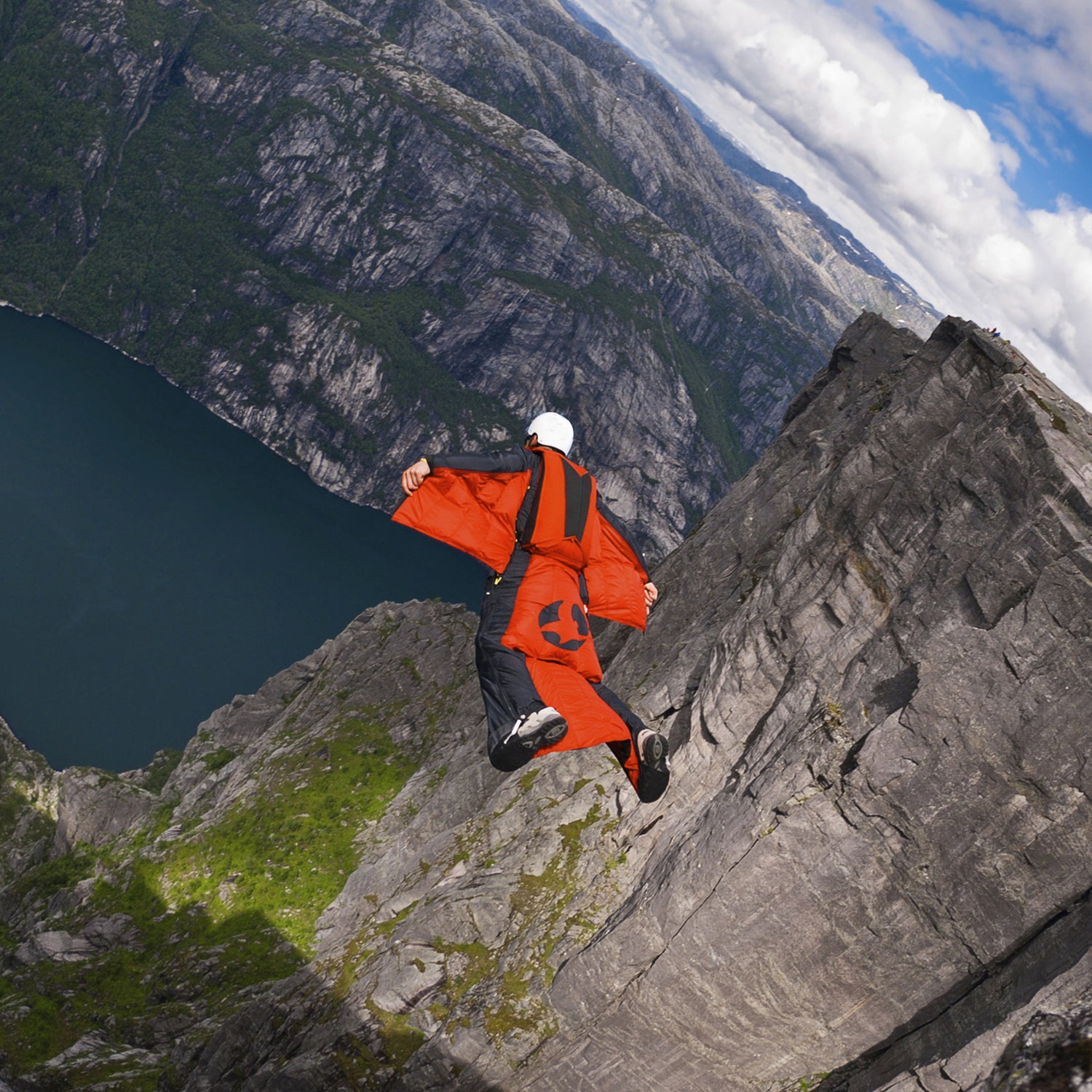 Heading out the door? Read this article on the new Outside+ app available now on iOS devices for members! Download the app.
You don't have to be a professional skydiver like gonzo-but-forward-thinking Jeb Corliss to envision—and utilize—futuristic training technology. Though in the not too distant future, you might credit Corliss for upping your game. 
First, some background. In March, Facebook announced plans to purchase California-based, virtual-reality company Oculus, and we started wondering if VR might be on the brink of changing how athletes prepare for extreme sports. 
After all, virtual reality, which has long promised—via a goggle-like screen—to immerse gamers in a simulated environment with extraordinary interactivity, seems like an ideal training tool. Using virtual reality, World Cup downhillers could run Austria's Hahnenkamm from their living rooms. Mountain bikers might try Moab's disorienting steeps without strapping on a helmet. 
[quote]In the future, sharpening your skiing skills may very well mean virtually taking on a super G course like the one Bode Miller faces at Kitzbuehel.[/quote]
As it turns out, Facebook's whopping $2 billion offer for Oculus hints of VR only continuing as an entertainment-oriented innovation, going the way of social networking and gaming in ways that haven't yet been imagined. Maybe that's not surprising, but in the meantime, athletes looking for tech advancements to improve their performance might turn in a different direction: toward a nascent, potentially revolutionary training technology called augmented reality.
Augmented reality—one of today's many voguish "wearable technologies"—generates virtual images that appear on real backdrops via the aid of everything from tablet computers to helmet-mounted screens. It's currently under development for business (think architects moving virtual trees on existing 3-D models) and marketing (think athletes jumping off cereal boxes).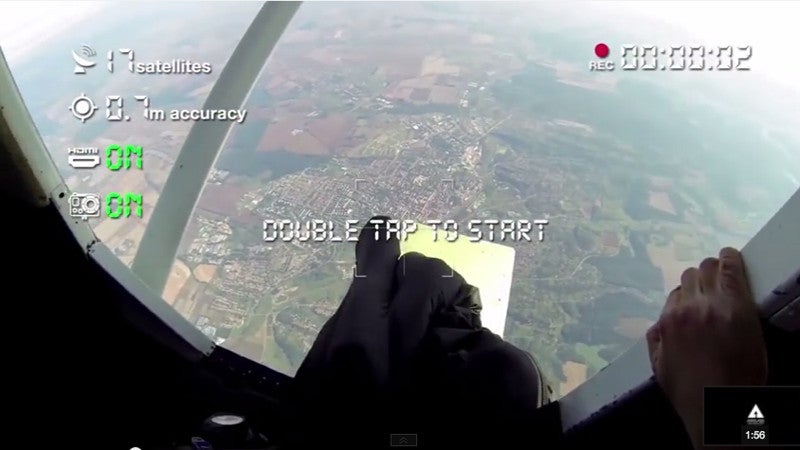 But one fledgling company, three-year-old Airglass of Budapest, Hungary, believes that augmented reality will revolutionize sports training. "We're interested in making athletes better, faster, and more precise," says Zsolt Mihalyfi, the company's founder and CEO. 
In 2011, Mihalyfi—who's part engineer, part pilot, and part parachute skier—considered developing a training product that employed virtual reality. "But I found VR too disorienting," he says. "It shut out the real world."
Instead, Mihalyfi sought out simulation technology that kept athletes far more invested in their digitally devised challenges. After all, how much can you really learn on a virtual downhill run when the worst thing you'll encounter is the phrase Game Over?
Mihalyfi soon came upon augmented reality, which offers a compelling blend of real and virtual imagery. "In augmented reality, you're moving in the real world," he says, "with things overlaid on it."
Imagine if you were a skydiver who needed to train for a dicey landing. You could program the augmented reality equipment to project virtual obstacles (mountains, cliffs, or even other skydivers) around you during the jump. That way, you get the benefits of training in the risky environment without the risks—other than the leaping-out-of-a-plane bit.   
Enter Corliss, 38, a veteran BASE jumper who's bent on notching increasingly challenging flights. In early 2013, Mihalyfi built a prototype augmented reality helmet and screen, and several months later watched Corliss launch himself into the Hungarian sky wearing the technology. Inside of Corliss' helmet were a gyroscope, magnetometer, accelerometer, and GPS unit, as well as data of some specific landmasses.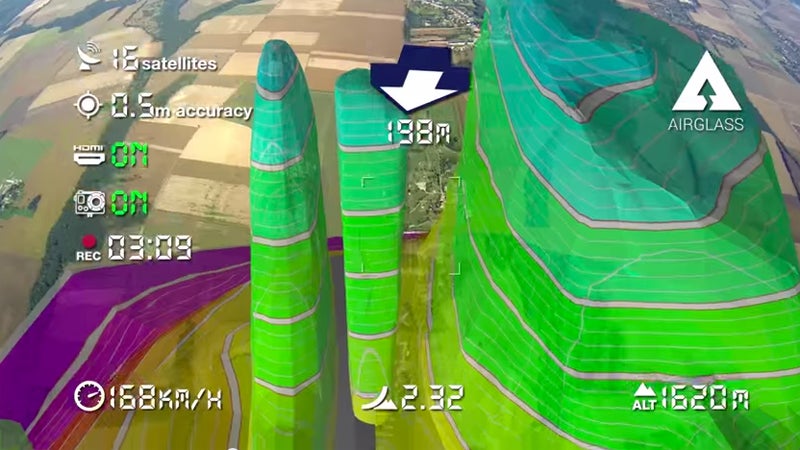 Corliss wanted to prepare for an upcoming jump in eastern China that required he fly through a fissure in a massive rock formation—an opening that's only about 30 feet wide. While Corliss flew, the landmasses appeared on the small screen, sprouting from the helmet and projected just ahead of his goggles. He was put to the test. "There it was, the actual terrain that I was going to fly through in China," he says. "My mind was definitely tricked into doing stuff."
Last September, Corliss successfully knifed through the Chinese formation. He's now a believer in augmented reality. "This technology is the only way that I can get all the feelings of flying and practice on new terrain—without perhaps dying," he says.
Mihalyfi aims to rent his augmented reality helmet systems—mostly for skydivers and wingsuit flyers—by midsummer, and sell a more streamlined, sport-glasses version by the end of the year for approximately $3,000. He believes, over time, that the asking price will go down, and that all sorts of airborne and land-based athletes (the latter would include skiers and mountain bikers) will flock to the benefits of augmented-reality training. In the future, sharpening your skiing skills may very well mean taking on a super G course like the one Bode Miller faces at Kitzbuehel.
"I love the idea," says Nicole Detling, an assistant professor of exercise and sport science at Salt Lake City's University of Utah as well as a visualization expert for the U.S. Ski and Snowboard Association. "You're feeling whatever your body is supposed to feel like when it's fully challenged."
Lead Photo: Getty Images