This Is What Happens When You Mate Goggles with an Action Cam
Oakley partnered with Garmin to make the new Airwave 1.5 HUD goggle. We have to admit, it's pretty cool.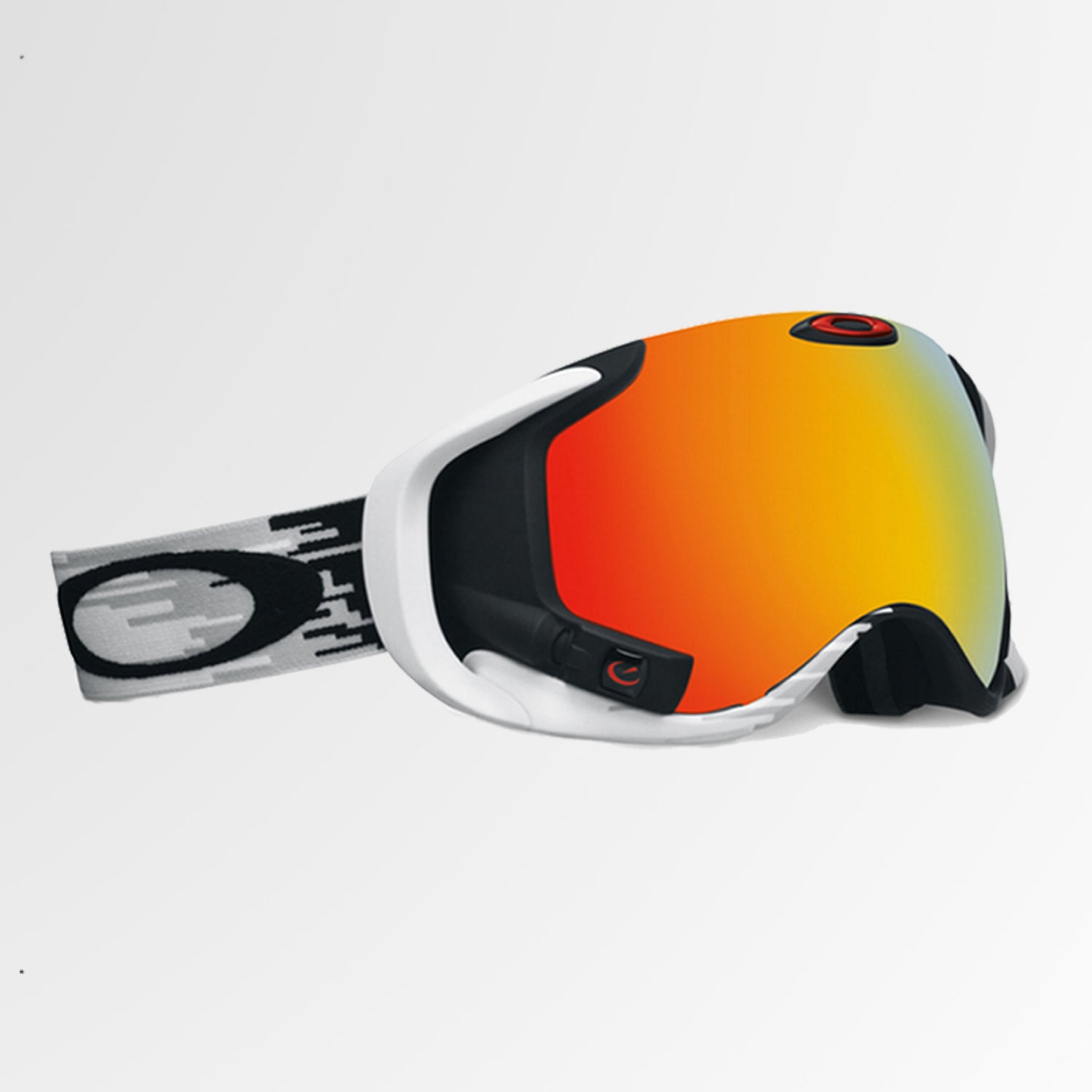 Heading out the door? Read this article on the new Outside+ app available now on iOS devices for members! Download the app.
Earlier this week, Oakley announced it's partnering with Garmin to integrate the VIRB action cam with the new Airwave 1.5—a heads-up-display goggle that's a good deal more evolved than its predecessor. 
I tested the first iteration of the Oakley Airwave last winter, pitting it head-to-head against the Smith I/O Recon. I found both goggles did essentially the same thing: they displayed real-time data on a monitor located in the lens. Here's how: They have a pinky nail-size monitor that floats in the lower right corner of the lens and appears to be a few feet in front of your face (so your eye doesn't have to switch focus from near to far perspective). The monitor displays a steady stream of information, including your speed, airtime analytics, incoming texts and calls, current music track, and—what I found most useful— self and buddy location, which works via GPS. (Your friends just need to download Recon's Engage app on their phone to take advantage of the tracking feature.)
Ultimately, choosing between them came down to fit and style preference; both source their HUD tech from Vancouver, B.C.'s Recon Instruments. (You may know them from their development of the Jet HUD sunglass for cycling.)
While the specs and features of the Oakley Airwave 1.5 are similar to its predecessor, there are three key upgrades worth talking about.
Wifi: The goggle is fully compatible with the VIRB. That means you can watch footage and control the camera through the Airwave. Oakley also now uses WiFi instead of Bluetooth for pairing. Pair video over Bluetooth, and the signal stinks. But with the $649 Airwave 1.5 and $400 Garmin VIRB Elite tethered via Wifi (with your iOS or Android phone acting as mediator) preview on the HUD LCD should be far clearer.
Video Data Overlay: Your footage can be overlayed with the data captured by the goggle. So you can wrap up an epic session in the terrain park, then easily overlay the video with stats like speed, vertical feet, and distance. The VIRB already offered something similar: it can overlay data (think heart rate) from other Garmin devices like the Edge 810.
Third-Party Compatibility: Oakley's release doesn't say this deal is exclusive: "Wirelessly connect to compatible Wi-Fi enabled cameras, such as the Garmin VIRB Elite action camera." (Italics are ours, not theirs.) You may notice that your GoPro also talks to devices via WiFi. That makes us wonder how soon we'll start seeing more ski goggles intergrated with a whole range of action cams, especially since Recon's SDK (Software Development Kit) is open, allowing third parties to play in the Recon ecosystem. 
That Recon back-end allowed Smith to do a tie-up with Contour cameras a while ago. Smith didn't comment on the Oakley deal, and declined to elaborate on any irons they may have in the fire—which is another way of saying "watch this space." 
Lead Photo: Courtesy of Oakley