Gear Guy
What's the Burliest Water Bottle You Can Buy?
I'm in search of the Holy Grail of water bottles. Something that keeps my coffee hot and my G&T cold. It should also be able to take a serious beating.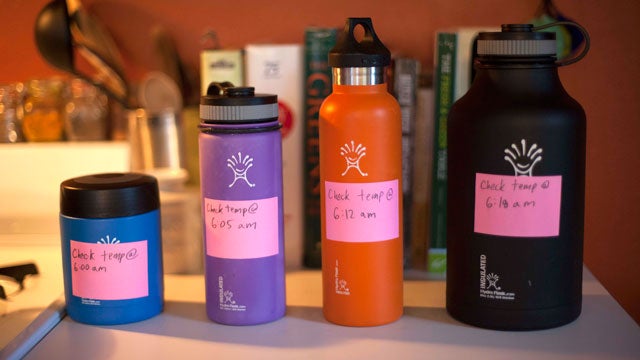 Heading out the door? Read this article on the new Outside+ app available now on iOS devices for members! Download the app.
While not nearly as sexy as my ski, kayak, or surfboard collections, my four-vessel quiver of Hydro Flasks is still a mighty fine sight. I was introduced to the brand's double-walled vacuum-insulated bottles years ago on Southern Oregon's Wild and Scenic Lower Rogue river. A buddy of mine mixed a cocktail with plenty of ice at 4:00 a.m.  before we embarked on our trip. 
After a long first day—after the 18-ounce  Hydro Flask sat on the bow of our raft in the 90-plus-degree heat—we celebrated successfully getting through the class IV crux rapid, Blossom Bar, 14 hours later. We cracked the Hydro Flask to enjoy an—honest to goodness—ice freaking cold gin and tonic. The ice cubes were still cubes, not sad slivers of frozen water. 
After years of good experiences with Hydro Flasks, I decided to test Hydro Flask's official claim that they will keep hot things hot for 12 hours and cold things cold for 24 hours. I also beat one of them to hell for good measure. It seemed appropriate because they have a lifetime warranty.
The Test 
The Hot: I filled the vessels with 136-degree water, because this study found 136 to be the optimal temperature for hot drinks. I used the fanciest Taylor meat thermometer money could buy at a BiMart to see how they did after 12 hours of sitting. Spoiler alert: they didn't do great.
As I thought about it though, the longest I would care about something staying hot is overnight—and I rarely sleep for more than seven hours—so I refilled the bottles with 136-degree water and checked the heat at seven hours.
The Cold: I then filled the vessels with 35-degree water because I heard somewhere that it is the best temp at which to serve a gin and tonic. I checked the temperature at 24 hours while the thermostat in my apartment remained at 70 degrees. 
While it was tempting run the cold test with my preferred alcoholic beverages, I decided to stick with water because it offers fewer variables and I am trying to cut down on the booze during the week.
The Ferocity: To determine durability, I focused the punishment on the 18-ounce wide-mouth because purple is my least favorite color. I threw it on the ground repeatedly on various rock and metal surfaces. Then I smashed it with rocks ranging in size from baseball to shoebox. Finally, I backed over it with a 2000 Toyota Camry and a 2001 Chevy Silverado 1500.
---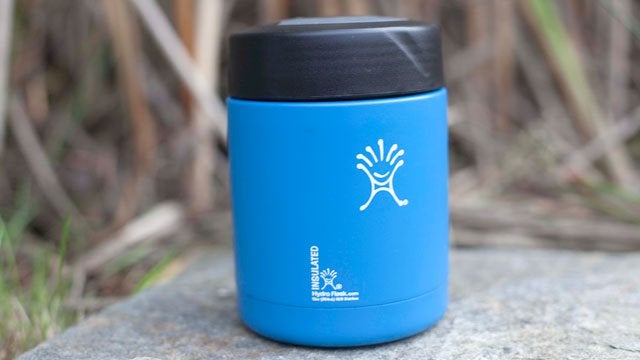 12 oz Food Flask 
Suggested beverage: Irish Coffee
Heat after 12 hours:  84 degrees for a 52-degree loss
Heat after 7 hours: 87 degrees for a 49-degree loss
Cold after 24 hours: 60 degrees for a 25-degree gain
---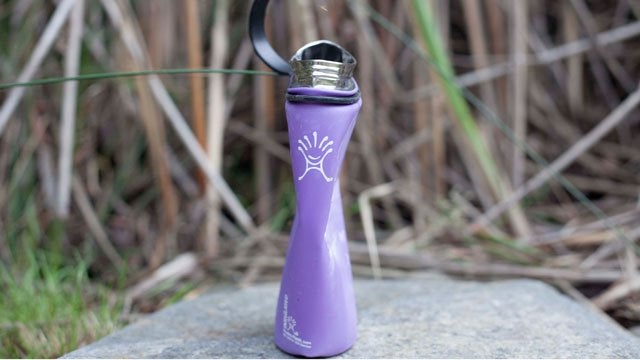 18 oz Wide Mouth (post-beatdown)
Suggested beverage: Margarita
Heat after 12 hours:  95 degrees for a 41-degree loss
Heat after 7 hours: 108 degrees for a 28-degree loss
Cold after 24 hours: 36 degrees for a one-degree gain
---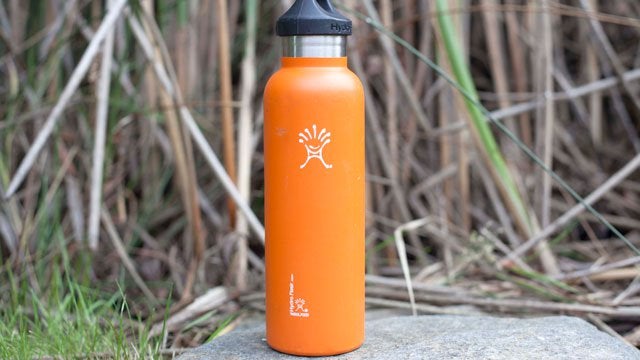 21 oz Standard Mouth 
Suggested beverage: Gin and Tonic
Heat after 12 hours: 102 degrees for a 34-degree loss
Heat after 7 hours: 111 degrees for a 25-degree loss
Cold after 24 hours: 36 degrees for a one-degree gain
It is worth noting that I purchased this Hydro Flask two years ago and have since used it as my primary water bottle. It has sustained hundreds of falls from my backpack, uncountable hits against railings (the double wall makes the coolest gong noise), and survived six months in the foulest forgotten cooler known to man.
---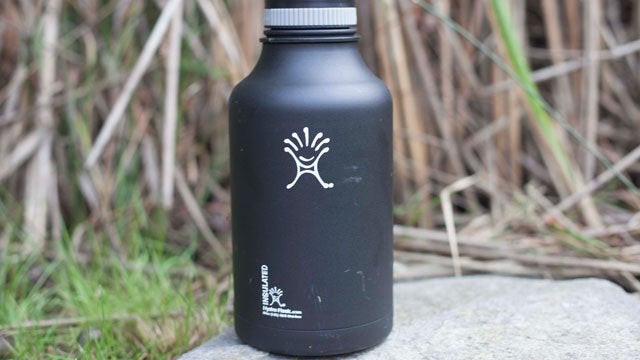 64 oz Wide Mouth Growler 
Drink of Choice: Caldera Brewing's Hopportunity Knocks 
Heat after 12 hours: 115 degrees for a 21-degree loss
Heat after 7 hours: 119 degrees for a 17-degree loss
Cold after 24 hours: 34 degrees for a one-degree LOSS (mind blown)
I also tested this with beer last weekend. I had the Hydro Flask filled with Standing Stone's Double IPA on a Friday at 5:00 p.m. I left it outside of a cabin near Crescent City, California, while I surfed on Saturday. Temps were in the mid 50s. I did not have my thermometer with me, so I had to drink the beer at 5:00 p.m. on Saturday—to test it. It was nearly as cold as a pint out of the tap and had not lost any carbonation—as far as my pallet could discern.
---
Beatdown Breakdown: I started by throwing the Hydro Flask at various rocks and parts of railroad track that I encountered along a hike near my house. When all I got was scrapes to the enamel surface, I placed it on the metal part of a track and began dropping the biggest rocks I could find on it. Again, mainly nicks on the exterior, and one particularly large rock put a quarter-inch indent and a few good scratches on the side. 
I had heard a story that someone once backed over a Hydro Flask with their car and it hadn't left a mark. So I backed over it with my 2000 Toyota Camry. There was only one small scratch. 
Determined to break this water bottle, I put it under the tire of my 2001 Chevy Silverado 1500 and backed over it. 
Nothing. 
I put it in drive and drove over it again. Miraculous. 
Finally, I turned the bottle 90 degrees—so the length of the bottle was parallel to the tread of my tires—and backed over it real slow. I finally heard a pop.
---
Conclusion: You don't need a quiver, but I highly suggest buying a Hydro Flask as your insulated, everyday water bottle. They are spectacularly tough. Having ready ice water on hand is a game changer on hot days. I would not suggest making your coffee at night with the expectation of a warm one in the morning, but it will keep it piping hot if you make it and drink it within a few hours.
Trending on Outside Online