What's the most rugged, helmet-mounted digital camera?
What is the best multipurpose digital camera that can take a beating and can be mounted on a helmet. BryanMedford, NY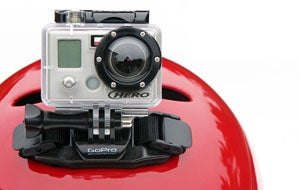 Heading out the door? Read this article on the new Outside+ app available now on iOS devices for members! Download the app.
Probably the GoPro Hero HD Wide-Angle camera ($259). This is really a pretty amazing little rig. It has a fixed-focal-length wide-angle lens that's just the right thing for helmet-mounted use. It takes digital photos in 5-megapixel resolution, and shoots high-def video in either 1080p or 720p resolution. In addition to video, you can set it to shoot a still picture every five seconds, for action-sequence stills.
The Hero HD Wide-angle

The Hero HD Wide-angle
And the thing is waterproof down to 180 feet, just in case you bike off a cliff and into the ocean. It will mound to your helmet, or to bike handlebars, or to just about anything else you'd care to attach it to.
There are others. The Contour HD Wearable Camcorder ($280) is a camcorder only, but also is a bit lower-profile than the squarish Hero. It shoots digital video in four resolutions, has laser pointers to aid with framing, and has an internal microphone. The aluminum case is not waterproof, but is splash- and dust-resistant, and is built to take some punishment.
Maybe the most affordable rig out there is the Oregon Scientific ATC-3000 Helmet Cam, which goes for a mere $99. It shoots stills and video, and runs off AA batteries. But resolution is limited at 1.3 megapixels, and the sound quality is so-so. Still, the price is right!