Indefinitely Wild
You'll Find Your Next Survival Knife in the Kitchen
Imagine all the fun of an outdoor blade in a package you can use more often. Put one to use in your kitchen, and it might make cooking dinner feel a little more exciting.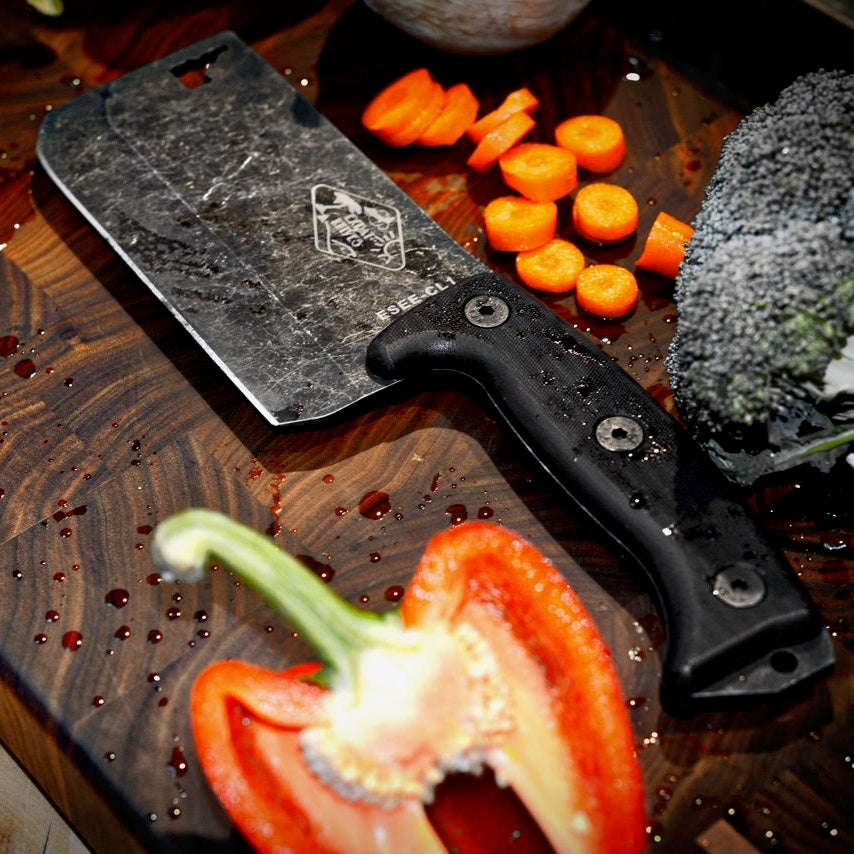 Heading out the door? Read this article on the new Outside+ app available now on iOS devices for members! Download the app.
Aside from both being sharp and pointy, survival knives and kitchen knives couldn't be more different in both purpose and form. But the latest knife trend sees traditional survival-knife brands applying their materials and construction to knives intended for food prep. What gives? And why do you suddenly want one?
(Disclaimer: If you're an experienced user of blades outdoors, you likely hate the "survival knife" moniker as much as I do. But it's what most people call the big, fixed-blade outdoor knives. So, for purposes of broad comprehensibility, that's the term I'm going to use here.)
How Kitchen Knives and Survival Knives Differ
In addition to being my go-to camp chef, Outside contributor Ty Brookhart used to get paid to cut up food as a sushi chef. So I asked him to explain the differences in the knives he uses.
"Kitchen knives are not meant for anything except cutting," explains Brookhart. "At no point would one ever plan to use a kitchen blade to pry or stab, and the blade design reflects this. They are also meant for repeated daily use. Because of this, kitchen blades are sharpened thousands of times more often than outdoor knives. The long-term effect of this is a decreasing blade length and depth. To increase the knife's usable life and to reduce friction, the blades are flat-ground all the way to the spine and are much thinner, especially at the point."
A knife designed to help you prepare food typically has a blade that's longer, thinner, and deeper than that of a survival knife. There are also differences in geometry. Where many kitchen knives are designed to rock from the tip backwards to slice, a survival knife is designed to be drawn or pounded through what's being cut.
That larger but lighter kitchen-knife blade is typically made from different steels, with a lower carbon content that helps them better resist moisture and acids. But the blade may be more prone to chipping if it encounters a tough obstacle, and it can't hold an edge as long as the carbon-steel blades of quality survival knives.
The edges of the two styles of knife are also constructed differently. While a survival knife needs to split wood, dig holes, and perform other heavy-duty tasks, a kitchen knife's only job is to slice. The edge grind on a survival knife is typically done at a 20-degree angle on each side. Kitchen knives use a thinner 10-to-15-degree angle. That thinner edge is one reason you'll see chefs regularly touching up their edges with a honing rod—it straightens the thinner, more easily rolled edge of their knives. Having to stop to do that with a survival knife halfway through building a shelter during a rainstorm would be no good.
There are also some big differences in the handles. Cheap chef's knives have polymer handles. More expensive models are wood. These are plenty comfortable in a kitchen environment, where the knife isn't gripped tightly or pounded around with much force. More important, these materials are easy to clean. In contrast, the handle of a survival knife needs to keep the user's hands comfortable through much more abusive tasks, while providing sure grip across a wide range of temperatures and weather conditions and with all sorts of nasty liquids spilled on them. A survival knife's handle needs to be indestructible, and it must never, ever separate from the blade. For that reason, you'll see survival-knife handles made from materials like G10 or linen Micarta and bolted to the outside of the blade's full tang, rather than just poked into a shorter, more rudimentary blade root.
Can't You Use Any Knife to Cut Stuff?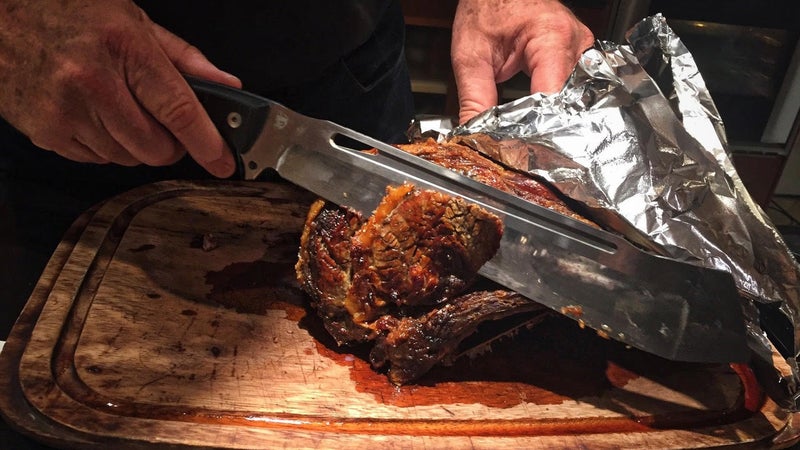 The knife I regularly carry around town is a DPx Gear HEST/F, which has a 1/4-inch-thick saber-ground blade with a 20-degree edge. It's an ideal knife for hard-use tasks like breaking car windows or tearing through two-by-fours, but that overbuilt nature is as far from a typical steak knife as you can get. And yet, more often than not, it's what I use to cut my steaks at home and in restaurants. I prefer it over the thinner, serrated alternatives for the simple reason that this knife is kept sharp.
But I keep that knife in my pocket when I'm cooking anything more delicate. No matter how sharp it is, the thick blade stock and 20-degree edge on the HEST/F will squash tomatoes and similar foods, rather than slice through them. It's terrible at peeling vegetables for the same reason, and you'll never be able to filet a fish with one.
How Survival Knives Are Turning into Kitchen Knives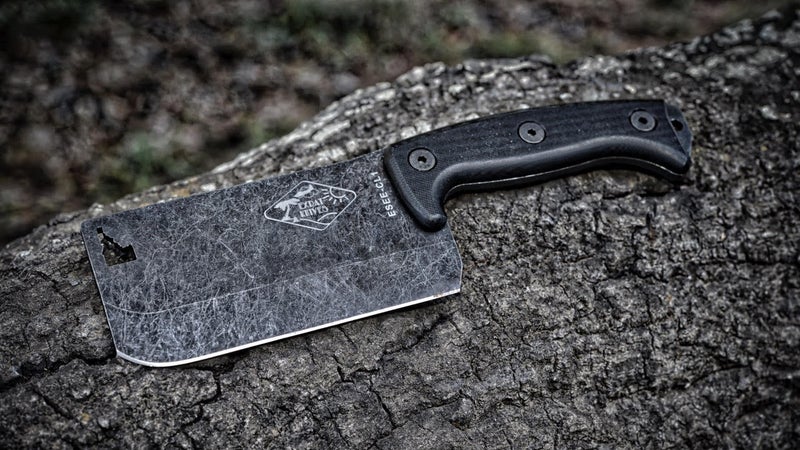 I talked to the guy behind Expat Knives, who'd prefer to keep his identity private, because "Uncle Sam used to pay for me to work in sketchy places." Today, he lives in the Caribbean and enjoys a life of catching fish, sipping from coconuts, and sleeping on the beach. His company's motto: "Tools for fine dining…outdoors."
He creates his blades in collaboration with my personal favorite survival knife brand, ESEE. Expat's first knife is a meat cleaver, constructed using the same big, comfortable, indestructible linen Micarta handle as ESEE's largest survival knife, the Junglas. The stout 3/16-inch-thick blade is made from the same 1095 carbon steel that ESEE uses and is forged by the same company—Rowen—in Idaho. Where it differs is in the blade shape and the anti-rust coating. Where ESEE's knives are protected by a thick layer of textured powder coat, the Expat cleaver uses a black oxide treatment that's designed to help it better slide through what you're cutting.
"It just seemed to be the one thing to take with you if you were going to cook on the beach," describes Expat. "Yeah, your [chef's knives] work great on slicing something, but what if you need to split some firewood? Or an elk's pelvis? I wanted a tool that can make you feel invincible."
Expat's second knife will be named the Libertariat and is, according to its designer, "What I would call a coconut knife." By shortening a traditional machete, Expat hopes to make it easier to carry and more versatile. He tells me it'll work for anything from lopping off the tops of coconuts so you can drink from them, to clearing brush, to slicing up a roast, and will even be the ideal tool for cutting up a watermelon.
I carry another ESEE knife to help me make food. The dinky little CR2.5 rides handily in a leather belt sheath and wears a comfortable, slip-free linen Micarta handle, but its tiny proportions (the blade is just 2.5 inches long and 1/10th of an inch thick) make it ideal for cleaning trout or breasting out a dove. Easy to carry, easy to sharpen, and capable of holding a wicked edge, the CR2.5 works just as well on the side of a stream as it does on the tailgate of my Land Rover or in my kitchen back at home.
Elsewhere, Colorado-based Spyderco, which has long made traditional chef's knives in addition to its popular range of folding and fixed-blade outdoor knives, has started packing kitchen-knife blades into its folding pocketknives. The advantage? They offer food-slicing performance in a package that easily rides in your pocket.
This year's Blade Show, the knife industry's biggest trade show, was dominated by new chef's knife designs made by traditional survival-knife brands and craftsmen.
Why Do I Want One?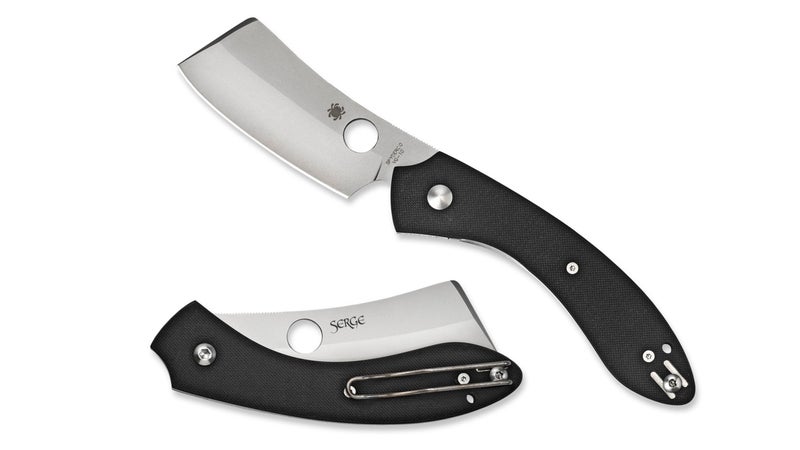 "I see guys and girls pick up the cleaver, and something primal comes over them," says Expat. "You see it in their eyes and in a mischievous smile. It makes them want to chop something!"
There's just something empowering in the feel of a big, hefty survival knife. I know carrying one makes me feel more confident in the outdoors, even if I don't always use it for everything it's intended for.
And I think that empowering feel combined with the versatile not-just-food-prep purpose are what make this new type of survival-chef's knife so appealing. They're all the fun of an outdoor blade in a package you can use more often and for more things, even if you're not going camping as much as you'd like. Put one to use in your kitchen at home, and it might make cooking dinner feel a little more dangerous than usual.
The man behind DPx Gear knives and noted adventurer Robert Young Pelton doesn't mince words: "The knife companies have maxed out every length, color, and style [of survival knife], so why not make stuff that people can actually use?"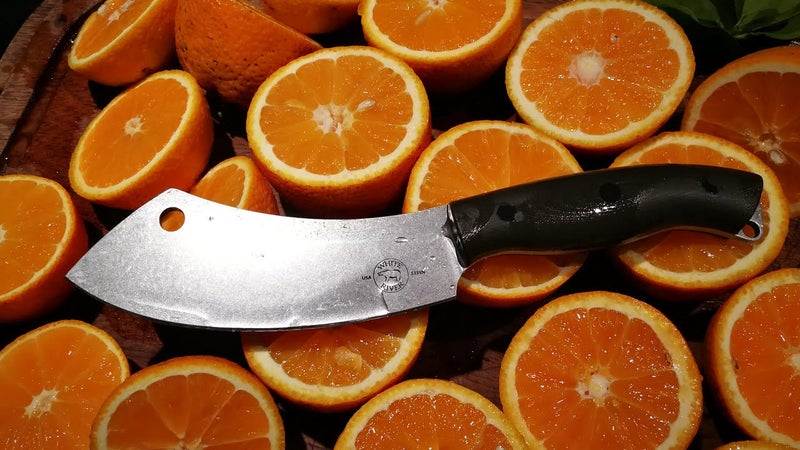 Lead Photo: (c) Robert Young Pelton