Gear Guy
The Best Duct Tape Gear Hacks
What are the coolest and most unexpected uses of duct tape in the outdoor world?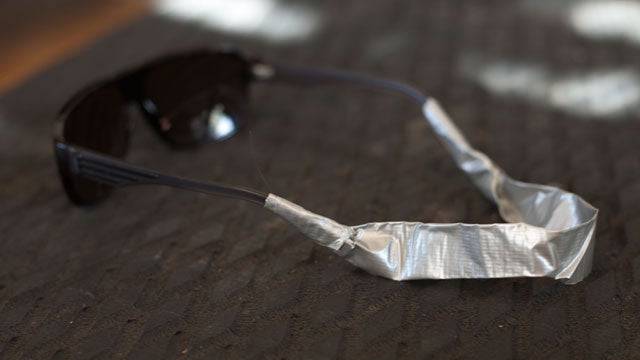 Heading out the door? Read this article on the new Outside+ app available now on iOS devices for members! Download the app.
The beauty of duct tape—and its tougher cousin Gorilla Tape—is the infinite number of dynamic fixes and hacks it lends itself to in the field. With the number of specific uses for the tape nearly endless, I collected a list of my six favorite hacks.
Car Rack
A professional kayaker—who asked to remain anonymous as to not jeopardize his chances of renting cars on future expeditions—told me about a makeshift roof rack he's made using a liberal mount of zip ties and Gorilla Tape. On his rental cars, he attaches the crossbars of a real rack to the lengthwise bars of the luggage rack with Gorilla Tape. To be clear, we do not suggest you do this or condone making homemade roof racks—just letting you know they exist.
Croakies
Figuring out that you forgot your croakies or chums at the beginning of a boating trip sucks. But you don't have to make that, "should I risk my glasses or fry my eyes?" decision if you have duct tape. A strip of duct tape folded over itself can easily make the difference between finishing your day with your glasses on your face or in the bottom of a river.
Fly
A drift boat fly-fishing guide told me about a lure that he made using duct tape, a hook, and strips of aluminum from a beer can. "I used Budweiser to get the red hue I was looking for," he said. It worked. He hooked a half-pound steelhead the first time he fished with it, before his clients even got into his drift boat.
Water Bottle Holder
Tired of reaching back behind her hip to grab her water bottle, a friend made a makeshift water bottle holder out of duct tape that she attached to the hip belt of her pack. On top of being cheaper than an accessory built for this purpose, she was able to make the holder exactly the circumference of her water bottle. 
Makeshift Visor 
There are a ton of visored helmets already on the market, but if you are using an older helmet or your sport doesn't offer visored helmets, you can improvise a brim with duct tape to protect your beak from the sun.
Shoe 
Expedition kayaker Matt Thomas was happy to be alive after swimming through a sieve during a first descent on the Class V+ San Juaquin river. What he wasn't happy about was that the swim claimed his booty—when he still had two days and myriad difficult portages left in his expedition. His fix: He taped his flip flop directly to his foot. While it didn't have the best traction, it still worked.
Trending on Outside Online