Gear Guy
Escaping Summer Heat in Search of the Best Swim Trunks
Really, I just needed an excuse to take a dip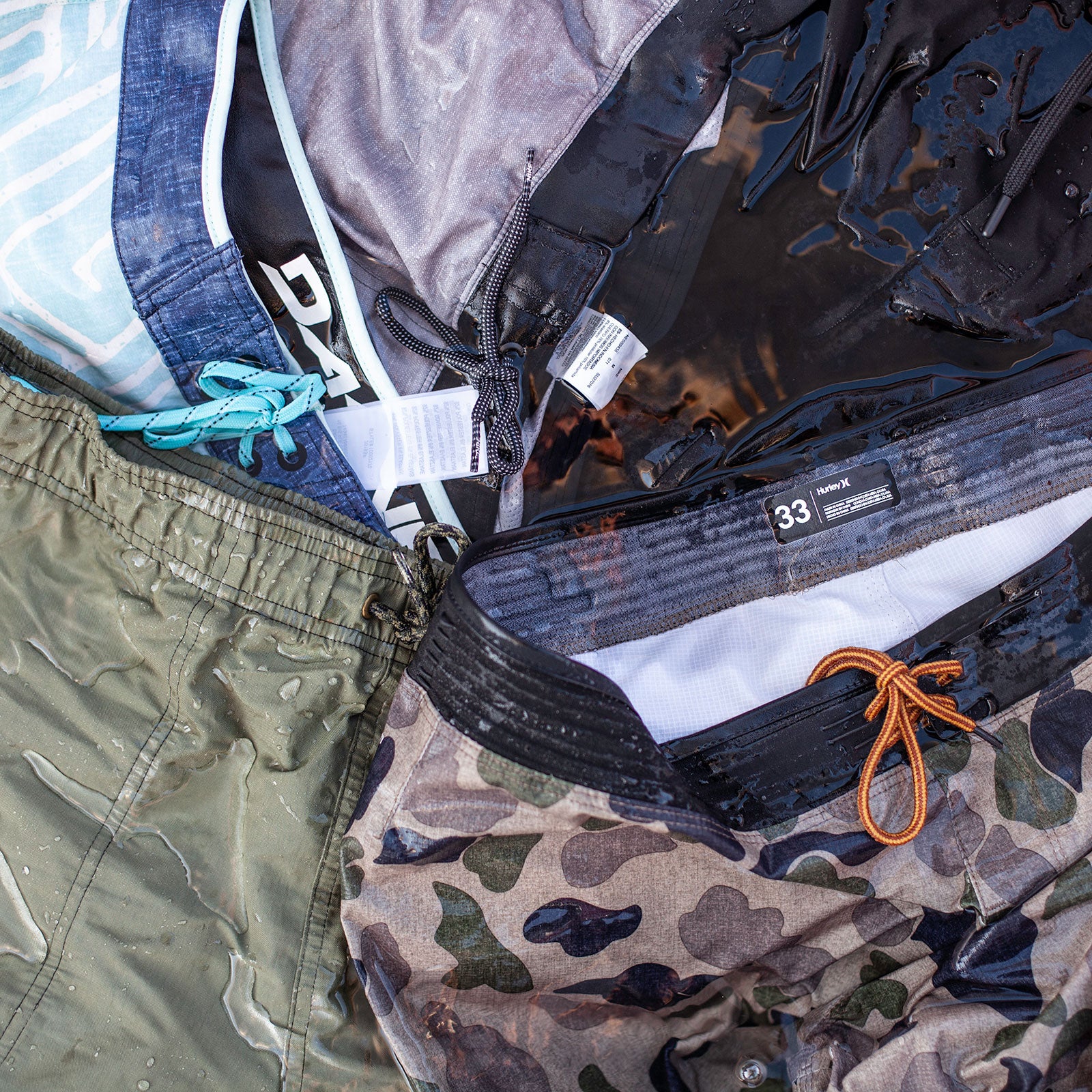 Sarah Jackson(Photo)
Heading out the door? Read this article on the new Outside+ app available now on iOS devices for members! Download the app.
We're deep into summer at this point—it's hot as hell. But that also means it's watersports season. And for that, you need a good pair of swim trunks. To help you choose, I tried out five new models and ranked them.
The Test
Versatility
I wore each of these trunks for a full day, during which I rode my bike on errands, ran, and swam in the pool for 40 minutes. Plus, I took them out on the town to see how well they served as everyday shorts.
Athletic Movement
I ran in each of these swim trunks over the same 3.5 miles. Then I put them through a circuit workout (involving 15 squats, 20 mountain climbers, and ten burpees) to gauge their stretchiness and comfort when dry. Then came the wet test: I sat down in a kiddie pool with the shorts fully submerged for 30 seconds and immediately repeated the circuit.
Moisture Management
To see how quickly the shorts dried, I weighed each pair on a kitchen scale. Then I fully submerged them for 30 seconds, removed them from the water, and dangled them for ten seconds to allow some water to slough off. I immediately weighed the shorts before hanging them on a clothesline in full sun. I then reweighed each swimsuit 20, 40, and 60 minutes after the initial soak to see how much water they shed.
The Results
Winner: Mission Workshop Anaga ($180)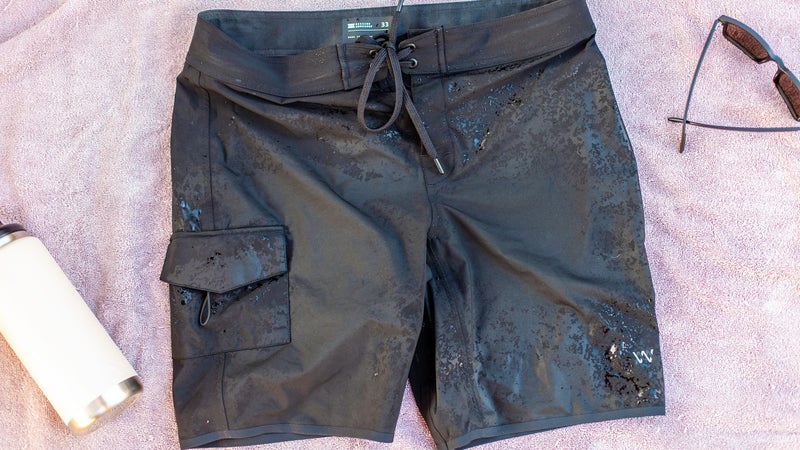 Weight: 5.6 ounces
Versatility: 4.5
Athletic Movement: 5
Moisture Management: 4.5
Believe me, I was shocked by the price tag as well, and I desperately didn't want to fall in love with $180 boardshorts. But I just couldn't help myself. The Mission Workshop Anaga shorts were hands down the best on this list. Whether wet or dry, they didn't impede my movement during the deepest squats or quickest mountain climbers. In fact, they were so good during the circuits that I'll probably wear them for future workouts. They shed water and dried quickly, weighing 43 grams less in the first 20 minutes and tipping the scales just three grams heavier than their dry weight after an hour. What's more, the Anaga shorts have classic styling that makes them almost look like they were tailored specifically for me. I received several compliments, the most exciting coming from my mother-in-law, who said I could even dress these up for a nice brunch.
---
#2. Hurley x Carhartt Hyperweave 7-Inch ($100)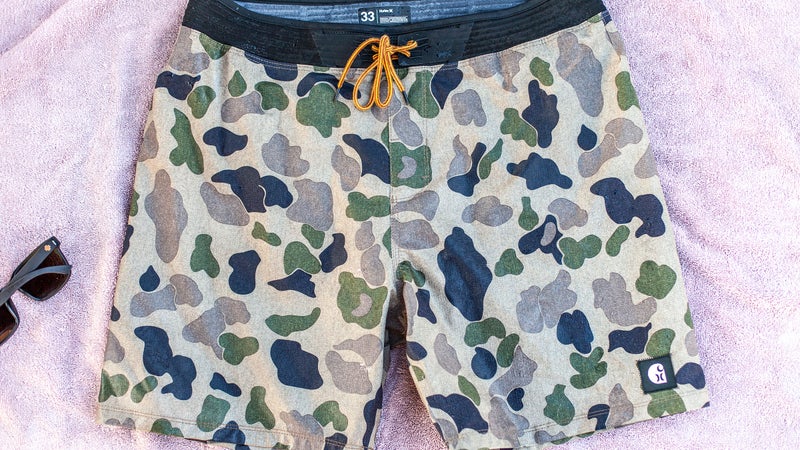 Weight: 5.4 ounces
Versatility: 4
Athletic Movement: 4
Moisture Management: 4
This collab from Hurley and Carhartt was the perfect marriage of the two brands. The Hyperweave shorts were fantastic in the water, befitting Hurley's pedigree, and they're built from a burly stretchy polyester with the durability we expect from Carhartt. The just-right seven-inch inseam was short enough to stay out of the way as I swam and did squats, mountain climbers, and burpees, regardless of whether the Hyperweave was bone-dry or soaking wet. The wide and flat waistband allowed them to move as I bent. (I can't say the same for the three styles below.)
---
#3. Dakine Pavones 19-Inch ($51)
Weight: 5.8 ounces
Versatility: 4
Athletic Movement: 3.5
Moisture Management: 3.5
These trunks almost edged out the Hyperweave above, but the Dakine Pavones didn't shed water or move as well during exercise. But if you don't have $100 or more to shell out on swim trunks, these are an excellent option. The polyester-elastane fabric was the most comfortable on my skin—not a small feat considering they were just up against some highly specialized and expensive competitors. If you have sensitive skin, these are your swim trunks.
---
#4. Nike Swim Linen Blade 9-Inch ($55)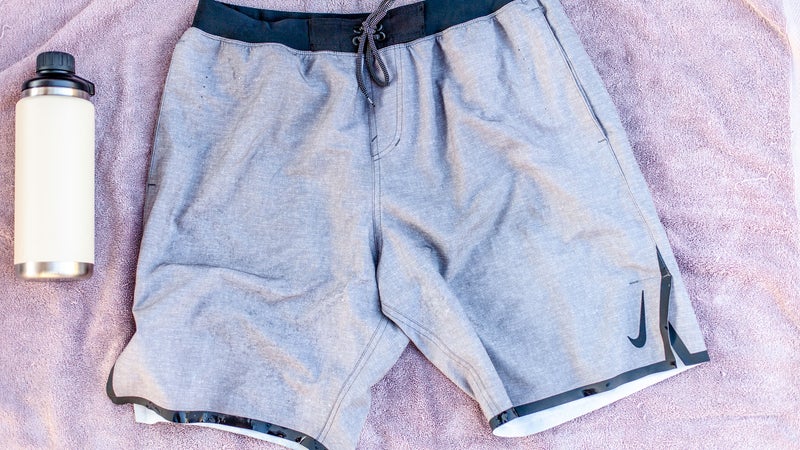 Weight: 7.3 ounces
Versatility: 3
Athletic Movement: 4
Moisture Management: 1.5
If you like a larger boardshort that's well suited for land-based activities (and who doesn't love a friendly match of beach volleyball?), then Nike's Linen Blade is for you. The wide, long legs are sewn from a lightweight, supple polyester-elastane mesh blend that almost floated in the wind—but these shorts are heavy overall given the abundance of material. I was OK with that given the combination of coverage and breathability. Those long stretchy legs were awesome during the circuit workout as well, right on par with the Hyperweave and Pavones. Unfortunately, things went downhill when I got the trunks wet. The two large side pockets, which were so handy while running errands, slowed me down in the pool. And all that extra material in the legs soaked up water, adding a significant amount of weight and preventing the Blade shorts from drying quickly.
---
#5. Filson Green River ($75)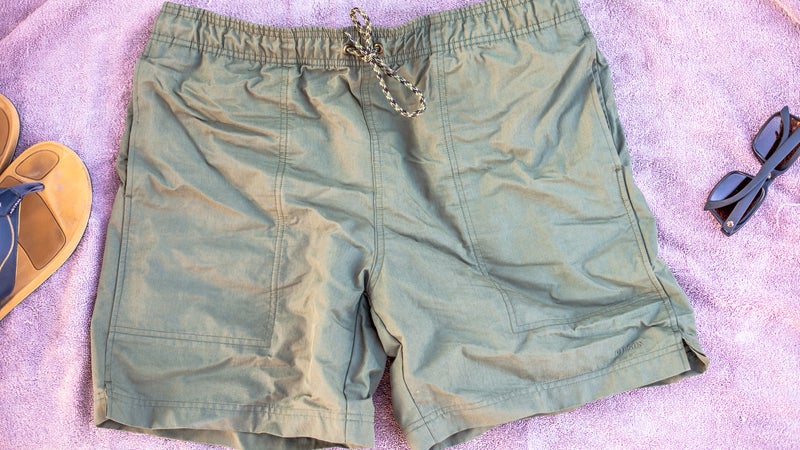 Weight: 9.1 ounces
Versatility: 3.5
Athletic Movement: 1
Moisture Management: 2
If this were a test about shorts that work in the water and legitimately dress up, Filson's Green River would have been a clear winner. I rolled the dice and wore these shorts to business meetings (including at one of the nicest restaurants in town)—all I had to do after running and jumping in the pool was put on a nice shirt and a pair of shoes. Alas, the five-ounce, matte cotton-nylon blend that makes the Green River look dressy was also a nightmare to run and workout in. These shorts were so rigid that I suffered significant chafing on my inner thighs and was barely capable of getting into a deep squat.
Lead Photo: Sarah Jackson
Trending on Outside Online