Gear Guy
The Astral Brewer Water Shoe Is the Best There Ever Was
Turns out the brand that makes my favorite PFDs also knows its footwear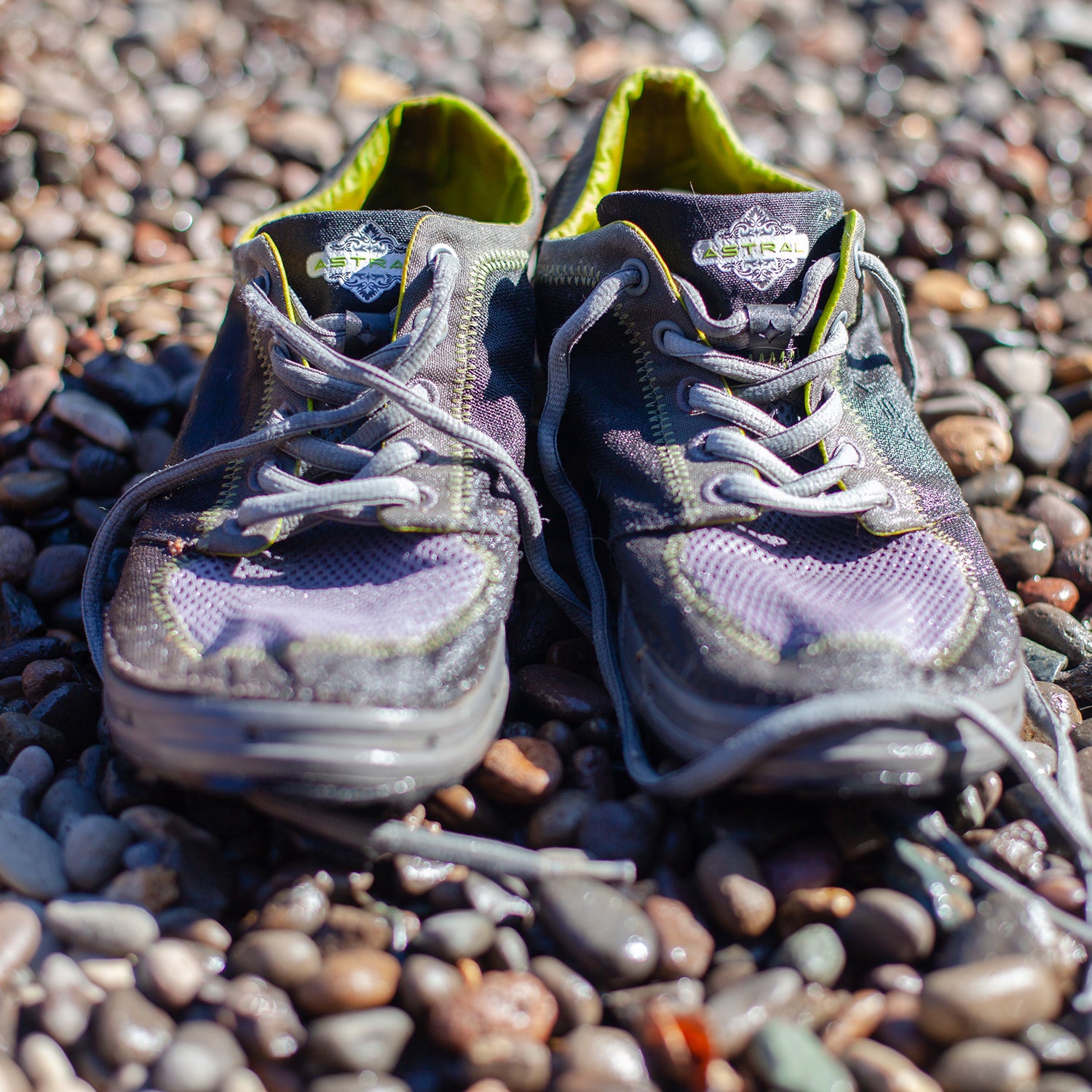 Sarah Jackson(Photo)
Heading out the door? Read this article on the new Outside+ app available now on iOS devices for members! Download the app.
A water shoe is a tough thing to get right. It has to do so many things—stay grippy and chafe-free when wet, dry quickly, look reasonably cool—that it's rare to find a really good pair. But after five years in the Astral Brewer ($110), I can say without a doubt that the company's first foray into footwear is the best there ever was.
I knock around in an original pair from 2013. Before the Brewer, all my boating shoes were goofy. I was perpetually stuck wearing some type of aqua sock or sandal, neither of which hit a sweet spot for kayaking. But the Brewer is more like a highly functional sneaker than a traditional water shoe, just with all the mandatory technical chops.
For me, grip is the most important attribute of kayaking footwear. By its nature, the sport requires sketchy scrambles on wet and mossy rocks (often with 40-plus pounds of boat on your shoulder), and having the right tread on your footwear becomes a matter of safety. I've jumped precariously between wet granite boulders and scrambled out of canyons overrun with lichen in my Brewers and never stressed about whether the climbing-shoe rubber Astral used in the outsoles will slip. It won't.
The Brewer isn't the burliest shoe I've tested, and it suffers on hikes longer than a few miles. But I'm not an expedition kayaker, so I don't need something I can hike in all day. It's neither overbuilt nor undergunned for the needs of a Class IV boater like me. It won't slip loose during swims, and it offers a lot more protection than a sandal or aqua sock. The mesh upper and massive drain holes at the back heel also keep it from getting waterlogged (and my feet from turning pruney).
One quibble: Some friends have experienced fraying on the toe, which they had to reinforce with Gear Aid Aquaseal ($8), but I haven't had that problem in the five years I've used mine.
It might seem weird that a company that made its name with life jackets pivoted to shoes. Founder Philip Curry doesn't think so. "Life jackets are basically foam and fabric that are engineered to fit well around a bony part of your body to hold securely and serve a function," he says. "Basically, with footwear, we were able to take all of those known materials and construction techniques and apply them to our feet. We just figured out how to design around another bony part of your body." Plus, you generate more than a little brand loyalty by making a product that could be the difference between life and death. As Curry says, "You earn a lot of trust from your customers when you make life jackets."
Corrections:
(09/30/2023) A previous version of this story referred to Philip Curry as Philip Cotton. Outside regrets the error.
Lead Photo: Sarah Jackson
Trending on Outside Online