Can you recommend a folding bike I can load onto an inflatable kayak?
I'm looking for an inflatable kayak and folding bicycle to hit some Class I-II creeks in Alaska, float them, and then bike back to my put-in. I would need some kind of inflatable capable of fitting in a backpack or on the bike somehow, and a bike that is capable of being transported (in a folded position most likely) on the craft. Any ideas? Jeremy Anchorage, Alaska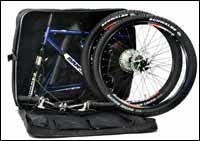 Heading out the door? Read this article on the new Outside+ app available now on iOS devices for members! Download the app.
The inflatable kayak part is fairly easy. You might take a look, for instance, at the Sea Eagle 12.10 inflatable ($999; www.seaeagle.com). It's a sit-on-top-style boat that's designed to handle reasonably rough water, or cruise on smooth stuff. Weight is a not-too-bulky 26 pounds and it's made of fairly tough 1,000-denier nylon, so can withstand some abuse. At the high end, price-wise, is Innova's Seaker ($2,499; www.innovakayak.com), which has true sea-kayak design (covered deck with traditional cockpit) and can handle over 200 pounds of gear. It's really a great boat, but I tend to favor the Sea Eagle design because it's going to be easier to fit a folded bicycle into that rather the compartments of a boat such as the Seaker.

Flo

Another option in your neck of the woods is an innovative Anchorage-based outfit called Alpacka, which makes inflatable rafts specifically for wilderness travel. These are tough, versatile little dinghies that should serve you well on the kind of trip you're planning. Price-wise, too, they come in at much less than more specialized inflatable kayaks. Try the Yukon Yak ($775; www.alpackaraft.com), a snug little boat for six-footers that's been known to haul MTB rigs. Beyond the price, the weight here may be the deal clincher: under five pounds! Good for the water you describe, though not recommended for more roiling Class III-IV stuff.
Now for the hard part—the transportable bike. Probably your best bet is to go with something like the Dahon Flo ($2,000; www.dahon.com), a steel hardtail mountain bike that uses the Ritchey BAB coupling system, which allows you to divide the frame into two parts. It fits into what you might think of as a "medium-size" suitcase, and with a packed weight of about 25 pounds is easily carried around in a kayak. And, as a bonus, you have a bike that can handle most gravel/dirt roads, or even trails, which is likely what you'll run into on your ride home. You'll need to add a good-sized luggage rack—Jandd's Expedition ($65; www.jandd.com) would do nicely—and experiment with how best to secure the packed kayak onto it.
Cost is a factor, no question. You might consult with a local bike shop about the availability of kits that allow you to whack a bike frame in two, then use joiners to re-connect it. That way you could buy an inexpensive steel-frame hardtail mountain bike and do your own conversion.
In any event, sounds like great fun. Watch for bears!
Want to ogle all the gear you need before launching into a backcountry epic? Look no further than Outside Expedition in the Outside 2005 Buyer's Guide.