Paddleboard Gear for the Whole Family (Pup, Too)
Six accessories to get your entire crew on the water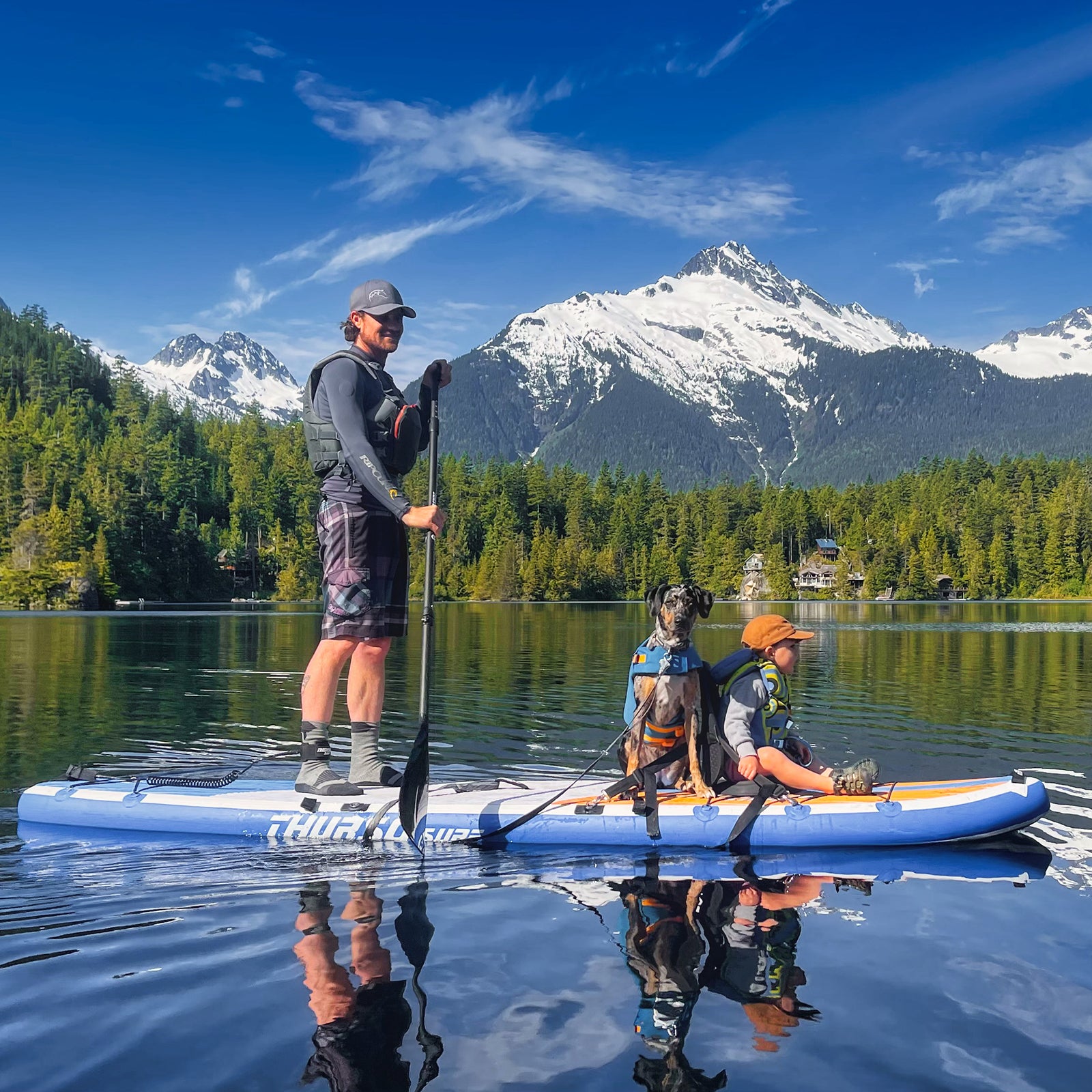 Heading out the door? Read this article on the new Outside+ app available now on iOS devices for members! Download the app.
There's nothing like a summer day spent floating on the lake with your best buds in tow. Over the past couple of years, my paddleboard adventures have gone from solo trips, to adding a toddler, and now a dog, too. It's a bit tricky to make it comfortable and fun for everyone, but I've come up with a system that works for me and my family. Here's what you need to get a kid, a pup, and all your daily essentials out on the water while still staying safe.
Ruffwear K-9 Float Coat ($90)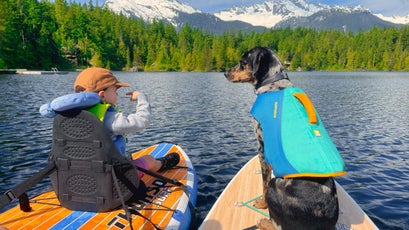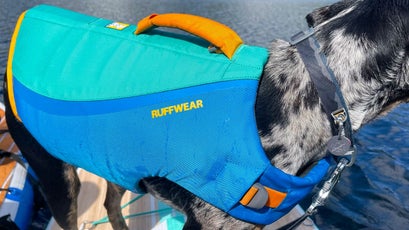 Ruffwear's K-9 float coat has been an essential safety item in my family's SUP kit since we introduced our nine-month-old Catahoula to paddling a few months ago. So far, training her to be a great water dog has been mostly a success, and this life jacket has certainly played a role. Because it's comfortable and easy to use—it's no problem to slip over her head, buckle up, and adjust, and it doesn't rub against her uncomfortably or have any pinch points—wearing it has been a positive experience for her. She can jump off the paddleboard, swim freely, and scramble up banks without the life jacket getting in her way. When I need to lift her back up on the board or help her ashore, the handle is strong and a cinch to grab. She's starting to equate the life jacket with fun, and that's the whole goal on trips like these.
---
Thurso Surf SUP Kayak Seat ($70)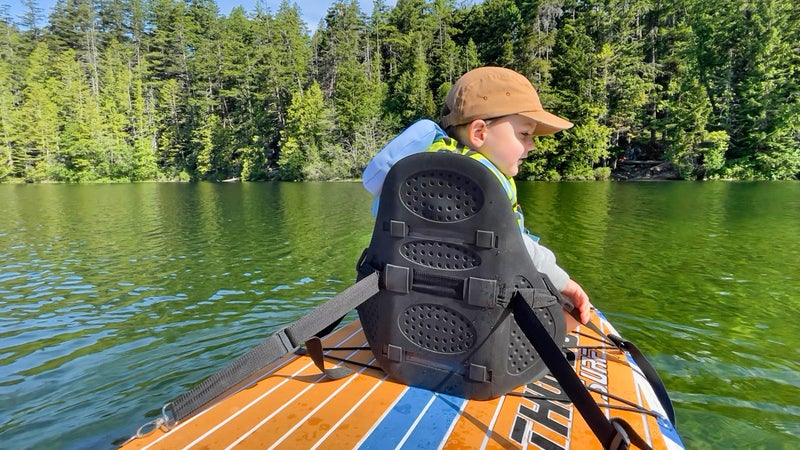 As a parent, Thurso's lightweight and comfortable clip-on seat has been the ultimate add-on for paddling with my toddler. It's probably the one thing that gets the most attention when we're out using it, and after seeing it in action, a few of my friends with small kids have incorporated it into their setup, too. My inflatable paddleboard has D rings running down both sides, so I can clip this seat to the first third of my board, where my toddler sits.
What I like most about this seat is that it gives my child his own spot on the paddleboard, and as anyone who's ever wrangled a toddler outdoors knows, there's something to be said for setting a few ground rules before doing an activity. One rule for us is where everyone goes on the board; my son knows where he sits, my dog knows where she sits, and there's no fighting over perceived prime real estate. In addition to keeping my child contained to one spot, he's also able to hold on to the side straps if he needs extra stability when the board's rocking or when he's dangling his feet in the water. But mostly, he just leans back in it, eats snacks, gives directions, and sometimes naps.
---
Kokotat Hustle PFD ($139)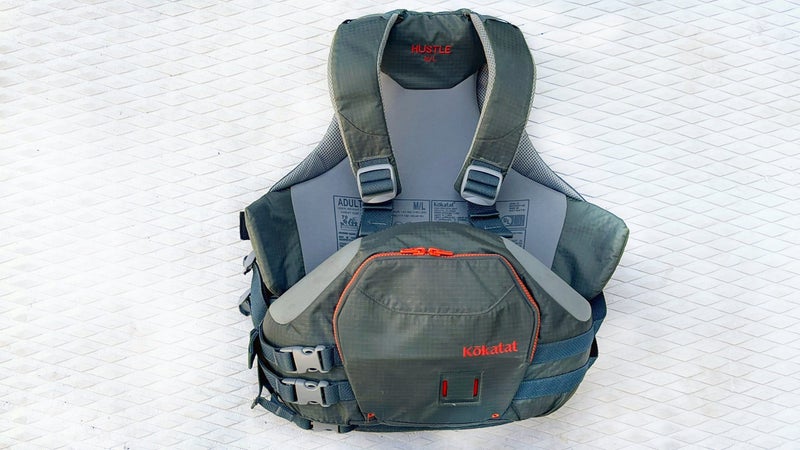 Anyone who participates in water sports should know how to buy and wear a PFD. Some paddleboarders might prefer a belt-style inflatable or a hybrid device, but I opt for an old-fashioned vest like the Kokotat Hustle. Since I'm paddling with a kid and a dog, and I'm not a strong swimmer, I like to wear a vest as it's one less thing to think about if shit hits the fan (because it's inherently buoyant and doesn't require deploying). The Hustle is low profile, comfortable, easy to paddle in, and has the one feature that makes all parents rejoice—pockets.
The side entry makes it slightly more of a hassle to get on than a front-zip vest, but the large front pocket more than makes up for it, providing access to small essentials that I need to keep handy, like my phone, dog treats, kid snacks, and sunscreen. There's even an internal mesh organizer and an additional small zippered pocket to stash even more important items, like IDs and car keys.
The Hustle has padded shoulder straps, it contours nicely around the arms, and it's constructed with soft fabric in key areas to prevent chafing. More notably, the minimal design doesn't restrict movement. As a type-three life vest, the Hustle is versatile and can be used for a variety of other near-shore water sports, like kayaking and canoeing. Its unisex fit is wider than other comparable vests (sizes accommodate 32-to-55-inch chests), but bustier women might find a more comfortable fit with the Outside-tested Astral Layla.
---
Marjaqe Waterproof 22L Drybag ($36)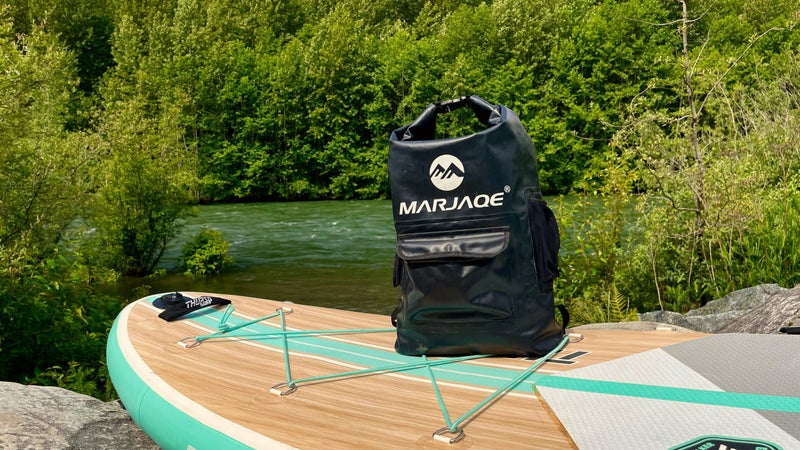 There are two main things I like about this inexpensive Marjaqe bag: it keeps my stuff dry, and it has backpack straps. For under forty bucks, this piece of gear has proved its worth under heavy use for over five years without fail. I've taken it camping, hiking, paddling, and commuting, and not so much as a drop of water has leaked in. The pack straps are key for me because, from the car, I'm usually hauling a paddleboard, a toddler, a dog, and our daily essentials down to the water. I just don't have enough hands to hold on to a drysack sans straps. I also like that it has mesh pockets on the sides to stash a water bottle or something else you need to access fast that doesn't have to be kept dry.
Twenty-two liters is a nice size for carrying all the requirements for a day of fun, like a couple microfiber towels, a picnic lunch, a water bottle, a dog bowl, sandals, and maybe even a hammock. Another bonus is that it floats, unlike a classic backpack, which could see all your stuff sinking to the bottom of the lake if it falls in. For a cheap Amazon find, this bag has been a pleasant surprise.
---
NRS Paddle Wet Shoes ($60)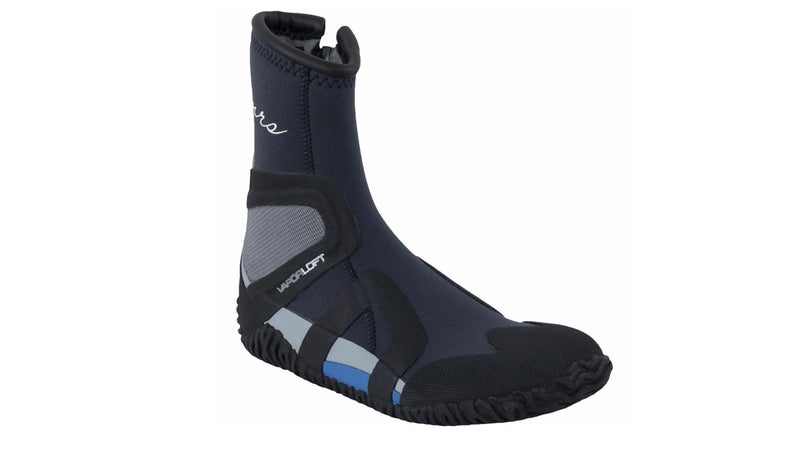 In the Pacific Northwest, where I paddle, I need to wear water shoes most of the year, because my feet are notoriously cold, and outdoor adventuring in this part of the country requires embracing the gloom sometimes. Available in both women's and men's versions, the NRS Paddle wet shoes offer warmth and protection without being bulky, making them a good choice for stand-up paddling.
With a side-zipper entry, putting these on is effortless, and the high-top design paired with three-millimeter-thick neoprene (not to mention five-millimeter neoprene insoles) keeps ankles and feet toasty and comfortable pretty much year-round. These NRS booties are grippy enough to confidently step on algae-covered rocks, but not so bulky that you feel like you're wearing big boots on the board. That said, if you're going to be surfing or spending more time with your body in the water, take a look at the Patagonia booties in this roundup of the best cold-weather gear for surfing.
---
Baby Bum SPF 50 Mineral Sunscreen Face Stick ($10)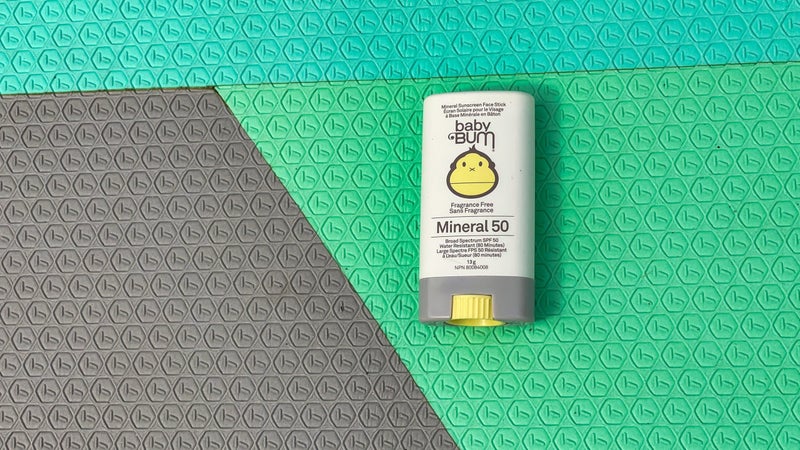 Sun protection is essential for a day on the water. Baby Bum's Mineral face stick is great to pack for paddling because it takes up almost no space in your drybag, and since it's a mineral roll-on, it won't leak all over the place if it accidentally opens up, like other lotion sunscreens tend to do. Additionally, it's fragrance-free, nongreasy, and doesn't sting if it comes in contact with your little one's eyes. I always keep this on hand for reapplying as needed, usually every couple hours or after a dip in the water.