FisheWear Makes Women's Fly-Fishing Apparel
After years of fishing in borrowed men's clothing, Linda Leary launched a line of practical apparel and totes in an array of funky designs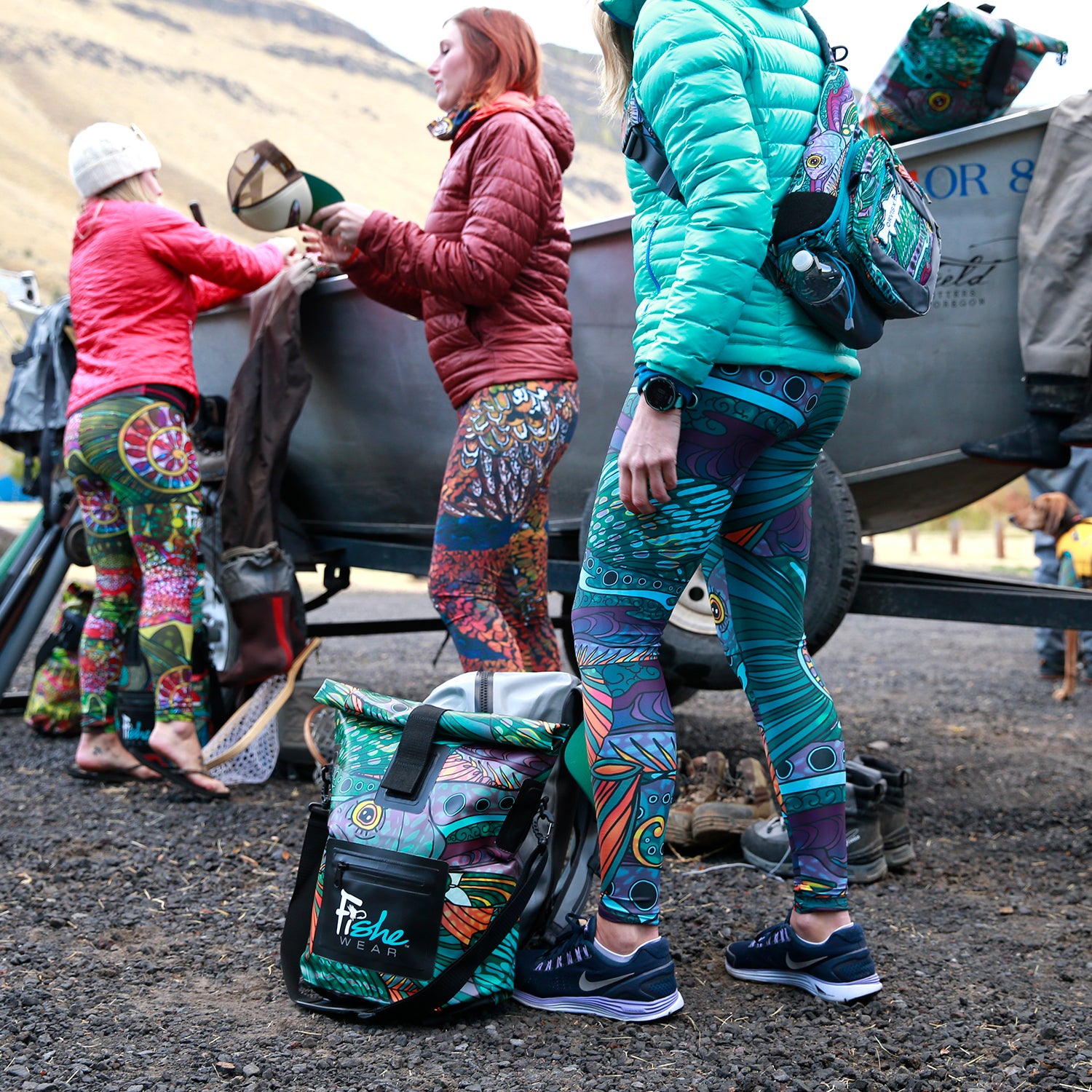 Courtesy FisheWear(Photo)
Heading out the door? Read this article on the new Outside+ app available now on iOS devices for members! Download the app.
Linda Leary wanted to create a line of fishing apparel for women. She'd been fly-fishing ever since she was a kid growing up in Maine. Back then, she says, there was a lot less women's gear, so she typically borrowed long johns from her dad and husband. After wearing her fair share of stodgy waders and drab shirts built with men in mind, she was determined to create a better option. She founded FisheWear in 2015, with the goal of making women's fishing clothing and totes that were functional and colorful.
But she wasn't a clothing designer by profession. After college, she'd moved to Alaska and gotten into the trucking business. She became a partner at Carlile Transportation and grew that business from eight to 700 employees in ten U.S. facilities. She pitched the History Channel on the idea of featuring Carlile on a reality TV program, which resulted in the Ice Road Truckers series.
Five years ago, Leary sold off her portion of Carlile and found herself with enough free time to launch a passion project: FisheWear. "With Carlile, I'd take clients fishing a lot in the summer and sometimes organized all-female trips," says Leary. The conversations invariably turned to what the women wanted to change about the fishing outfits they were wearing.
Leary fulfilled some of those wishes with her FisheWear leggings, belts, sling packs, drybags, and trucker caps. The Italian-made polyester-elastane blend she uses for the leggings is thick enough to look flattering but thin enough to feel comfortable anywhere from Bristol Bay to Turks and Caicos. "I've worn them while tarpon fishing in Florida and found them to be really comfortable and quick-drying," she attests.
Though Leary describes herself as "not a pink person," her products look anything but dull. FisheWear leggings feature bold, swirling patterns. The groovy grayling and abstract char designs look almost Picassoan. Others, like the Floral Fish Leggings ($110), are more muted designs. "My idea was to make something that you could wear under your waders and keep on for the rest of the day as you go to dinner or go grocery shopping," says Leary. "A lot of my customers are triathletes who like the leggings for running."
Last year Orvis, a brand that's recently focused more on women's gear, approached Leary about collaborating on one of its bestselling fishing sling packs. Ever since the Orvis + Fishe Sling Pack ($89) hit the market in spring 2018, both companies have had a hard time keeping it in stock.
"There's a lot of opportunity to put a little fun into the gear, whether it's fishing or hunting, and not just make it pink," says Leary, who recently released a pheasant-feather design, her first hunting-inspired product. A salmon pattern debuted last month, and she hopes to eventually add a caribou-themed design to the mix.
She's also offering more fishing events through her Anchorage showroom, which has hosted casting clinics (with tips for experts as well as beginners), classes on painting beads for lures, and trips to Alaska's best fishing spots. "We're trying to build a community of women who want to fish and be in the outdoors," says Leary. FisheWear gives participants something they can be excited to wear.
"When you feel comfortable, it builds your confidence to go out and do things," says Leary. "Just like in the business world: how you dress matters in the way that you feel."
Lead Photo: Courtesy FisheWear