Free Cuba Now
Any time now, the world's last Communist stronghold will be open for adventure. But for an overzealous kayaker, that's way too long to wait.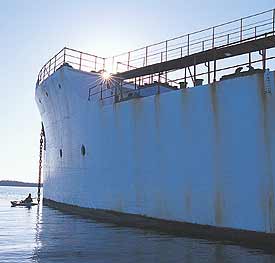 Heading out the door? Read this article on the new Outside+ app available now on iOS devices for members! Download the app.
I RAN THE KAYAK over the sand of a little cove on Cayo las Brujas, Cuba, and thought about the Chinese and the Russians. It was very early in the morning to be thinking about Russians. The sun had not yet cleared the thickets of black mangrove that hedged the bay. The sky was gray, grainy with undissolved night; it held the twilight like a fine net. The water was slick and dark, and the sand fleas, thank God, were still asleep.
After months of strenuous efforts and numerous threats of arrest, I was at last being allowed to paddle a kayak unsupervised off of Cuba's pristine northern coast. In China and in the former Soviet Union, where I'd kayaked several times on extended trips, Communist officials wanted to detain me only long enough to do some serious drinking. As I pushed the boat into the wash of a breaking wave I thought how the Russians were pliable and permissive next to the Cubans. The Chinese were absolutely laissez-faire.
I turned to Trey Barlow, a cigar-shop owner and former river guide from Colorado, who was slipping his boat into the warm water beside me.
"I feel like lights and sirens might go off any second," I said.
"I feel like Captain Kirk," Trey replied.
I knew what he meant. This was my second trip to Cuba, and it still felt as forbidding as the Delta Quadrant. A year before, I had attempted to paddle this same stretch of coast but was repeatedly denied permission by border guards who patrol the beaches like rottweilers. My written requests for a paddling permit were similarly rejected. The difficulty stemmed from suspicion of the United States and the fact that the Cuban government is a bit flummoxed by nonconventional tourism. The adventure-travel industry has worked its way into most of the least-developed nations on earth, but in Cuba, it's still an oddity. The country's highest mountain, 6,560-foot Pico Turquino, is closed to hikers because of bandidos. Pleasure boats are meticulously tracked. And though Cuba is prime for mountain biking (thousands of miles of dirt roads and several mountain ranges), rock climbing (limestone cliffs abound), scuba diving (11 world-class sites, including wrecks), and sea kayaking (thousands of offshore islands), very few foreigners come here to do any of that.
Americans hunting and fishing is a different story. It's appreciated and encouraged—Papa Hemingway is almost as iconic in Cuba as Fidel. So when Bob Walz, a gravel-voiced ex-marine who's been leading high-roller hook-and-bullet holidays to Cuba for a decade, called to invite me on his next safari, I was intrigued. "I've got two kayaks above Caibarién," he said. "I promise I'll get you in the water."
I signed on. The itinerary included a lot of cigar sampling and deep-sea fishing, which was fine with me, and some dove hunting, which I'd never done. My fellow sportsmen included a Bush family attorney, two investment bankers, Trey and his two partners in the cigar shop, and a funeral director from Providence, Rhode Island, whose clientele has included several defunct mobsters. I figured I'd finally learn how to keep a cigar burning evenly, and really, I would have joined a shuffleboard team to get in a kayak down there.
The Cubans gave us one day. A whole day to explore a section of coast I'd been eyeing for a couple of years: a hundred-mile stretch from the 400-year-old sugar port of Caibarién to the beach resort of Varadero. A few miles offshore for almost that entire length is the Archipiélago de Sabana, a chain of wild mangrove islands. The waters between the coast and the archipelago are shallow, protected from wind and waves. Beyond the keys, the water deepens, bell clear, and lobsters school so densely a freediver can easily pick up dinner. There are sand beaches cut from the thickets, and on some of the islands clusters of tall cedar trees flag freshwater springs.
The north coast is a kayaker's dream, yet no one has ever paddled it for any distance. The shore here is hot with smugglers—jet boats from Miami gunning in, under the hapless watch of the slower military boats—picking up fleeing Cubans. So the coast is jealously guarded by a fierce border patrol, which has outposts strung every 15 miles along the shore and requires that the skippers of even the smallest fishing skiffs obtain a permit before they throw a net in a bay.
Trey and I paddled north and west. The keys lay close together, braiding the water into narrow channels that now, in the windless dawn, were silk smooth. A flat bright moon hung in front of us like a Che Guevara two-peso coin, in neat counterbalance to the red sun bulging over Cayo las Brujas. As the sky lightened, the water turned mauve, roiled now and then by frenzied schools of fish. For all things cold-blooded it was time for breakfast.
We cruised past an islet cut with limestone cliffs, and the new sun threw our windmilling shadows against the chalky walls. There were no other boats or people in sight. We were pioneers, outriders, going where no kayak had gone before—until we had to return the boats at four o'clock.
"I LOVE THE EMBARGO," said Bob Walz as our bus hurtled east out of Havana. "As soon as it's lifted, it'll be an Oklahoma land rush that'll result in a lot of Cancún-like commercialism."
It was several days before we'd get to escape in kayaks, and the sportsmen were going fishing. Walz sat next to Trey in the front of the bus, his voice booming over the rattle of the engine. The 15 others, most of them badly hungover from a long night of rum and $100 Partagas cigars, lit up morning stogies. I was awed by their stamina.
Walz is lumbering, white-bearded, with the red and richly corpuscled face of a conscientious drinker, the sort of man who signs his e-mails "Be seeing you, Old Boy." He's got the living-on-borrowed-time charisma of a disenfranchised nobleman, and he's a magnificent storyteller. He was in one of the early battalions of marines sent into Vietnam, where he fought one extended tour. His mother, Pat, followed him there in 1967 to write a series of acclaimed articles for the Associated Press called "War Is for Mothers." After the war, Walz worked for a time as a labor relations-manager at a container-ship company in the Bay Area, and then opened two contemporary-art galleries in Seattle, one of which was the first to exhibit John Lennon's erotic-lithograph series in 1982. He's been to Cuba 212 times. He's lunched with Castro.
We drove along the coast, past Cojimar, where Hemingway kept his boat, the Pilar, and jostled down a rough road through the settlement of Tarara. Rows of small brick bungalows marched beneath the palms, and our pretty government interpreter, My Lai—named after the Vietnam massacre—explained that Castro had built them to house orphans from Chernobyl. We crunched down a crushed-shell drive to a low concrete building at the water's edge, whitewashed and blinding in the early sun. A dock lined with 35-foot fishing boats jutted into a sheltered cove.
Apparently, paying guests were a rarity at Marina Tarara, because a group of important-looking Socialists was waiting for us on the covered terrace. They sat at a long table in business clothes and introduced themselves. There was the director of the marina, the provincial director of sportfishing, the local director of tourism, and several others whose Spanish titles I didn't understand. The director of the marina stood and announced that since we were such special guests, we would not just go fishing, we would have a marlin tournament. He smiled and paused for the applause. Most of the guys were still in a stupor, so it took them a second to respond. There would be four boats, the director explained, and we would use 80-pound test. There would be prizes for the boat that caught the biggest fish, as well as for the boat that caught the most fish. We would have three hours. Captains, start your engines!
Toto, my captain, headed straight out several miles until the coast blurred into a green line and we could see the point of El Morro, a fortress guarding Havana Harbor. The tall downriggers vibrated, and the big squid lures churned the water white. I love to fish, anywhere, and it was good to be on the open ocean. Sometimes I could make out Trey, in another boat, moving excitedly about the stern.
I asked Toto if he ever thought about sailing straight on, to Key West. He shrugged. "I have my work here, and my family," he said. "Also, there are already many private fishing boats in Miami." He said that sometimes he comes upon the empty rafts of the balseros, Cubans attempting the crossing, and he feels sad. I asked him what happened to the people on the rafts and he shrugged again. "Storms. And tiburnes, sharks. And maybe a bigger boat has picked them up," he said hopefully. According to Toto, about 30 percent of the balseros make it to Florida alive.
The Gulf Stream out here is a dark, rich blue; it takes the sunlight deep and holds it. I could look into it all day. But now we were fishing. Toto headed for a squadron of circling birds and told me that it was a good day for marlin and that we should have some luck. We didn't. We trolled for two hours without a hit. Then I heard the boat's mate, Jorge Luis, shout, and I clambered back to the stern. In the bright sunlight I could see the blue and yellow shadows of a school of dorado. Jorge Luis frantically baited a hand line and threw it astern. I did the same. We each hooked a fish and hauled them in. They were a couple of feet long and iridescent aquamarine. As they died, their color faded. Jorge Luis landed a small pargo. Trey's boat chugged up alongside us, and I watched Trey madly baiting and throwing hand lines. He whooped when he got a dorado. It wasn't a 500-pound black marlin, but it was a fish.
As we docked the boats, a five-piece band struck up loudly on the terrace. The directors and a dozen of the marina staff waved at the rail. We jumped ashore and hung our four little fish at the top of the dock. The Cubans were immaculately polite as they presented our prizes: more rum.
Back in Havana, the sportsmen disbanded to nap and prepare for another evening of carousing. Our group stayed at the Hotel Nacional, the grand old hotel of Havana, and the vaulted, marble-tiled lobby looked like a mini United Nations. Adventure travel may not have arrived in Cuba, but old-time tourism is flourishing. Havana teems with Italians, Norwegians, Germans, Dutch. An estimated 173,000 Americans come every year, flouting the embargo. Lanky Russian fashion models on photo shoots mingled at the hotel with Japanese businessmen and Spanish debutantes. A fleet of new black Mercedes taxis, along with Batista-era Cadillacs and Chryslers, waited for tourists out front. A block away at the Bar Sofia, a line of teenage girls were selling themselves for $30. Since monthly food-ration coupons usually last for just 15 days and monthly salaries are rarely more than $20, many Cuban daughters turn to prostitution to help their families get by. Some of the sportsmen didn't seem troubled by that at all, and after dinner would regularly partake of this final course.
"I'm married," said one of the sportsmen, "but now I've got a Cuban 'wife,' real young. And anyway, I think my wife knows what I'm doing down here."
FROM OUR NEW BASE of operations at Cayo las Brujas, there was one more item on the sportsmen's itinerary before Trey and I could get in the kayaks: dove hunting. Five of us piled into taxis along with five camo-clad guides and a hunting dog that curled up and slept on the floor of the backseat. We climbed a rough dirt road into the foothills outside the city of Santa Clara and parked at a small clapboard farmhouse. The dog, Pedro, hopped out of the car, and he and I took a long leak against a fence post. Above rose a pastured hill strung with cattle; below, the fields rolled away to the jungled ridges of the Escambray Mountains.
"There's a lot of remote Cuba that is really unknown to most people, reserves and natural areas that basically exist untouched and that are awaiting discovery by foreigners," says Al Read, executive vice-chairman of Geographic Expeditions, one of the largest adventure outfitters in the United States. Read says that his company is "sniffing around" in Cuba, laying the groundwork for cultural exchanges and post-embargo trips. "We like to be on the cutting edge, and we look forward to running trips there. It depends, of course, on how the Cubans handle it."
Armando Menocal, a world-class Wyoming climber who's been helping the Cuban rock-climbing community get off the ground, agrees. "The embargo isn't really the issue; it's the Cuban concept of tourism," he says. Menocal, whose parents are from Cuba, spent nearly two years getting the proper permits to lead hiking tours around the country. "To their ministry of tourism, tourism means building a resort hotel. Or they'll build one trail. They have a massive bureaucracy. In general, their attitude with regard to most of their natural areas is that if it has any importance, it's closed. Only recently are they realizing that with guides they can open places up to Cubans and foreigners."
I looked over at the jovial, free-spending sportsmen loading their guns in khakis and polo shirts, and thought how this was an unlikely way to launch adventure travel in Cuba.
Pedro was sitting 30 feet away in the stubble of a rice field, staring at me, waiting for me to get my act together and shoot a bird. He was black and exactly the size of a 200-cigar humidor. His upper lip was stuck on a tooth, which gave him a quizzical expression. Every time I missed a bird he blinked once and trembled. "Perrito," I murmured. "You are being unreasonable, almost indecent. A man must have a first time." This is the way Hemingway used to talk to his Havana cats, but it meant nothing to the dog. In the taxi to the campo, speeding past miles of sugarcane fields, my guide, Rolando, explained that Pedro was one of the best upland hunting dogs in Villa Clara province. He said he was half cocker spaniel.
"What's the other half?"
"Cuban."
Despite the pressure the dog was putting on me and the fact that a dove doesn't act anything like a clay pigeon, the only other flying thing I'd shot at in my life, I was happy. The warm air smelled of burning grass. The sun was going down behind me. It threw a smoky light on the rolling pastures, the hedgerows of wild peas and orchids, and the gray trunks of the royal palms. Palomas, mourning doves, rose in waves and cut across the slopes like volleys of arrows. They were fast and beautiful.
Rolando whistled. I looked uphill and two birds swooped out of the sun. I mounted, swung the gun on the first dove, and fired. The dog knew I had a hit before I did: He was already airborne and bounding over the rough furrows. When he brought the bird back it was limp and still warm. A breeze ruffled the feathers of its soft neck. This is no different from fishing, I thought, as I held the bird in my hand. A small life for part of a meal. But the warmth of the bird, the concentrated beauty of it, the fact that it had just been flying—it was different. I wasn't sure if I would ever do it again.
TREY AND I PADDLED ON. The climbing sun was heating the morning, and I took off my shirt. Still no breeze. The early commotion of feeding fish had quieted, and nothing moved on the slick of the water but our curling bow wakes. The little green islands squatted on the sea in the blurred aureoles of their own reflections. No one was out here, no fishermen, no cruisers. Any other islands like these in the Caribbean would be crawling with yachts. How long they'll remain this way is anybody's guess. Back at Cayo las Brujas we were staying in a string of 24 new luxury cabins, and there were no other buildings we could see on any of the islands. But an airstrip has been carved out of Brujas's mangrove big enough to handle 747s, and a tourism director for Villa Clara province told me that the government has plans to build 20,000 "ecologically responsible" units in this part of the archipelago. So far the runway lay fallow, and the rooms were only on paper.
We paddled hard, not talking, hearing only the water on the hulls and the steady plash of the paddles. With each stroke, drops sprayed from the lifted blades and I could taste salt. We passed close to a key, under the leaves of the mangroves, and along the tangle of exposed prop roots. Beneath us, long strands of seaweed trailed after the tide like grass bent to a wind. I wanted badly to keep going, to make the crossing to the next group of islands and keep heading west. I could almost imagine that we'd already been out for days, that we'd just left a midden of fire-scorched crab shells on a beach behind us.
We finally turned the corner of the farthest island in the string and headed for open water. There, ahead of us, snugged to its anchor chains like a lifeless key, floated a 400-foot, white-hulled cargo ship. I'd heard about it. The San Pasqual had been here, abandoned by its owners, for nearly 70 years, one of the first concrete-bottomed ships. It was a dog: In the late twenties it had taken six months to sail from San Diego to Cuba, and the owners were so disgusted they left it to the mercy of the tides. We paddled close, down along the curving white cliff of its hull. There were rusty steps down to the water, and we tied to them and climbed aboard. To our great surprise, a young man greeted us on deck and led us down to the saloon. We stepped through the door and in the dimness made out tables, a bar, a glass case. The case was filled with antique travel games, backgammon and checkers. Packs of Winston cigarettes sat in a rack behind the bar. I walked through another doorway to the dining room. Ten tables were set for a formal dinner. On the wine cart, bottles of merlot and pinot grigio lay propped across the stems of artfully overturned wineglasses. In the belly of each glass was a flower petal. I came back to the bar, where Trey had ordered us double espressos.
"Who comes here?" I asked the man. He shrugged. "Nadie. Nobody comes here now. Would you like to see the cabins?"
Trey and I stepped out onto a steel gangway and sipped our coffee. I thought how Cuba slips always from the grasp. Lovelier than the rainbowed dorado, more elusive than the doves. The man was waiting for something—something to happen, something to change. His ship, like his country, floated in a warm sea, neglected and left for nearly dead. He said the government planned to make the boat a scuba center one day.
To the north, billows of cumulus were beginning to pile over the Gulf. In a few hours it might storm. Trey and I thanked the steward and got back into our boats and paddled away. Before we rounded the island I looked back and saw the white ship on the blue water, and the young man watching us from the rail.