Heading out the door? Read this article on the new Outside+ app available now on iOS devices for members! Download the app.
In the nearly 30 years I've been hiking, biking, skiing, climbing, and kayaking, I've gone through a lot of gear. Most of it has been pretty good (like my Eureka Sentinel tent of a dozen years ago—heavy, but sturdy and roomy). Some of it has been pretty awful (like the coated nylon rain pants that turned my lower body into my own private sauna). And some of it included things I almost couldn't live without—my favorite things, as it were. For the next ten days, I'm going to tell you about ten of these favorite things—with price tags ranging from cheap to pretty expensive— that make my outdoor life easier, more pleasant, and more comfortable. And here's the best part: each day, I'll introduce my backcountry must-haves, and you will have the chance to win! On Day One we'll give away 10 of that particular item; Day Two, nine, and right on down to the last day when there will be ONE deluxe item to give away.
So, come back every weekday between December 1 and 12 to see what my favorite things are, and what you'll have a chance to win!
Steals & New Trips
STEEP AND CHEAP
From December 6 to April 4, Teton Mountain Lodge is offering the appropriately named Skier's Dream package. Starting at $550 per person (based on double occupancy), two people get five days of lift tickets at Jackson Hole Mountain Resort, accommodations at the four-star slopeside Teton Mountain Lodge, and hearty buffet breakfasts at the Cascade Grill House & Spirits—for fueling up before hitting those 4,139 vertical feet of terrain. Seven-night packages starting at $782 are also available. Blackout dates may apply. Contact: 800-801-6615, www.tetonlodge.com
IT PAYS TO BE SINGLE
Looking for an island cruise, but the words "based on double occupancy" make you cringe? General Tours feels your pain. Through March 2004, the company is throwing out the single supplement on its weeklong "It's Time to Go! The Galápagos" cruises on the Galápagos Explorer II. The price, starting at $2,599, including airfare from Miami, can save solo travelers as much as $1,200. You'll snorkel near San Salvador Island, hike Bartolomé Island's Pinnacle Rock, and visit Isabela Island's Giant Tortoise Breeding Center. Contact: 800-221-2216, www.generaltours.com
WINTER ROUNDUP
Hold on to your saddle—RanchWeb.com has corralled three December ranch retreats for nearly half the summer price. Go on horseback-riding trips in the Great Smoky Mountains at the French Broad Outpost Ranch, in Tennessee, or relax in the White Stallion Ranch's casitas at the foot of Arizona's Tucson Mountains, where longhorn cattle stir up dust. And if you like to snowshoe as much as you like to gallop, try Dome Mountain Ranch, which sits on 5,000 acres 20 minutes north of more than 1,100 miles of trails in Yellowstone National Park. Special weekly rates range from $600 to $2,100. Contact: www.ranchweb.com
NEW TRIPS
MONA FOR YOUR MONEY
In December, Florida-based Nekton Diving Cruises adds Puerto Rico's Mona Island to its itinerary with a seven-night scuba voyage on the spacious 17-cabin Nekton Rorqual. Called "the Galápagos of the Caribbean," the nearly uninhabited island, which lies 50 miles west of Puerto Rico, is home to several threatened and endangered species, including the giant Mona Island iguana and the leatherback sea turtle. Cruises to Mona cost $1,495 per person. Contact: 800-899-6753, www.nektoncruises.com
SmartWool Hiking Socks ($16; www.smartwool.com)
Socks are socks, right? A liner sock, something over that, then boots. Wrong. All socks are not created equal, as the SmartWool folks proved when they introduced their first wool socks in 1994. They were an instant revelation—a sock that kept your feet warm when it was cold, cool when it was warm, dry when you were sweating.
The secret: Little pores in the merino wool fibers used in SmartWool socks. These pores are excellent multi-taskers. When you sweat, they soak up moisture, keeping your skin dry to reduce blistering and even smelly feet (damp skin is a perfect breeding ground for stink-producing bacteria). When it's cold, the pores trap insulating air, keeping your feet warmer. Plus, SmartWool's merino is soft, durable, washable, and long-lasting.
I first tried a pair in 1998 or so, wearing them on an eight-mile hike with a new pair of boots. I even put to the test the SmartWool claim that no liner sock was needed. I was instantly sold. Now basically ALL my outdoor socks are SmartWool—for hiking, climbing, bicycling, skiing, you name it (for hiking, though, I do tend to still use a wicking lining sock).
Want your own pair of SmartWool Hiking Socks? ENTER our sweepstakes contest for your chance to win today's prize: one of ten pairs of SmartWool socks. And, check back tomorrow to see what's next in the Gear Guy's rundown of the all-star Hall of Gear!
 
GSI Lexan Java Press ($20; www.gsioutdoors.com)
Each September, for almost a decade now, my brother Rich and I head off on a multi-day bicycle tour. We've trekked across much of Oregon, Washington, and Montana, pedaled up 4,000-foot mountains, and had more flats than you can count.
Sometimes, after a long day in the saddle and a mediocre night's sleep, it's a little hard to get moving in the morning. What's called for is a good cup of coffee. But average camp coffee is more like industrial sludge—dark, warm, and full of flavors you don't really want. Of course, aficionados know that French-style coffee presses produce the best-tasting coffee outside of a $4,000 espresso machine. But most are made of glass—not a good thing to haul in a pack or pannier. Some companies also make small coffee strainers that fit into a cup. Sure, these are OK, but they're certainly not suited for more than a cup or two at a time.
Solution? The GSI Lexan Java Press. This clever little gadget is light (12 ounces), sturdy (it's made of a near-bulletproof plastic), and best of all makes the finest camp coffee on the planet. A little ground French roast, three or four cups of hot water, and a minute later we're in coffee heaven. The Java Press even has an insulating neoprene jacket so the coffee stays hot while it brews on a cold morning in Yellowstone.
Now, our biggest bicycling problem is hitting the road in the morning. It's just too tempting to stay in camp for one…more…cup.
Want your very own 33-ounce version of the GSI Lexan Press? ENTER our sweepstakes contest for your chance to win. And, check back tomorrow to see what's next in the Gear Guy's rundown of the all-star Hall of Gear!
 
The Sporty 40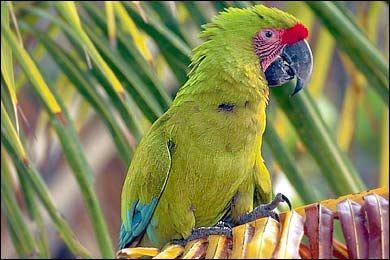 13. Trek An Almost-Impossible Trek
Parque Nacional El Imposible, El Salvador
Southwestern El Salvador's Parque Nacional El Imposible takes its name from the days when coffee growers traversed its clifftop trails to get their bean-laden burros to market—El Imposible was a 300-foot-deep chasm spanned by a tree-trunk bridge. The logs routinely broke, sending burros, men, and tons of coffee tumbling to their end. When the Salvadoran government finally erected a bridge over the gap, it also put up a sign reading: In 1968, it ceased to be impossible.
That sign might better read, "It's not impossible, but it still ain't easy." To tour the park you need a permit, a guide, and solid grounding in the Salvadoran transportation triathlon: bus, pickup truck, feet. A bus takes you from the provincial city of Sonsonate to the crossroads village of Cara Sucia, where you'll ride eight miles in the back of one of the pickups that go twice daily to the tiny settlement of San Miguelito, near the park's entrance.
Your prize for arriving: a 12,000-acre maze of mountains and ridges encompassing three forest types—though Yankee visitors blinded by the iridescent green foliage may not discern between them. El Imposible is home to a stunning array of biodiversity—some of the nation's rare virgin tropical rainforest, an estimated 400 types of trees, 500 varieties of butterflies, nearly 300 species of birds, and endangered mammals including the jaguar and the margay cat. The best hike is a two-hour trip to the top of 3,600-foot Cerro Leon, where you can glimpse the trail that gives the park its name.
DETAILS: Salvanatura (011-503-279-1515, www.nps.gov/centralamerica/salvador/cabeza.html), the organization that administers Parque Nacional El Imposible, arranges permits ($5) and guides ($3).
—TIM F. SOHN
14. The Caribbean As It Once Was
Little Corn Island, Nicaragua
Nicaragua is one of the few countries in this hemisphere that doesn't have its own Lonely Planet guidebook. Note to the book's eventual editors: Check out the diving off Little Corn Island. The country's sole PADI-listed dive center, Dive Little Corn, is on this one-square-mile island 50 miles off the Caribbean coast, surrounded by pristine coral reefs and vibrant sea life protected by responsible harvesting practices.
Within three minutes of sticking my mask into the translucent azure water off White Holes, I saw black-tip reef sharks, manta rays, barracuda, and more yellowtail than you can shake a speargun at. (Charter a deep-sea fishing boat if you want to bag some mahi-mahi.) Don't sweat it if you're not a hardcore dive fan—Little Corn is more than just a pretty reef. The Creole-flavored and English-speaking former British protectorate, a ten-mile panga ride north from its sibling, Big Corn Island, has largely escaped Nicaragua's troubled political past. It's a laid-back place to experience the Caribbean as it once was, without motor vehicles (not allowed), telephones, ATMs, or tourist shops.
Casa Iguana and its nine breezy pastel casitas, with their own bleached-white beach, are the antidote to the energy-sapping diving. Once you've freshened up in your outdoor rainwater shower, gaze out from your porch at the blue sea. At dusk, wander along the beach and pick any of the waterfront restaurants. Belly up to a plate piled with lobster, yellowtail, and fried plantains—all for about $6.
DETAILS: Rates at Casa Iguana (www.casaiguana.net) range from $20 nightly for an efficiency with shared bath to $75 for a secluded Grand Casita. Dive Little Corn (www.divelittlecorn.com) offers a five-tank dive package, including a night dive, for $165.
—TOM PRICE
15. Hot, Hot, Hot Springs
Arenal, Costa Rica
So you're flitting around Central America, moving from surf break to village mercado to jungle ruins—the whole circuit. Odds are, sooner or later you'll end up near Volcán Arenal, in the rugged center of Costa Rica. You want to get close to the 5,400-foot cone to see the crimson lava, but why chance it? There's a safer, more indulgent perch from which to enjoy the light show than the trails in Parque Nacional Volcán Arenal: a spot in the natural hot springs that flow down Arenal's flanks. The most magical soaking occurs after nightfall at fancy Tabaón Resort, eight miles outside Fortuna, on the road to Arenal. Tabacón isn't a surprising diversion, but it is a fun one: Nowhere else on your trip will you find 12 different pools of hot mineral water (80-102 degrees), waterfalls, and a water slide, all backed by minor volcanic explosions.
Pay $19 at the door, claim your towel and locker, then sample all the springs at the sprawling hillside resort, built with Arenal as a fire-breathing backdrop. At night the place has an aura: part exotic bath, part water theme park, part Hollywood fog machine. See plump Eurotravelers in their Speedos. Try a volcanic-mud-mask spa treatment. And be careful on those slippery stairs!
There's no point in indulging if you can't gloat, so swim over to the kitschy bar in the middle of the largest pool, sit half in the water drinking Imperials, and write some postcards that read, "Just another lousy day on the road . . ."
DETAILS: Several lodges and motels are clustered in Fortuna, or stay at the 83-room Tabacón Resort (doubles from $140; 011-506-460-2020, www.tabacon.com). A mud-mask treatment costs $28.
—JANINE SIEJA
16. Whitewater by Candlelight
Pacuare Lodge, Costa Rica
The split second it takes to translate a Costa Rican river guide's ¡Al suelo! to "Hit the floor!" is more than enough time for the raft to drop into a Class V hole, fold in half, and spit its slow-thinking, English-speaking contents head first into the Pacuare River. Fortunately, it's a warm one, and gentle between the rapids.
No roads lead to the Pacuare Lodge, only the river, known for its tendency to swell from a Class III-IV to a Class IV-V in the course of a single overnight rainstorm. Situated an hour and a half from the put-in near the village of Tres Equis, the lodge sits on a five-acre riverfront clearing, cut back in the 1940s for agriculture. But the rest of the lodge's 60-acre property still contains thousands of 50- to 80-foot-high palms. Naturalist guides can take guests hiking on centuries-old paths or gliding on sky-canopy cables connected to platforms in trees filled with green macaws. Wooden huts with thatch roofs and covered porches are scattered around the main building, where an upstairs open-air lounge serves as the bar. Happy hour means juice and Cacique Guaro, the Tico brand of moonshine that doubles as insect repellent. After a candlelit dinner of snapper with wild mushroom sauce in the dining room, flashlights lead the way to bed.
DETAILS: Overnight trips, with meals, lodging, and rafting gear, cost $259 per person through Pacuare Lodge (800-514-0411, www.junglelodgecostarica.com).
—K. L.
Manzella TEC-850 gloves ($50; www.manzella.com)
This past July, I was climbing Mount Rainier with a friend and two of his buddies. I was the unofficial "guide," a title accorded me due to my 20 previous summit efforts (proof that the human body can forget discomfort, pain, and that interminable hike from Camp Muir to the parking lot, visible every step of the way but still oh-so-far). After a pleasant two days on our approach and high camp at 11,000 feet, the weather turned. By the time we'd hit 12,000 feet, winds were blowing at perhaps 30 to 40 mph, with gusts even higher. At 13,500 feet we were hard-pressed to keep our feet. Temperatures, meanwhile, plunged into the teens, exacerbated by the wind. We were layered up like soccer moms on a rainy November day.
That is, except for my hands. I had packed along a brand-new sample of the Manzella TEC-850 gloves, made with Power Shield from Malden Mills (makers of Polartec). Despite the wind, despite the cold, despite gripping the freezing metal handle of my ice ax, my hands were warm and dry. "This cannot be," I kept saying to myself, doing a quick mental inventory to make sure I'd also packed my usual assortment of glove liners, insulating gloves, overmitts, and so forth. I'd packed all those things, but I never needed them.
We didn't summit—the wind just got too bad. But I'd found a pair of gloves that probably are suitable for 90 percent of the times when gloves are needed. The TEC-850s are almost entirely windproof, remarkably warm for their lack of bulk, water resistant, and nimble enough to let you pick up a coin or thread a climbing harness. They're tough, too, and their grippy palms help you keep track of your ice ax. In short, they're wonderful.
For your chance to win one of these indispensable Jack-O-all-trades, ENTER YOUR NAME into our sweepstakes contest. And, check back tomorrow to see what's next in the Gear Guy's rundown of the all-star Hall of Gear!
 
Backpacker Outback Oven ($68; www.backpackerspantry.com)
When climbing Denali with my friend Tim in 1997, we enjoyed something nobody else had at the crowded 14,000-foot camp: fresh-baked banana bread. How? With my trusty Outback Oven. This gadget, out now for close to 15 years (the idea came to its inventor when he was struck with a pizza craving during a round-the-world bicycle trip), turns your camp stove into a convection oven essentially capable of baking anything you can bake at home. Biscuits. Brownies. Pizza. Frittatas—literally, anything. Its base unit also makes a handy non-stick skillet.
True, learning to use the Outback Oven is a little tricky. It works by trapping heat from the stove under a reflective, insulated hood. A heat shield beneath the pot helps distribute the stove's heat and also prevent the bottom of your baked item from scorching. But in windy conditions the top of the oven may not heat properly. It's easy, meanwhile, to burn the bottom of whatever is cooking. And, taking the lid off for a quick peek sets the whole process back by five to ten minutes while the oven heats back up.
Learning curve aside, in reasonably skilled hands—mine, for instance—the Outback Oven utterly redefines the concept of outback "dinner time." Backpacker's Pantry, which now manufactures and sells the Outback Oven, sells a variety of pre-mixed items for it. But, I say, it's more fun to adapt recipes from home and show a little inventiveness.
Win one of these bodacious little ovens by ENTERING YOUR NAME into our sweepstakes contest. And, check back tomorrow to see what's next in the Gear Guy's rundown of the all-star Hall of Gear!
 
The Sporty 40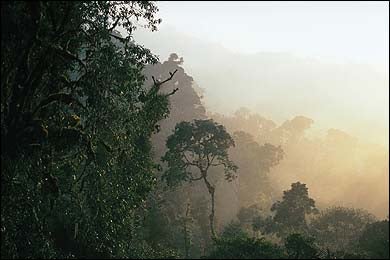 17. Forest Plump
Monteverde Cloud Forest Preserve, Costa Rica
Thank some conscientious-objector Quakers from Alabama, fleeing the draft in 1951, and a group of scientists trying to save the golden toad in the early 1970s for creating the granddaddy of all ecotourism destinations, in the Cordillera de Tilarán. Today the fruit of their labors, the 25,000-acre Monteverde Cloud Forest Reserve, is Costa Rica's prized park, with well-maintained trails, more than 400 species of birds—from emerald toucanets to orange-bellied trogons—and a bevy of mammals. (Don't miss the lively guided walks nightly at 7:30 p.m. for a chance to glimpse orange-kneed tarantulas.)
The result of Monteverde's popularity is a blanket of neighboring reserves at varying elevations—and different ecosystems—south of Volcán Arenal in north-central Costa Rica. Adjoining Monteverde is the much larger but less visited 50,000-acre Bosque Eterno de Los Niños, established with money raised by schoolchildren around the globe, known for its waterfalls and rainforest hikes. There are two smaller attractions nearby: The Santa Elena Cloud Forest Reserve straddles the Continental Divide, and has eight miles of trails and an above-canopy observation tower; El Jardin de las Mariposas is home to 750 types of butterflies, including zebra longwings and blue morphos, and banks of feeders that draw 26 species of hummingbirds. Both reserves are along the three-mile road between Monteverde and the town of Santa Elena.
DETAILS: Monteverde Cloud Forest Preserve (011-506-645-5122, www.cct.or.cr/monte_in.htm) prefers reservations and offers a tour ($12 per person entry fee, plus $15 per person for a day tour, $13 at night). Three miles west of the reserve on the main road, El Sapo Dorado (doubles, $84-$99; 011-506-645-5010, www.sapodorado.com), named for the famous golden toad, has mountain-view bungalows with terraces.
—AMY MARR
18. Horseshoe Haven
Punta Uva, Costa Rica
At the southern edge of Costa Rica's Caribbean coast, paradise takes the form of a five-mile horseshoe of white sand framed on one side by sparkling aquamarine water—a comfortable 82 degrees year-round—and on the other by coconut palms and mango trees backed by tropical green mountains. Waves break on colorful coral that extends nearly two miles offshore, but that hardly disturbs the peace: They're of the small, perfect-for-bodysurfing variety. (Punta Uva, after all, translates to Point Grape, not Point Break.)
Here, in one of the most biodiverse places on earth, you'll see howler monkeys, sloths, green parrots, butterflies, lizards, birds, and—with the help of a snorkel and a mask—an abundance of marine life. Besides diving and snorkeling, you can also kayak with dolphins or go on an epic bird-spotting mission in the 12,000-acre Refugio Nacional Gandoca-Manzanillo, a maze of tropical rainforests and mangrove swamps that are home to some pretty wild things.
DETAILS: Planted right on the beach, Cabinas Punta Uva (doubles, $40; 011-506-750-0431, www.puntauva.com) has ocean views that will make you want to jump right in. Each of the four garden bungalows has a tiled bath and a hammock-strewn deck. And if you fall under the spell of this slice of beach heaven, you can cut a deal on a weekly rate—$210.
—T. F. S.
19. Where the Jaguars and Quetzals Roam
El Sendero de los Quetzales, Panama
"Copa de oro," repeats my taxi driver, Danilo, on the way to the trailhead for El Sendero de los Quetzales, an extraordinarily steep five-mile hike through the cloudforest of western Panama's Parque Nacional Volcán Barú. It's his descriptor of choice for the region surrounding the village of Boquete, in the heart of the Chiriqui Highlands. And why not call it a cup of gold? This forest is a nesting habitat for at least 200 breeding pairs of the path's namesake, the turquoise-backed, crimson-breasted resplendent quetzal.
But the quetzals are only one of the highland region's treasures. In Parque Internacional la Amistad—half a million acres straddling the Talamanca range—live 400 bird species and native megafauna like jaguars, tapirs, spider monkeys, and harpy eagles. Also here are trout-rich streams and the headwaters of the Chiriqui and Chiriqui Viejo rivers, whose Class III rapids are frequented by Boquete outfitters.
Check in to the clean, spacious Pensi-n Marilos, near the town square in Boquete, and then wander a block to Café El Punta de Encuentro to try the addictive mango licuados and get another ringing regional endorsement from the proprietor, Olga Rios, who will sigh and tell you, "Boquete is like no other place in the world."
DETAILS: Rooms at Pensi-n Marilos (011-507-720-1380, marilos.freeyellow.com) cost $15. Chiriqui River Rafting (011-507-720-1505, www.panama-rafting.com) charges $75-$100 per person for half-day trips on the Chiriqui or Chiriqui Viejo.
—JEFF HULL
20. Dive Inn
Bocas Inn, Panama
Pulling up to the dock at the Bocas Inn, in Bocas del Toro, I wondered—for about 30 seconds—whether we'd made an enormous mistake. Could we have waited eons for a ferry and then crossed the open seas in the tiny fiberglass skiff only to wind up at a harborside lodge wedged into a ramshackle waterfront? Not on your life. Within minutes we were diving off the inn's porch into bay water as warm as a bath. Within days, we were completely seduced.
In the middle of Bocas del Toro, a funky expat town on Isla Colón, Bocas Inn is a two-story, aquamarine clapboard building with a restaurant and seven guest rooms, two of which open onto a breezy balcony strung with hammocks. Wake up, pad barefoot down to a breakfast of scrambled eggs, mangoes, and dark Panamanian coffee, then pay a boatman to speed you and your snorkel out to coral gardens to commune with queen angelfish. Or head out to surf mellow, chest-high peelers as they roll off the reefs. The best adventure we found? Catching a water taxi out to a series of thatch-roofed cabanas built over a glassy snorkeling spot known as Coral Key. Cervezas and Frescas cost $1 at the dock's mint-green snack bar. Hang there for hours, making like a fish or doing pretty much nothing at all.
DETAILS: Doubles at the inn, run by Ancon Expeditions (011-507-269-9415, www.anconexpeditions.com), cost $65 per night; meals and activities are extra.
—KIM BROWN SEELY
The Sporty 40
The Rest of the Best
1. Mata Chica Beach Resort, Belize
On a sun-bleached caye off the northern coast, Mata Chica seduces the senses with 14 thatch-roofed beachfront villas, aromatherapy massages, and shrimp paté.
DETAILS: doubles from $190, including breakfast; 011-501-220-5010, www.matachica.com
2. El Murmullo de La Casa Que Canta, Mexico
If you're in Zihuatanejo and looking to splurge, this four-suite villa—built into a black cliff above the Pacific and opened in 2002—is it.
DETAILS: Eight people can rent the villa for $280 per person per night; 011-52-755-555-7000, www.elmurmullodelacasaquecanta.com
3. Parque Nacional Darién, Panama
Hike and paddle dugout canoes through this 1.4-million-acre UNESCO World Heritage Site to see monkeys, ocelots, jaguars, and tapirs. Ancon Expeditions offers a 14-day trip.
DETAILS: $2,495 per person; 011-507-269-9415, www.anconexpeditions.com
4. Hotel Deseo, Mexico
The 15 elegantly minimalist guest rooms in this Playa del Carmen hideaway are the grooviest on the Mayan Riviera.
DETAILS: doubles from $128; 011-52-984-879-3620, www.hoteldeseo.com
5. Turtle Inn, Belize
Tucked into a palm forest on the south Caribbean, this cluster of Balinese-style cottages is an hour's drive from the jaguars in Cockscomb Basin Wildlife Sanctuary.
DETAILS: doubles from $175; 800-746-3743, www.turtleinn.com
6. Abastos Market, Mexico
Chocolate with almonds and mescal are two treats to be found at Oaxaca's open-air mercado.
DETAILS: www.oaxacaoaxaca.com
7. Canopy Tower Ecolodge, Panama
From your treetop-level bed at this eco-lodge in Soberan'a National Park, you'll wake up eyeing purple-throated fruitcrows.
DETAILS: doubles from $200, including meals; 011-507-264-5720, www.canopytower.com
8. Tarpon Fishing, Costa Rica
You'll reel in 100-pound monsters at the mouth of the Río Colorado. Base yourself at the Río Colorado Lodge.
DETAILS: $400 per person per day; 800-243-9777, www.riocoloradolodge.com
9. Puerto Escondido, Mexico
The "Mexican Pipeline" is a legendary break with left- and right-hand tubes at Zicatela Beach.
DETAILS: Rent boards from Central Surf Shop ($10-$12 per day); 011-52-954-582-2285, www.centralsurfshop.com
10. Río Indio Adventure Lodge, Nicaragua
Catch a lunker (tarpon, snook, mojarra, or machaca) with your Rama Indian guide offshore from this Caribbean eco-lodge.
DETAILS: Three-day fishing packages start at $1,795; 866-593-3176, www.rioindiolodge.com
11. Cabo Pulmo Eco Villas, Mexico
Spend a week 500 steps from the Sea of Cortez at this casita compound and help the enviro group Amigos para la Conservación de Cabo Pulmo (619-723-0700, www .propeninsula.org gather data on endangered turtles.
DETAILS: Baja Bungalows has five casitas from $50 to $140; www.bajabungalows.com
12. Selva Bananito Lodge, Costa Rica
This 11-cabin property near Porto Lim-n has serious eco bona fides: It relies on solar-heated water, recycles gray water, and stocks organic soaps made by a local co-op.
DETAILS: $100 per person per night includes all meals; 011-506-253-8118, www.selvabananito.com
13. Hotelito Desconocido, Mexico
Sixty miles south of Puerto Vallarta, Desconocido has 29 plush yet eco-friendly bungalows: Think Mexican fishing village meets luxury safari camp.
DETAILS: doubles from $230; 800-851-1143, www.hotelito.com
14. Danzante, Mexico
Twenty miles south of Loreto and a quarter-mile up a hillside from Ensenada Blanca beach sit nine casitas. The solitude might scare your average American, but watch one lazy sunset from the terrace and you'll be fine.
DEATILS: $135 per person per night; 408-354-0042, www.danzante.com
15. Centro Neotrópico Sarapiquís, Costa Rica
Paddle the frothy Class IV rapids of the Río Sarapiquí, in the central part of the country, and unwind in the breezy bar or in your refined palenque at day's end.
DETAILS: doubles from $72; 011-506-761-1004, www.sarapiquis.org
Marmot Arroyo ($259; www.marmot.com)
What packs down the size of a small cantaloupe, weighs less than two pounds, and keeps me warm from sea level to 11,000 feet on Mount Rainier? My Marmot Arroyo sleeping bag. Since I got my Arroyo five years ago, it has been my bag of choice for just about any trip where the temperature doesn't go too far below freezing. But even if it does, the Arroyo's 30-degree rating is plenty conservative, especially if I add a layer of long underwear. And like other Marmot products, the Arroyo is beautifully made.
The latest version of the Arroyo uses high-quality 800-fill down to make a durable and soft bag (faithful Gear Guy readers know I much prefer down over synthetic fill, largely due to its greater comfort). The lining and shell are equally luscious—silky fine-weave nylon that is treated for water-repellency. The Arroyo's mummy shape is snug but not confining, and a close-fitting hood helps keep my head warm on chilly nights. These days, of the half-dozen bags I own, the Arroyo is just about always the one that goes in the pack.
Three lucky readers will have the chance to win their very own Marmot Arroyo! For your chance to win, ENTER YOUR NAME into our sweepstakes contest. And, check back tomorrow to see what's next in the Gear Guy's rundown of the all-star Hall of Gear!
 
Salomon Super Mountain Expert Boots ($300; www.salomonsports.com)
Plastic boots are great for glacier climbs such as the big, snowy peaks we have in the Pacific Northwest—Mount Rainier, Mount Baker, Mount Hood, and others. They're warm and waterproof and hold a crampon well. But they're also heavy, clunky on the trails, and, if you have to scramble or climb over little rocks, they have as much foot feel as concrete overboots.
In recent years, several bootmakers have designed "hybrid" boots that combine the wet-condition advantages of plastics with the greater comfort and agility of leather boots. One such beast: Salomon's Super Mountain Expert. This past July, I took the somewhat unorthodox step of removing a pair of these boots straight from the box, lacing them onto my feet, then climbing Mount Rainier. And my feet have never been happier. The boots fit well, kept me warm and dry, provided plenty of rigidity for crampons, and even were comfortable on the hellacious descent down those dreaded asphalt paths over the long, last mile.
Technically, the Super Mountain Expert combines a rubber rand that extends halfway up the boot with a waterproof leather upper. The Salomon-designed sole has soft portions for climbing and harder lugs for durability, and adapts to just about any crampon on the planet. I found its light Thinsulate insulation to be just the right thing for moderately cold weather, and not too warm for lower elevations. And thus, this Salomon boot was inducted as a Gear Guy Favorite Thing.
Two lucky readers will have the chance to see how good these boots really are! For your chance to win, ENTER YOUR NAME into our sweepstakes contest. Check back tomorrow for the final item in the Gear Guy's list of all-time favorite gear!
 
The Sporty 40
Café con Acción
Java-loving tourists are discovering a different brew in Mexico and Central America, where small-scale coffee growers have realized—as California wine makers did decades ago—that their surroundings hold as much appeal as their product and have opened up their fincas to guests. Looped on lattes, the visitors take to the forests with their boots, bikes, and binocs, creating a new breed of plantation wildlife: the caffeinated adventurer.
Coffee beans are harvested from six-foot shrubs grown in bird-filled, mountainous rainforests where trails cut for farmworkers double as bikeable, hikeable, horseback-rideable paths. The tourist-friendly farms operate as combination eco-resorts and gourmet tasting venues—a perfect blend for outdoor lovers with refined beverage tastes. Here's a sampling of five fincas, all family-owned or co-op-run and growing premium brew, where you can gulp and go.
1. Selva Negra Coffee Estate and Mountain Resort
North of Matagalpa, Nicaragua
The Brew: Smooth with medium body and a mildly nutty taste, these organic arabica beans are shade-grown on a family-owned farm. (Sun-grown coffee produces higher yields but contributes to deforestation and erosion.)
While Caffeinated: Lead your sweetie down the Romantico trail, so named because the slippery mud will quickly have you falling into each other's arms; of the 14 maintained trails that run through the estate's virgin rainforest, four are open to horseback riders ($4 an hour, Sundays only); visitors can also tour the plantation, including the stable and greenhouse ($3).
When the Buzz Wears Off: Refuel with sausage and sauerkraut at the lakefront German restaurant—the Euro-rooted Kühl family founded the estate in 1880 and continues to run it.
Bedding Down: Sleep off your post-jolt letdown in a youth hostel bed, a hotel-style room, or a private bungalow overlooking the Nicaraguan highlands; rates range from $12 to $50 per person.
Contact: 011-505-612-3883, www.selvanegra.com
2. Finca Argovia
North of Tapachula, Chiapas, Mexico
The Brew: Crisp and clean with a hint of mocha; the arabica beans are shade-grown under a canopy of tall trees that helps maintain the area's biodiversity.
While Caffeinated: Ride a horse through misty guayabo groves in the Sierra Madre de Chiapas; mountain bike or hike throughout the 460-acre property in the company of peccaries and scarlet macaws (guided activities, gear, and finca tours are included in your stay).
When the Buzz Wears Off: Recharge in the Argovia swimming pool or wander through the flower farm and bury your nose in the oncidium orchids.
Bedding Down: Rooms in the 19th-century plantation home and adjacent palm-fringed lodge have private baths, hot water, and plenty of Old World appeal—the finca has been in the Giesmann family for almost a century. Cost is $125 per person, all-inclusive (meals, transportation, activities).
Contact: 011-52-962-625-9356, www.cuilcovalley.com.mx. For reservations and finca tours to Argovia and other Tapachula-area coffee farms, call Aromas de Chiapas (011-52-962-625-4754).
3. Finca Esperanza Verde
San Ramón, Nicaragua
The Brew: This perfectly balanced, chocolate-tinged arabica is 100 percent guilt-free (certified organic, shade-grown, and overseen by a nonprofit cooperative that returns all proceeds to the farmworkers and their community).
While Caffeinated: Hop on a horse and let a farmer lead you through 46 acres of forested farmland to see toucans, howler monkeys, and waterfalls; guided rides and birding walks cost $5-$10; helping the workers pick coffee is free.
When the Buzz Wears Off: Borrow a bird guide and study your warblers and wrens, or mosey on down to the honey cooperative and butterfly farm to check out the pollens and pupae.
Bedding Down: A bed in the six-person bunkhouse costs $13 per person per night, and private cabins cost $35 per double. Meals are $3.50 each, or try the all-inclusive weeklong package (meals, tours, and homestays in the nearby village of San Ram-n) for $720 per person.
Contact: 011-505-612-5003, www.durham-sanramon.org
4. Filadelfia Coffee Estate
Antigua, Guatemala
The Brew: Pleasantly pungent with a sweet aftertaste; coffee here is brewed from award-winning arabica beans that are shade-grown on the family-owned 900-acre farm, where the habitat encourages visits from migratory birds.
While Caffeinated: Zigzag through the coffee fields on foot or fat tires; short stretches of singletrack have been carved between the shrubs for the pleasure of visiting cyclists (bring your own bike or rent one in town).
When the Buzz Wears Off: Learn about the bean biz on the finca tour ($15, including transportation, a T-shirt, and a coffee drink), which drops you off at the tasting room, then pull up a barstool, order more joe, and let triathlete/owner Juan Pablo Aragón chat you up about the local adventure-racing scene.
Bedding Down: There's no lodging on site (though plans are in the works), but über-charming downtown Antigua—and its plethora of quaint accommodations—is two miles away.
Contact: 713-934-8234, www.rdaltoncoffee.com. For a half-day "Sip and Cycle" mountain-bike tour, contact Bike Guatemala ($30; 011-502-914-5808, www.bikeguatemala.com).
5. Finca Hartmann
Santa Clara, Chiriqui, Panama
The Brew: Sweet-smelling and smoky with medium body; voted one of Panama's best in national competitions; the arabica and caturra beans are shade-grown on a family-owned farm that hosts a steady stream of international bird researchers.
While Caffeinated: Search for the elusive quetzal on farm trails and in the neighboring cloudforests of Parque Nacional La Amistad; guides are available to take you through the 370-acre property, 75 percent of which is primary rainforest (prices for guided activities vary).
When the Buzz Wears Off: Retreat to your room and practice your imitation of the local three-toed sloth.
Bedding Down: Semirustic cabins (flush toilets and hot showers, but no electricity) cost $15-$20 per person.
Contact: 011-507-775-5223, www.fincahartmann.com
Headstrong to Headlong
You've rebuilt your broken body; now heal the mental damage and come back stronger than ever
The trauma of surgery and the pain of physical therapy can seem insignificant compared with the psychological roller-coaster of getting back into your sport. Or, as U.S. Ski Team Coach Jim Tracy so delicately puts it: "You'll have a lot more shitty days than good days." The first time back on a bike, skis, or snowboard will be frustrating, and maybe even traumatic. You'll lack fluidity, timing, and, worst of all, the confidence to talk smack to your opponents. Here are the psychological steps to rebuilding your inner superstar.
1. Erase all doubts. "Every time [Picabo] comes in here," says orthopedic surgeon Richard Steadman, "she just will not accept the fact that she's not going to come back. With her it's always been 'when I come back,' not 'whether.'" Indeed, 90 percent of athletes who commit to their rehab protocol return to sports following ACL surgery, and many return stronger.
2. Involve yourself. "For an athlete, nothing rebuilds peace of mind like committing to the rehab protocol to the nth degree," says Damon Burton, a Sports Psychologist from the University of Idaho who has consulted with the U.S. Ski Team. Like Street, he recommends knowing every detail of your physical therapy so that when you're back at your sport again you'll know that you have cleared every physical hurdle and your focus can be on technique rather than worrying about what your body can handle.
3. Rebuild incrementally. "It's a progression," says ski coach Jim Tracy. "We don't throw Street right into another downhill." Build a foundation of ego-boosting successes by spending your first weeks back in the sport remastering the absolute basics.
4. Know when to drop the hammer. After three career-threatening crashes, Street knows when to say when. If you're not comfortable with a certain speed or technique, don't force it. "You've got to be able to categorize the task at hand, determine if you can overcome the fear," Street says. "And if you can't, walk away. Because if you don't, the fear will inhibit your chance of succeeding."
5. Find a mentor. Because U.S. Ski Team members are plagued by knee injuries, they have dozens of successful cases to call upon for inspiration. When you return to your sport, try to work out with someone who has come back from the same injury. He can help you decide when it's okay to push, and when to hold back.
6. Visualize success. After her crash, Street was tormented by nightmares. "I dreamt I'd have to stop mid-race when I hit the fast sections," she says. To overcome her subconscious fears, Street imagines herself skiing entire downhill runs in rough conditions so that even in her dreams she is winning races. Mentally rehearse the most difficult aspects of what you'll be doing, and picture yourself succeeding each time.
Trending on Outside Online